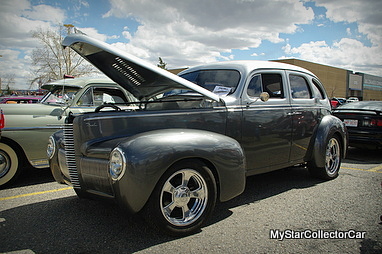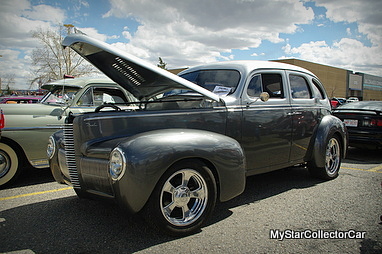 Brian Hopkins was in the market for a car project a few years ago because he was comfortably retired and he wanted a challenge.
Car projects can turn into a full time job overnight so Brian's post-retirement status was a huge asset.
The rest of the story summed up the car hobby perspective.
Brian's search began a few years ago with some outside help as he explained: "My brother spotted it in Manitoba and thought it would make a good rat rod but I can't do a rat rod and this is what happened".
"What happened" is an understatement because this 1940 Nash is one of the nicest rods you will see at a car show.
There are many reasons to build a car but Brian's is one of the most honest: "I retired seven years ago and I just couldn't sit around. I like keeping busy so I bartered and swapped for this car.
This old Nash was a work in progress and Brian did a solid assessment of his newfound project: "The interior was nice but the trunk floor surface was bad". The car was basically solid but it had some other minor issues as Brian explained: "There's some bondo on the fender ,I did all the grunt work but I did have an older guy helping me with the car. You really appreciate that kind of help".
The car has all the classic touches with a few exceptions: "It's a 350 Chevy with an 8″ Ford rear end with a 3:00 ratio". The difference lies in the other parts as Brian confessed: "It's got a Pacer front end with '82 Spirit discs"—that's not a typical combination but it does mesh well with the Nash's evolution into AMC heritage.
Brian is extremely happy with the results of his project and he was happy to explain what life behind the wheel of a modified 1940 Nash is like: "The seats are stock so it's just a cheap plain interior and the steering wheel was done. It'll cruise at 80 and it handles good because it's got sway bars front and back. It's straight as an arrow and it rides good too. I drive it too, I don't trailer it".
There are only a few modifications in this Nash's future as Brian explained: "It's getting running boards soon and I wanted incandescent bulbs".
Life can get in the way of everything including a classic hot rod and unfortunately Brian's experience was no exception: "I had more problems than my car because I was at a car show and I had a heart attack and nobody had the keys to the car. I had lots of offers from car guys to haul or trailer it back for me because car guys look out for car guys".
Brian's car did get home thanks to friend and eventually so did he but it gave him perspective: "This time I'm going to be okay but I want to make the car and myself better".
There is no doubt Brian is on the right track with both goals because his Nash was mobbed by admirers and he was there to patiently answer their questions.
That's a true car guy perspective.
Jerry Sutherland
CLICK HERE to Like us on Facebook
CLICK HERE to Follow us on Twitter
CLICK HERE to Follow us on Pinterest
*Re-post if you like this MSCC article…thanks.