Good fortune was in my favor when I discovered a vintage video that featured two of the most famous wheelie vehicles in the history of ¼ mile racing, namely the 'Little Red Wagon' Dodge A-100 pickup and the 'Hemi Under Glass' Plymouth Barracuda.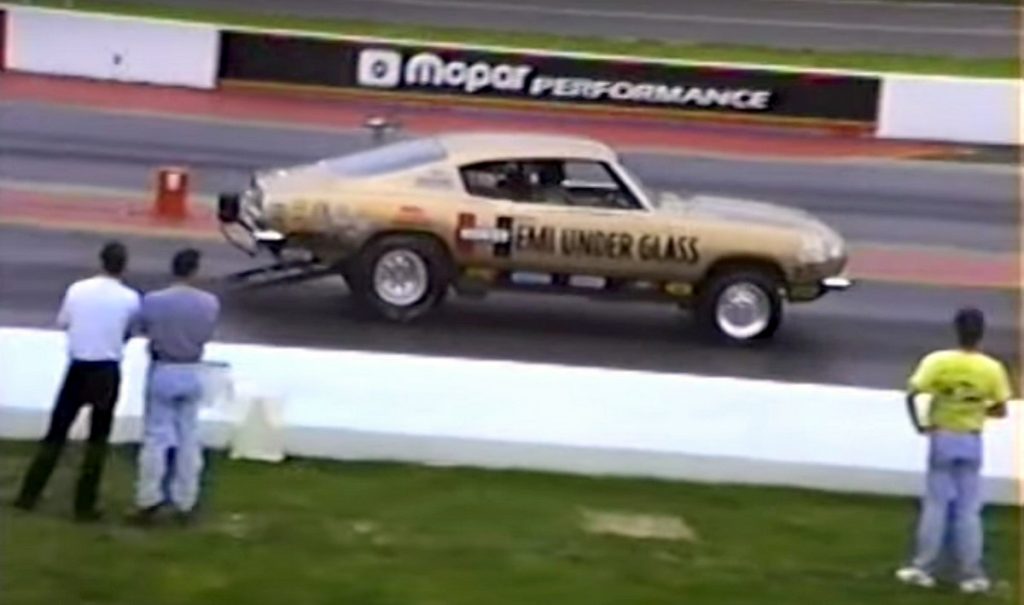 Most car guys already know the Little Red Wagon also housed an Elephant Hemi in its truck bed, a major switch from the A-100 pickup's original Slant Six located right between the driver and passenger in the cab area.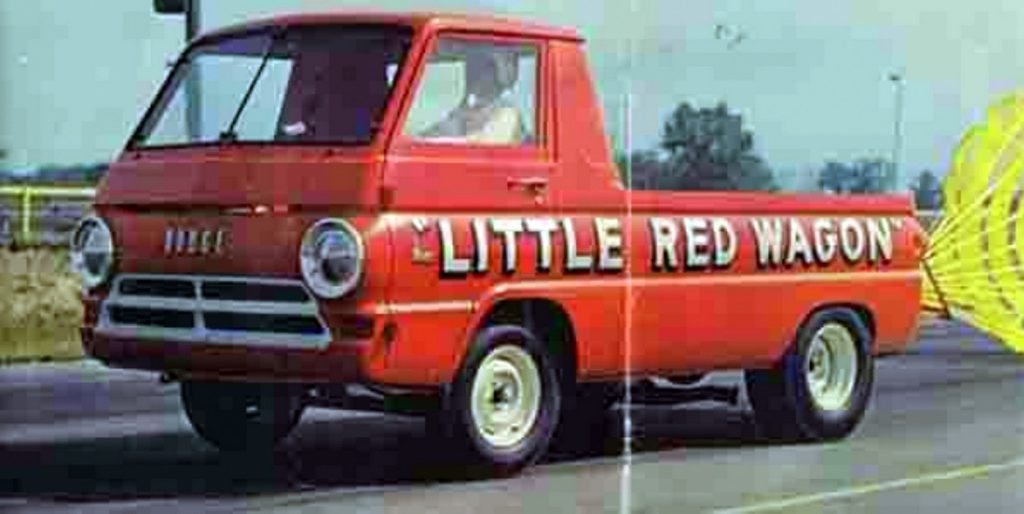 They would also know the 426 Hemi was a bloodthirsty beast of an engine in stock form-let alone in full race mode and fed by a concoction of highly volatile race fuel mixtures.
The net result was an insane amount of horsepower to the rear wheels in both vehicles, aided by big block engines situated close to the rear wheels of the two wheelie machines. The two Mopar track stars' massive motors provided excellent traction because Elephant Hemis were also very heavy-not unlike real elephants.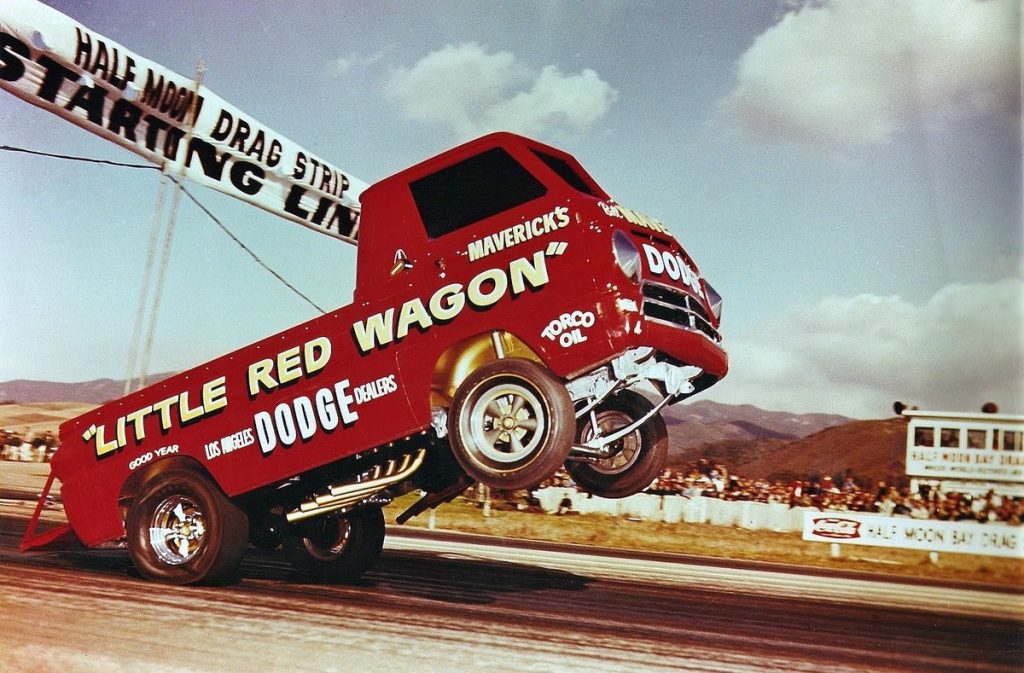 The Little Red Wagon and Hemi Under Glass wheelstanders also had rear slicks the size of medium-sized cities that helped them dig in when launched on a quarter mile track.
History indicates the Little Red Wagon was intended to compete as a legitimate ¼ mile track rocket but was hampered by its dangerous habit of major front-end lift after launch, a risk that its original driver was unwilling to take in an actual race because he was not in control of its steering while in the air.
However, fans loved the Little Red Wagon's radical wheelstands (wheelies) and a Super Stock champion named Bill "Maverick" Golden became its most famous owner/driver in 1965. Golden and his Little Red Wagon were rock stars at every major drag track in North America when they lit up the ¼ mile circuit with their two-wheeled act.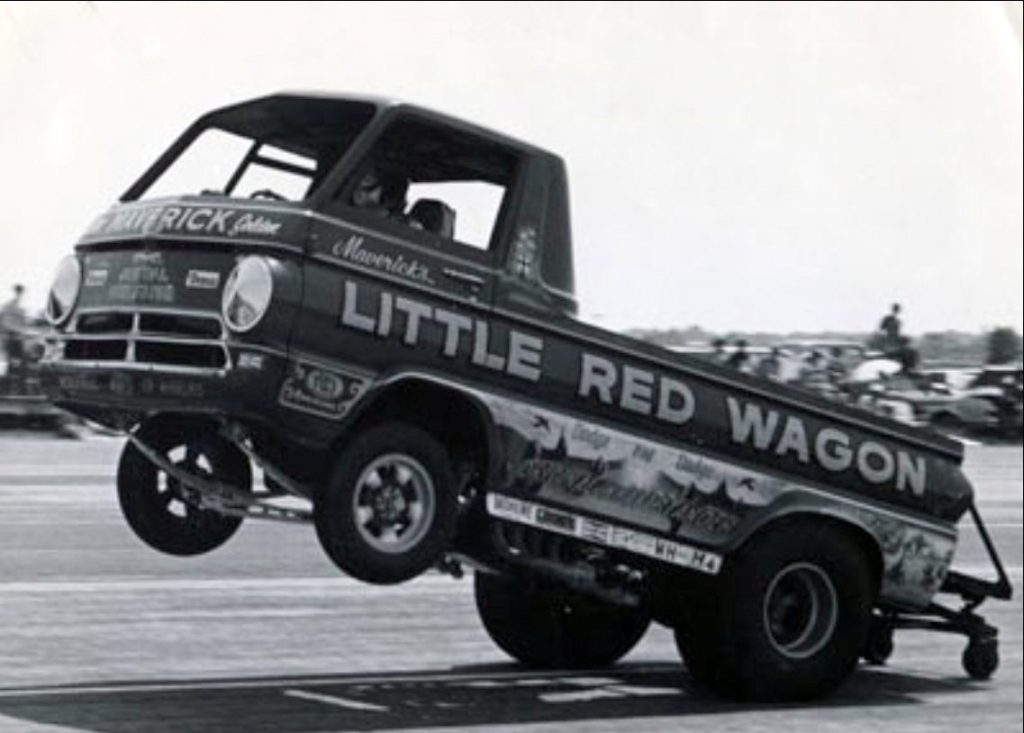 The Little Red Wagon inspired the Hemi Under Glass Barracuda to perform its own two-wheeled rocket ride down a ¼ mile track at insane speeds under the guidance of its first driver, the aptly nicknamed "Wild Bill" Shrewsberry followed by racer Bob Riggle. Both wheelie vehicles became legendary track stars and gathered large armies of car kid fans along the way, including me and my MyStarCollectorCar identical twin co-founder Jerry who built the plastic model version of the Little Red Wagon, presumably so he could worship at its altar when we were young and impressionable.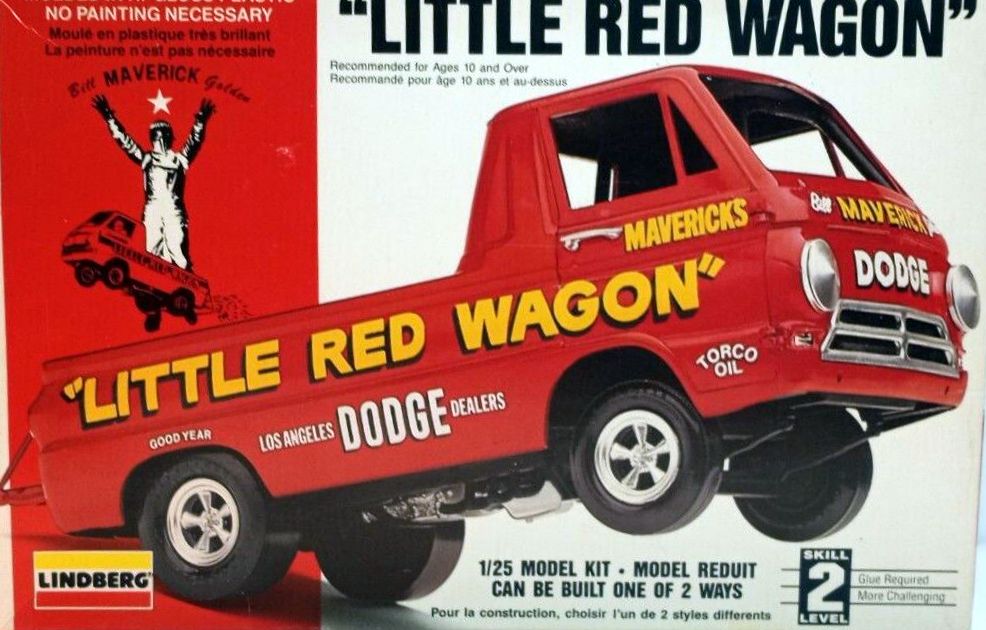 Jerry and I learned about the Little Red Wagon and Hemi Under Glass in hot rod publications during their heyday, but we never saw them perform at a track or against each other until I saw the vintage film of a showdown between the two wheelie legends.
Many decades have passed since I first became aware of the Little Red Wagon and the Hemi Under Glass, but I had never witnessed a ¼ mile showdown between them. The race was still an amazing sight to see in video form because both vehicles remained on two wheels for the entire trip.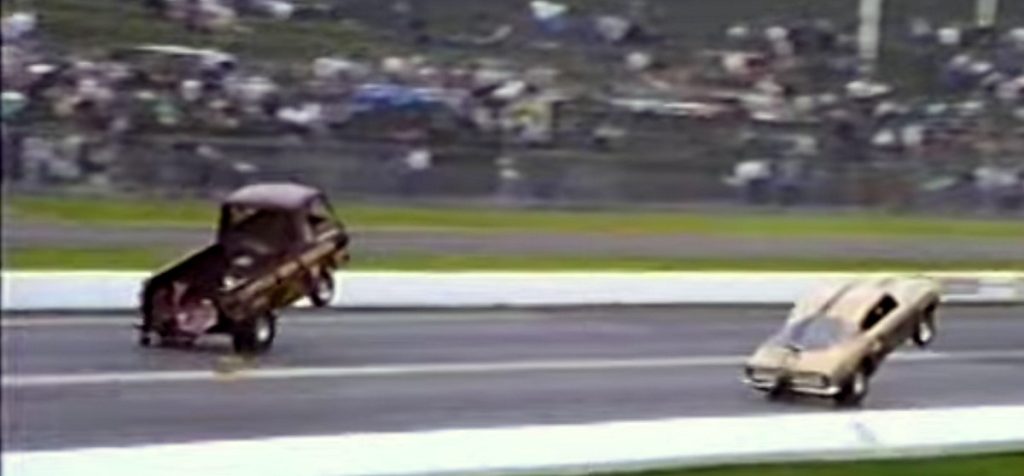 BY: Jim Sutherland
Jim Sutherland is a veteran automotive writer whose work has been published by many major print and online publications. The list includes Calgary Herald, The Truth About Cars, Red Deer Advocate, RPM Magazine, Edmonton Journal, Montreal Gazette, Windsor Star, Vancouver Province, and Post Media Wheels Section.