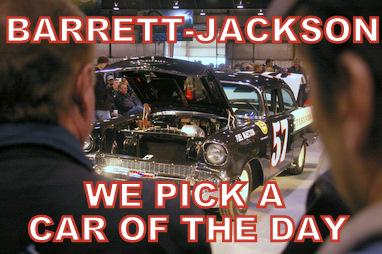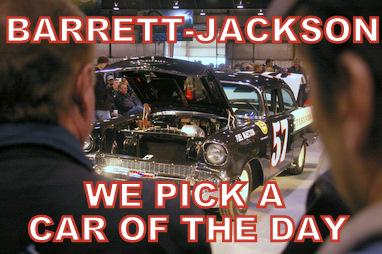 SONNY AND CHER MATCHING 66 MUSTANG CONVERTIBLES LOT 1291
We're going to throw curveball on this one by bringing in a fictional partner for our fictional buyer simply because these are going to be sold as a pair.
This makes sense-for part of their careers as a 60's singing duo and 70s TV hosts, they were a pair so most collectors would see the value in that.
No word if the buyer moves them to different locations after ten years like S & C did, but the extra car means extra cost.
Our buyers' bids go like this.
Sober Bid-140, 000
Drunk Bid– 280,000
Actual Bid-137,000
The sober bid is probably rock bottom-these are celebrity cars with a dead celebrity owner and the famous name George Barris behind the customizing.
The drunk bid is considerably higher because it reflects the fact that one of the buyers always had a thing for Cher when he was a kid and he talked his equally gunned partner into a bid that's going to raise many questions in 2 households.
Even at that 280 K, the sell job to the brides will probably work because each guy is committed to only 140 K. The cars are female friendly as iconic 60s Mustang convertibles- Cher's is even pink so this higher bid will gain these guys a little time.
The obvious "his and her" cars at shows practicality and the celebrity mystique will give the wives bragging rights.
The deal will collapse when the four people involved start to clash on the future direction of the cars. One couple might want to upgrade their home and cash in on the cars while the other couple might like to hold on to them for awhile and enjoy the celebrity by osmosis found in the cars.
Either way the ownership changes-down to one couple or a new owner.
Depending on the extent of the disagreement, these cars could change hands at a good price or end up selling for a fraction of the B-J price.
Too close to call.