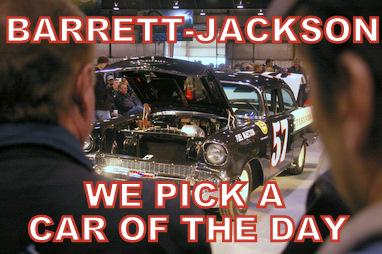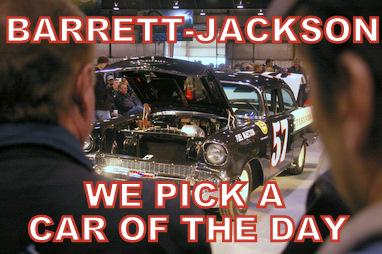 BARRETT-JACKSON LOT 350 1964 FORD COUNTRY SQUIRE STATION WAGON
Our buyer remembers riding in a station wagon just like this '64 Ford.
The neighbors owned it and he spent a lot of time riding in the back of one of these 60's "minivans".
He goes in knowing that he might have to burn the kid's college fund on this baby.
This car isn't exactly what he rode in back the swingin' 60s. This wagon has a Ford racing 289, Billet wheels and front discs-all things that Dad wouldn't or couldn't have checked off on the option list back in 1964. The lowered stance is another thing you wouldn't have seen on a Ford wagon-or any wagon in '64. These cars were working family buses and they were about as exciting as cold oatmeal-back then.
Now our guy wants to return to the comfort and security of a station wagon in the worst way. And the drunk bid is probably the worst way.
FANTASY BID: 22,000
ACTUAL BID: 33,000
The bid is going to come under severe spousal scrutiny. Because it is a custom, that will give our guy some wiggle room in the negotiations because he can argue that customized cars are hard to pin down-and he'll be right.
He'll follow that up with the practicality of this giant wagon arguing that it can hold the Walton family and still have room for a few more kids. That, plus upgrades like disc brakes make this more viable in today's "stop on a dime in your Lexus but forget about the ancient car behind you" traffic.
This guy hits the nostalgia wall at 200 miles per hour because suddenly he remembers the buddy whose dad actually owned that Ford wagon from decades ago and he's not going to let this piece of his childhood get away.
So the bid burns up every piece of credit that he has. That's the kind of stuff that really gets a wife's attention and he really has no logical defense, so he pleads the " forgive me I made a mistake clause". He carefully explains-from his sketchy inner memory bank after the gallon of red wine, that he made a huge, stupid drunken error based on a fond childhood memory.
She'll buy it based on his honesty and the naturally compassionate female gene, but he is done in car world and so is the car.
The 1964 Ford Country Squire is gone in 2 weeks for a decent return and he is confined to a life of driving sensible, practical 2-year-old vehicles. Plus she locks out Speed Channel for 5 years.
But he's still married-and for two weeks he owned a warm and fuzzy piece of his past.