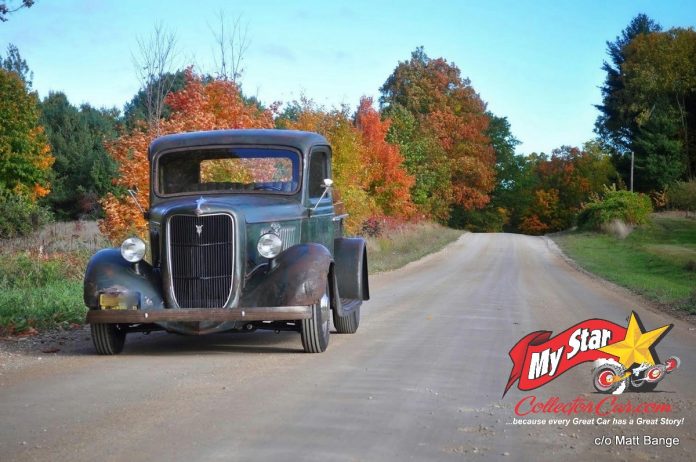 A domestic truck built in the middle of the Great Depression needed a sales incentive, given the precarious state of the North American economy during the Dirty Thirties.
Enter the 1935 Ford Model 50 pickup into the domestic vehicle market, complete with a more aerodynamic windshield design and a flathead V-8.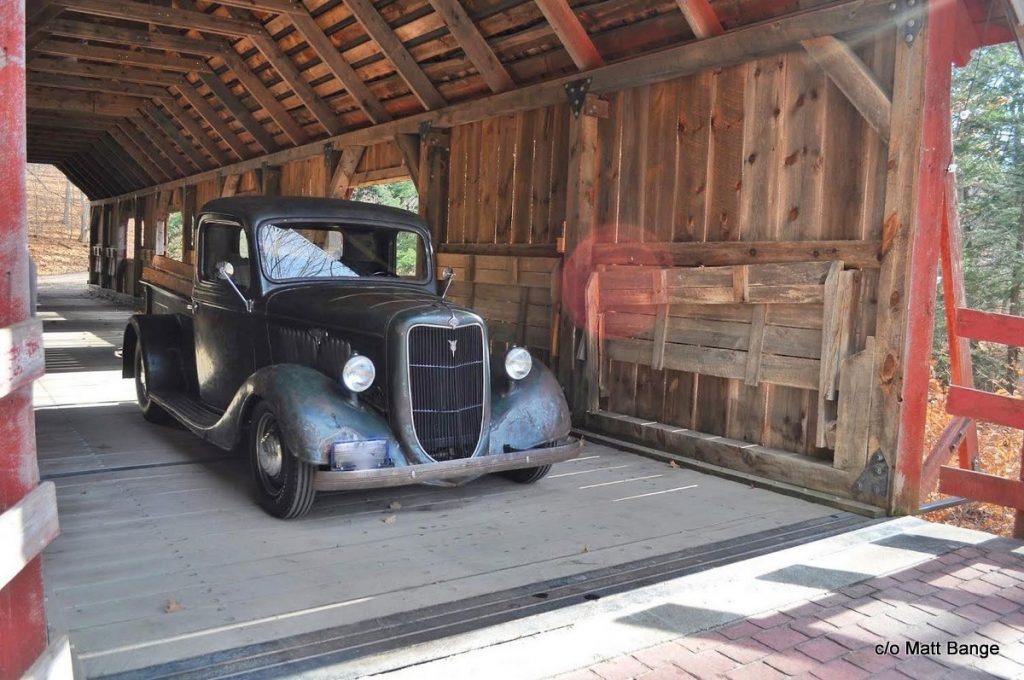 Matt Bange is the proud owner of a 1935 Ford Model 50 that was built many decades before Matt was even born, but he respected the history of pre-war trucks and decided he needed to own one. His search led him to his '35 Ford and he was able to put his own stamp on the pickup over the past few years.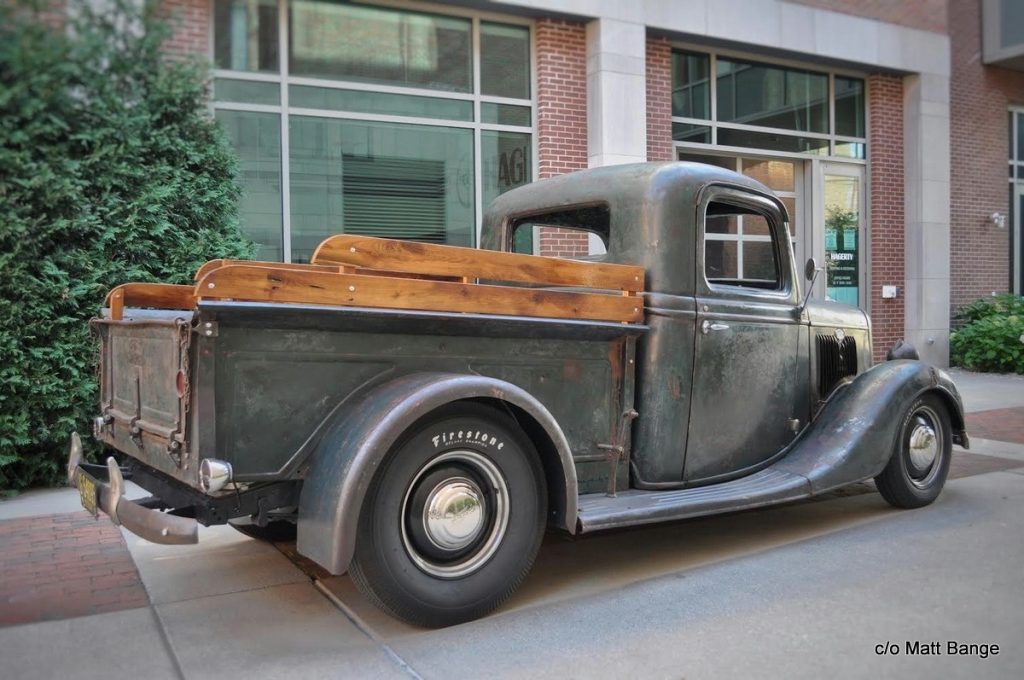 Matt works for Hagerty Insurance, a company made famous by their involvement as insurers for vintage vehicles. His job is a good fit for Matt because he loves old vehicles, plus he has excellent mechanical skills and an ability to tackle big projects like his '35 Ford hot rod truck.
MyStarCollectorCar was able to interview Matt and get his answers to a series of questions about his car guy background:
Why did you buy this truck?
I've always wanted a 30's pickup I could rebuild it into a hot rod to help get the younger generation interested in the hobby. When I came across this pickup on a buy/sell website, it was too good to pass up!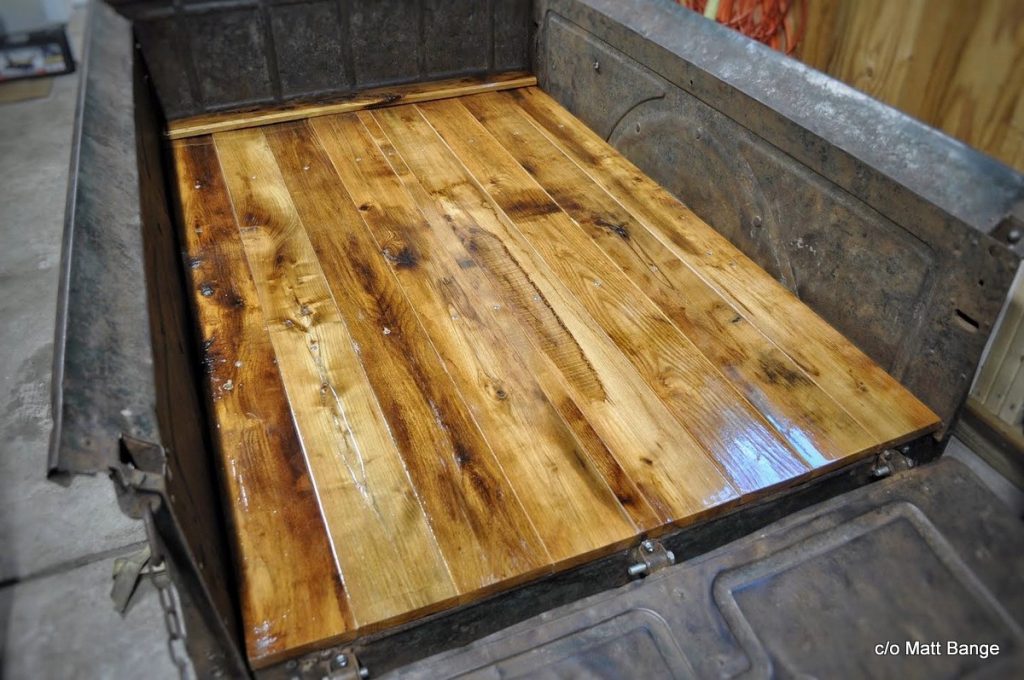 How long have you owned it?
I've owned this truck for 3 years now.
Where did you find it?
It was posted on a buy/sell online ad out of Muskegon, Michigan.

Did you work on it yourself?
Yes, I tore it all the way down to the frame and rebuilt the truck with newer suspension components that could also handle the upgraded powerplant while giving it the right stance.
If so, do you have a mechanical background?
I have always been a mechanically inclined and self-taught individual but no degrees or certificates. I just like to wrench!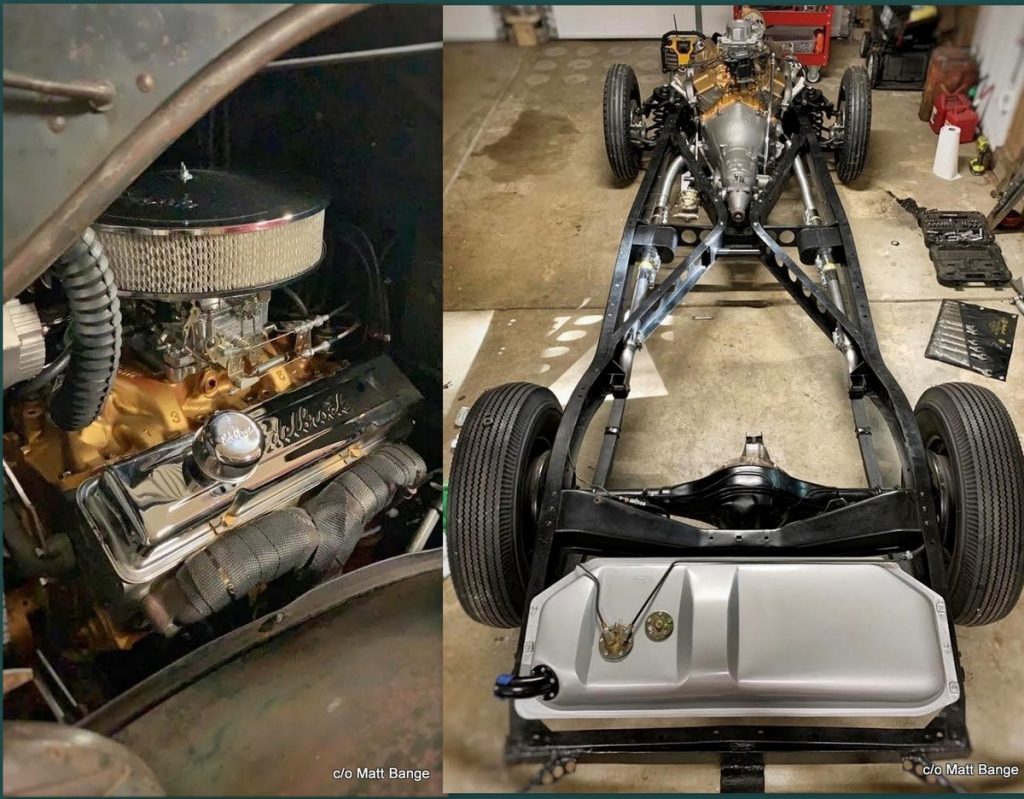 What did you change on the truck?
I boxed the front of the frame to weld in a Mustang II IFS and installed dropped parallel leaf springs on the rear holding up an aftermarket 9" rear end. I replaced the cracked flathead with a 1972 small block Chevy 350 out of a El Camino SS and a TH350 transmission. I welded 2 1968 Ford Mustang seats together (thrown in with the purchase) and created my own bench seat which turned out amazingly comfortable and created the seat covers from scratch out of vinyl I found at a local fabric store. The tires were upgraded to Firestone Deluxe Champions (500×16 front and 750×16 rear). The wood in the bed is mesquite I cut to fit and then coated each board in bar top epoxy so it could take a beating but still look good. Some other smaller touches are a custom-made radiator, new re-pop Model A style taillights, GM disc brakes up front and drums in the back with a basic hydraulic dual master cylinder, 23" aftermarket shifter, Ramhorn style cast iron exhaust manifolds I wrapped, along with aftermarket dual mufflers and a local whiskey company's bottle as my radiator overflow.
How long did it take to finish the project?
Roughly 2.5 years leaving the original patina as is.
Do you drive it much?
Any time we have nice weather I am always out driving it getting thumbs up from fellow drivers.
What is your longest trip in it?
I volunteered it for Meals on Wheels delivering lunches to the elderly all around northwestern Michigan- that was about 6 hours of driving. The looks I got were priceless!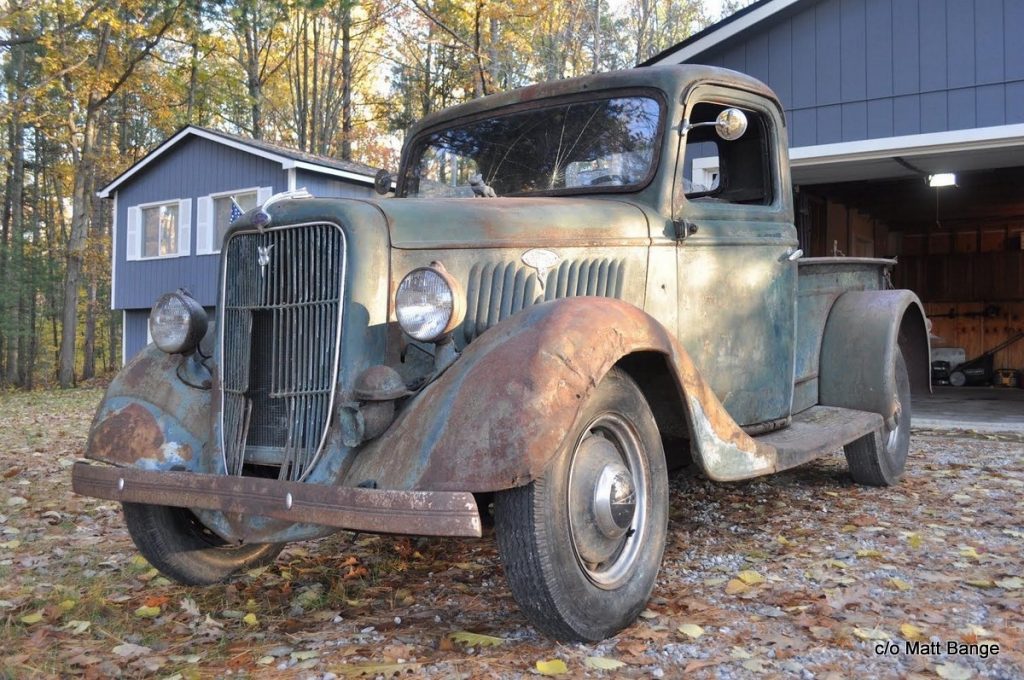 How does it perform on the road?
It handles very well and goes when it needs to! It also stops pretty well…which is a plus lol!
Who or what was your biggest influence on this project?
My grandfather Frank.  I named the truck after him since he is my biggest idol. 97 years old and still kickin'! I drive around with a picture of him on my dash where he is standing in front of his WWII barracks in uniform.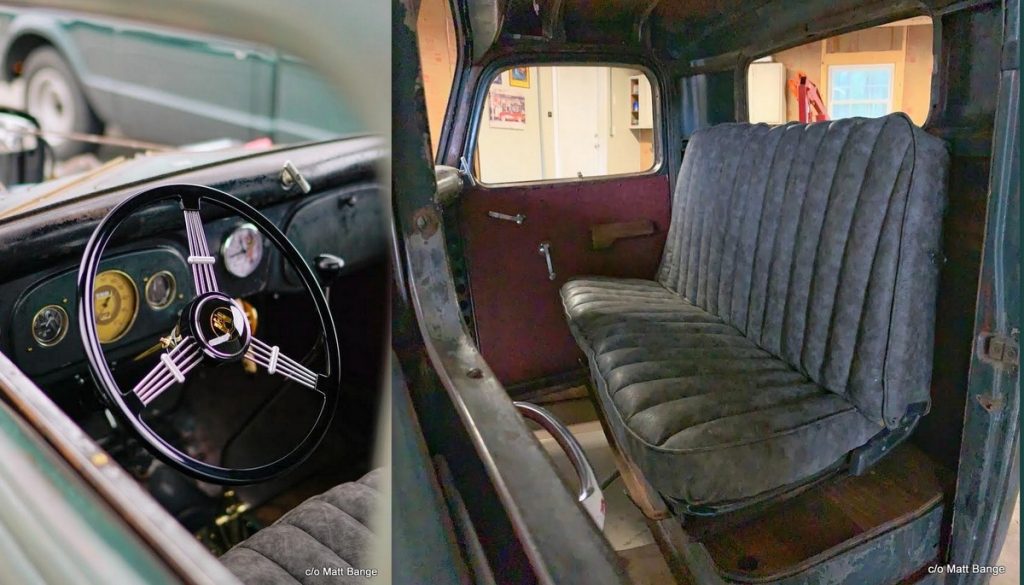 Do you have any future plans with the truck (trips, shows, more changes)?
I have no changes in the future for the truck, but I do want to continue to take it out on trips including a dream trip to the Bonneville Salt Flats for Speed Week.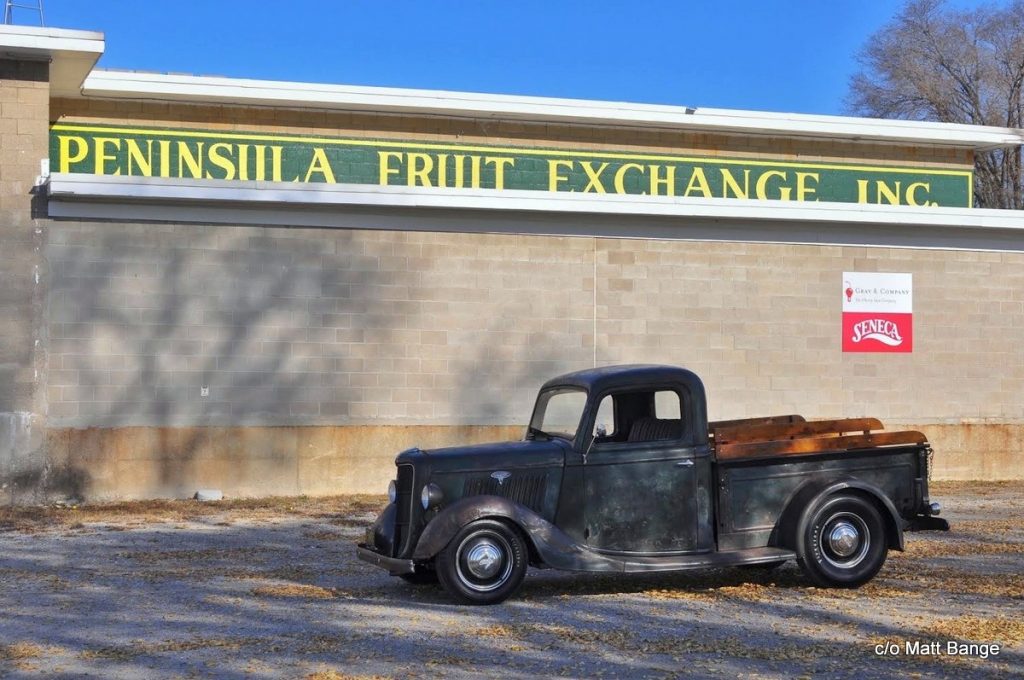 BY: Jim Sutherland
Jim Sutherland is a veteran automotive writer whose work has been published by many major print and online publications. The list includes Calgary Herald, The Truth About Cars, Red Deer Advocate, RPM Magazine, Edmonton Journal, Montreal Gazette, Windsor Star, Vancouver Province, and Post Media Wheels Section.