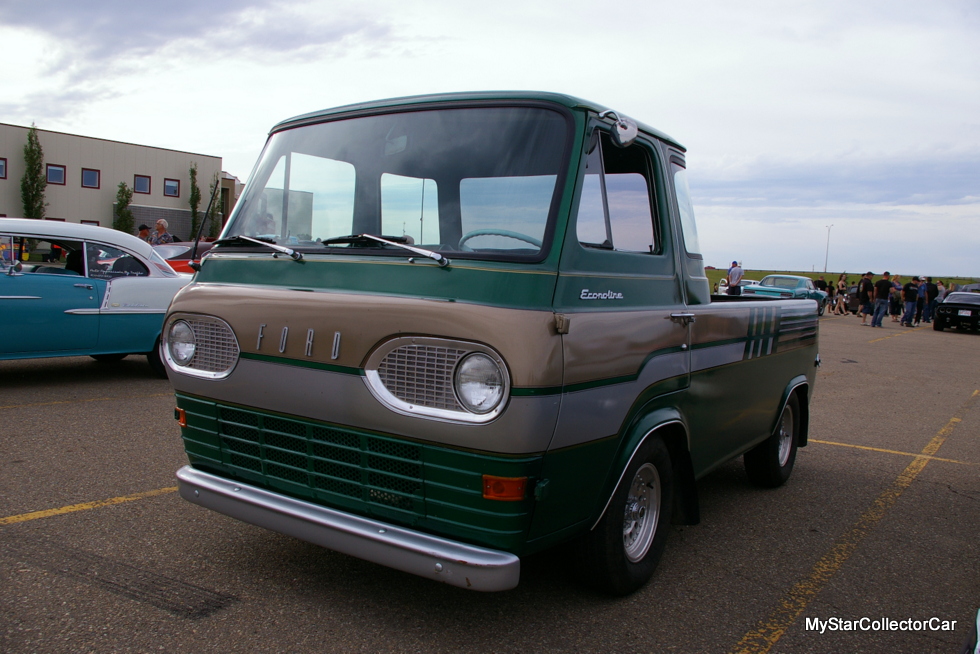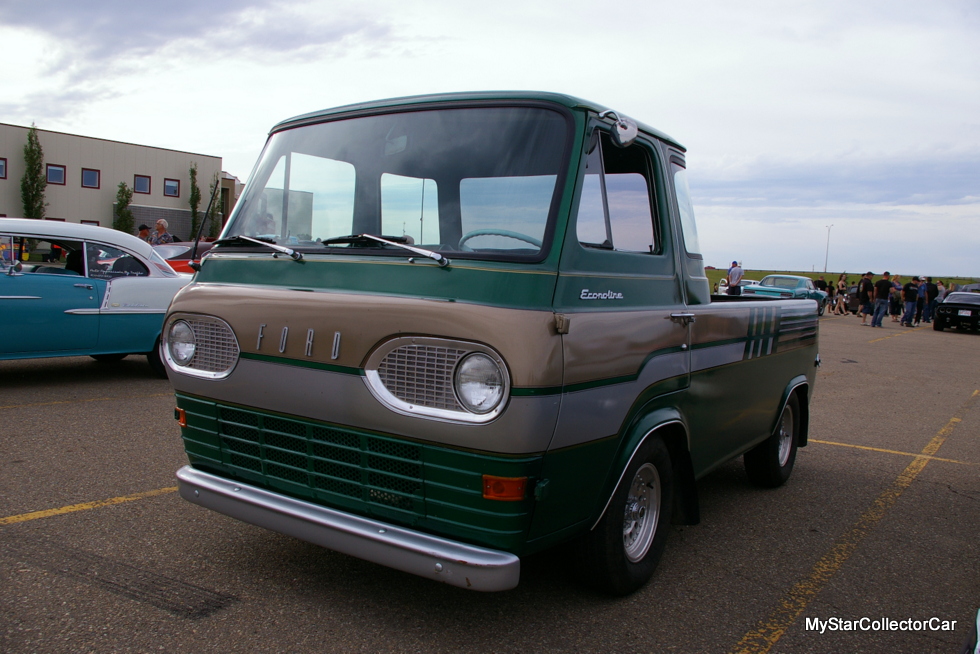 Herb Dueck likes to blaze his own path in the collector car hobby.
Herb prefers vehicles that are not exactly mainstream because he likes to own vehicles that are influenced by his life experiences.
A 1966 Ford Econoline pickup truck caught his attention this past winter when he spotted it in an ad.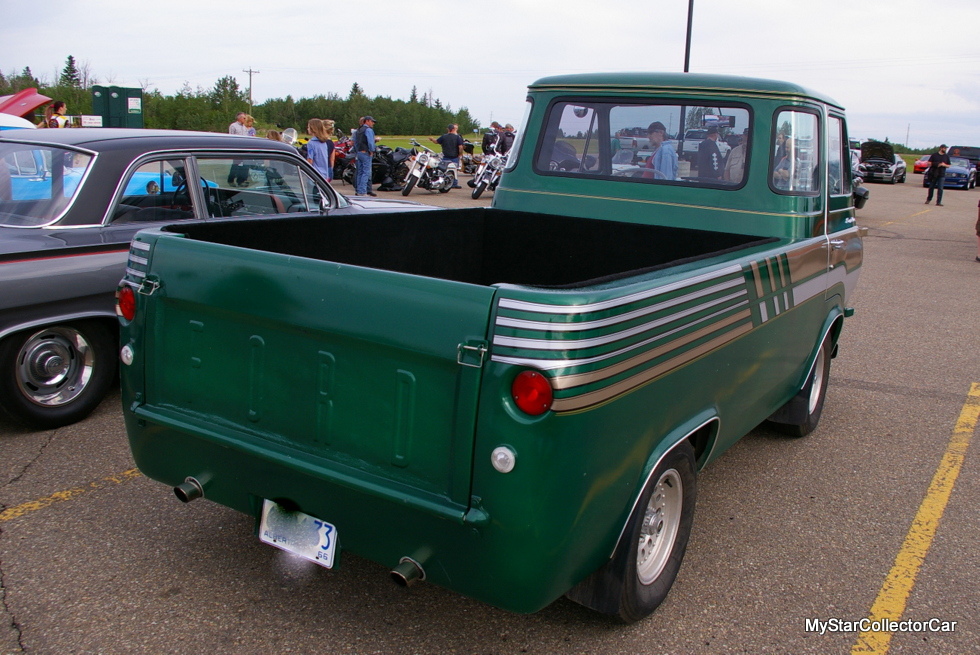 Herb was interested in the truck because his dad used an Econoline van for his bread delivery business during Herb's younger years.
In fact, Herb rode shotgun in his father's van and helped deliver bread as a part time/summer job when he was a kid. Herb also learned how to drive in his father's bread van and always had a sentimental attachment to the unusual flat-nosed Ford trucks.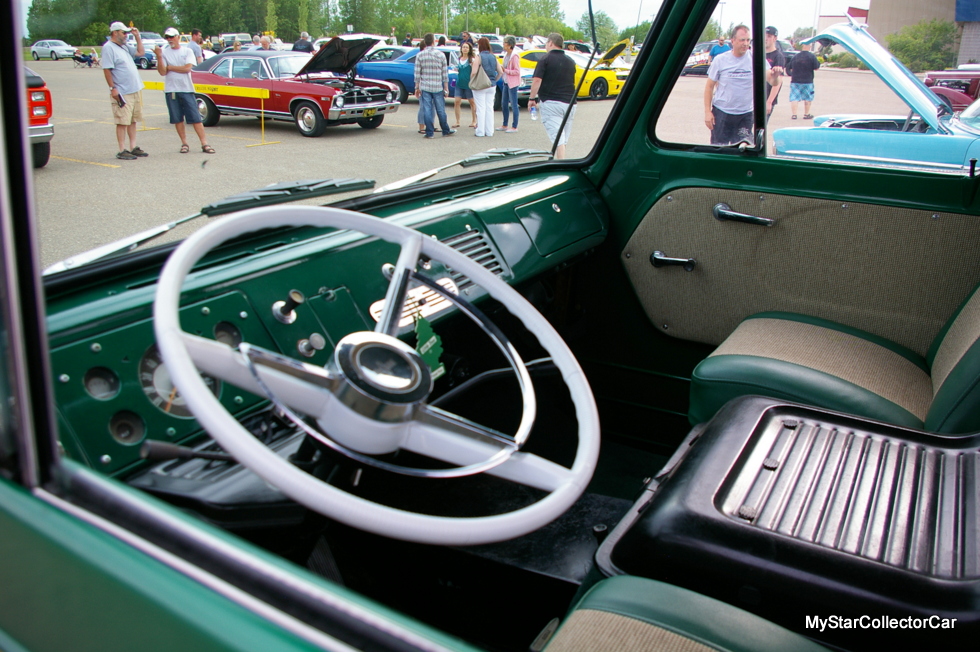 Herb eventually bought the Econoline pickup and decided to drive it back from Saskatchewan, Canada to his Alberta home in the dead of winter. The situation got even more complicated because the Econoline did not have a working defrost/heat system and Herb had to bundle up to handle the cold weather.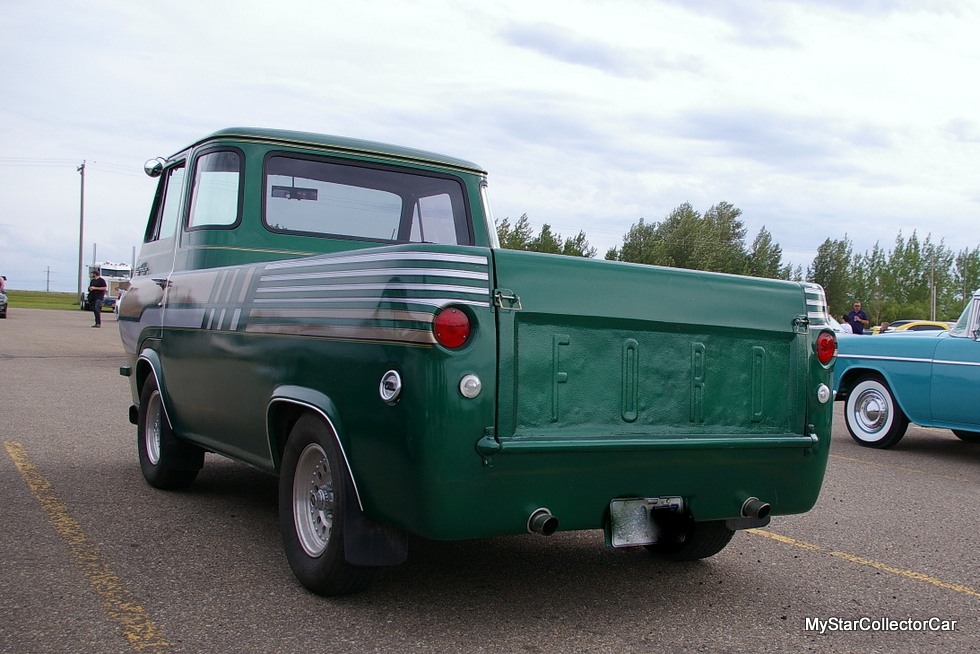 The truck has its original 170 cubic inch six that hits "zero to sixty in about a week", according to Herb. The Econoline is comfortable at about 55 mph (90 km/h) and will hit 60 mph if pushed, but Herb did not buy it for its performance-he bought it for nostalgia.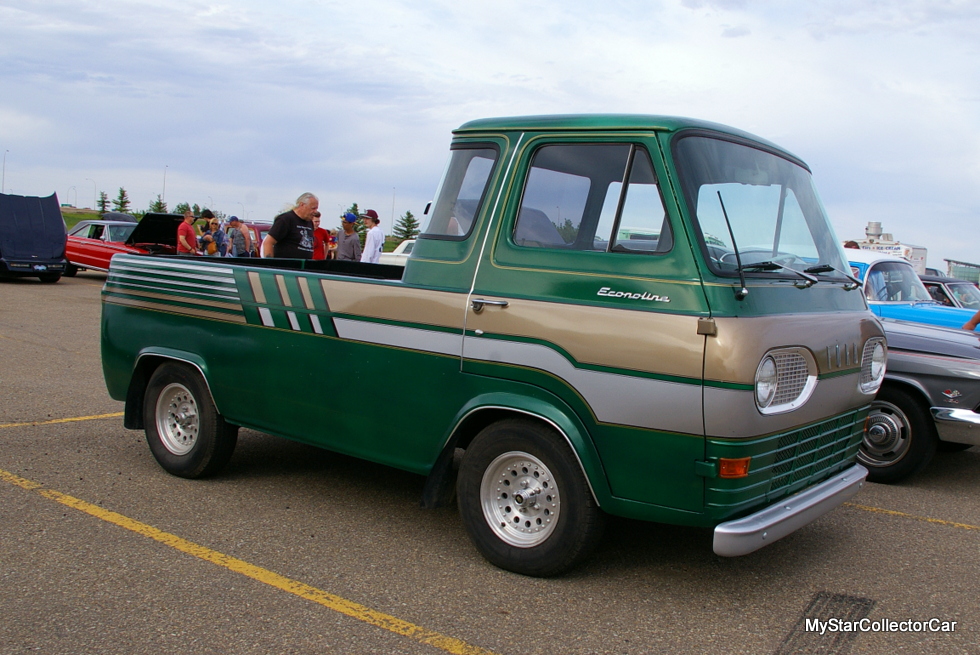 The Econoline has a custom paint job that mimics the colors of Herb's favorite football team, the Saskatchewan Roughriders who play in the CFL.

Herb was actually reminded of the connection when he stopped for gas on his trip home and a guy pointed out the colors as Rider colors.
MSCC readers who are unfamiliar with the Saskatchewan Roughriders may not know how much their fans love the team and how the Roughriders are Canada's football version of the Dallas Cowboys in terms of massive popularity.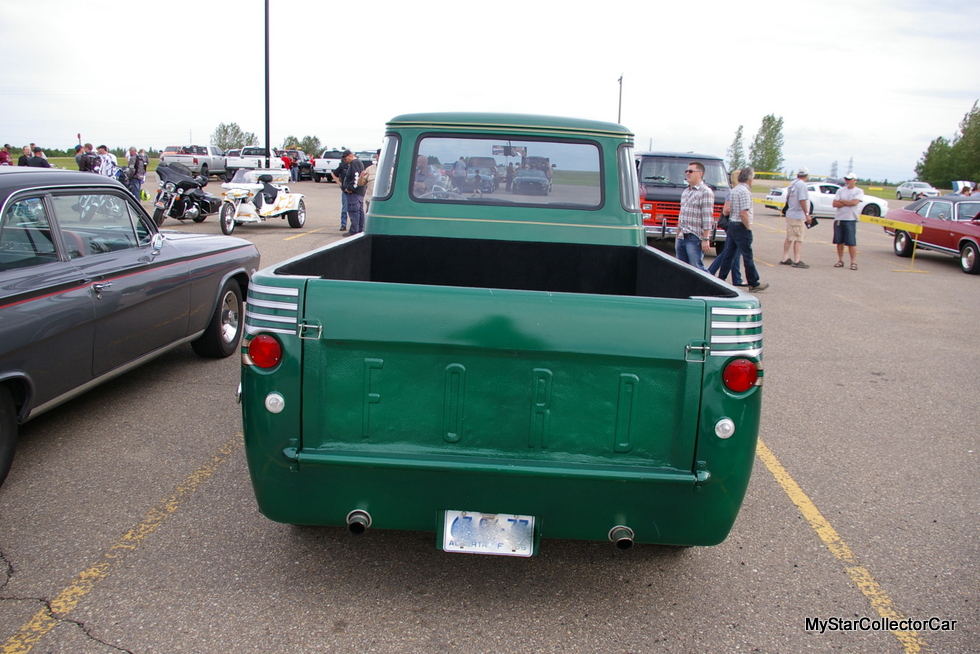 The green paint on the Econoline appealed to Herb as a car guy, and the football angle made it even more appealing to him.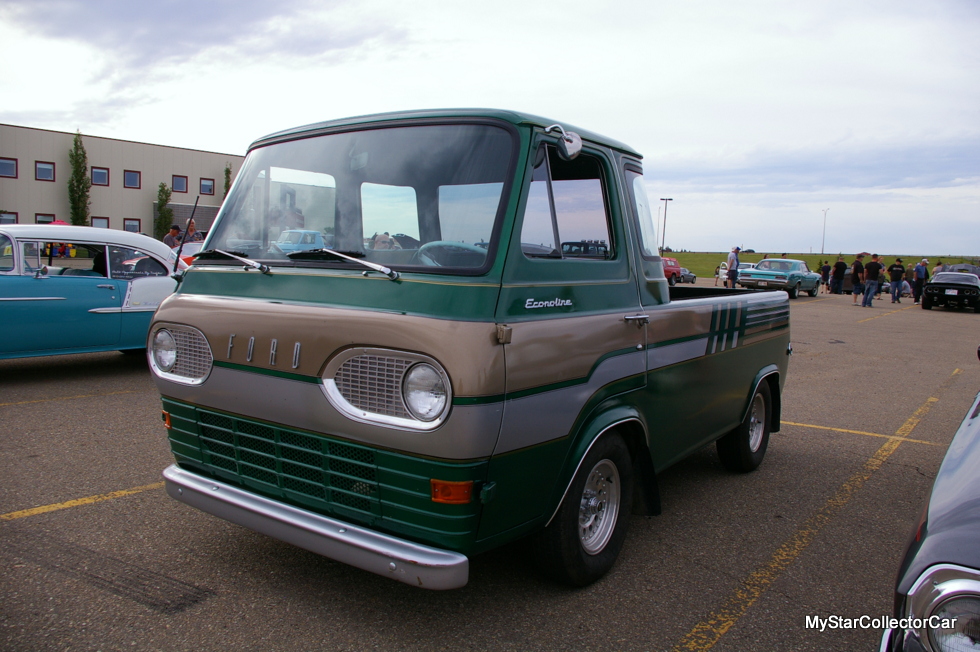 Herb cautioned that "not everybody sees the beauty in Econolines", but he doesn't really care about the popularity angle because that has never been the point for him. Herb likes vintage rides for his own reasons and his Econoline pickup makes the grade for sentimental and football reasons.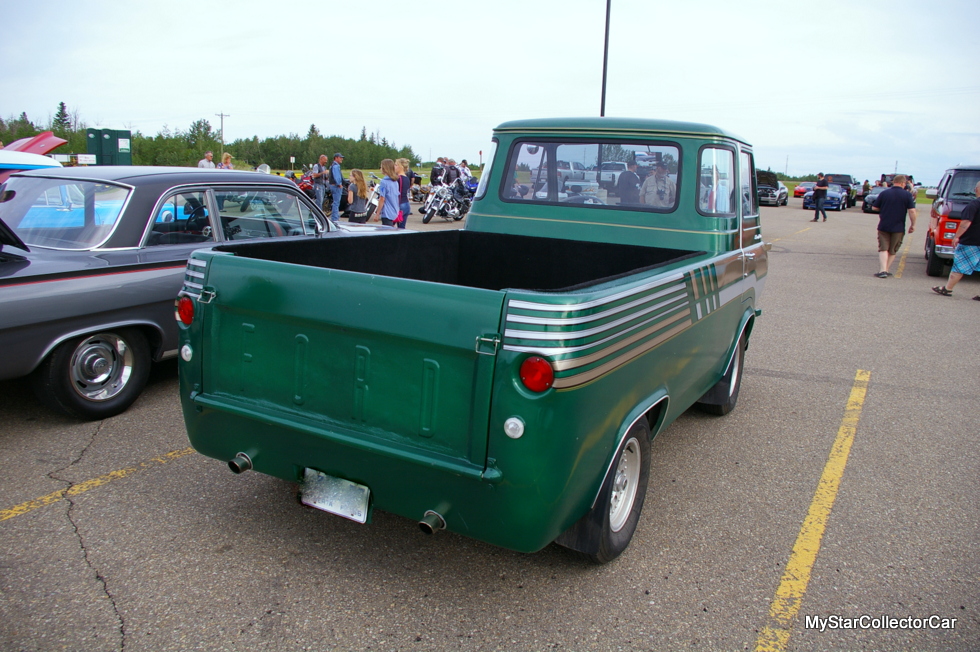 The Econoline has a giant windshield that offers a panoramic view of the road that Herb said is "like looking out a picture window". He added; "if somebody wanted to shoot you (through the large windshield), they could."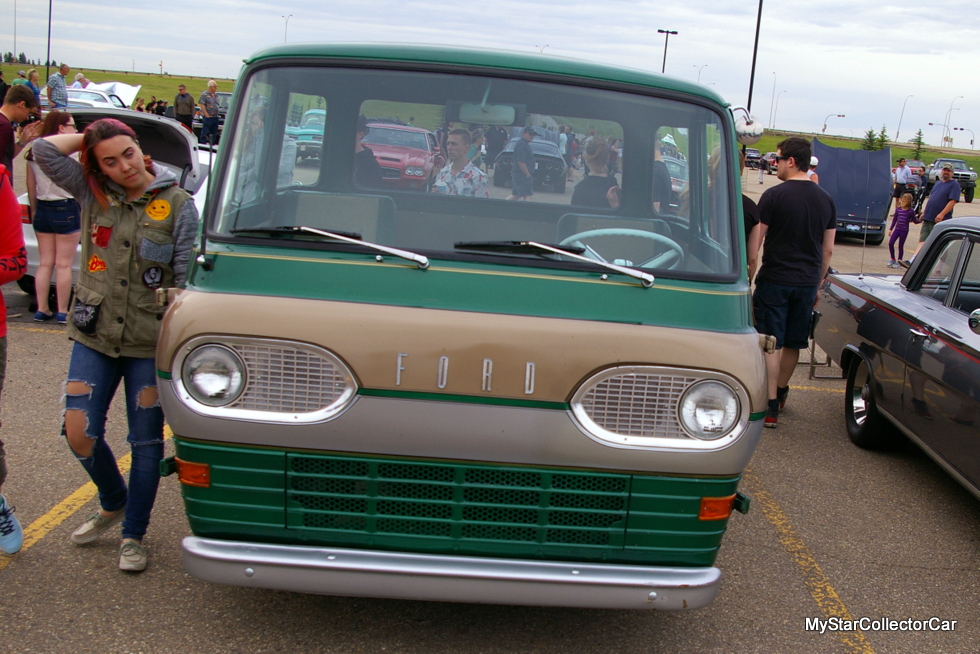 The truck has its original steering and front suspension that make it a "little squirrely at higher speeds", in Herb's words.
The previous owner was presumably also a Roughrider fan based on his color scheme, plus he was a Harley fan and hauled his hog in the Econoline. The truck's bed is decked out in carpet-presumably to make the Harley more comfortable during transport.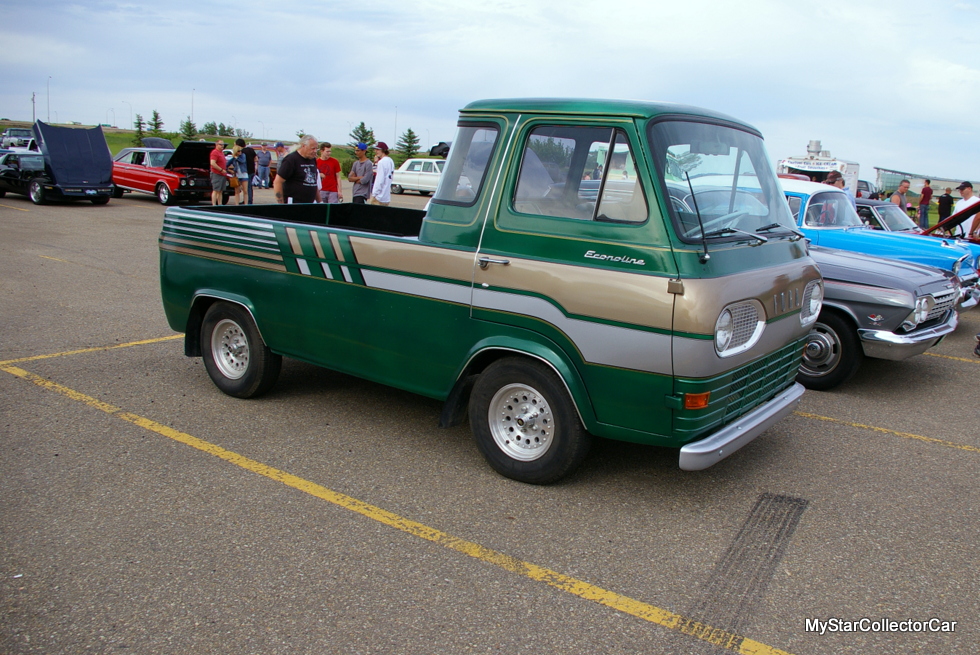 Herb is not sure about the carpet but he is very certain he wants to add a Roughrider flag to his truck. It will be his final cosmetic touch for a 1966 Econoline pickup truck he bought for sentimental reasons.   
Jim Sutherland
CLICK HERE to Like us on Facebook
CLICK HERE to Follow us on Twitter
CLICK HERE to Follow us on Pinterest