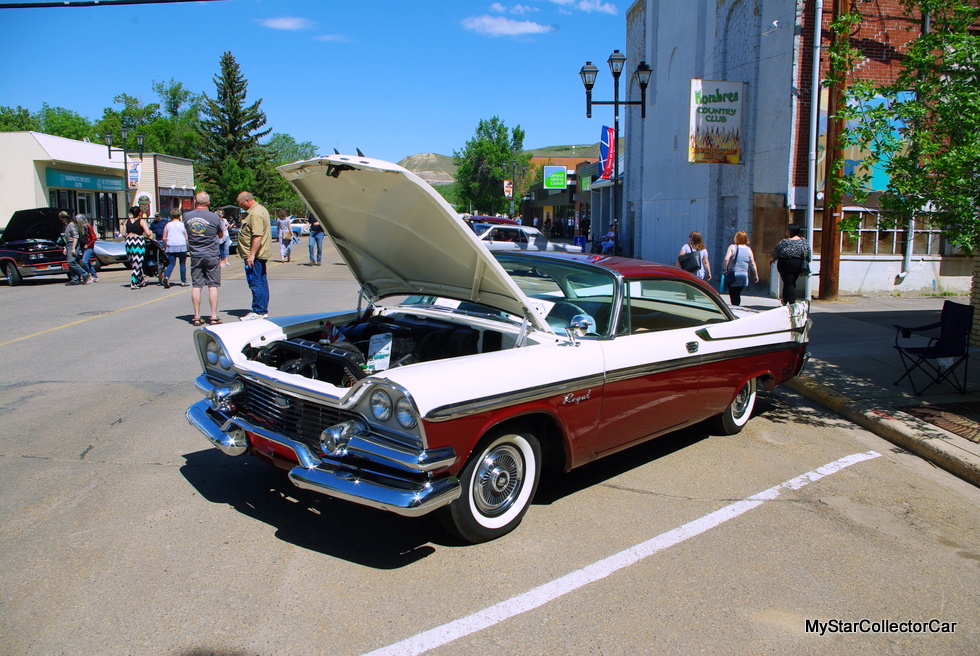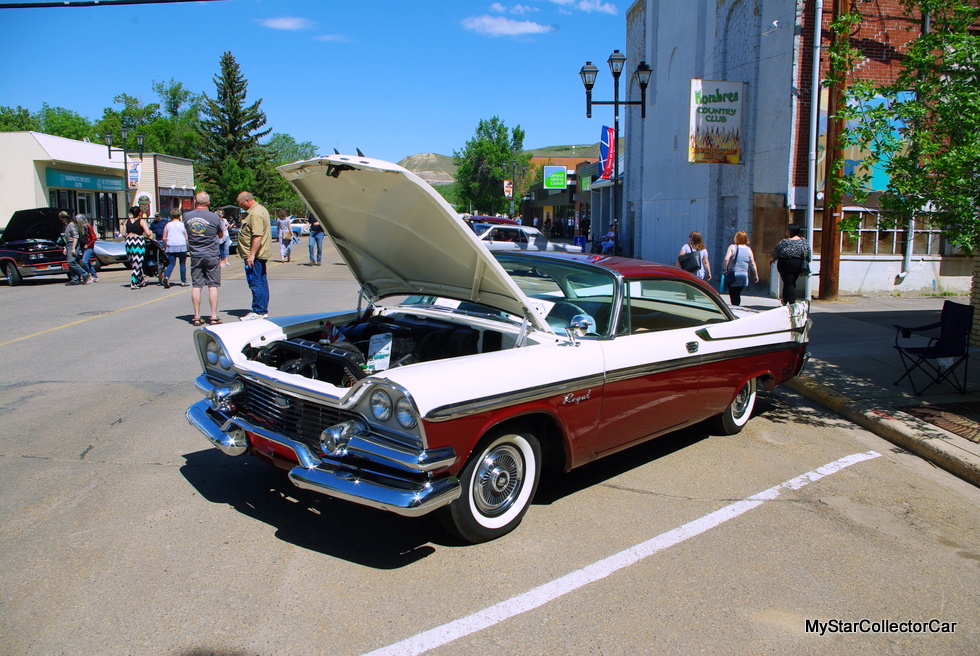 There are few cars with more street presence than the Exner era fin cars.
Look under space age 1950s icon and you'll see a picture of a '57 Fury or a 300F. 
Barry Keirle has always been a fan of the '58 Dodge because "Mom had a 4-door sedan" so he did a lot of time in the back seat when he was a kid.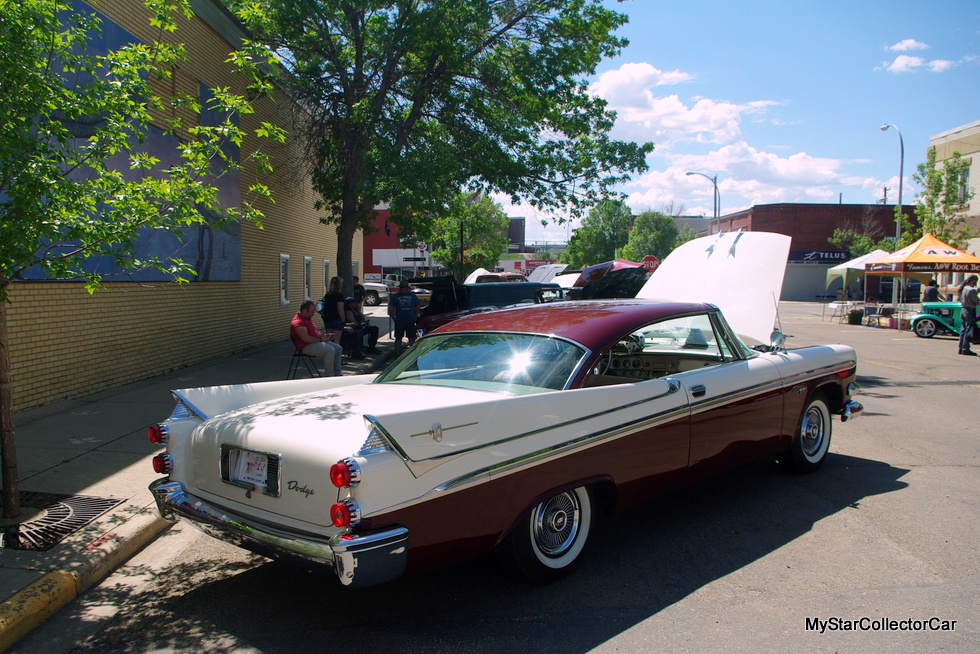 His search took him to Georgia eight months ago where he found a very rare 1958 Royal Spring Edition two-door hardtop. His wife wasn't completely onside with the purchase but she really bought into the car when she saw it.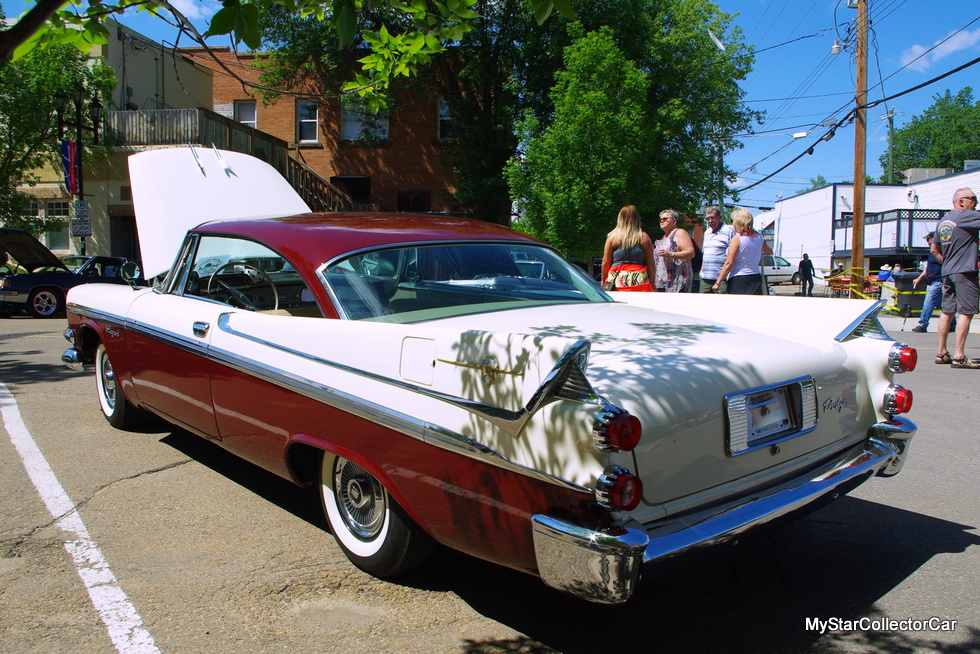 Barry explained how this was a mid-year model so it reflected some of the upcoming '59 trim like the extra piece above the tail light.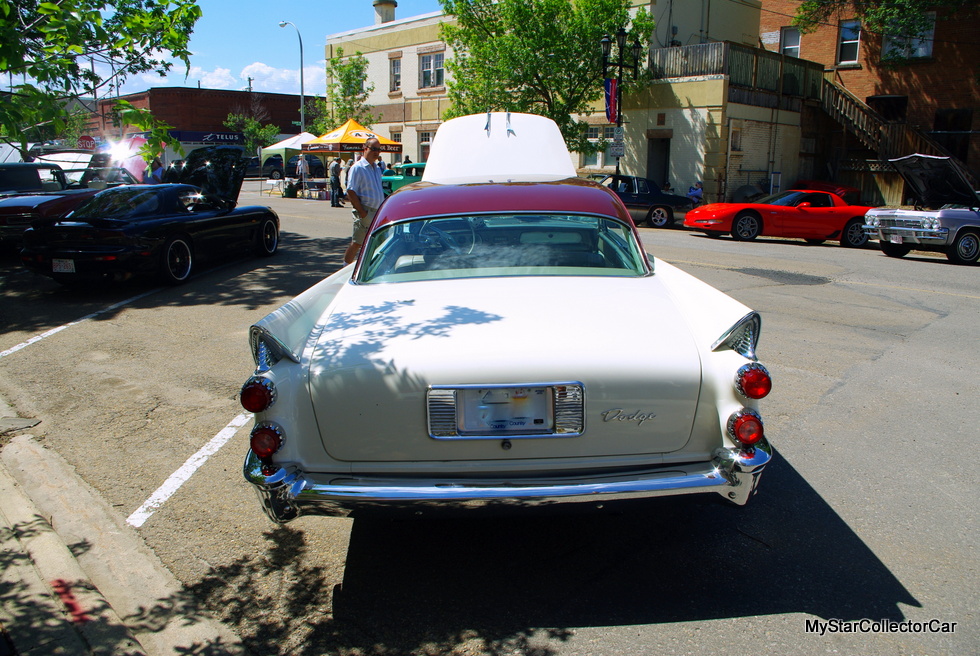 The side trim is also considerably wider on this Royal Spring Edition '58 Dodge.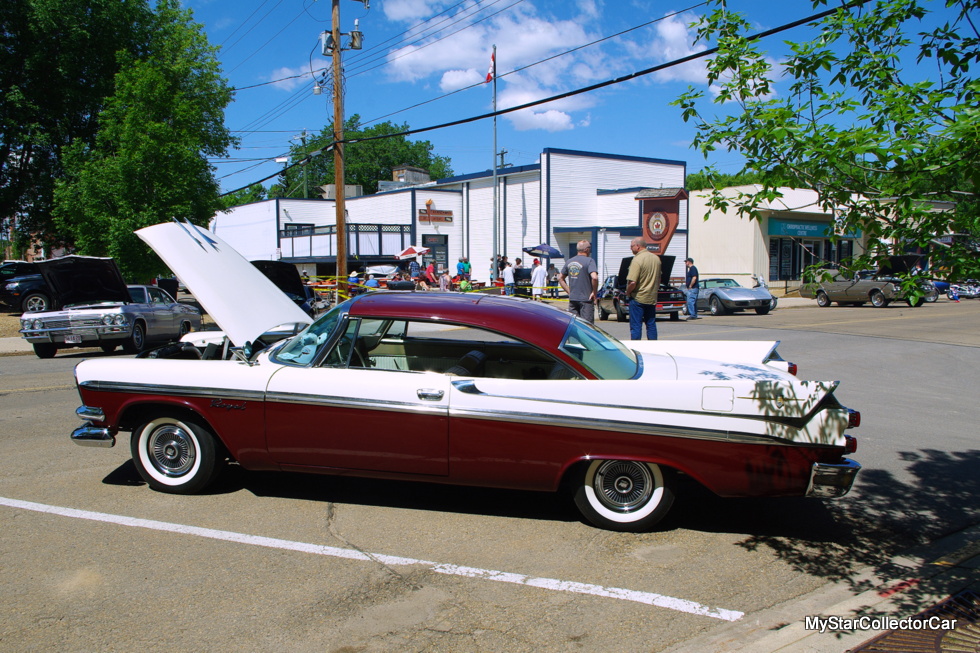 Barry took the car to Yuma, AZ because he's a snowbird and he dabbled in the local car culture. He is really happy it isn't "a typical Ford or Chevy" and apparently the local judges at the shows thought so because the Dodge "came away with two plaques". He was vindicated because another owner told him he "wouldn't get any prizes because it's a Dodge product".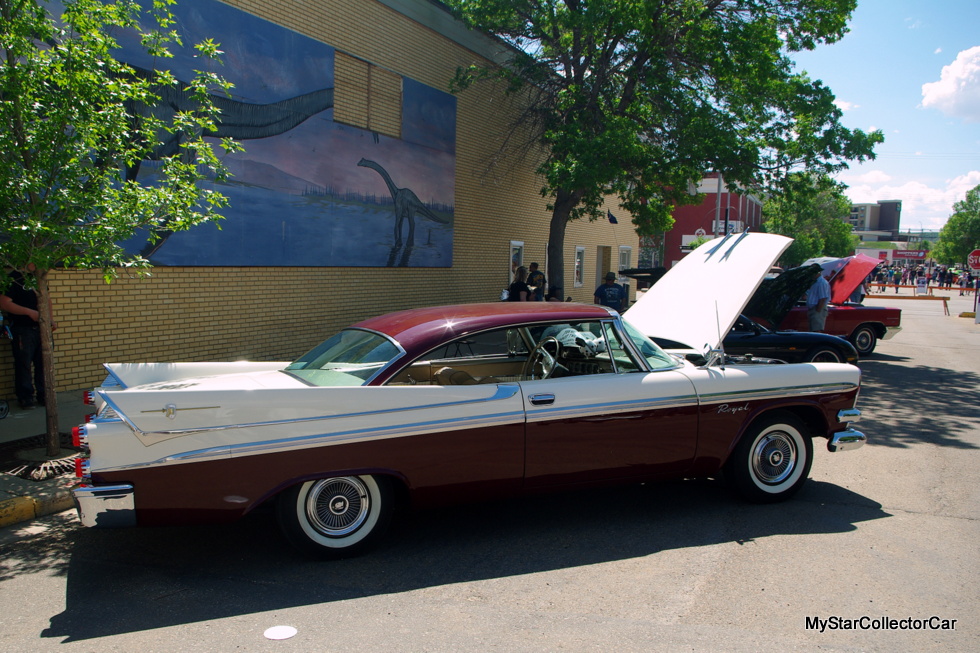 Barry is definitely not the kind of owner who chases awards because he prefers to drive this Mopar beauty. The winter show circuit was more of a social venue for Barry and it gave him a reason to get the old '58 out for a run.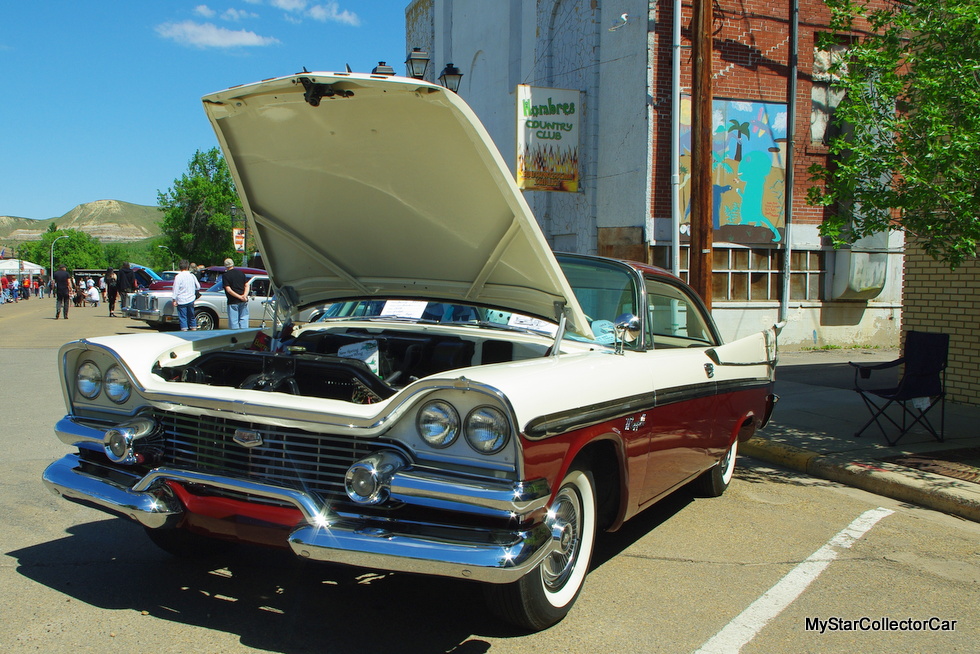 There have been a few adventures in the Arizona heat. Barry explained how it "got pretty hot one day and it vapor locked. The electric pump kicked in and it fired up". Barry admitted it "needs to be moved a little closer to the gas tank".

There is a stock 4-barrel 325 cubic inch V-8 under the hood, Torqueflite push button transmission and the car came with dual exhausts so this '58 Dodge definitely has some punch.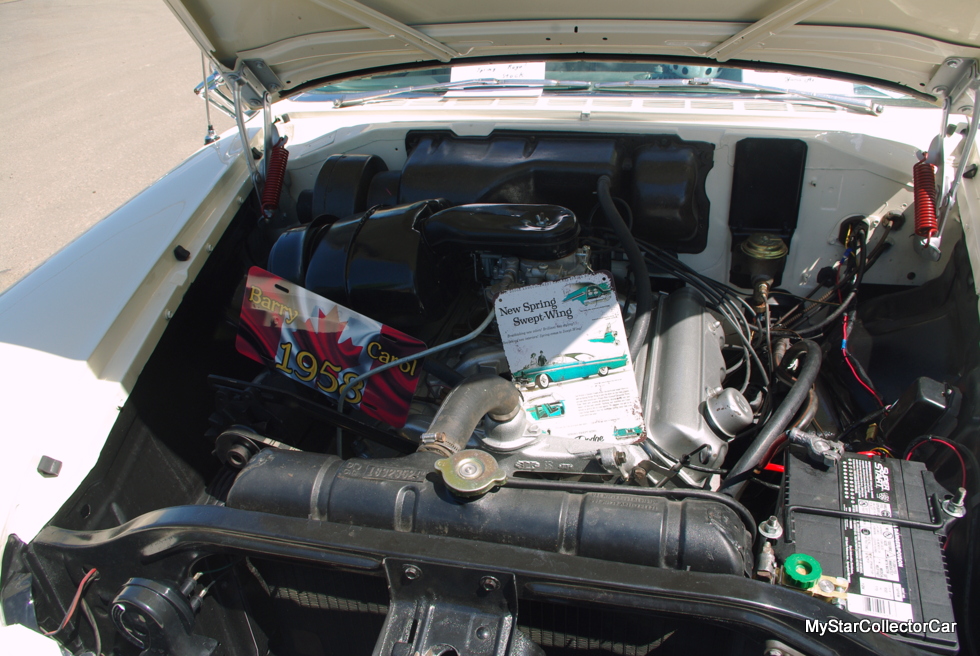 There were also a few problems with the power steering—Barry said it was "eating a belt every 25 miles" but these minor issues are expected with a car that's nearly 60 years old.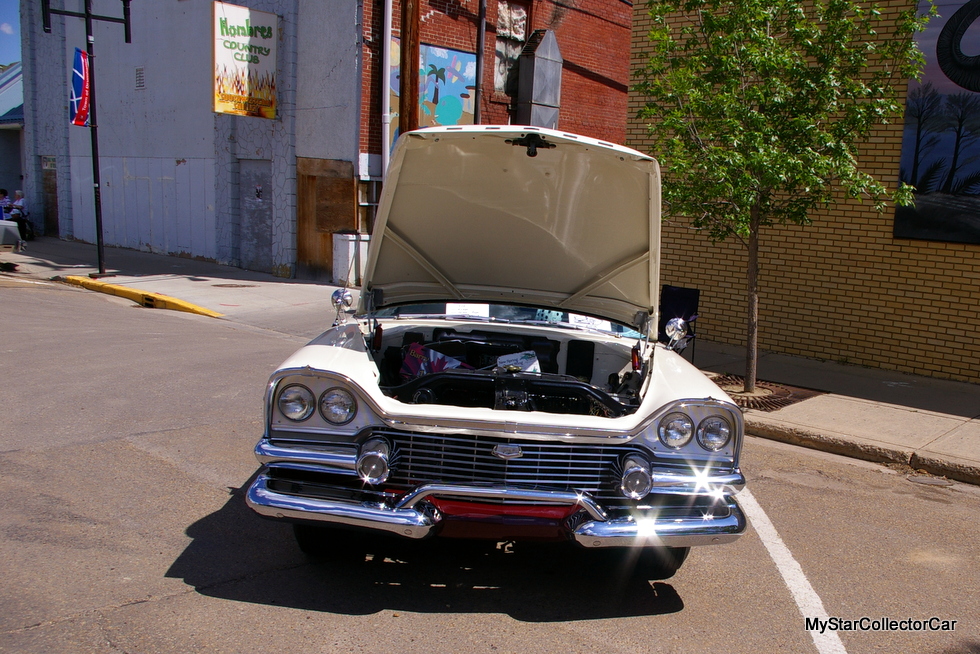 This is what Barry describes as a "pretty nice car" – he bought it from a shop so it was in pretty solid shape but it's not a concours caliber vehicle. The front and rear bumpers and the piece around the license plate were re-chromed and the trim is in good shape but it's a driver quality ride.  Barry wanted a car that "wasn't something you have to baby" and his '58 Dodge hit the mark.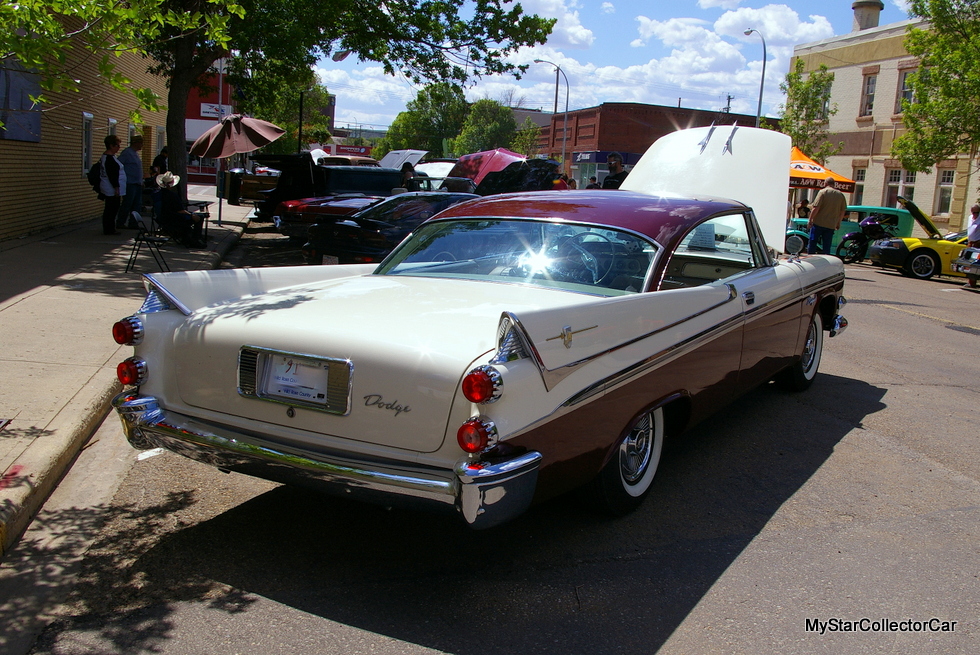 Barry said the car "wanders a bit on the highway" but he attributes it to the bias ply tires. He expects that tendency to diminish with radial tires. The seats are period correct comfortable because this '58 Dodge was born when the turnpikes were in their infancy so a leisurely 75 mile per hour ride was mandatory.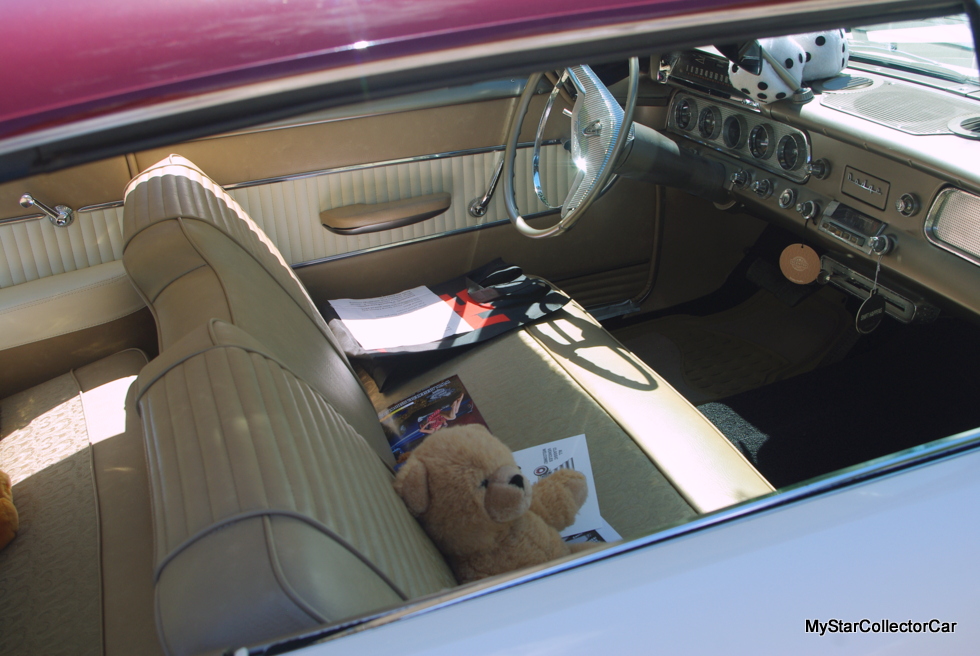 This is a very unique car and Barry answers "a lot of questions at the start of a show but then the people wander away to look at Mustangs and Camaros".
That's probably because a '58 Dodge is usually one of one at a show while there are usually whole fleets of Mustangs and Camaros at any given show—sheer numbers win over individuality.
By: Jerry Sutherland
Jerry Sutherland is a veteran automotive writer with a primary focus on the collector car hobby. His work has been published in many outlets and publications, including the National Post, Calgary Herald, Edmonton Journal, Ottawa Citizen, Montreal Gazette, Saskatoon StarPhoenix, Regina Leader-Post,  Vancouver Sun and The Truth About Cars. He is also a regular contributor to Auto Roundup Publications.
CLICK HERE to Like us on Facebook
CLICK HERE to Follow us on Twitter
CLICK HERE to Follow us on Pinterest
Please re-post this if you like this article.