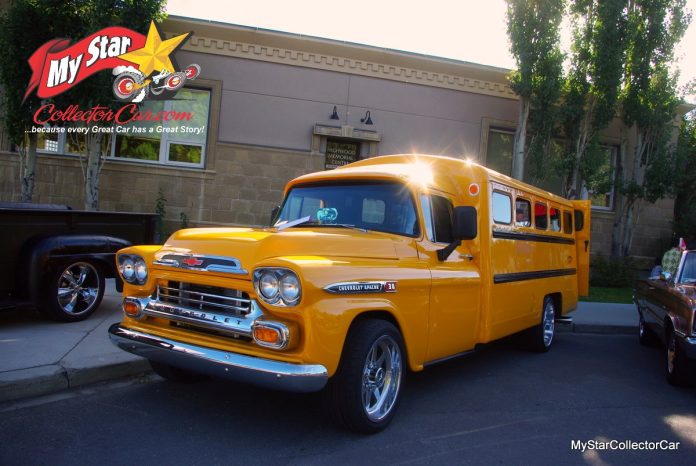 Every kid who rode a school bus had the same reaction—busses weren't cool.
They never rode in this one.
Phil Laprairie is the proud owner of this 1959 Chevy Apache 3800 school bus. This is a rare machine on its own because Phil said "there were only five or six built" in this configuration. He added that this was a short-run bus in Stavely, AB, Canada where it hauled kids for several years.

Phil said he'd been searching for a bus project for years and he found this one. The project started in 2012 when the bus was rescued from a field. It served as a kiddie bus for years, then retired—more or less—before it became a party bus for adults. Phil said, "They used to pile in there and go for drinks".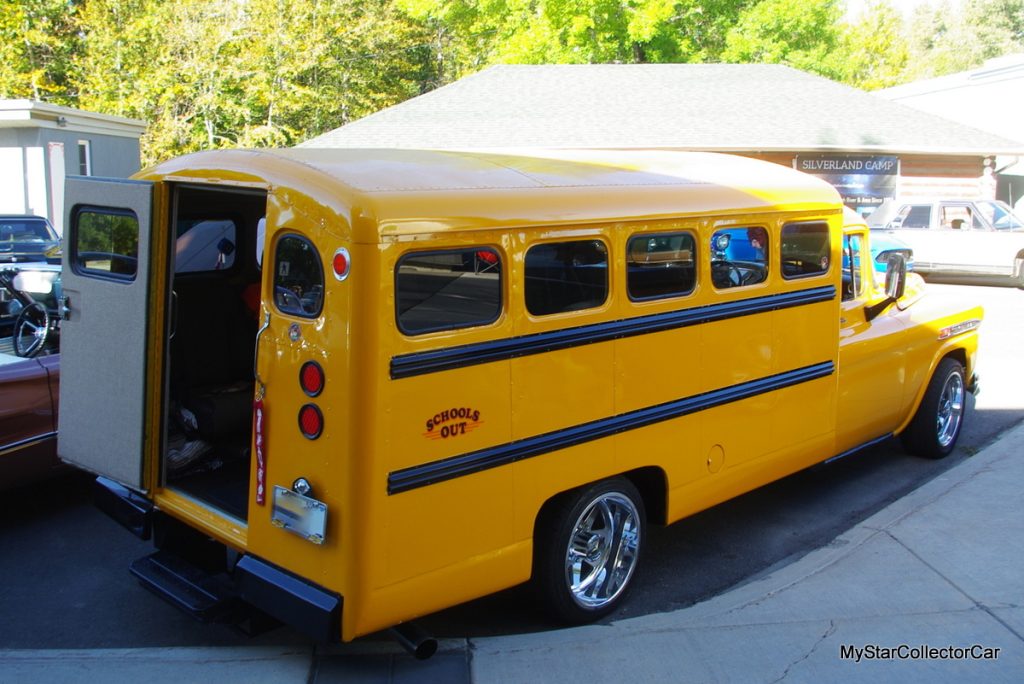 There was a long hibernation after that on a farm until the last owner started on the big project. According to Phil it was one of those "Okay boys, let's get at 'er" moments so the bus started on a new journey.
The basic build was to place the bus body on a 1980 Chevy 1-ton frame to give it a more modern feel. The other thing was the power train—in this case he plunked a 1970 Cadillac 472 cubic inch V-8 under the hood and fitted it to a Turbo 400 automatic transmission.

He also added air conditioning because anyone who rode a school bus from the 1950s would know all about sketchy heat in winter and stifling heat in the summer.
The basic build was done by 2018, then the project sat for a while until the interior was completed in 2021. The bus retains much of its dash and other interior appointments, but the seats are another story. The barebones bus seats were replaced with custom seats and the bus is wired for sound now. There was an endless stream of kids crawling into the bus at a car show because they'd never seen a school bus like this '59 Chevy.
This Chevy is painted regulation school bus yellow, but there was a debate about whether to make it more orange—either way this big Chevy people-mover really pops in the sun.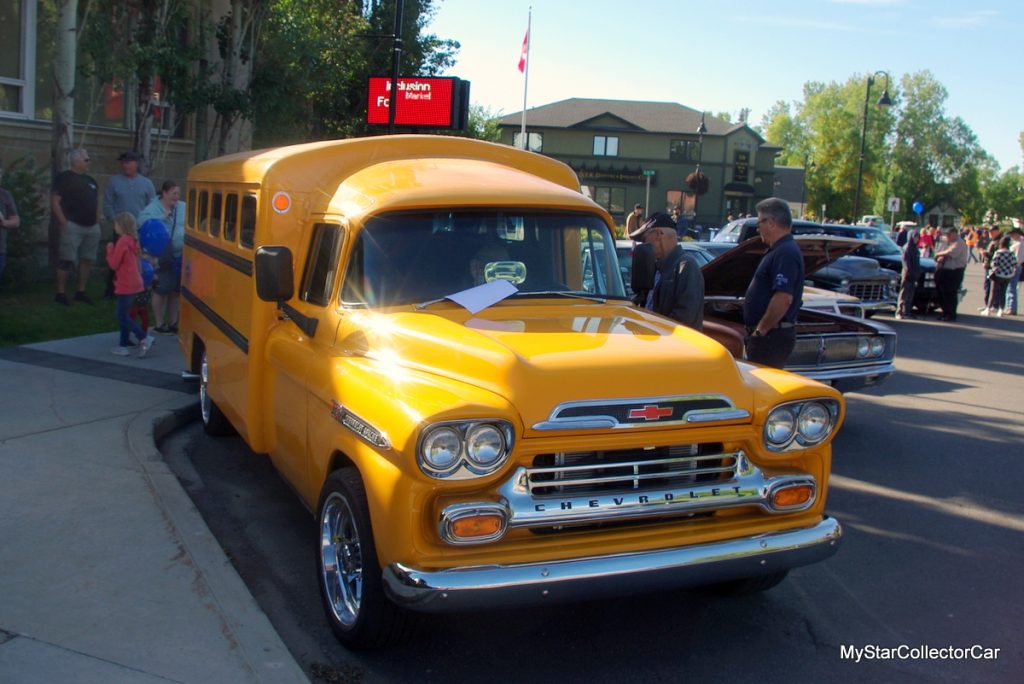 Phil has a few things he wants to address on the Apache 3800. There's a 4:56 rear gear on the truck, so this bus is working insanely hard at 50 miles per hour (2700 rpm). Phil has an aftermarket overdrive on back order, so he's patiently waiting on it so he can coax the bus up to highway speeds. He did add that the bus "drives really nice".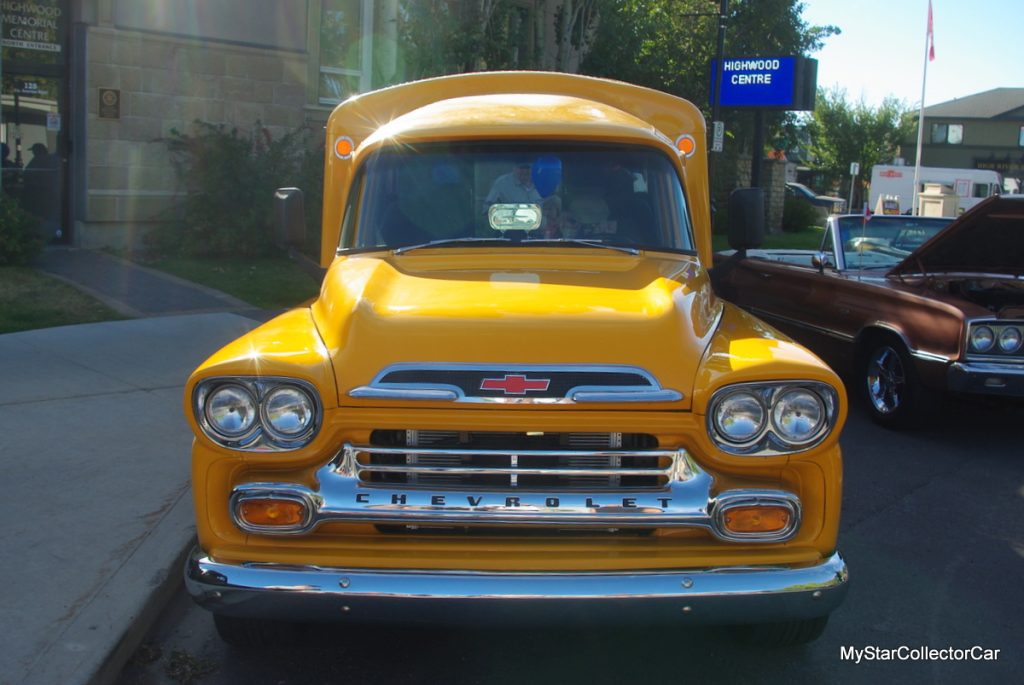 He also wants to showcase the bus in the Stavely parade next year to see if anyone remembers this unusual school bus. There's little doubt this vehicle hauled a lot of kids over the years—they were the only ones who could fit in it.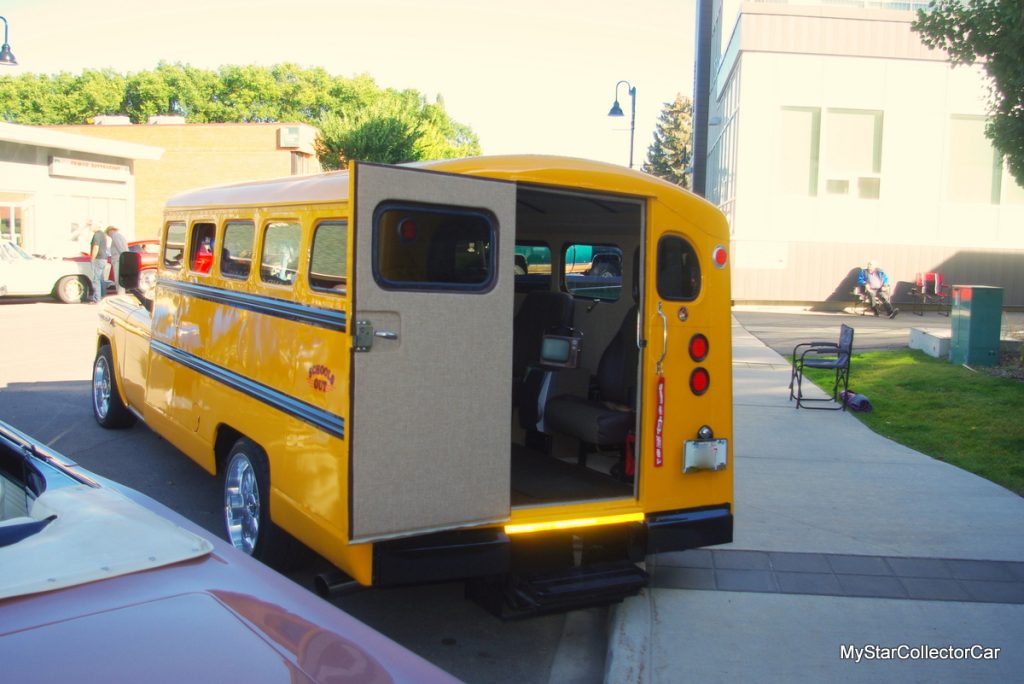 Phil also emphasized the role Ron the original builder played in the project. Unfortunately, he didn't live long enough to see it to completion, but his hard work took this bus close to the finish line.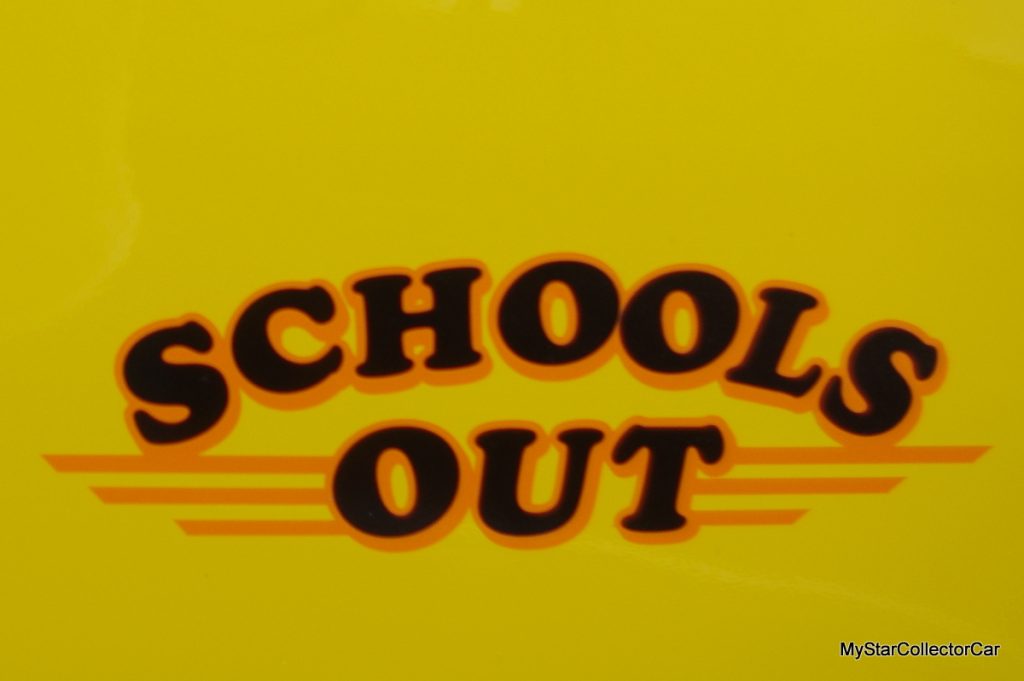 By: Jerry Sutherland
Jerry Sutherland is a veteran automotive writer with a primary focus on the collector car hobby. His work has been published in many outlets and publications, including the National Post, Calgary Herald, Edmonton Journal, Ottawa Citizen, Montreal Gazette, Saskatoon StarPhoenix, Regina Leader-Post, Vancouver Sun and The Truth About Cars. He is also a regular contributor to Auto Roundup Publications.
Please re-post this if you like this article.