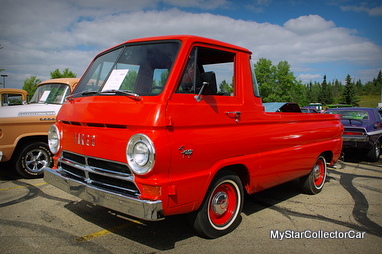 Last year we managed to see exactly two A-100s during the entire summer show season.
The unusual trucks were not plentiful even when they were brand new, so two different A-100 stories is like a lottery win for us at MSCC.
This 1964 Fargo A-100 had a long history with one farm family, mostly on a lengthy timeout in their barn.
The truck was rescued from exile by Randy and Carol Jarvis and given a new life back on the road.
Randy was very familiar with the truck and even rode in it when he was eight years old. The original owner was a neighbor of Randy's family and used it as a go-to-town truck.
Apparently he did not get to town much because the A-100 only had 57,000 original miles on it.
Farm trucks are bought by practical people: farmers. Thus the A-100 was a no-frills truck and had a basic six-cylinder engine and three-on-the-tree 3 speed manual transmission.
The sticker price was likely all the farmer needed to pay for his truck because it has no luxury options.
Randy was well aware of the A-100's history, including its purchase date (December 4, 1963). He and Carol purchased it from the original owners in 2009 and began the restoration on the unusual Mopar pickup truck.
Randy and Carol began the restoration on the A-100 and included a new paint job and upholstery in the process. The result was a stunning truck with all of its originality left intact under the new paint and interior.
We suspect the upholstery likely took a big hit in barn storage where mice typically set up house in highly destructive fashion, but Randy did not mention specifically why it needed new cloth. We just went with the odds on this theory.
Randy told us the truck was a rare version of the A-100 because it had corner windows in the cab. He understood that only 35 trucks left the factory with these extra windows in their cabs.
We discovered the truck at an all-Mopar meet and were happy to find Randy was a congenial owner with plenty of information about the A-100.
He and Carol have not taken the truck on long trips since its restoration, but enjoy local excursions in it. The truck is has low gears in it and its 170 cubic inch slant six engine has to work too hard at higher speeds according to Randy,"60 mph (100k/h) is lots". He added; "It's (the A-100) 51 years old and I don't want to beat it up too much." Randy told us they do not drive it too much because, in his words, "it's too hard to get parts".
However, Randy and Carol enjoy every minute when they do take the A-100 to local shows because the truck is a source of curiosity for onlookers, many of whom have never seen one before in their lives.
Randy was different from most people because the 1964 A-100 was something he saw very early in his own life and it left a big impression on him as a kid.
Big enough for him to purchase the very same truck much later in life.
Jim Sutherland
CLICK HERE to Like us on Facebook
CLICK HERE to Follow us on Twitter
CLICK HERE to Follow us on Pinterest
*Re-post if you like this MSCC article…thanks.