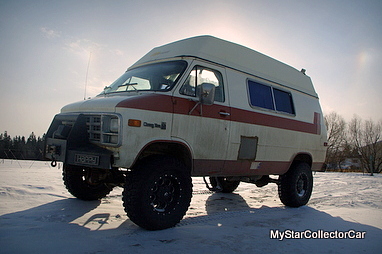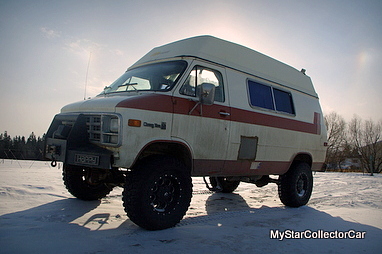 Travis Meldrum is the kind of guy who blazes his own path in life.
The former Canadian soldier is a talented mechanic with an eye for the unusual, so he decided to build his camper van into a 4×4 trailblazer.
Travis likes a lot of elbow room when he hits the backwoods and needed a vehicle that would get him into areas where conventional vans fear to tread in the great outdoors.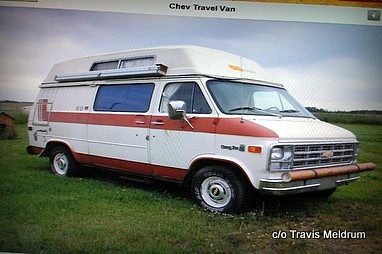 Travis started with a 1979 Chevy G 30 van that was useful for the camping angle and less than adequate as a bush buggy. Travis wanted to build an "apocalyptic survivor vehicle", in his words.
Travis has a pretty good sense of humor and enough mechanical skills to build his 4×4 Chevy camper van from his what-if scenario.
He took on with a complicated build because the Chevy van was a uni-body frame and Travis wanted to use a 1976 4×4 Chevy truck as a donor vehicle.
The donor truck had a full frame and the idea of mounting the van body on top of the truck frame was on the table, but Travis decided to go in a different direction.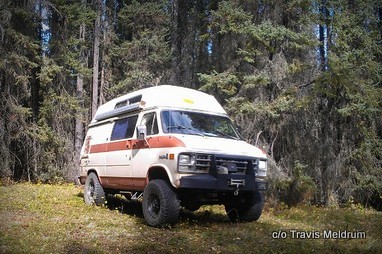 Travis removed the front and rear end components from the donor truck and mounted them on the sub-frame of the van.
Travis felt the process to simply mount the van on the truck frame was not a choice because the van's 4-inch width difference required too many modifications to the body and frame so, as usual, he chose his own path.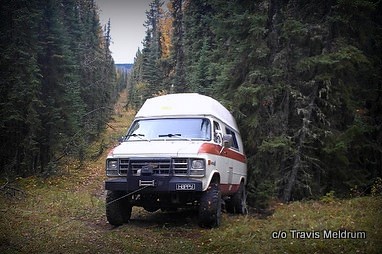 The process chosen by Travis was neither easy nor quick, and he ended up spending many hours in the shop after he finished a work day working on other people's vehicles. He also had to keep the van in rolling condition so it could be moved out of the shop during work hours.
The van now sports full-time four wheel drive from the donor truck, along with a few other refinements like an overdrive automatic to compensate for the low gear ratios found on the Chevy truck's stump-puller differentials.
The van project is a work in progress for Travis but he has reached a point where he can occasionally drive it to work and, even better, use it for a weekend camping trip. Travis is a year round camper and does not fear the harsh winters found in western Canada.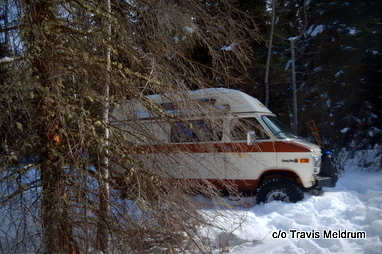 Travis and his girlfriend used the van as a camper this past winter and enjoyed the great outdoors with plenty of indoor comforts. The van has two deep cycle RV batteries and 2 solar panels to power up a TV set while they enjoy the warmth of a propane heater during winter nights in the bush.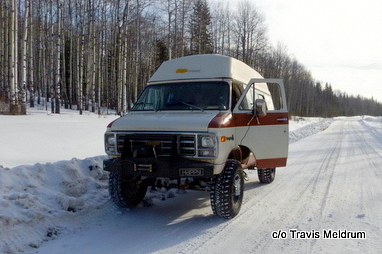 They can enjoy all the comforts of home and no neighbors within several miles because the van will plow through a couple of feet of snow with ease.
Travis has a winch on the front of the van and will add one on the rear because he wants to make sure he is not stranded when he get into the backwoods.
Travis said his van was "built like a tank" and that is an apt description for an unusual vehicle built by a former soldier.
Jim Sutherland
CLICK HERE to Like us on Facebook
CLICK HERE to Follow us on Twitter
CLICK HERE to Follow us on Pinterest
*Re-post if you like this MSCC article…thanks.