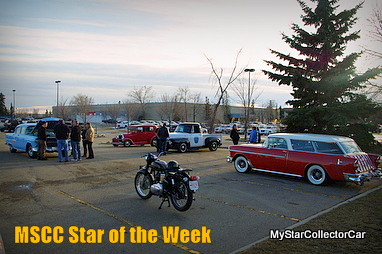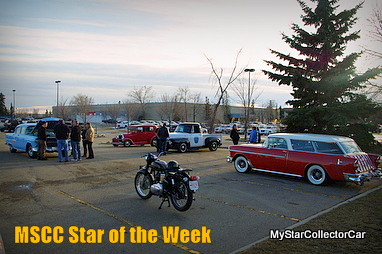 MSCC MARCH 29 STAR OF THE WEEK: THESE GUYS BECAUSE THEY FINALLY GET A CHANCE
Winter has had a death grip on a large part of North America this year and that's had a profound effect on old iron sightings this year.
This winter has been brutal in many ways but its biggest victims were car guys who like to take a run now and then in something more classic than a Prius.
They paid a price because logically you can't/shouldn't drive a '55 Chevy through five foot snowdrifts on roads laced with salt.
This MSCC Star of the Week is really a dedication to these guys who brought the iron out a few days ago because they finally got a chance.
MSCC MARCH 28 STAR OF THE DAY: SHELBY CHARGER—THE K CAR ON STEROIDS
The K-car platform may have saved Chrysler but that didn't mean hardcore Mopar guys were happy.
They were encouraged the company saw some more sunrises but Mopar performance was consigned to the history books.
Carroll Shelby stepped in to give Chrysler a nitrous boost in the form of the Shelby Charger to help breathe fire back into Mopar .
It worked-this MSCC Star of the Day Shelby Charger is one of Mr. Shelby's K cars on steroids.
MSCC MARCH 27 STAR OF THE DAY: '65 SUNBEAM TIGER—IT ROCKED MAX SMART'S WORLD
Get Smart was one of the most popular shows of the 1960s but one of the biggest stars was a car.
Agent 86 Maxwell Smart drove a little Sunbeam Tiger for the first few years of the show and every kid under 12 wanted that car in the worst way.
No wonder-this little rocket had a small block Ford under the hood to launch Agent 86 into warp drive anytime he needed to lose a bad guy (KAOS agent).
This MSCC Star of the Day '65 Sunbeam Tiger was at a 2013 show… this is the kind of car that rocked Max Smart's world.
MSCC MARCH 26 STAR OF THE DAY: '75 LEMANS—ROCKFORD ERA BROKEN NOSE RIDE
Jim Rockford was the main guy in the Rockford Files.
The legendary James Garner played Rockford and one of the trademarks of the show was the broken nose cars.
Broken nose cars were typically two door coupes from the mid-70s and they were always driven by bad guys (Rockford's term was broken nose guys) who chased Rockford.
This MSCC Star of the Day '75 Pontiac LeMans was on the street yesterday and there was no sign of a broken nose or Rockford.
MSCC MARCH 25 STAR OF THE DAY: '56 FORD FAIRLANE CONVERTIBLE—LIFE IN A SIMPLER ERA
There was an era that was much less wired-in and much simpler.
It was 60 years ago and it was called the 1950s.
This was a time when kids actually played outside in a world where a helicopter parent meant your dad flew a chopper in the military.
This MSCC Star of the Day '56 Ford Fairlane convertible is symbolic of a time when cars like this made a lot of sense.
MSCC MARCH 24 STAR OF THE DAY: A TRI-POWER 427 VETTE STALKS THE STREET
The Corvette really didn't need much more press after the legendary '63 split window debuted.
Despite that spike in interest, the Vette received a lot more when they stuck a monster 427 under the hood.
This was like adding another box of dynamite to a stack of four but mid-60s turned into a horsepower war on the street and the Vette was in the middle of the brawl.
The MSCC Star of the Day is a tri-power 427 Vette on the street and you can see how much of a punch Chevy brought to the fight.
MSCC MARCH 23 STAR OF THE DAY: '67 VALIANT – A FLYING BRICK WITH MOPAR ROOTS
Chrysler reinvented the Valiant in 1967 and lost the station wagon, convertible and hardtop versions.
They went to a pure sedan lineup in '67 so there was only one option—you could buy one with two or four doors.
Mopar guys discovered the magic in these Valiants because they liked the light weight and the rigid post so they turned them into flying bricks via massive big blocks.
This MSCC Star of the Day '67 Valiant was on the street back in 2007 in a rare demonstration of a flying brick.
For past MSCC Stars of the Day please follow this link.
CLICK HERE to Like us on Facebook
CLICK HERE to Follow us on Twitter
CLICK HERE to Follow us on Pinterest
Please re-post this if you like this article.
Star of the Day page sponsored by Southside Dodge