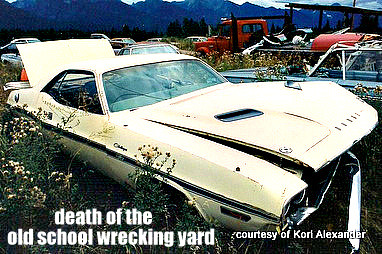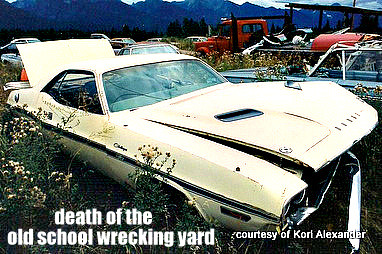 One of the memorable moments in 'American Graffiti' was the junkyard sequence where John Milner described the story behind the wrecks in the yard.
The movie was set in a bygone era (1962) when junkyards had not yet become auto recycling depots, plus there were plenty of them around North America.
Milner was able to point to a few hellacious wrecks and describe the circumstances behind the cars' final resting place in the junkyard. I can vividly remember my own high school years in an era when junkyards were still plentiful enough for Jim Croce to include their typical guard dogs in a song.
We were able to visit the yards and do a quick assessment of cars like a 1970 Barracuda in which one of our classmates had sent into a low orbit followed by a spectacular crash landing into a grove of trees-in town.Another small collection contained a wrecked pickup truck that had a crushed steering wheel from a head-on collision on a rural road, a crash that ended the life of one our recently graduated classmates.
The wrecked vehicles were a graphic reminder that maybe we weren't as 10 feet tall and bullet-proof as we thought in those brash young days.
2012 is now 50 years after the time period in the iconic coming-of-age movie about a collection of high school graduates wrestling with adult decisions and occasionally high school girls (American Graffiti). Most junkyards have followed John Milner into the world of the departed because they are victims of a new era of economics and environmental concerns.
The new age wreckers (sorry-they're now called recycling depots) are geared toward a newer vehicle that has plenty of buyers for their product. They have little room and even less inclination to tie up their space with a bunch of old iron so that a guy with a 40 or 50 year old vehicle can find a trim piece. It makes little economic sense not to sell most of the vehicle parts to a big customer base and then crush the rest for metal salvage.
I can understand their basic business logic, but something was definitely lost in the translation for those of us who enjoyed the simple pleasure of a stroll through an old school junkyard- chock full of classic vehicles, parts and car guy dreams.
Today we salute those broken cars from the junkyards of the past.
Environmental concerns may have scrubbed them clean from the landscape but they will never be scrubbed clean from our memories.
Jim Sutherland
More car topics at–https://www.mystarcollectorcar.com/