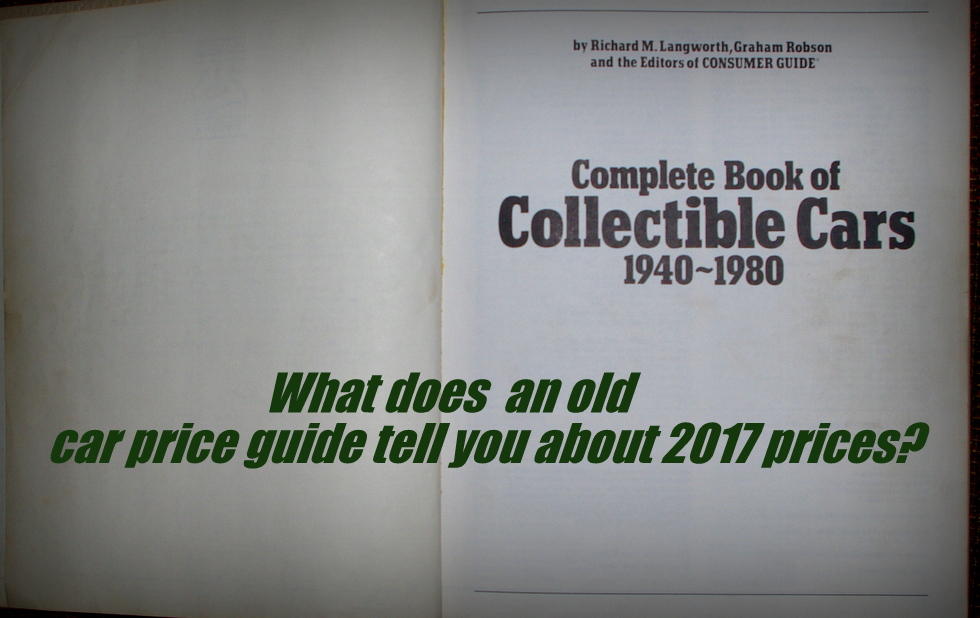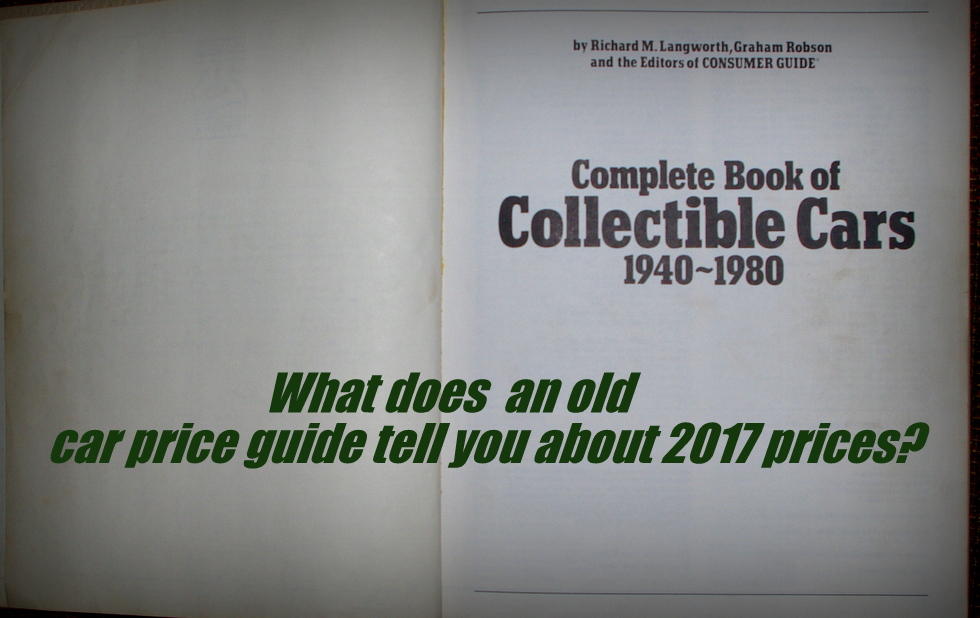 Occasionally MyStarCollectorCar receives old school (paper-based) material from a bygone era.
One of the more interesting books from the past was a Canadian book titled Complete Book of Collectible Cars that was printed in 1984.
The book was written by people who were considered automotive experts in 1984 and the basic idea behind the book was a price guide for vehicles built between 1940 and 1980, according to its introduction.
We at MyStarCollectorCar owned older vehicles in the Eighties– and some of them were daily drivers-while others were purchased for fun and profit. Thus we are old enough to remember the Eighties as a bad decade for music and a good decade to own old iron.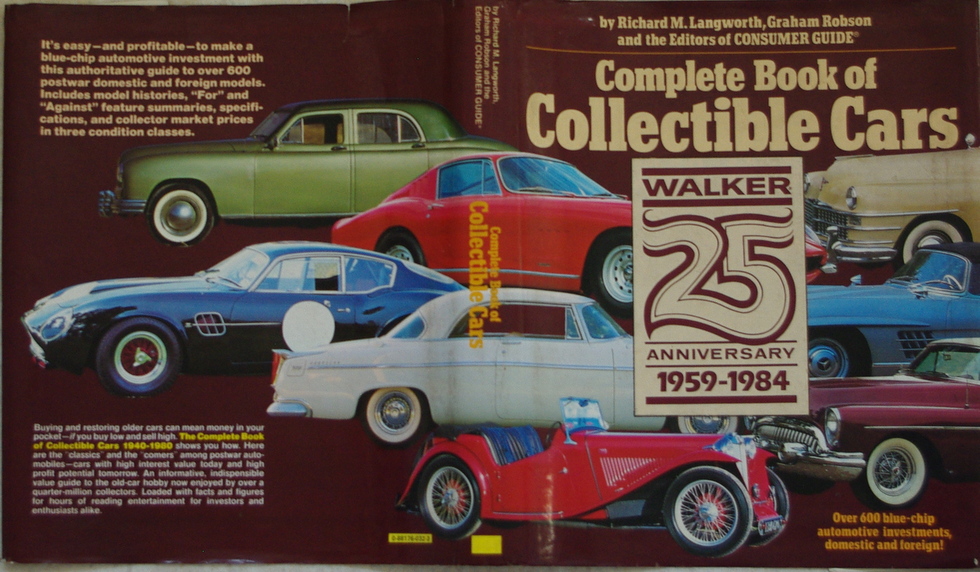 33 years have passed since the book was written, but it is interesting to read the value assigned to vintage rides in 1984 instead of 2017.

There were still plenty of vintage vehicles available to car guys because plenty of them had not yet found their way to the crusher. On a related note, there were also plenty of old school junkyards and private hoarders around most regions of Canada because a pushy posse of eco-warriors had not yet exerted their undue influence on eager Canadian legislators and bureaucrats in '84.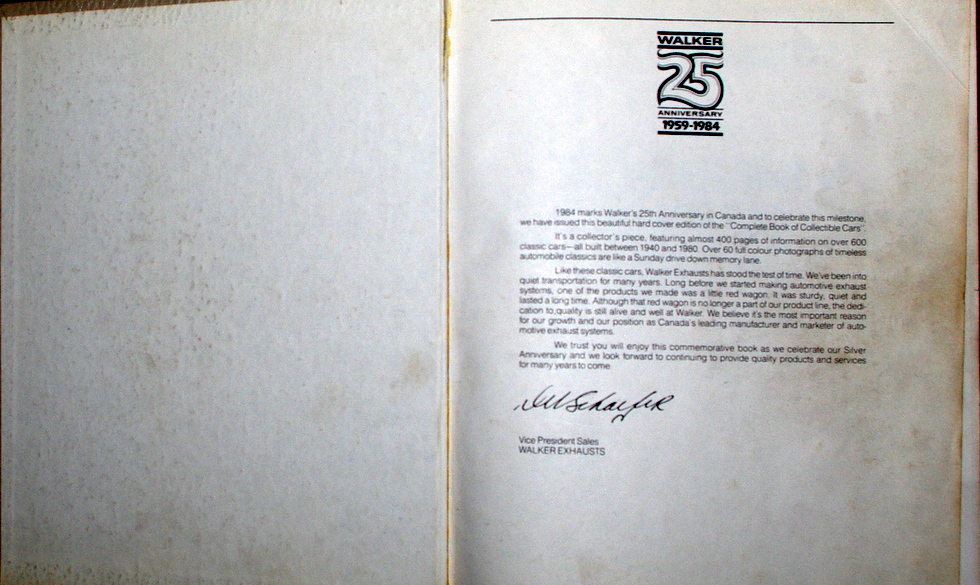 Prices were considerably lower than today's world of more rules, less vintage rides, and a large gang of dreamers who think every rusty piece of junk is worth at least 10 times its actual value.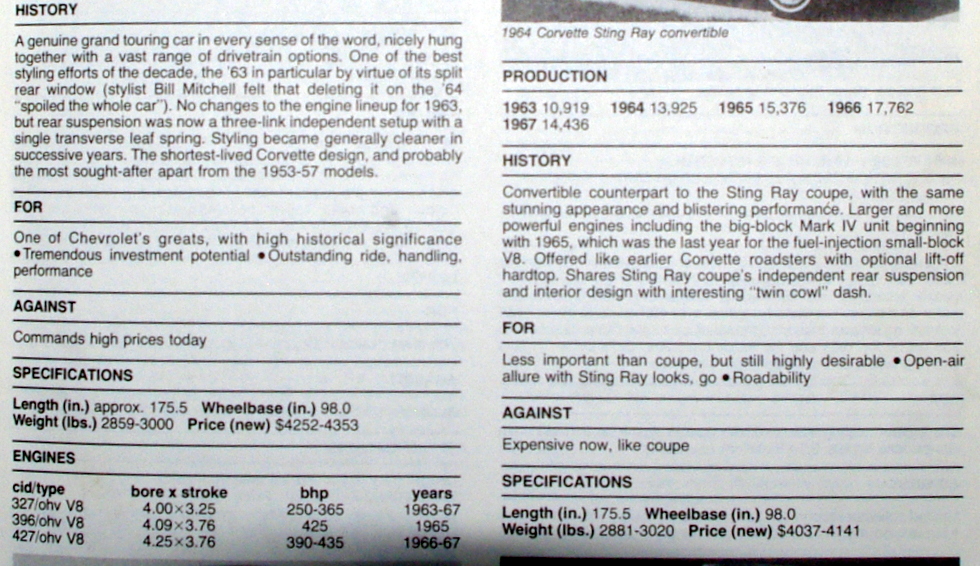 The 1984 vintage car book is big. In fact, it is almost at coffee table book size and it has almost 400 pages of information and photos about old cars.
MyStarCollectorCar enjoyed the book from a historical perspective because it was written during an era when prices were low and volumes were high by comparison to today's collector car market.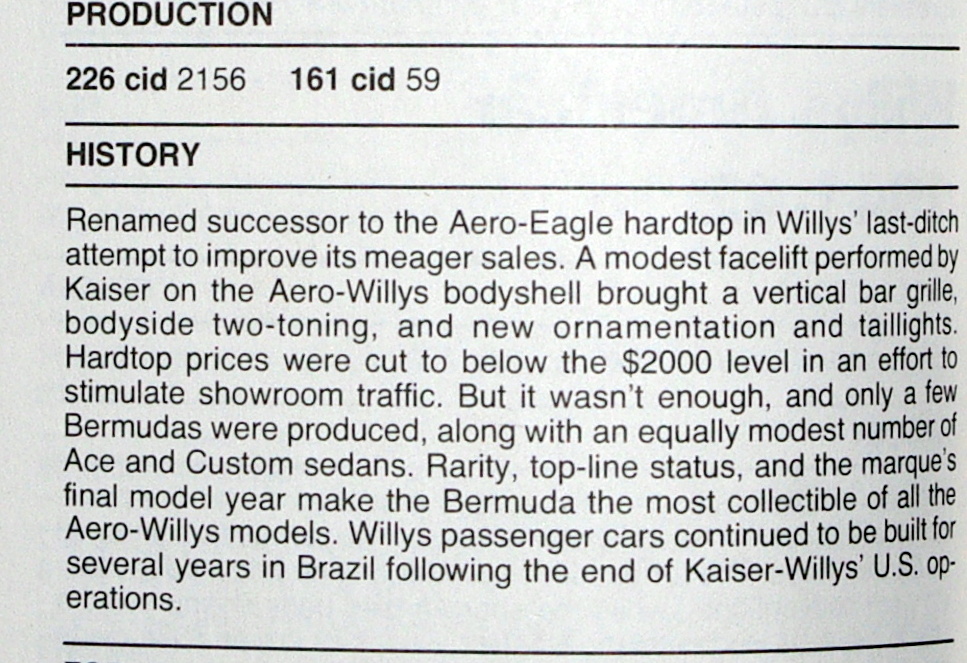 However, MSCC decided to pick the feature cars in a random fashion so we could stay within a sane article length for our site. Our readers would likely be curious enough to ask how we did it and the answer was pretty simple: We just opened the pages on the book blindly so we would avoid picking our favorites.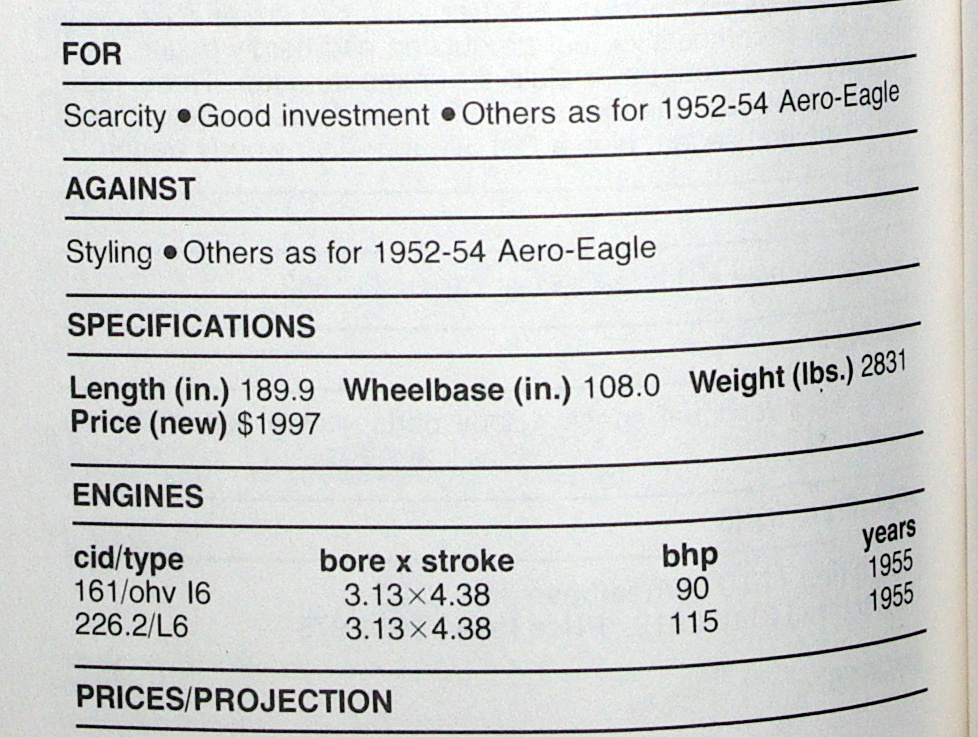 The first car drawn from the book was a 1955 Willys Bermuda 2-door hardtop. MyStarCollectorCar has yet to encounter a 1955 Willys Bermuda in any form since we fired up in 2009, so this car was a good choice.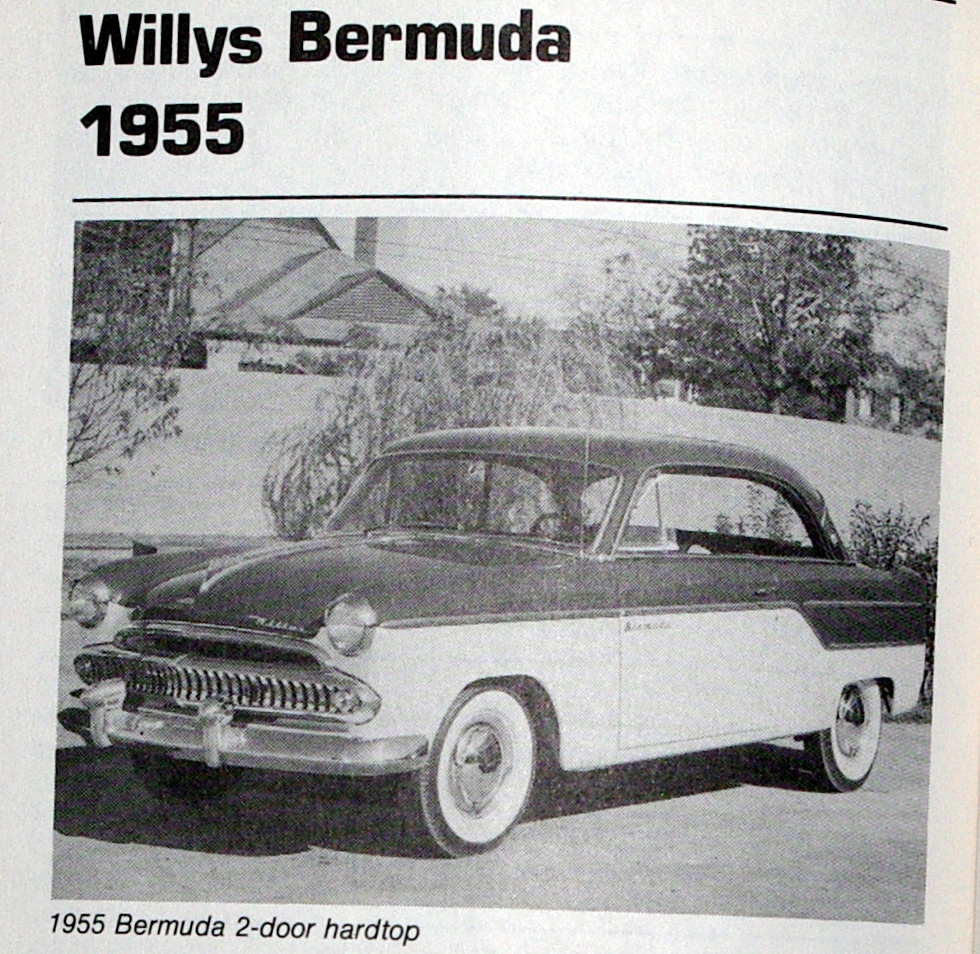 The '55 Willys was ultra-rare and ultra-cool from the moment it left the factory. The book assigned a value of about 3-4000 dollars for an excellent car in '84. We would assign a value of your first born in 1984-and a value of your first born child and grandchild in 2017-plus a boatload of cash because these cars are that rare.
Another random selection in the book steered us toward a 1960 Edsel Ranger four-door sedan. The Edsel is still an automotive legend for all of the wrong reasons in 2017, but the car style looked conventionally good in 1960.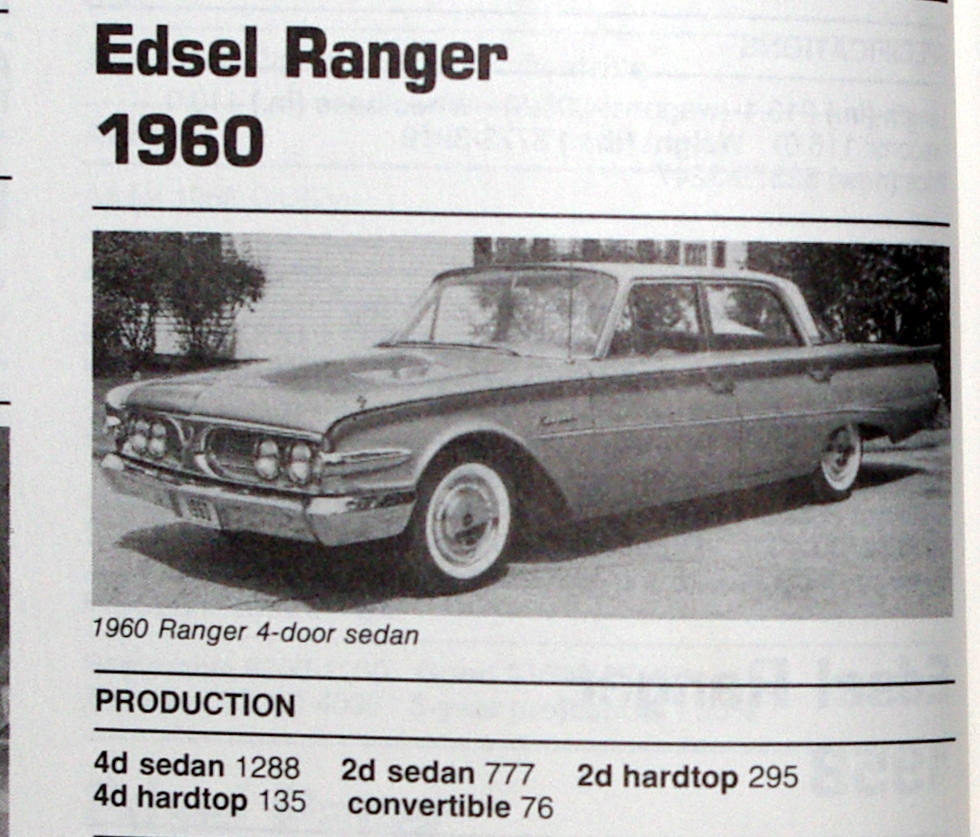 Nevertheless, 1960 was the last hurrah for the Edsel and the car brand died a quiet but unloved death during the early Kennedy years.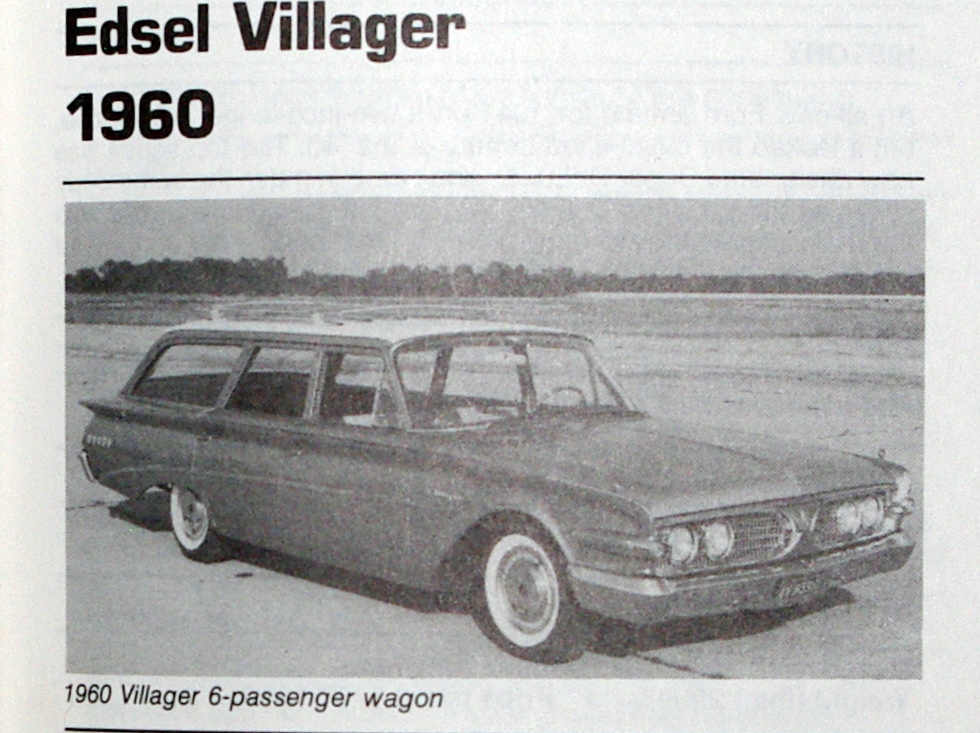 The book guys assigned a value of 2750-4000 dollars for a top end 1960 Edsel in 1984, a price that seems realistic to MyStarCollectorCar. They projected a 5 year increase in value of 50% for the '60 Edsel.
However, the 1960 Edsel Ranger is still a relative bargain in 2017, so the notoriety of the car has still hurt its value after all of these years.
The flip side of the Edsel was (and is) the 1963-67 Corvette Sting Ray. The Sting Ray is considered to be the platinum standard for collector cars and even the book boys were aware of this fact in 1984. They assigned a value of 9000-15,000 dollars for 63-67 Vettes in excellent condition, along with a 10% bump for a big block version built during the later years.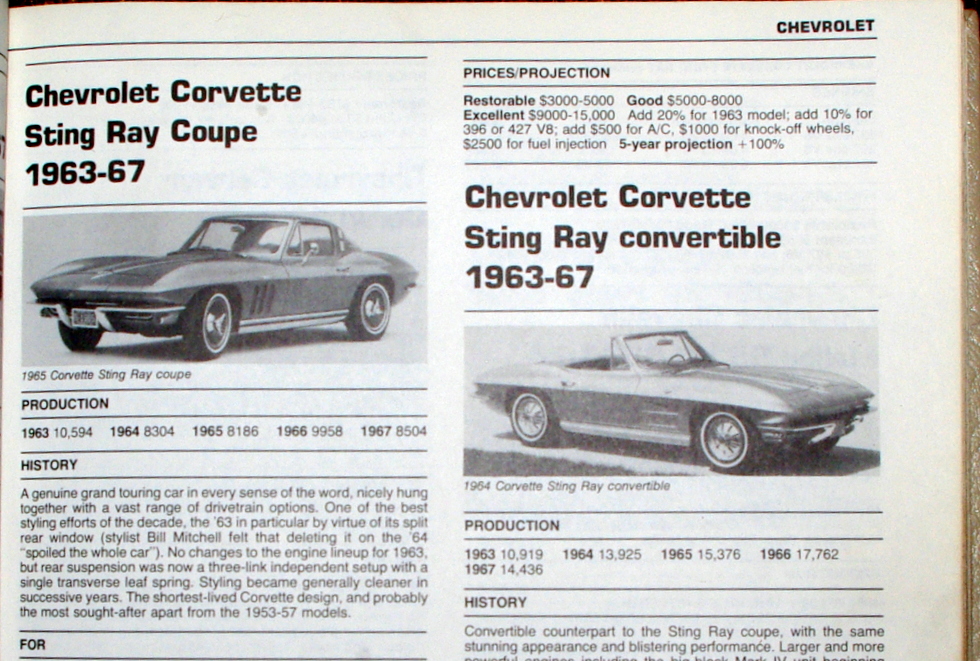 The Sting Ray has accelerated in value much faster than the big block versions accelerated on the street during the 33 year period from 1984 to 2017. These Vettes will now cost owners their first born great grandchildren and a gusher of cash if they are lucky enough to find one in excellent condition.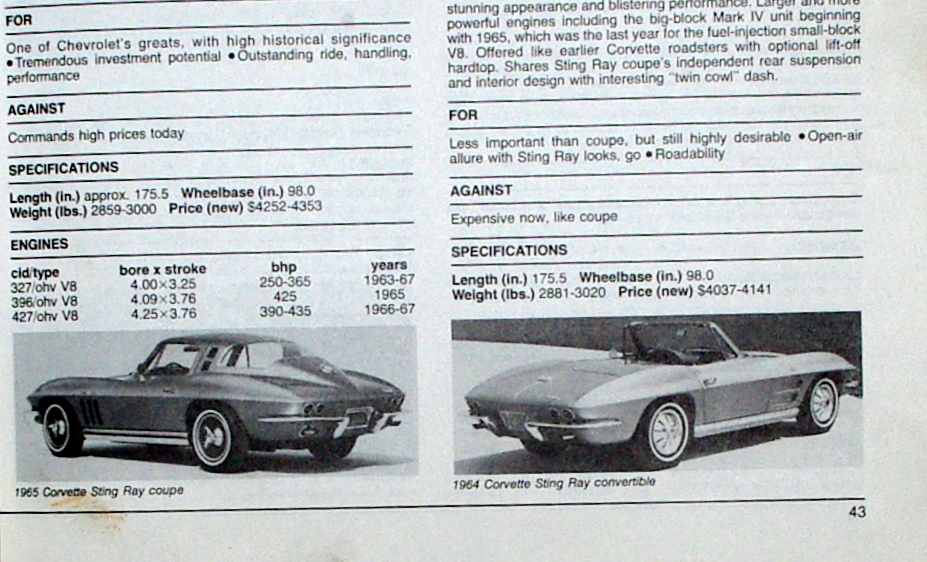 There are many more vintage cars locked into the book's 1984 prices, so MyStarCollectorCar will revisit this topic in future articles. Stay tuned.     
BY: Jim Sutherland
Jim Sutherland is a veteran automotive writer whose work has been published by many major print and online publications. The list includes Calgary Herald, The Truth About Cars, Red Deer Advocate, RPM Magazine, Edmonton Journal, Montreal Gazette, Windsor Star, Vancouver Province, and Post Media Wheels Section.