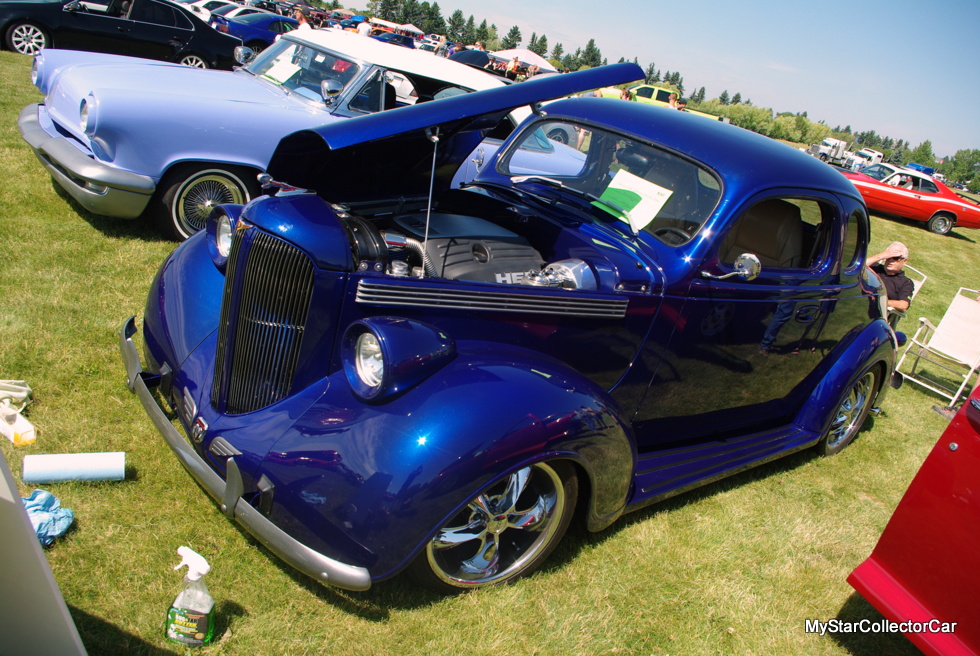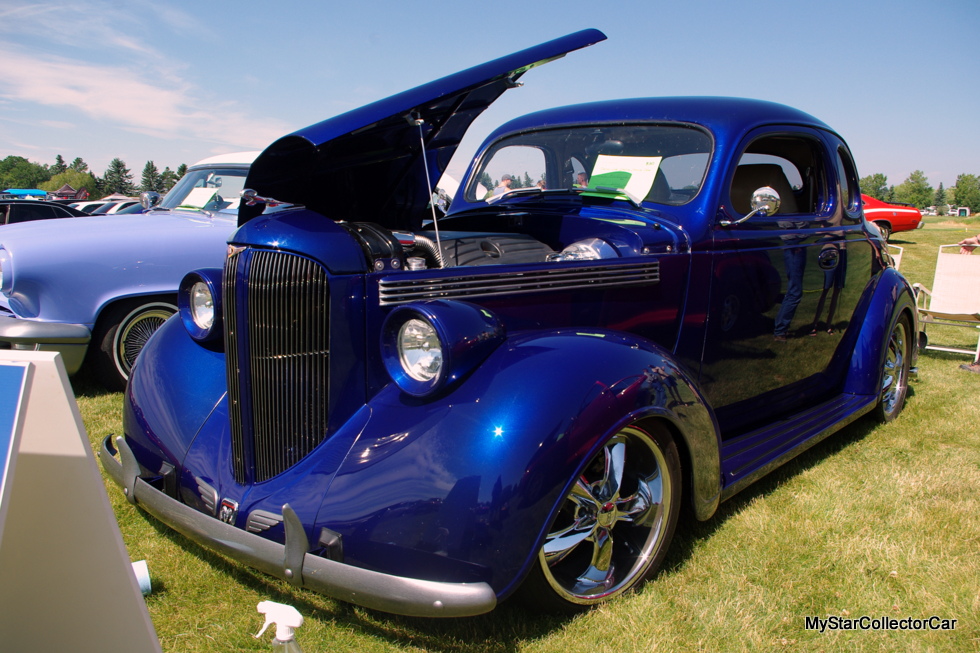 A very cool custom 1938 Dodge two-door sedan arrived at a summer show.
The car had plenty of bug splats on its grille and windshield, so it was obvious this Mopar was driven to the show at generous highway speeds.
What was not obvious on the car was the engine and power train choice for the pre-war Dodge.
The default position for many car owners was the General's famous small block Chevy, but owner Jimmy MacKelvie had other ideas for his car when he chose a late model 5.7 Mopar Hemi donated by a truck that also donated its automatic overdrive transmission into the mix.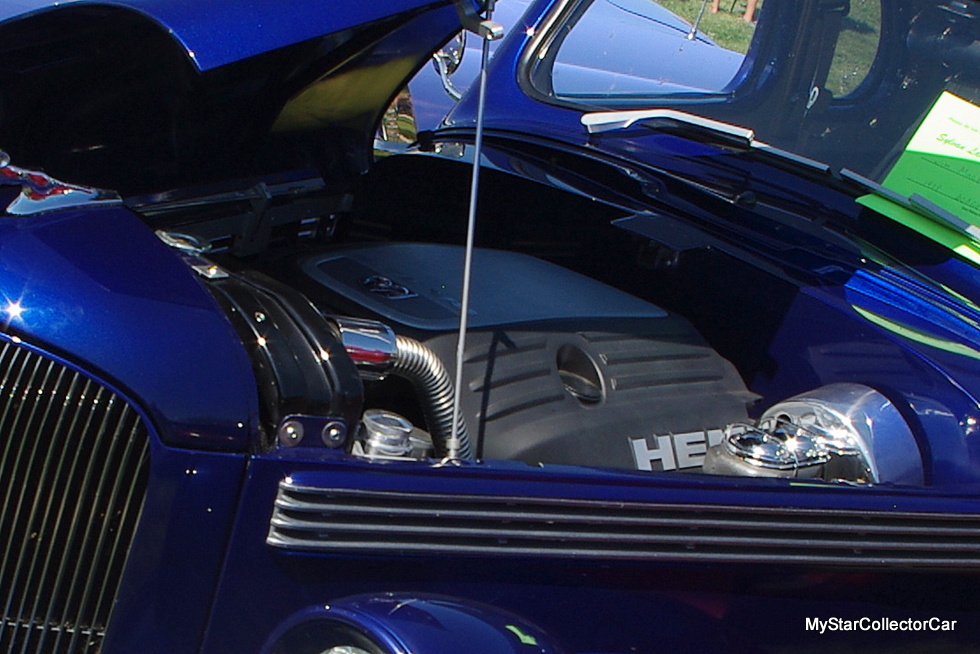 Jimmy tackled the resto mod project along with his son Taylor and the two of them were actively involved in one of the coolest builds in MSCC history.

Jimmy knew the '38 Dodge very well because he sold it in 1962 and was overcome with seller's remorse after the transaction. The search for his lost Mopar ended in success about 11 years ago when Jimmy was reunited with his beloved 1938 Dodge sedan.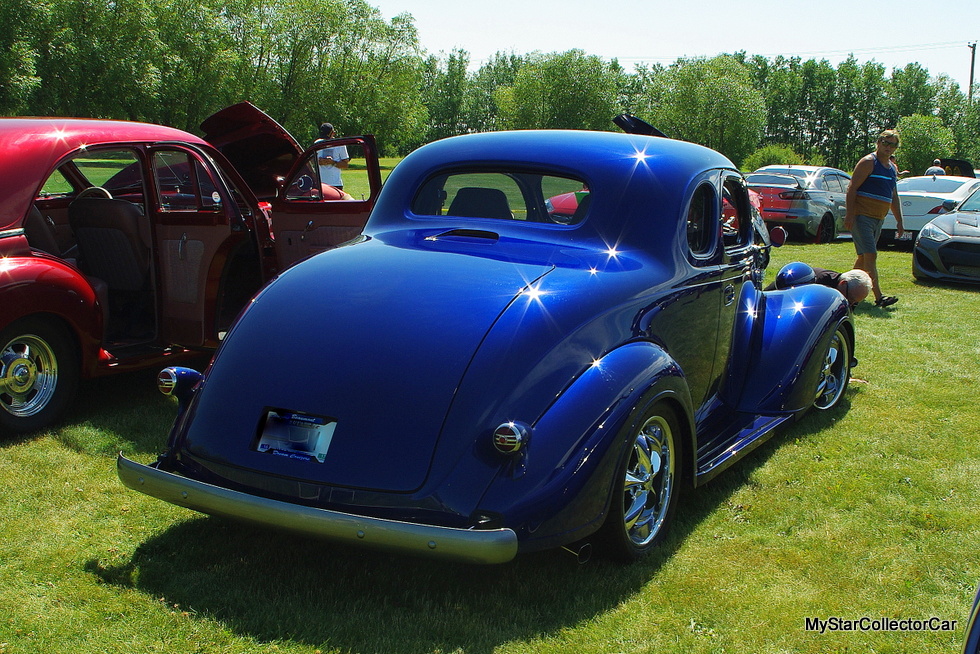 The Dodge required plenty of work to make it roadworthy so Jimmy and Taylor began to formulate their plan, with a nod toward an old school build.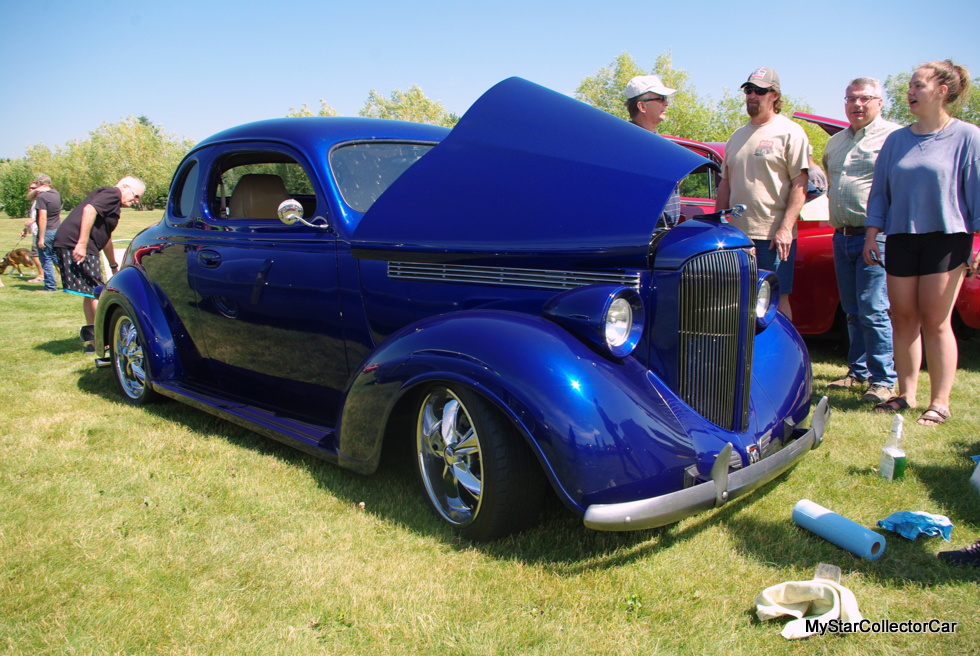 The donor Dodge truck solved the power train issue and a Mustang II front suspension/ steering add-on gave the '38 a new lease on handling life. The 4-link rear suspension also enhances the driving experience found in this highly modified Mopar.
The front seats are out of a Tacoma truck, while the striking blue paint job is more commonly found on a Mazda where it is known as Sonic Blue.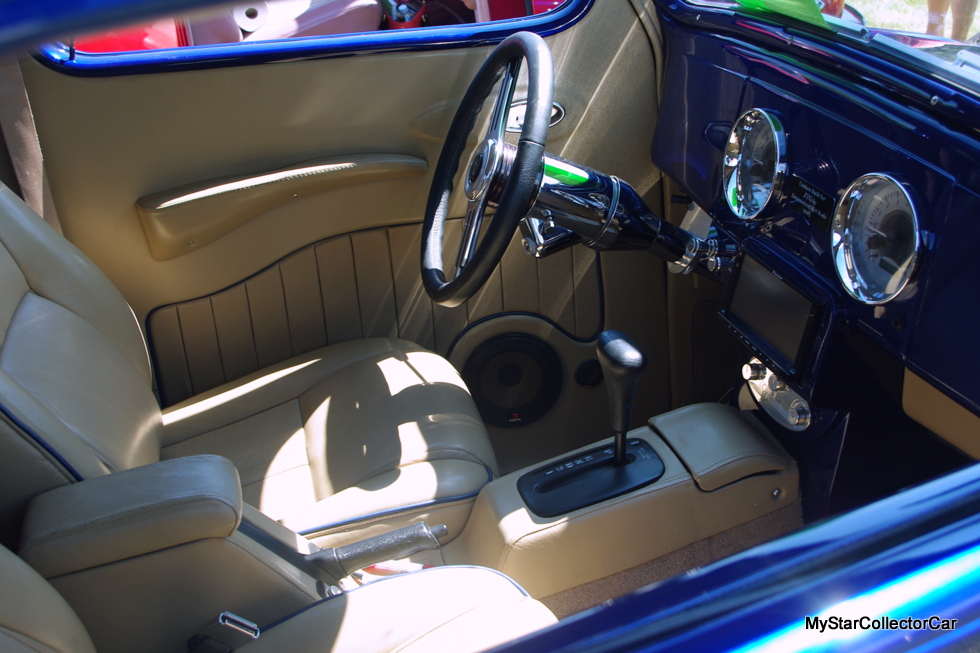 The Dodge now has frenched headlights that are LED-based and offer serious candle power for night driving, as well as built-in front signal lights. Jimmy added a high middle rear brake light to his car so other drivers would see him when he hits the binders.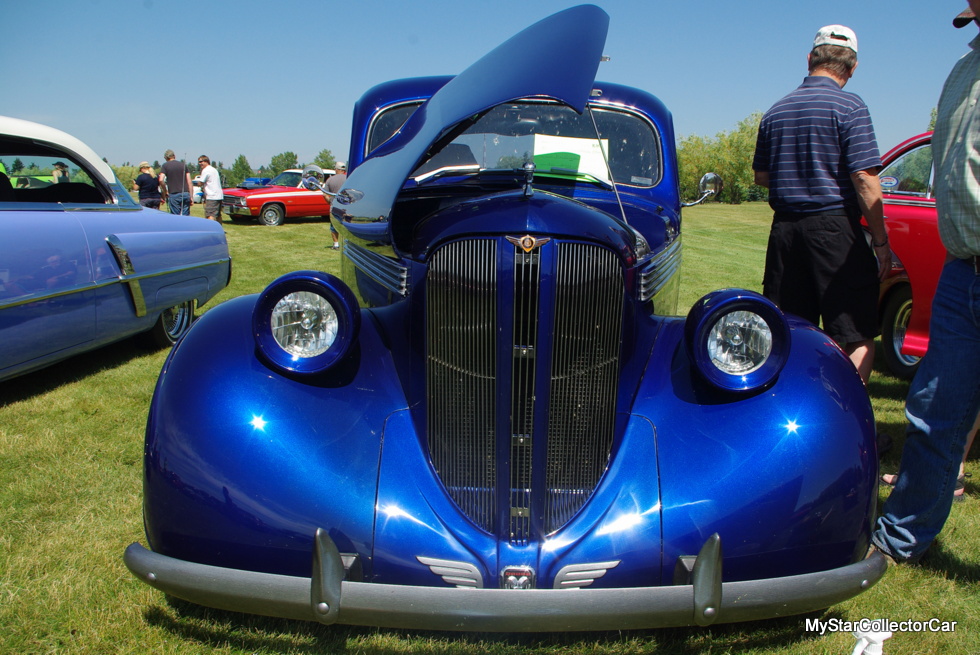 This Dodge will stop on a dime because Jimmy also added four-wheel disc brakes to the car. Power steering is one of the modern creature comforts not found on a factory 1938 Dodge.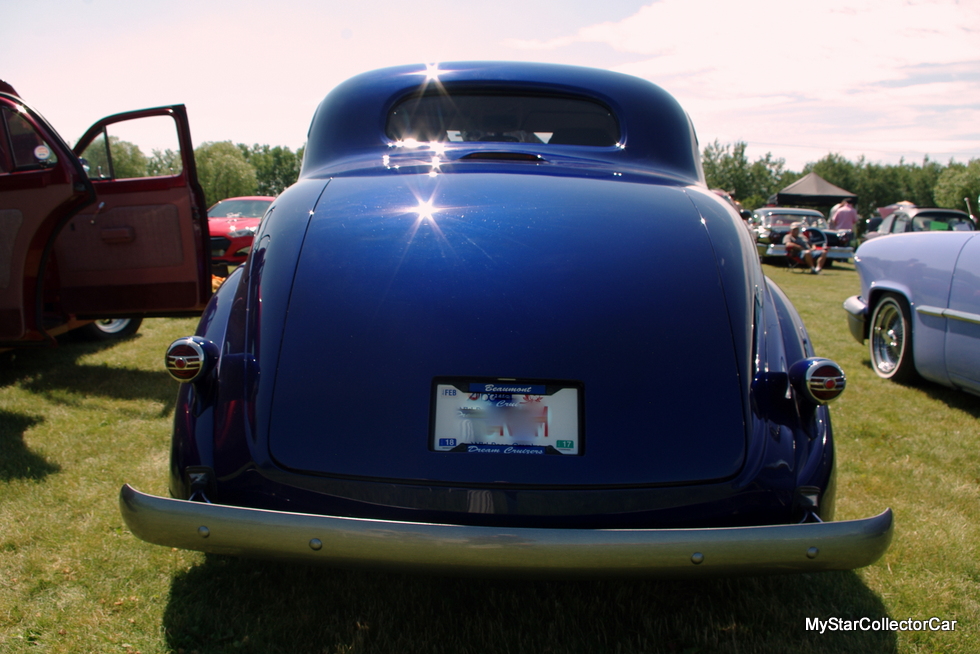 The car has a Jeep Cherokee gas tank to avoid any fuel issues on the '38 Dodge.
The restoration process on the car has been very long, thus it has only been on the road for a few short years. Jimmy was reluctant to take the Mope on a long trip during the Dodge's first year on the road, so he trailered the car to long distance events.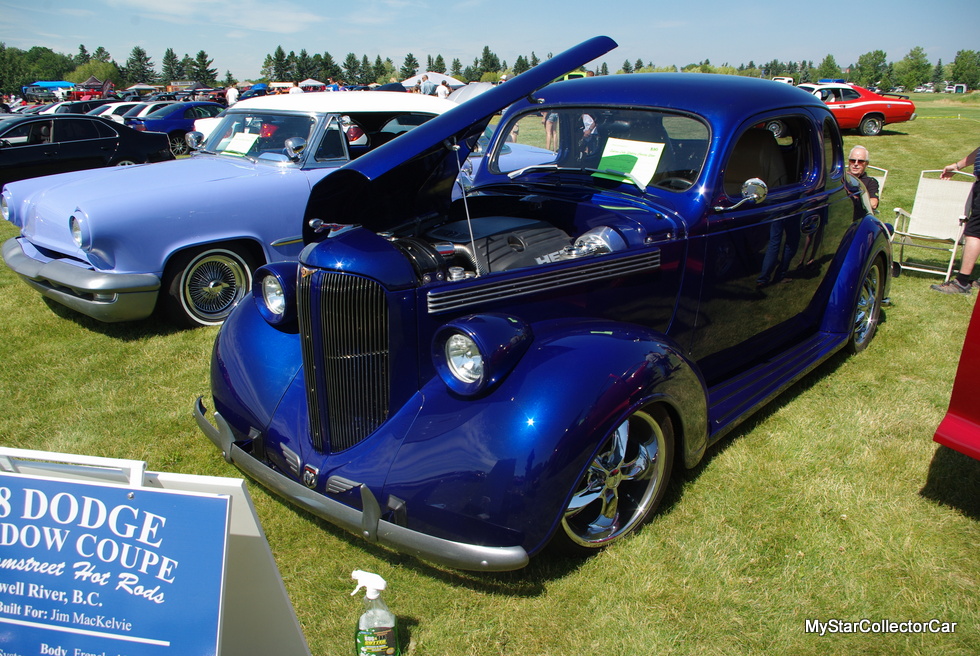 The '38 Dodge resto-mod passed its road tests with flying colors during the early period and now Jimmy is very confident in its durability.
In fact he decided to drive the Dodge to an annual show held in the mountains hundreds of miles from his home, whereas he trailered his car to the same show a year earlier.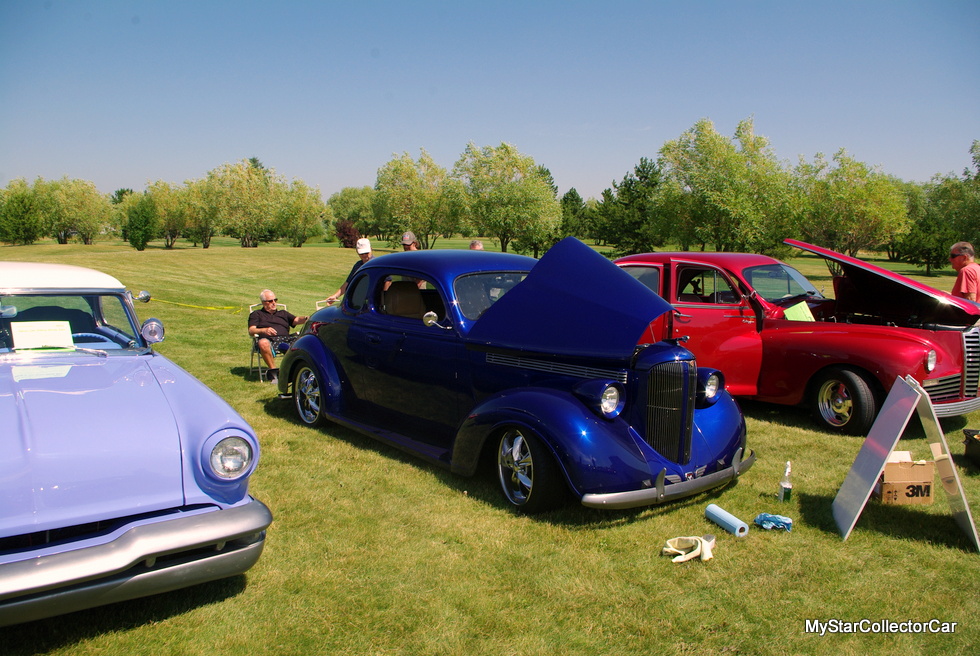 Jimmy's drive-it-if-you-own-it attitude was abundantly clear when we spotted the bug splats on his '38 Dodge resto mod. A car does not get them sitting protected on a trailer behind a bug deflector/tow vehicle.
Jim Sutherland
CLICK HERE to Like us on Facebook
CLICK HERE to Follow us on Twitter
CLICK HERE to Follow us on Pinterest
Please re-post this if you like this article.