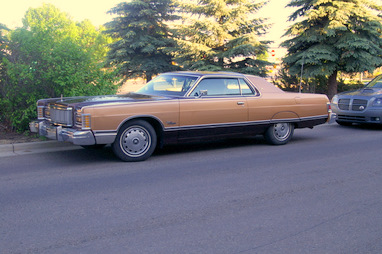 Most of us have purchased raffle tickets in the vain hope that we would win that brand new Corvette Z06 and most of us have been disappointed.
Patrick, the new owner of this 'bumper-car' land yacht from the mid- 70s wasn't disappointed.
He won this Rockford Files era refugee when it came up for a raffle last year via a local service club. 
Some people would have been fairly lukewarm about winning this big Merc. In fact the ink wouldn't have been dry on the transfer before that car would have been listed in the local paper under "offers".
Not Patrick.
Without his wife's approval, Patrick actually bought 200 bucks worth of tickets on the one owner classic. This is one of those happy ending scenarios because they drew his name and now he owns this 53,000-mile babied '76 Mercury Grand Marquis.
The car immediately got on his wife's radar when Patrick kicked her Explorer to the curb so he could store the Merc inside but she's come around on the big machine. After all it's huge, has seat belts and runs like a top plus Patrick takes his kids to every car show he can.
What wife can argue with that kind of value in a 200-dollar car?
Mike has a few minor plans for the car–the 8 track plays too fast so his "Best of Steve Miller" tape sounds like Alvin and the Chipmunks on speed but that's a minor issue. Patrick has quite a collection of old Ford projects including a couple of 70s Ford trucks, an LTD and a 4-door Marquis and his greatest joy in life is bringing the old iron "back to life".
Happily enough his raffle prize 1976 Mercury is alive and incredibly well.
Jerry Sutherland