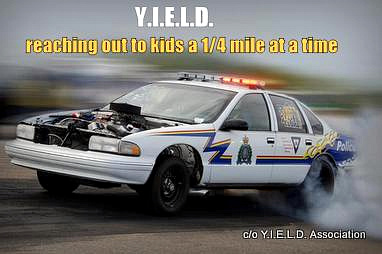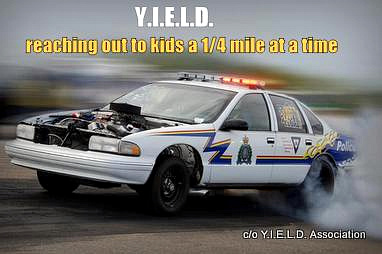 Y.I.E.L.D.-A FRONTLINE APPROACH TO THE STREET RACING PROBLEM
Emergency personnel are called 'front-liners' for a reason-they are the first people on the scene at horrific events.
Many of these horrific events are car crashes where the driver is young, inexperienced and behind the wheel of a car with massive horsepower.
The kind of massive horsepower that you see at a sanctioned race track.
Youth Initiatives and Education in Lifestyles and Driving (YIELD) Association is designed to have car guys race cars guys on the track. The difference is that some of the car guys are police officers. The program breaks down barriers and builds up communication between young drivers and police via this racing program.
The Y.I.E.L.D. Program has been an overwhelming success in Spruce Grove AB and now the idea is spreading to Red Deer Alberta. Lee Watt is with Red Deer RCMP Traffic Services and he is solidly behind the drive to bring the program to the city and area.
Lee is involved with the development and fundraising stage of the YIELD program in Red Deer so he wrote a letter that outlined the details behind this organization:
"Thank you for the opportunity for me to inform you about the Youth Initiatives & Education in Lifestyles & Driving Association.  The Y.I.E.L.D. Association and the Street Legal program that we promote to the youth of western Canada.
We are registered under the Societies Act of Alberta, corporate No. 5010660651 and we are also registered with the Canada Revenue Agency, No. 869047704 as a Non-Profit Organization.
The Y.I.E.L.D. Association operates on funds, services and equipment provided by private partners. The program currently has a retired highway patrol car, a 2000 Chevrolet Camaro that has been converted to a drag race car, based out of Stony Plain. At this time we are asking for your assistance to expand the program into the Red Deer area with the creation of a second car and working group.
Red Deer and area is home to a large and active car community. The Red Deer branch of the Yield Association plans on having a regular presence at Thursday Cruise Night and events at the soon to be completed Rimbey Racetrack. The Association will also be attending at other car shows and making public appearances at various events in Red Deer and Central Alberta.
As such we are looking for motivated partners in the Red Deer area that recognize the need to educate our youth ages 14 to 24 about the dangers of making inappropriate choices not only in their driving habits but also in their day to day living. Members of Y.I.E.L.D. strive to make a difference by providing guidance wherever possible by interacting with our youth in a positive manner.
We are a group of law enforcement, fire, and ambulance personnel that travel to schools, community events, and other special events to promote education and healthy lifestyle choices to our youth. We then try to provide a common area of conversation where the youth feel comfortable talking with us and build a relationship with our audience. During that time we speak of road safety and in general life decisions and how their choices will affect their well being and that of others. We have traveled throughout western Canada bringing our message of youth education and road safety to communities in a manner that is conducive to positive youth interaction with police and other emergency services.
Y.I.E.L.D. has partnered with the Royal Canadian Mounted Police to provide education to our youth and the general public about the dangers of high risk driving and the consequences of their choices. The history of traffic enforcement to date has shown that strict enforcement alone will not curb the problems of high risk driving activities and only through a strong education component can we make a difference to the carnage presently on our roadways.
As always, should you require any further information on this project, please do not hesitate to contact myself at any of the below contacts.
Cst. Lee Watt


Red Deer RCMP Traffic Services.

yieldreddeer@gmail.com

Dedicated to safer roadways through education."
There's no question that "racing a cop" in a scenario where the only repercussions are building bonds and communication is a pretty solid concept.
Red Deer is full of community-minded car guys so there's little doubt that YIELD will move from concept to reality with the full support of the hobby.
Jerry Sutherland