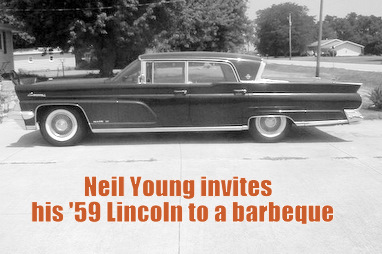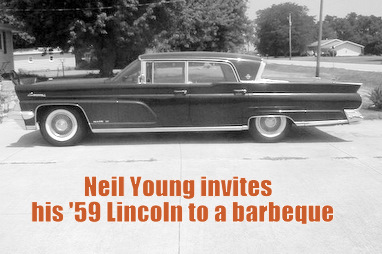 Neil Young never forgot his roots as a musician and self-styled hippie in the 60s.
He has enough fame and fortune to take a run at saving the world-one electric- powered 1959 Lincoln at a time.
Neil Young's new crazy horse was powered by a bio-diesel generator that provided electricity to his old drop top.
Now one would think that Neil might have chosen a vintage VW micro-bus or another old hearse, but a 1959 Lincoln is still a solid choice for aging rock stars.
Neil's intentions were definitely honorable in a let's-give-the-planet-a-great-big hug kind of way. Old hippie habits to try and change the world are sometimes hard to break.
Plus Neil put his own cash into the game– a concept that ego-centric wanker Bono and director James Cameron should take to heart.
A blaze in Young's warehouse last fall cooked the experimental Lincoln and set back the program as Neil and his team learn how to play with fire and electricity.
But it does give the godfather of grunge a gold record opportunity to write another tribute to a departed car.
The first one was 'Long May You Run'-a song we covered in our Star Car Tunes section.
Have a look and listen-https://www.mystarcollectorcar.com/2-features/star-car-tunes/90-star-car-tunes-qlong-may-you-runq-neil-young.html
Jim Sutherland @mystarcollectorcar.com
COMMENTS
BOB:"Maybe Neil could fill up that huge trunk on that 59 Lincoln with batteries,might be kinda funny seeing that old hippie flying down the highway in that old Lincoln with the only sound coming from his old jowls flapping in the wind. I can't believe I just wrote that, we should speak kindly of our old folks"
DENNIS:"Very interesting.It never ceases to amaze me to see what all these old died in the wool 'commie' entertainers can manage to do with all that 'capitalist' money they've earned.
"Well, I heard Mister Young sing about her. Well, I heard old Neil put her down. Well, I hope Neil Young will remember. A southern man don't need him around anyhow".
Lynyrd Skynyrd, 1974″