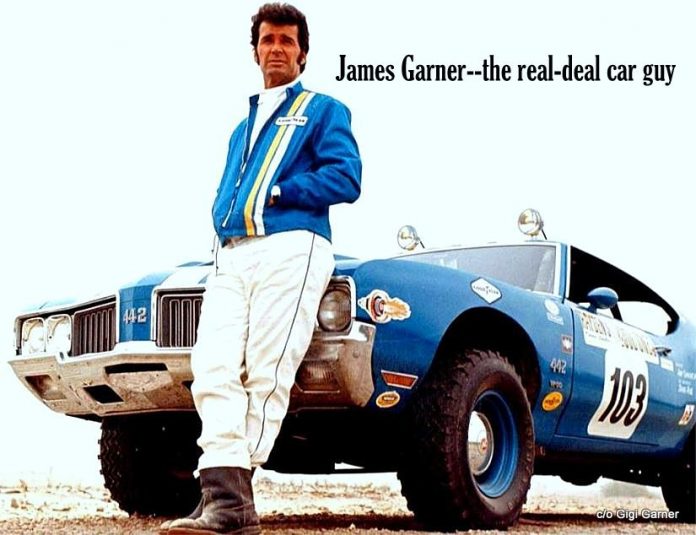 James Garner was a screen legend because he made acting look so easy.
His laid-back style may have looked effortless but he was at the top of his game every time he stepped in front of a camera.
It turns out he was also at the top of his game every time he was behind the wheel of a car.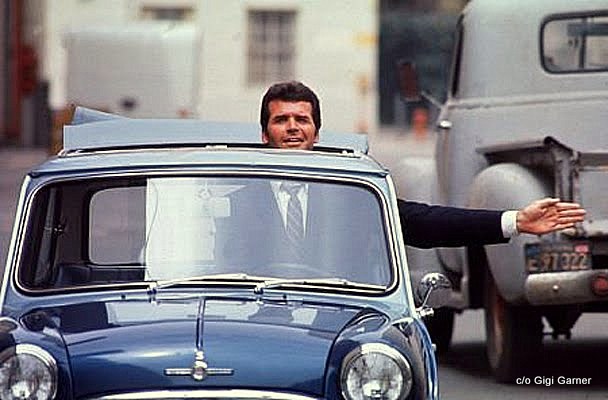 Gigi Garner grew up with her dad's professional side and his car guy side so she saw her father in his off-camera moments. Gigi was gracious enough to fill in the blanks on James Garner's passion for all things automotive.
Her earliest memories of her dad's car guy side came from a messy childhood mishap. Gigi said she had an accident at kindergarten and broke her nose, so her dad came to pick her up in his brand-new Jaguar XKE roadster and she "bled all over his leather seats all the way to the hospital".
This was one of the first XKE convertibles ever exported to North America but the blood-stained seats didn't matter—James Garner was a father first and a car guy second so Gigi said he was "just happy she was okay". The upholstery in his Jag wasn't even a consideration.
Many fans of James Garner will remember his role in the 1966 movie Grand Prix. Gigi has more vivid memories of that movie because she remembers visiting her dad on the set at Brands Hatch in England. James was a big guy so they had to radically alter the race car so much to fit him, Gigi said he "was almost riding on the pavement".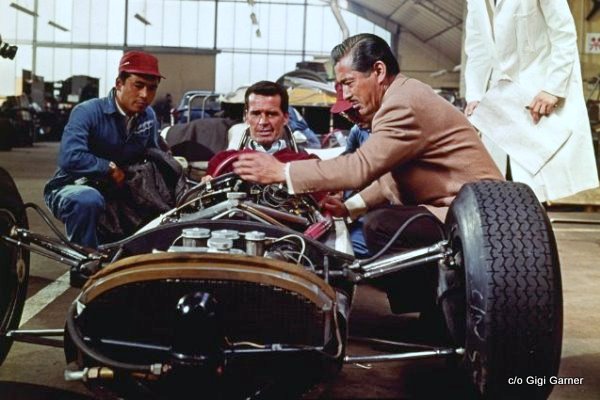 Fortunately, there was enough room for a young Gigi to squeeze into the car and sit in her father's lap and do a few laps around the track with her famous father at the wheel. That was a major experience for her and it's one she vividly remembers to this day.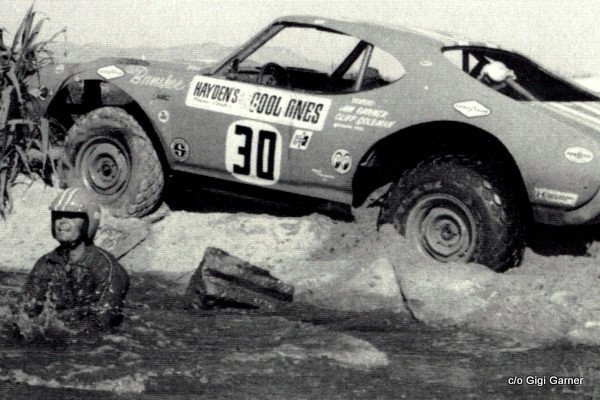 James Garner was no stranger to the track so he did a lot of time in competition and Gigi said one of his biggest moments came when he placed 2nd in the 1969 Baja 1000 behind the wheel of a built Olds 442. Gigi said he was the kind of guy who was highly competitive against other drivers, but he was mostly "highly competitive with himself"—he had high standards.
Gigi explained how the track experience really honed her dad's skill behind the wheel. She said "he was a great driver" and he wanted her to learn how to be the best and the safest person on the road. Rockford Files fans are well aware of the famous J-turns in the show and Gigi said it's known as a "Rockford" by professional drivers. James Garner executed those turns like a pro-thanks to his extensive background in racing.
His track experience shaped his view of driving so he made Gigi become a student of the James Garner "360 driving experience". In other words, be aware of everything around you and anticipate what's down the road. Gigi said her father "drove fast—but always under control"—his skill, experience and guidance taught her to be a far better driver.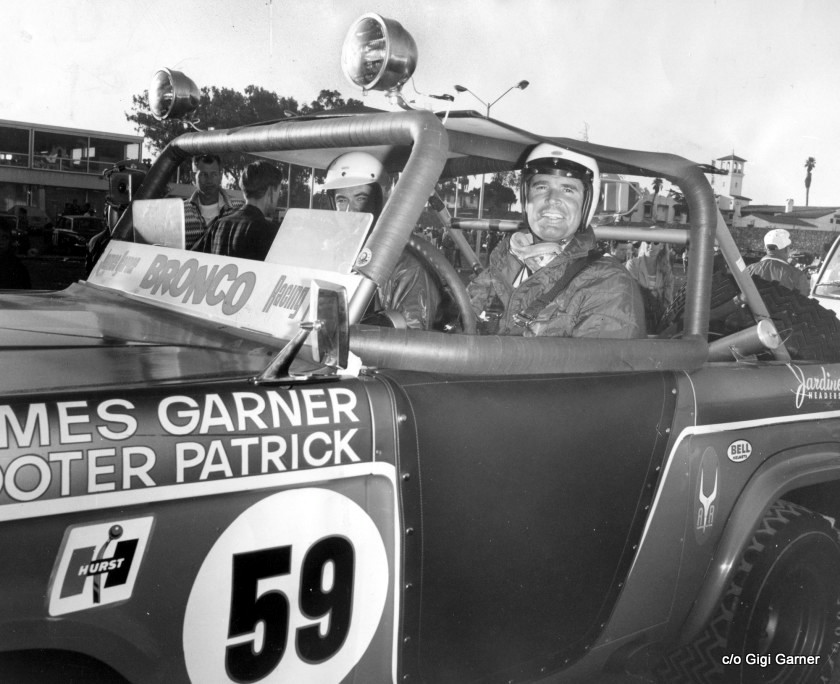 Gigi admits she was a bit of a "car snob" back in high school and had the privilege of driving a higher end car thanks to the generosity of her dad. Once when her car was in the shop, she had to drive her dad's "work car" to school.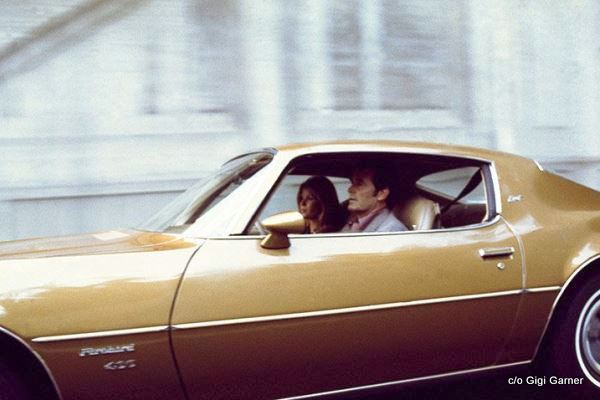 The "work car" (owned by James Garner's Cherokee Productions) was one of the Rockford Files Firebirds and she thought it was a "big step down" from her car so she parked it two blocks away from her high school. Gigi laughs at her perspective now because she knows how iconic the Rockford Firebird is now but, back then, it was simply an embarrassing moment to a young high school girl.
Another one of Gigi's favorite moments came at the 1985 Indianapolis 500 when her dad was chosen to drive the Olds Calais convertible. Gigi said he'd been to Indy Motor Speedway about "30 or 40" times over the years but that race was definitely her personal favorite.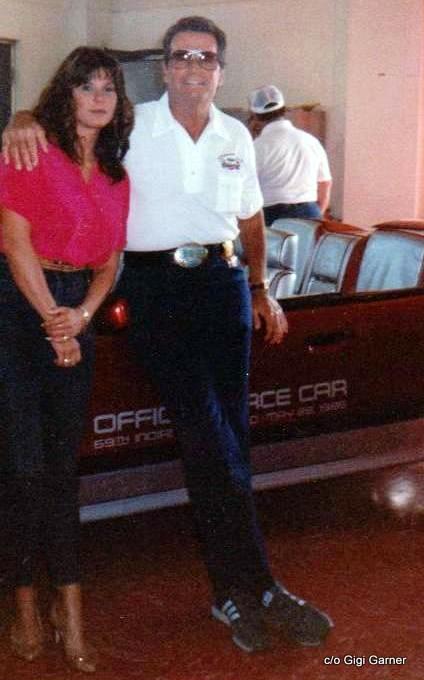 Gigi said her dad was the ultimate car guy because he was "so crazy about cars and racing" so she's proud to have his last car. It's a Cadillac painted Black Cherry and she said her mission in life is to "keep the battery charged and make sure the car is always in perfect condition".
Those are the lessons you learn when your famous dad is also a real-deal car guy.
Jerry Sutherland
Jerry Sutherland is a veteran automotive writer with a primary focus on the collector car hobby. His work has been published in many outlets and publications, including the National Post, Calgary Herald, Edmonton Journal, Ottawa Citizen, Montreal Gazette, Saskatoon StarPhoenix, Regina Leader-Post, Vancouver Sun and The Truth About Cars. He is also a regular contributor to Auto Roundup Publications.
Please re-post this if you like this article.