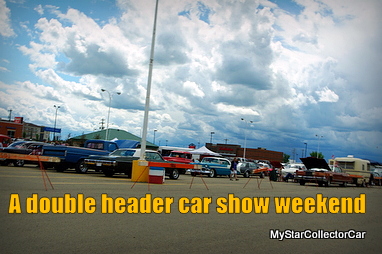 There are a ton of car shows every weekend and most of them take place on a Saturday.
The logic behind Saturday shows is an extra day (Sunday) to travel home after a show.
The extra day can be a bonus when things go wrong on the way home-and every car guy is familiar with Murphy's Law.
We would like to see more Sunday shows but we understand the logic behind Murphy's Law and its place in the old car hobby.
We were lucky two weeks ago because we were able to attend two shows on the same day. Our local Ford club (Ford Central) has a show every June and fight the weather gods every time. This year they were luckier than normal and managed to keep everyone dry for the bulk of their show.
We spotted a beautiful 1957 Ford retractable from the street and tracked down its personable owners. They have a 50-year history with the car and explained how the car has been a big part of their lives as a married couple over the years.
Look for the story of the car and one of the world's most understanding wives in a future article about this '57 Ford.
We headed out of town to Stettler, Alberta for their show and enjoyed the small town charm of the event. We make no secret of our affinity for car shows in smaller communities because of the people factor and the laid-back vibe of these shows.
This show had some real surprises and we managed to interview the owners of several interesting rides.
A 1963 Pontiac convertible was high on our list and we were able to get a great future MSCC story about this rare Poncho drop top.
A 1958 Dodge Custom Royal four-door sedan also caught our eye and we were able to get the story behind the owner's 35 year history with the car. He knew the ownership history of the car and was able to weave a great story about his Dodge, one that will be told in a future MSCC article.
There was one car that attracted a large amount of interest at the Stettler show: a 1988 Ford Classic Tiffany and we do not blame anyone who has never heard of these cars because neither had we.
The car is a wild-looking beast and its current owner was a fountain of information about his unique Ford. He had quite a background story to tell about his limited edition Ford custom and we will feature the car's legacy in a future MSCC article.
An unrestored 1965 Volvo 122 was also a guest at the show and we managed to track down the woman who owned this Swedish sedan. The car had almost a 50-year history with her family and we will tell how this car managed to become a guest of honor in her life in a future MSCC feature.
There was a well-restored 1955 Chevy truck with its original 265 small block that also caught our eye at the Stettler show and we were able to find out why this truck is part of its owner's Tri- Five truck collection and how they will factor into his three daughter's inheritance.
We really enjoyed our double-header car show Saturday and hope to pull off another one this season.
Stay tuned to see what happens in this department.
Jim Sutherland
CLICK HERE to Like us on Facebook
CLICK HERE to Follow us on Twitter
CLICK HERE to Follow us on Pinterest
Please re-post this if you like this article.