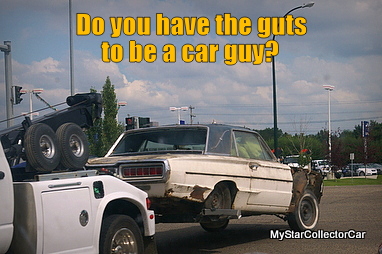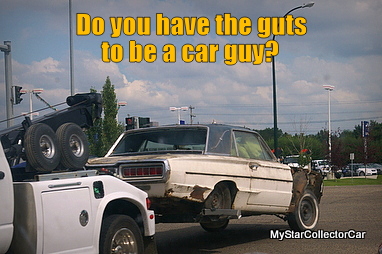 Do you know how many times Marshall Matt Dillon was shot in 20 seasons of 'Gunsmoke'?
Well neither do we, but he got hit with enough lead to make him sink like an anchor if he fell out of a boat.And yet Matt dusted himself off and got right back in the saddle by the end of every episode.
Matt was tough in the best tradition of Hollywood and he set the bar pretty high in the fearless hero department.
We have set the bar a little lower in this department, but we at MyStarCollectorCar truly believe you have to be tougher than most of the population if you want to be a car guy.
For starters, the price of admission is the ability to see the inner beauty of a rusted hulk and picture it as something more than a nightmare on four wheels with three flat tires.
There is pain and anguish in this journey and we doubt whether even a young Indiana Jones would tackle some of these car adventures.
The biggest hurdle for a car guy wannabe is the sworn enemy of all old cars: his bride. A car guy will have to convince his wife about an expensive investment in an old car that will have no practical purpose in their daily lives as husband and wife.
The old car will be pampered and it will likely get the best parking spot in the garage while the new car-the car she drives and depends upon every day- sits outside in the rain, snow and hail.
She will have to sweep the snow and scrape the windows on her car every winter while an old car in a state of complete disrepair enjoys the warmth of a heated garage.
She may even have to walk through the garage and see the old car project every day on her way to dig her car out of the driveway because the old car's project budget left no extra money for decent snow tires or a new four wheel drive.
Clearly, it is no secret that a car project is not a pretty sight during the process. There will be little evidence of inner beauty when the car guy strips off the rusted quarter panels, even to him.
Imagine what an angry wife will think when she sees the carnage of a complete restoration in the early stages.
The colder the winter, the worse this situation becomes for car guys. It will test their will, their courage, and maybe even their ability to afford a decent divorce lawyer if things get really sideways on the old car project.
The car guy will enter a scary world where an old car may cause even more trouble and cost more money than a new girlfriend when it comes to his marriage.
There are always going to be plenty of cheap motels, but there are not always going to be trim pieces for a long-forgotten and extinct car.
That is the scary world of a car guy and you have to ask yourself one question: Do I have the guts to take on a major car project?
The answer may define you as a car guy.
Jim Sutherland
CLICK HERE to Like us on Facebook
CLICK HERE to Follow us on Twitter
CLICK HERE to Follow us on Pinterest
*Re-post if you like this MSCC article…thanks.