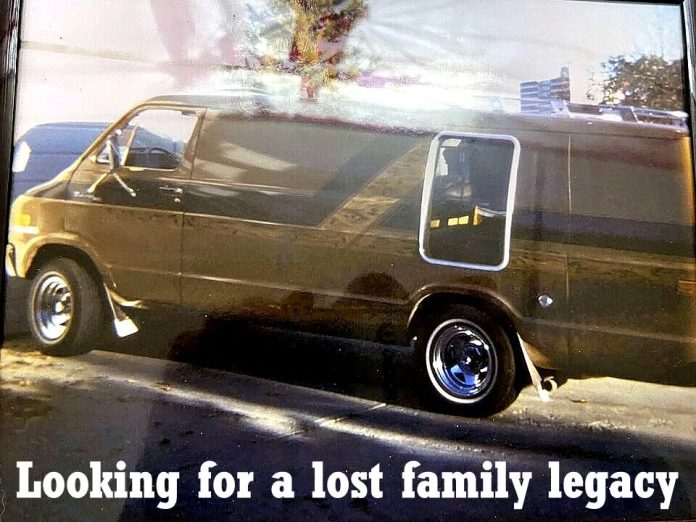 We've all been there.
You think about a car from your past—sometimes it's decades in the past, but suddenly that car becomes the only thing you think about so the quest begins.
My nephew Todd found his dad's old registration for his ultra-cool 1978 Dodge custom van. His father Al custom ordered a brand new, barebones '78 Dodge Maxivan and took it to a custom van shop in Calgary, Alberta, Canada in the summer of 1978. Todd's parents picked the custom features from a catalog and basically ordered a van with many personal touches.
This was a Maxivan, so the interior was the size of a football field—Todd, his sister and brother almost disappeared in the back of the massive van. His family went on many vacations in the big Dodge, so the van became a fond memory from his past.
That brings us to 2021 when Todd's interest in the van spiked thanks to the newfound information, so he started with an ad in a nationwide buy-sell and got a few replies. A guy told him he saw a van just like the one in the picture at a Calgary wrecking yard back in 1989. He said it was heavily damaged on the driver's side, so it was probably destined to have a date with Mr. Crusher.

Todd went to the next step and did a VIN search with a local registry. The results weren't good. He could trace a previous owner to a construction company in Banff, Alberta and he also found out it was last registered in the fall of 1984 and then it disappeared off the face of the earth—just like the aforementioned Jimmy Hoffa.
Vehicle searches are very limited in Canada because provinces aren't linked to each other, so you can't get one-stop shopping. Basically, Todd has to fork over cash for every search, so a thorough search of the ten provinces and three territories would be enough for a substantial down payment on a new car.
Todd stopped his conventional search and now he's looking at the old-fashioned word of mouth process. He's hoping someone sees his ad and remembers seeing it in a car crop or in the back 90 acres at an uncle's farm.
This search is a long shot—Vegas would give him massive odds against locating this 70s refugee from the boogie van era, but car guys are hard-wired to be optimistic. Todd's hoping for a solid tip and you can bet the entire car hobby is cheering him on, because his win would be every car guy's win. Quests like this rarely end with a victory.
Someone out there may remember this van, so if it jogs your memory, here's the text to Todd's ad.
By: Jerry Sutherland
Jerry Sutherland is a veteran automotive writer with a primary focus on the collector car hobby. His work has been published in many outlets and publications, including the National Post, Calgary Herald, Edmonton Journal, Ottawa Citizen, Montreal Gazette, Saskatoon StarPhoenix, Regina Leader-Post, Vancouver Sun and The Truth About Cars. He is also a regular contributor to Auto Roundup Publications.
Please re-post this if you like this article.