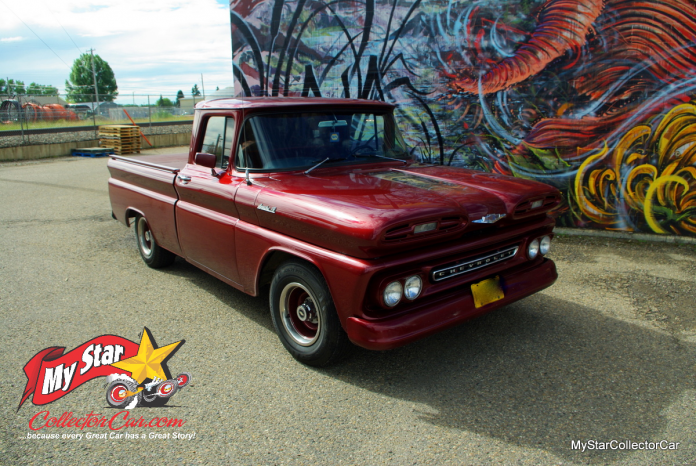 Old trucks are a hot item in today's car hobby but most of them are retired from working duty because they've done their time on farms or construction sites.
Wayne Buffey is the proud owner of this classic pickup and he doesn't believe in trailer queens. In fact, he leans in the opposite direction because his truck hauls trailers —it doesn't ride on them.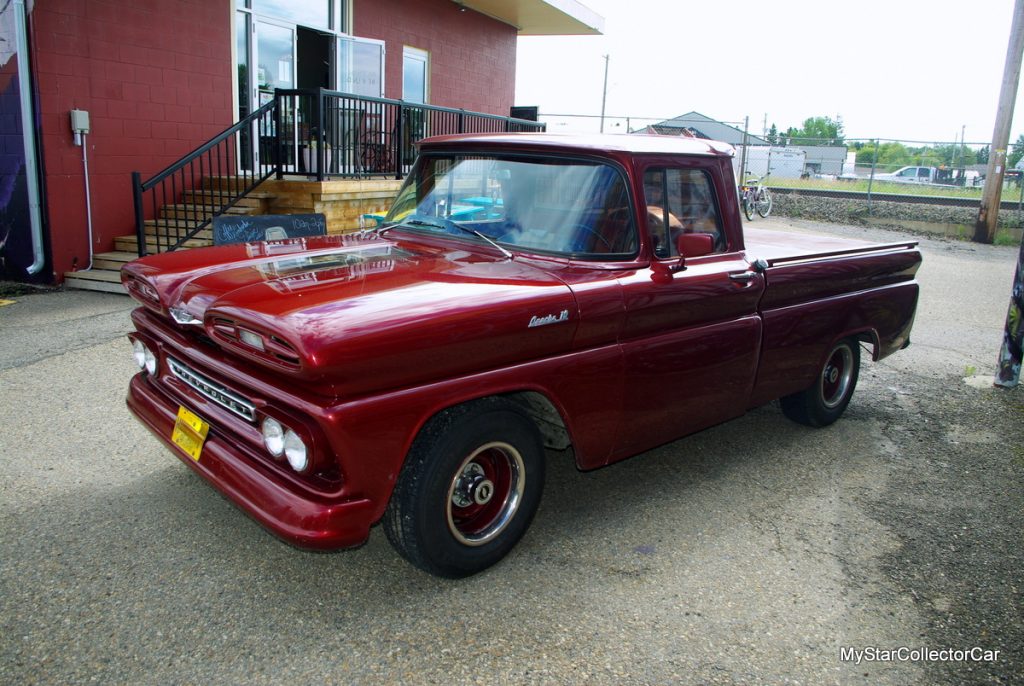 Wayne's truck started life in Washington state when it was bought brand new by a shop teacher who took a new job at a college in Olds, Alberta, Canada. The original owner drove it for years, then sold it to a local body shop. Wayne said "it took me eight years to talk him into selling it" before he became the third owner of the Apache.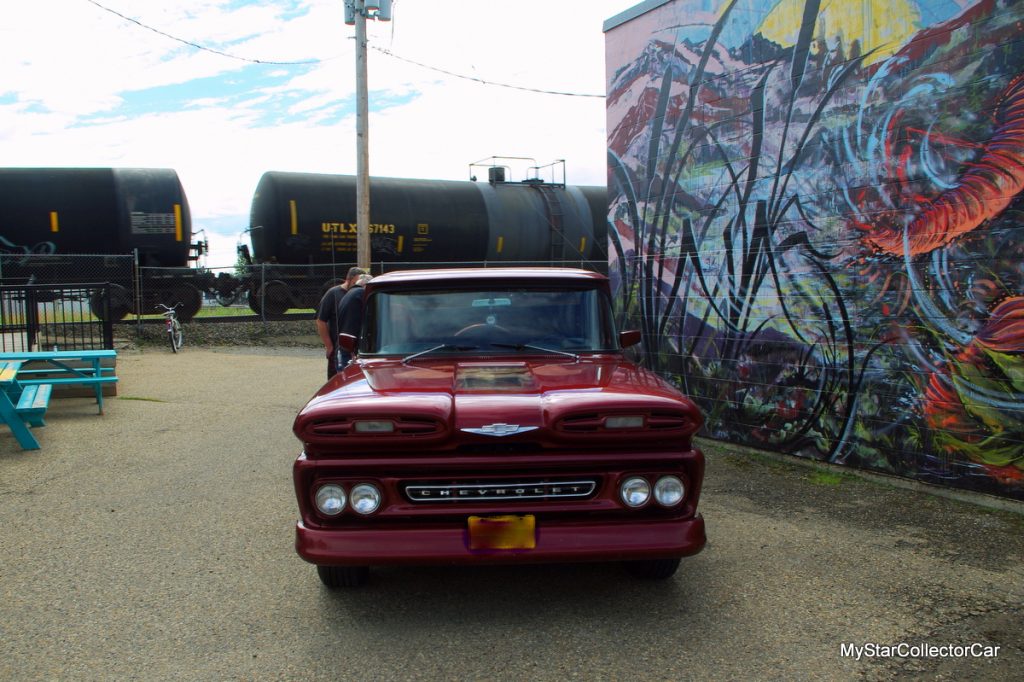 Wayne had a personal interest in the truck because he had one when he was married although he admitted, "it was a Stepside". The Apache was the perfect candidate to revisit the world of old Chevy trucks because it's rare and functional at the same time.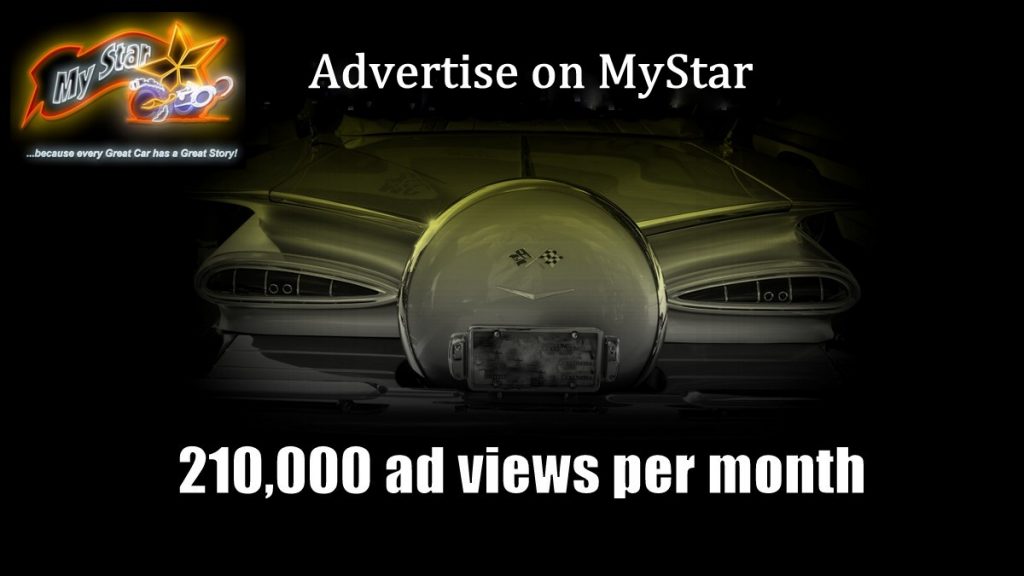 The original six-cylinder is long gone because the Chevy now sports a period-correct 283 small block. Wayne has been asked many times about the factory exhaust manifold because – one guy even offered him a set of brand-new headers. Despite the temptation, Wayne likes the factory correct look.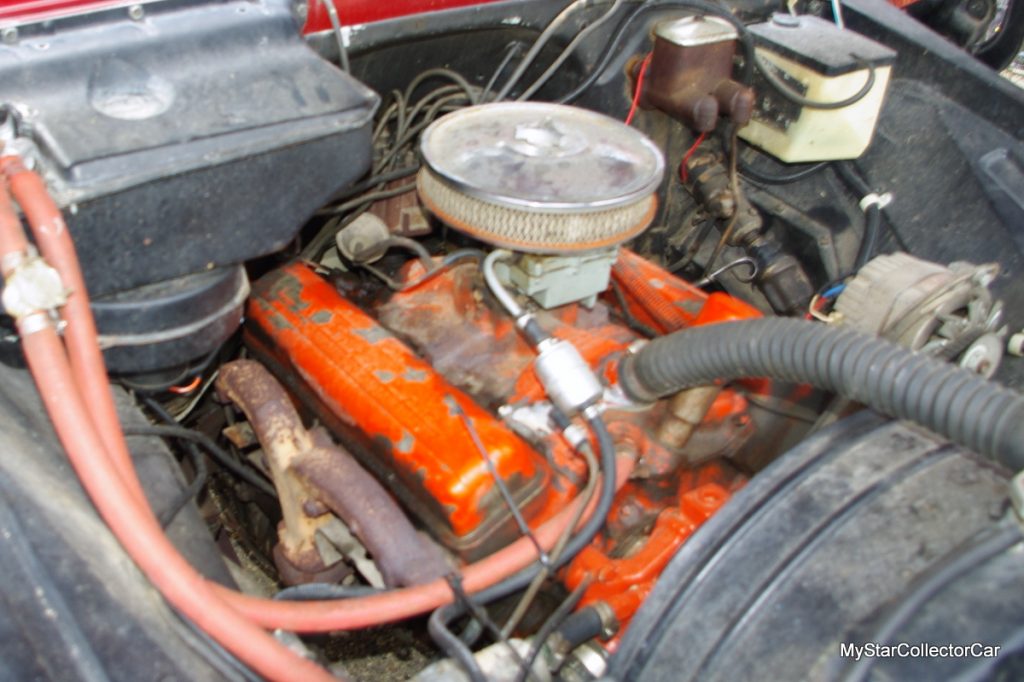 The Chevy was redone in 1980 but when Wayne bought it, it still needed attention even though it was still a low-mileage vehicle. The Apache had been off the road for a number of years, so it had all the usual leaks from long-term hibernation. Wayne said the "motor was pretty good", but he did all the seals and brakes plus he rebuilt the carburetor.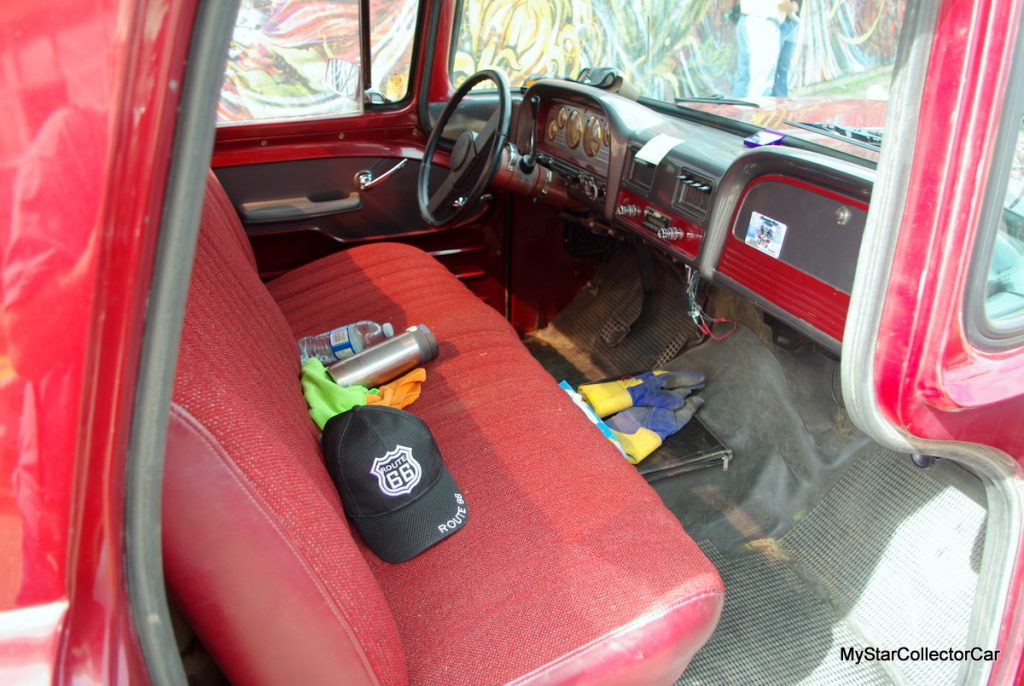 The body was another story. Wayne said the guy who did the work years ago "was a fanatic about perfection so he wanted it to be gun barrel-straight, but he used bondo to do it". The body was great under the filler but chunks of bondo had to be scraped off to get back to the original metal.
More work means more cost, so Wayne spent a significant amount of money to bring the truck back to metal and add new paint. The truck has some incredible hand-drawn graphics including a tribute to Apache history on the hood.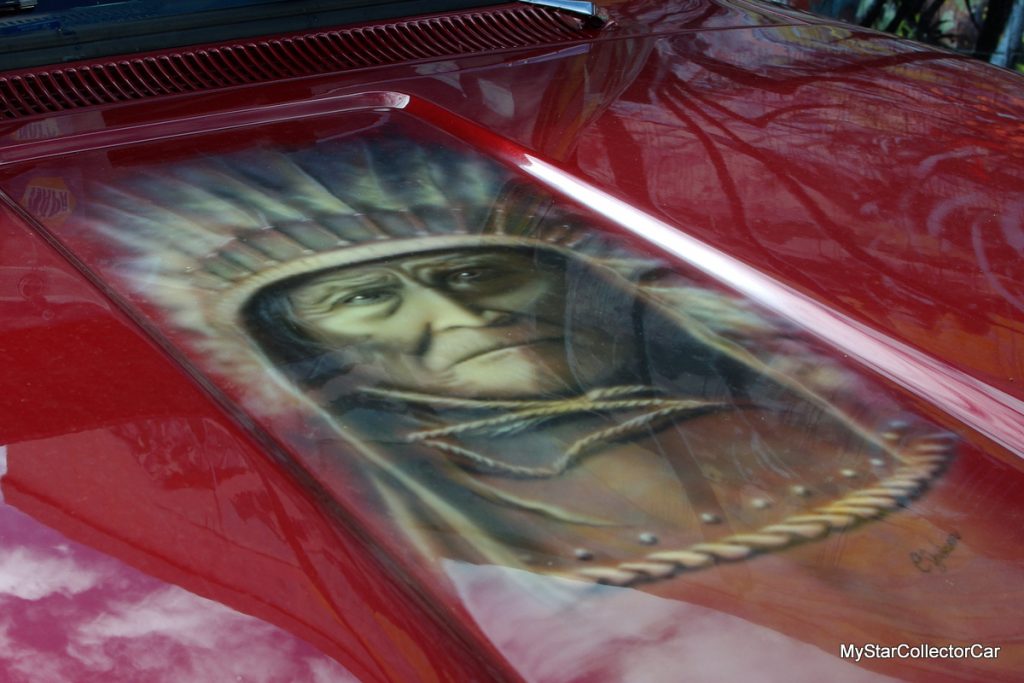 There's also a unique Continental kit style tire setup in the truck bed near the cab. The truck has been upgraded to an alternator, new sound system and power steering because Wayne does a lot of time behind the wheel. He runs it at a comfortable 55-60 miles per hour and mostly on secondary highways because the 3:38 rear end makes the small block work too hard at higher speeds.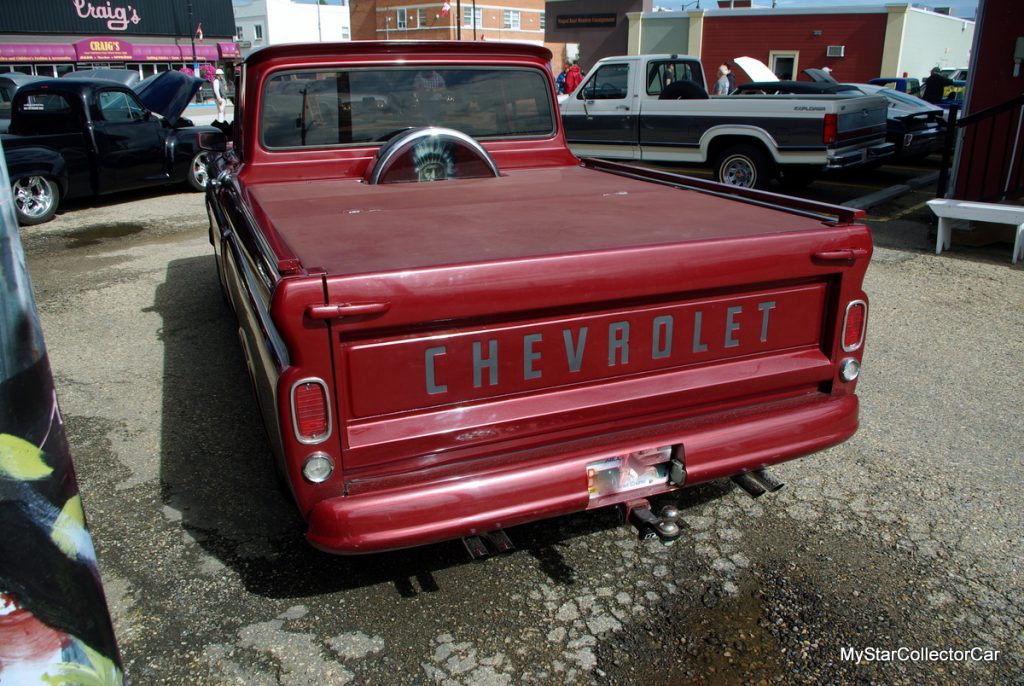 Wayne hauls a trailer behind the Chevy and its paint matches the truck's paint. This is not a 'purely for car show' setup because Wayne and his wife have taken many camping trips with the trailer in tow. This combination turned the truck into a rock star at campgrounds because Wayne is answering questions about the setup before he even climbs out of the truck.
Make no mistake about it – this is a summer daily driver because Wayne has a theory about why it's not trailer queen.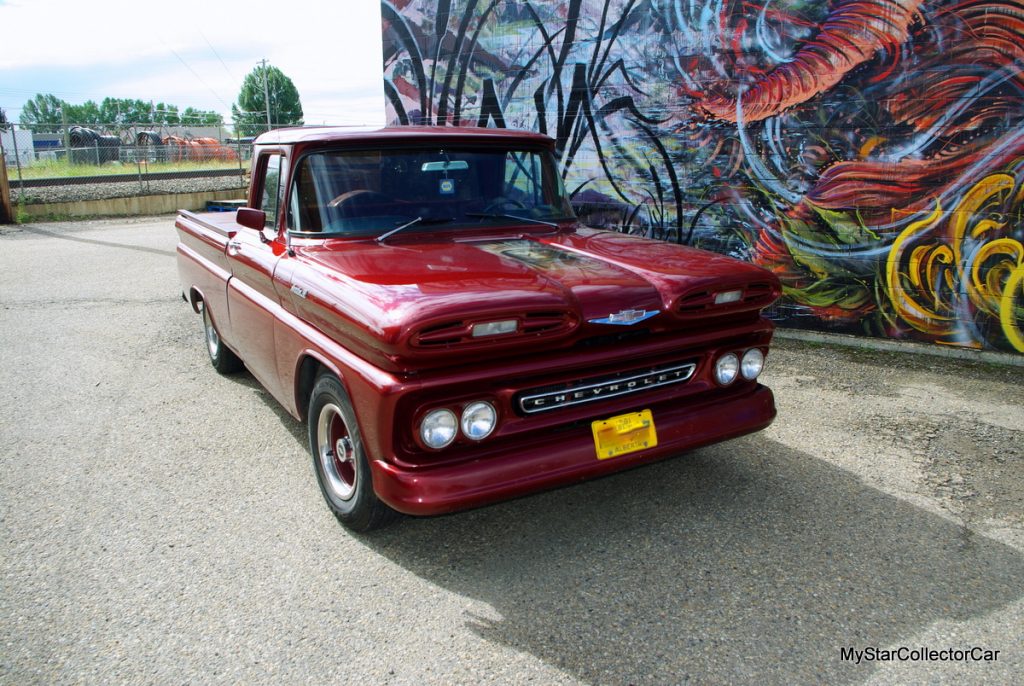 By: Jerry Sutherland
Jerry Sutherland is a veteran automotive writer with a primary focus on the collector car hobby. His work has been published in many outlets and publications, including the National Post, Calgary Herald, Edmonton Journal, Ottawa Citizen, Montreal Gazette, Saskatoon StarPhoenix, Regina Leader-Post, Vancouver Sun and The Truth About Cars. He is also a regular contributor to Auto Roundup Publications.
Please re-post this if you like this article.