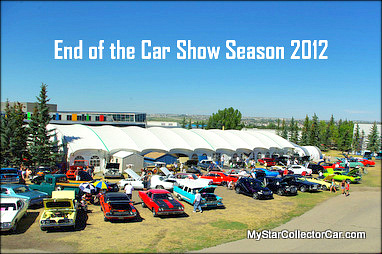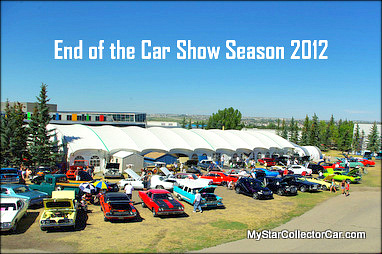 The Summer of 2012 is heading toward the nearest exit and it has been a great car show season for MSCC, perhaps the most interesting show season in our 3-year history as an online collector car magazine.
We apologize to the many truck owners, whose stories we also gathered over the summer, for the use of the term "car" and hope that they will understand our generalization for old rides.
Incidentally, our e-zine (mystarcollectorcar.com) does have a section called "Star Truckin" which is dedicated exclusively to old trucks of many sizes, years, styles and configurations.
In fact, some of you still may not know that MSCC has many sections that define many different angles of the car culture. They range from a very popular "Fallen Stars" section that showcases the old vehicles seen in fields or backyards rusting in peace or pieces. This is likely our "artsy-iest" section at mscc.
We have a section called "Stars in Traffic" that is dedicated to old rides we have seen and photographed on modern roads. The old warriors look so different from modern vehicles and really stand out in a traffic crowd.
Another section is called "Stars of the Show" and it showcases the best of car shows with photos, some of which may end up as stories in our "Stories" section at some point.
We have taken over 50,000 photos of vehicles, so the well will never run dry for us.
Most of you likely find our material via our daily features that spotlight various segments of our e-zine. One of our most popular daily features is a "Star of the Day" segment that is written as a spontaneous reaction to a photo by Jerry.

We also have an "Editorials" section that is a simple commentary on the car guy culture as we see it during the course of a year. One of them was actually used in a stage production in New York City last December, a somewhat unusual use for one of our opinion pieces.
We invite you to have a bigger look around one of the most dynamic collector car websites in the world. One of our future advertisers asked us how many writers we had on staff at mystarcollectorcar.com and was very skeptical when we told him that there were 2 of us.
She felt the amount of material on the site could not possibly have been written by only 2 people on such a regular basis and at such a high level of quality. It was a compliment inadvertently delivered through disbelief, but it is true: there are only 2 of us that do the writing at mscc.
We thoroughly enjoy the written side of our daily obligations because we thoroughly enjoy the people we have met along the way at car shows. They are great people who are very proud of their vehicles and they have a great story to tell about their rides.
The story behind their beloved vehicle is the reason for our existence and we want to focus on the emotional bond between vehicle and owner. We want to tell that story to a larger audience because most of these owners have so much heart and soul into their projects.
So my first point will be my last point in this piece: stay tuned over the next year for some remarkable stories about old cars (and trucks) gathered from another amazing summer at car shows.
Jim Sutherland
Follow us on Facebook at-http://www.facebook.com/MyStarCollectorCar
Follow us on Twitter at- https://twitter.com/#!/MyStarCollecto1