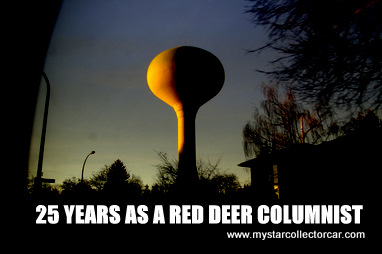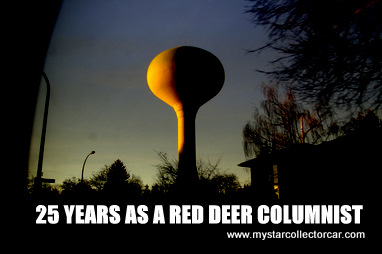 I find it hard to believe that, next month, 25 years will have passed by in a heartbeat for me as a Red Deer Advocate columnist.
It started out as a concept over several beverages with the lovely and talented Bob Grainger. Bob was an Advocate employee at the time, and we had a debate about the idea of me as a columnist for the paper.
Cockiness and cocktails led me into the belief that I could write for the paper, so I dropped off a column in November 1985 with Bob. My point was that I could write something that was worthy of space in the Advocate.
However, I really didn't expect that they would actually publish it.
But they did, and what started out as a basic change-the-world style of barroom conversation at the old Keg down by the river still infests the pages of the Advocate. Who knew that I would still be allowed to push my personal brand of propaganda all these years later?
My first column was about things that I missed from my past here in Red Deer. For some reason, I started with a kid show from my childhood called 'Razzle Dazzle'; a show that was about 20 years in my rear view mirror at the time.
I talked about Sylvan Lake's famous Varsity Hall, which was a dance hall that had been bulldozed about six years earlier at the time.It was the scourge of every Red Deer parent when I was a kid, mainly because it offered a wide range of opportunities to lonely teenage bronking bucks like myself…to paraphrase Don McLean
The depths of football despair that was the Saskatchewan Roughriders at the time came up-winning was not a concept for the mid-80s Riders, but it was for the Eskimos. The Eskimos were 14 years into a continuous playoff appearance streak that lasted into the 21st century. The current reversal of football fortunes is a great tonic.
I talked about John Wayne and Clint Eastwood in my first column. I regretted that the world was a place with no more Duke Wayne dusters that explained manhood so well to his male fans.
I talked about 60s muscle cars in my first column. The automotive world of the 80s was a frugal era in which brute force V-8 horsepower had given way to minivans and soccer moms.I mentioned Hemis and Cobras and things that go fast in the night.
I talked about the Red Deer River and its low water levels that were controlled by the dam. Clearly I was not a big picture guy and failed to realize that they were probably still filling up the giant bathtub behind the dam.
The last item in that scatter-gun style first column was about our greatest mayor; Ed Barrett. I mentioned how much I liked the guy and I hope that he got to see that tribute in my first column.
I looked through a bunch of my columns and saw how much of my view on Red Deer and the world at large looks in a historical sense in 2010. So I may just compile a volume of my best stuff in one book if people are interested in the idea.
Let me know what you think about the concept.
Jim Sutherland @mystarcollectorcar.com