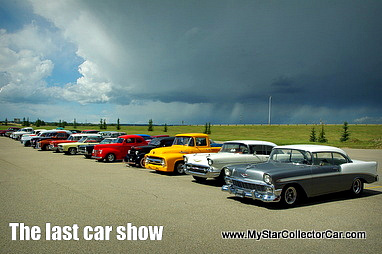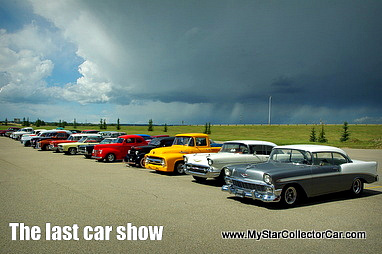 Car guys have an unspoken bond that is based on the blood, sweat and tears that come with the hobby.
Harley owners talk about the fraternity of the hog but you can buy a brand new Harley-you can't buy a brand new '56 Dodge.
That '56 Dodge is going to require buckets of money and endless hours to get it on the road.
Every car guy knows the pain of a difficult project so a bond forms with other car guys…that's why they gather to give a fellow car guy his final car show.
Rick Feth was definitely a car guy. He brought his beloved '57 Bel Air two-door hardtop to most local car shows and his roots ran deep in the local car culture.
I met Rick when I interviewed him for an MSCC article about his '57 Chevy. That car was one of my favorites because you simply couldn't take a bad picture of this reddish-orange classic plus it's an automotive icon.
Rick was one of those guys who pushed the limit on the car show season.Winter comes pretty early here in Alberta so it was always a pleasure to see Rick roll in with his '57 Bel Air.
Not only that, I got some classic autumn evening shots of this car when the leaves had clearly disappeared from the trees.
There was always something life-affirming about Rick's '57 Chevy.You knew the car show season had one more week left because the weather was good enough for Rick to take one more run.
Rick wasn't alone because car guys do like to extend the season in central Alberta but his '57 was one of those cars that really defined the beginning, middle and end of the car show season.
October is a cruel month here in Alberta because it can turn into winter literally overnight with no relief until late April. There's always a point in the car show season here when you're facing the last week and after that you park your ride.
Rick seemed to have that figured out because nobody wants to put snow tires on a mint '57 Chevy so once that beauty quit making appearances the show season was clearly over.
Car guys have a unique way to show respect for a fellow gearhead-they stage an impromptu car show at the service for their departed buddy. In most cases, they'll disregard the weather and risk their rides despite threatening clouds and Rick's service was no exception.
There were some nasty-looking clouds in the sky but Rick had a parking lot full of old iron to celebrate his life.
For perspective on this, bear in mind that car guys treat their rides like a mother bear treats her cubs so any perceived threat is enough to call off a car show appearance. That's not the case with car guy memorials because I've seen owners pull their rides out of hibernation early and hit the road with snow still on the ground to salute a fellow car guy.
Rick's memorial turned out fine because the sun came out and the old iron had a leisurely trip home.
I didn't know Rick well but his interview was the catalyst to a classic car guy story and he had a great mind for details. I could paraphrase what he told me but here's the MSCC story behind Rick's ride from back in November 2010.
Rick asked me once why I still took so many pictures of his car after the article was published and I had only one answer-I simply liked his car.
Rick was like every car guy because he was defined by his ride. You don't describe owners by their actual names-you describe them by their cars-so the parking lot was full of vehicles that told you who was at the service. They were all parked in the family section.
That spectacular '57 Chevy was the centerpiece of his last car show.
Jerry Sutherland