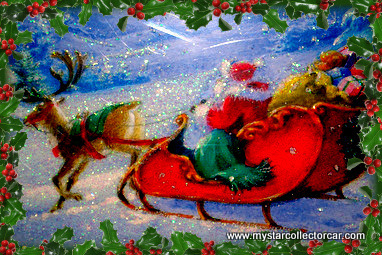 Many purists would disagree with our pick today.
'Now obviously Santa's sleigh is hardly a car, but it is the most popular ride on Christmas Day. And we would rather anger up Tony Soprano in a bad mood on December 25 before we would mess with Santa Claus today.'
The Santa ride is reputed to be faster than Superman and a speeding bullet combined, so it clearly meets the speed factor of the car guy equation.
Plus the sleigh handles better than a Formula 1 car–or even a rental car for that matter.
In fact, Santa's sleigh is a flat-out performance machine. How else could the fat guy get around to so many households in one night without a serious amount of speed (and possibly trade winds) on his side?
It is difficult to say how much pressure is put on Santa's ride during its annual marathon run on Christmas Eve. But it likely spends 364 days in the shop after the big run.
So we decided to exercise on the side of caution and give Claus and his famous ride our front page for Christmas-mainly because we're not quite sure if we are actually on the red and white suited cat's good boy list this year.
Why tempt fate?
Anyhow, Merry Christmas and stay tuned for a daily dose of our best 2010 stories to close out the year.
Jim Sutherland @mystarcollectorcar.com
We plan to sort out our most interesting articles (out of the hundreds on our site) and put a different one on our front page every day Dec. 26 through Dec.31. Those of you that are new to our site can browse at https://www.mystarcollectorcar.com/