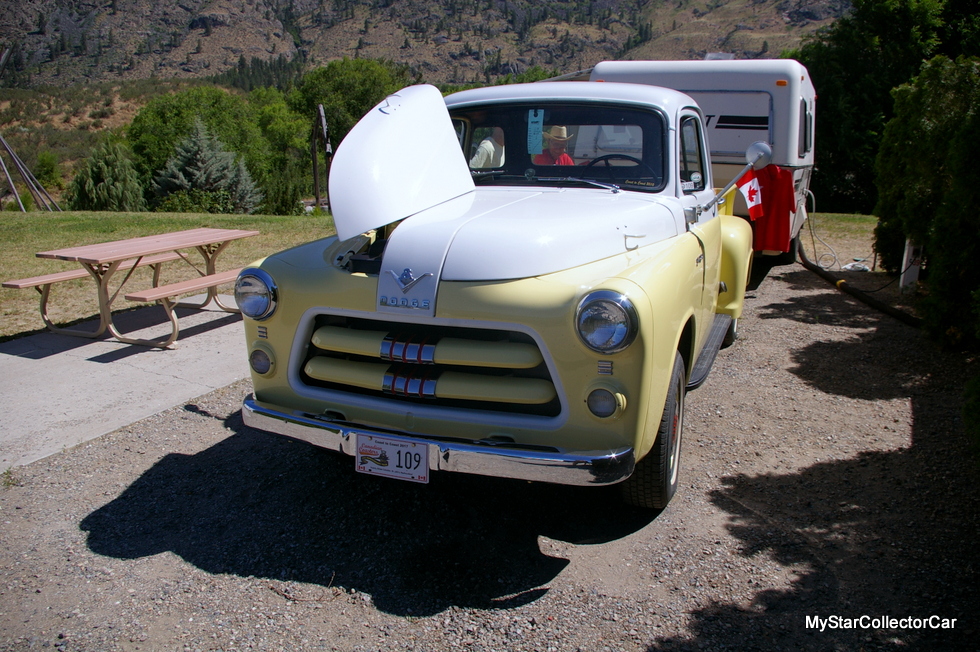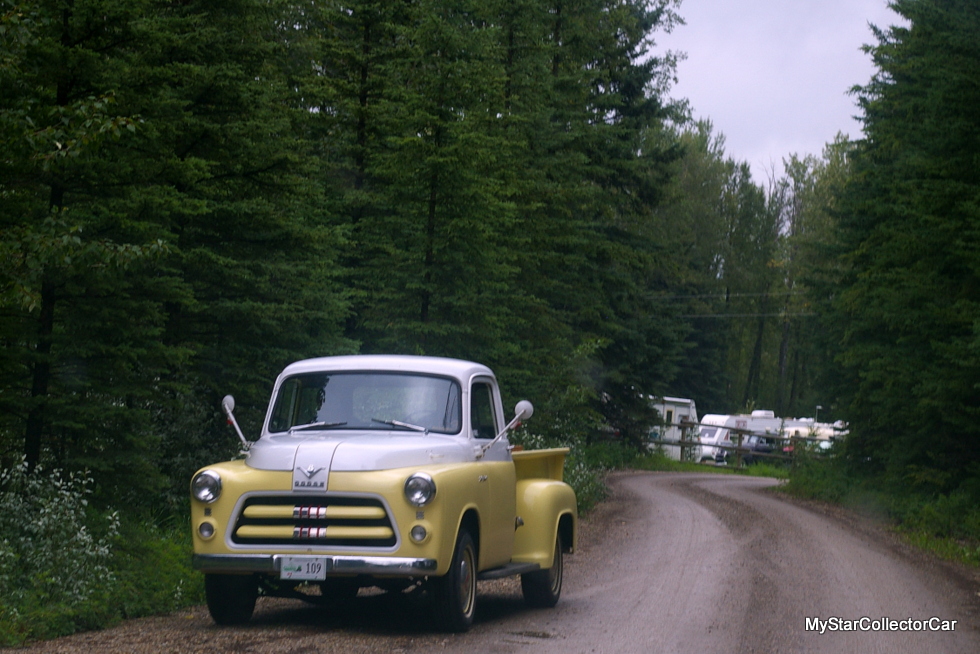 The 2010 version of the Coast to Coast trek was marked with one disappointment because MSCC was unable to connect with the owners of a beautiful 1954 Dodge ¾ ton truck spotted as it exited a camping area in west Central Alberta.
The 2017 Coast to Coast tour marked its 50th anniversary with another trek across Canada by a posse of vintage vehicles that included Arnold Kerry and his 1954 Dodge truck. MSCC lucky this time and got their story.
Arnold and his wife were towing a Bigfoot trailer behind their '54 Dodge truck and MSCC was able to connect with them before they left for the East Coast-and after they had driven from their Ontario home to join up with the 2017 Coast to Coasters.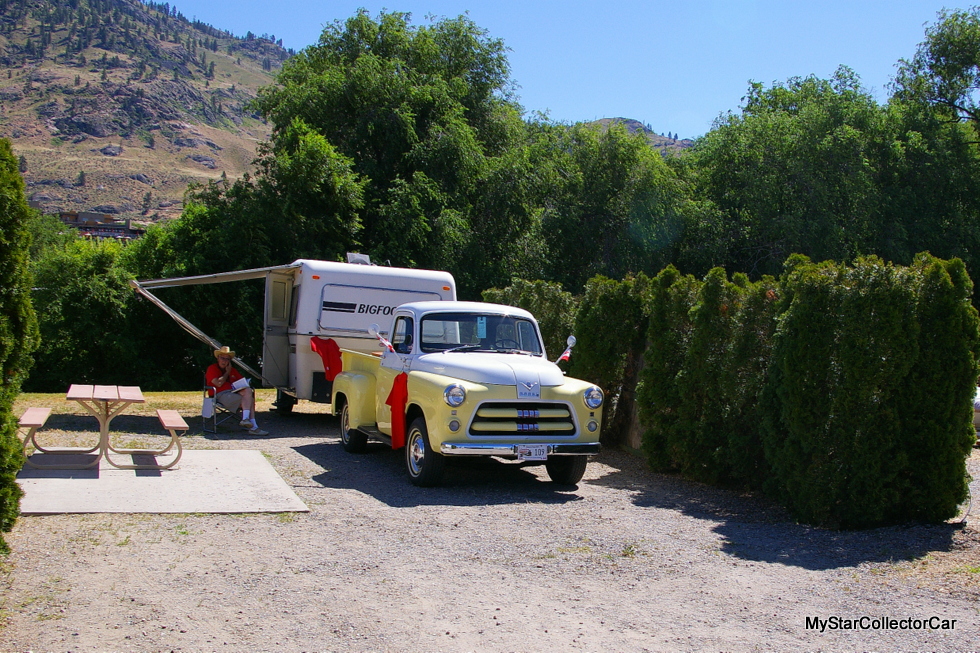 The trip west had been uneventful for the Kerrys, and that was good news for them. In fact, it "ran flawlessly" in Arnold's opinion on the westward trek. Arnold was a retired businessman/mechanic who had forged his success in these fields long before he became the owner of the Dodge truck in 2000.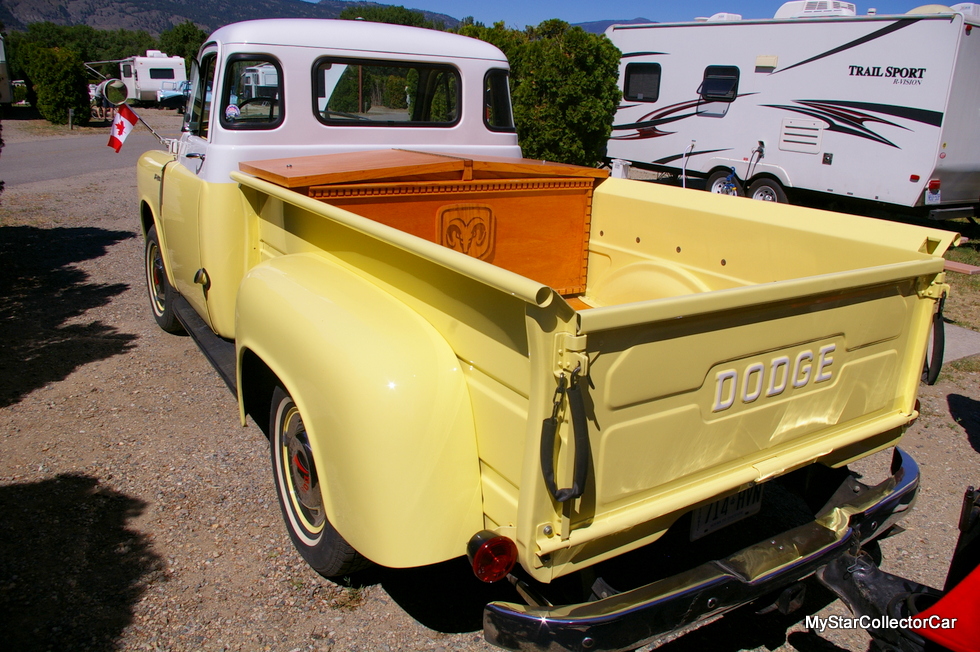 The purchase of the Dodge truck marked the start of a frame-off restoration process for it. The truck was stored in a Colorado compound for about 17 years and "needed everything", according to Arnold.  Years of neglect is never kind to an old vehicle.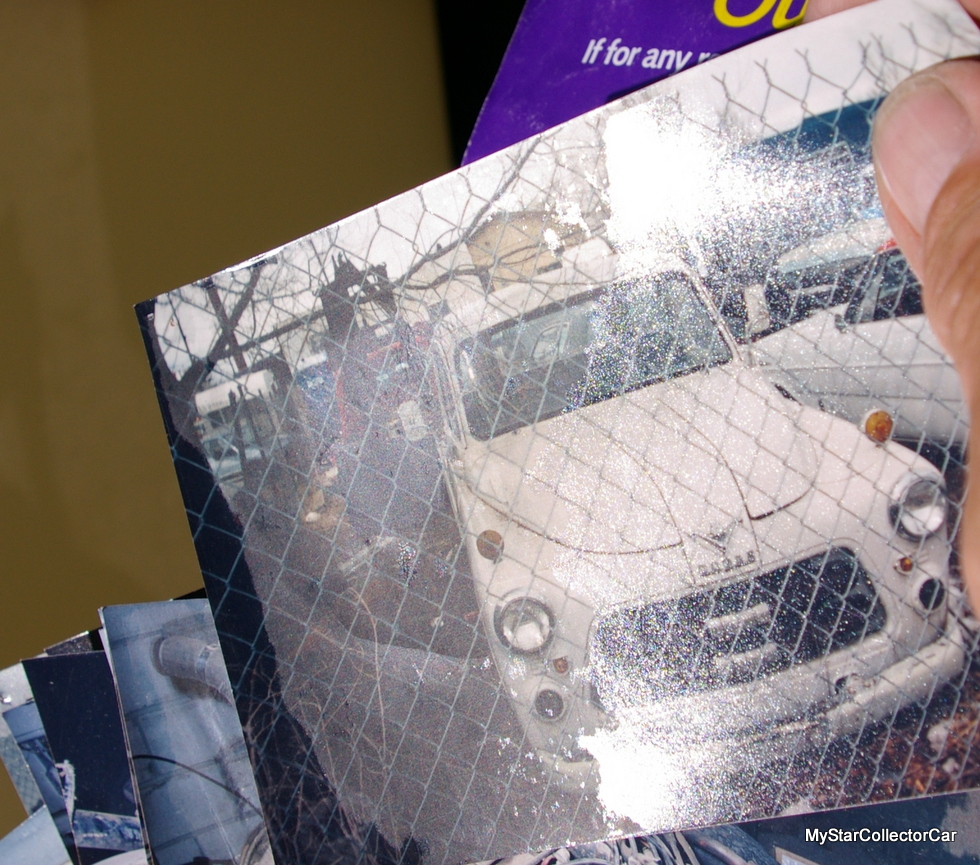 However, Arnold was surprised when he learned the brakes still worked on the Dodge.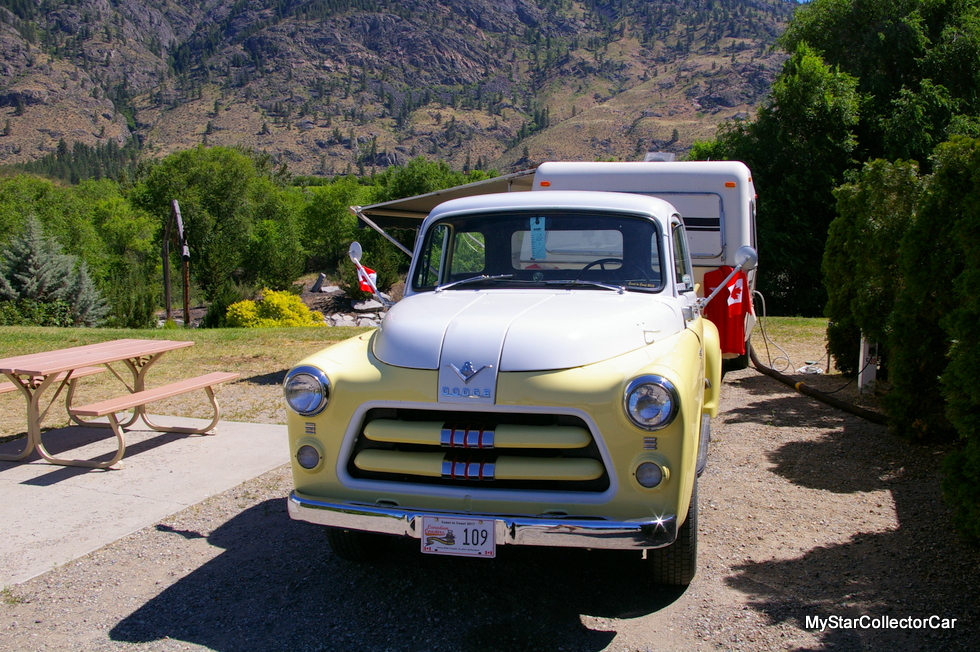 The restoration took about 4 years and Arnold was heavily involved in the process. The previous owner said there was "a little vibration", according to Arnold. What he found was two piston rods wrapped around the crankshaft.

Arnold wanted to save the original engine as much as possible, so he bought a donor V-8 from a car. Arnold was able to cannibalize the car engine so he could rebuild the truck engine back to its original (as possible) condition.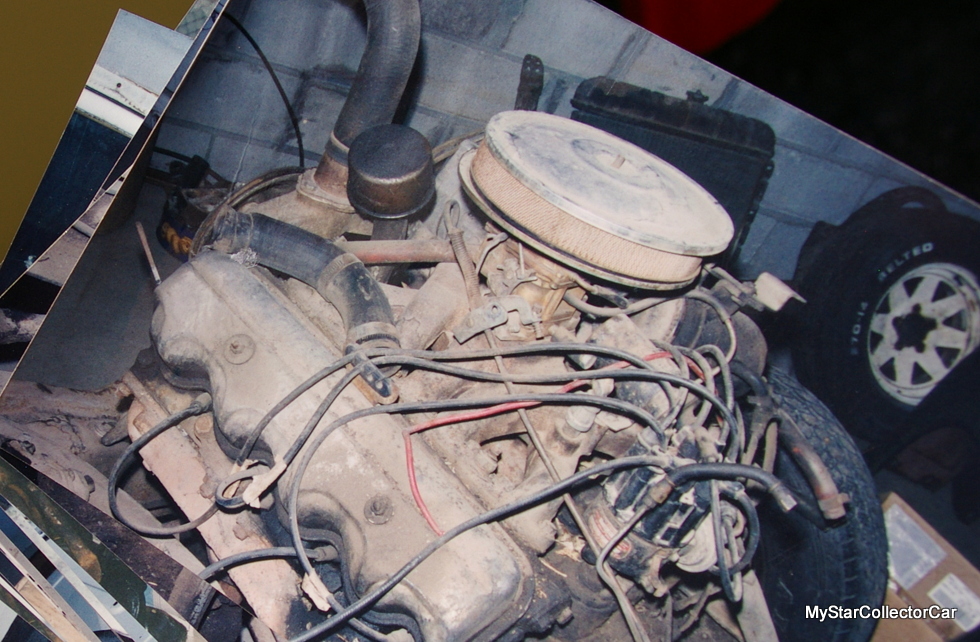 Some of our Canadian readers may wonder whether a 1954 Dodge truck even had an OHV V-8. The answer is yes–if it was built in the USA, according to Arnold.  He also told MSCC the American-built Dodge trucks offered OHV poly- head versions in late fall of 1954.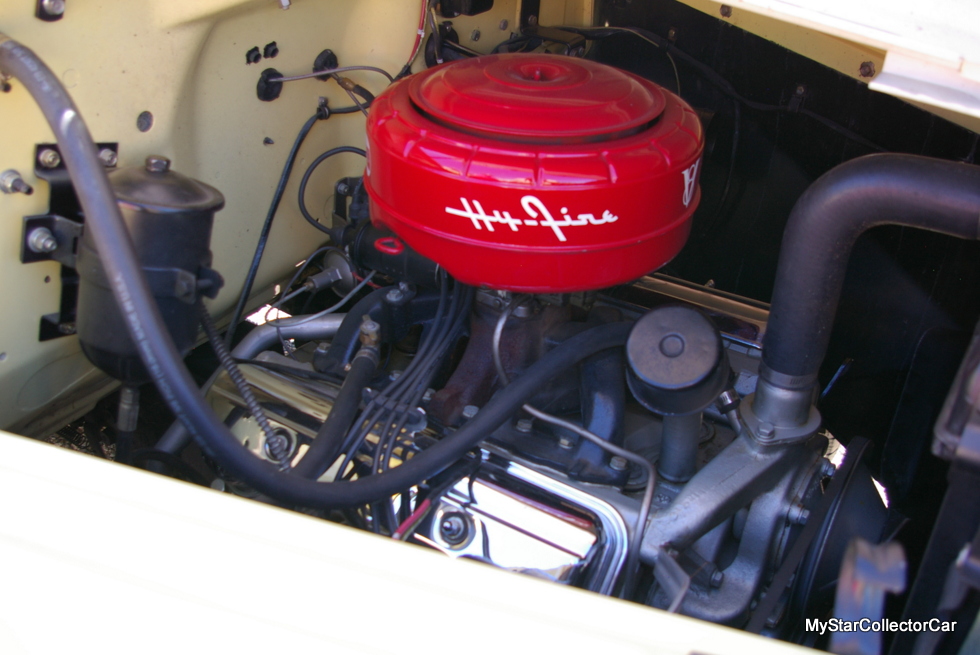 The combination of a small block V-8 and sturdy ¾ ton pickup truck prompted Arnold to use his Dodge on the 2010 Coast to Coast tour where he, his wife, and their trailer had little difficulty handling the long trek in the '54 Dodge.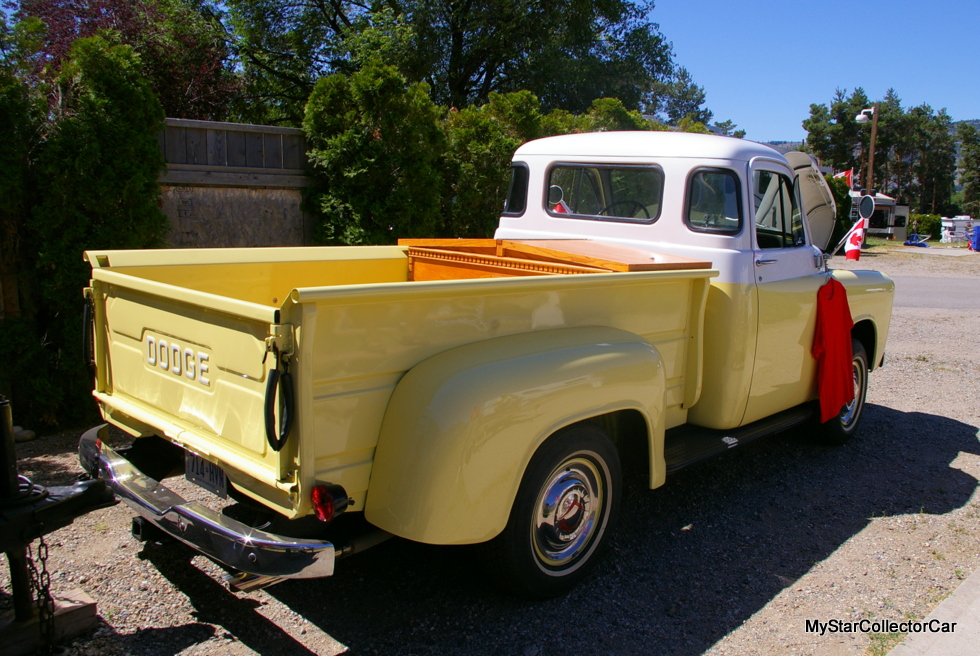 The truck still has its original drum brakes and the stock binders are aided by an electric brake system on the trailer. It still has its original 4-speed stump-puller manual transmission that can pull a trailer with relative ease.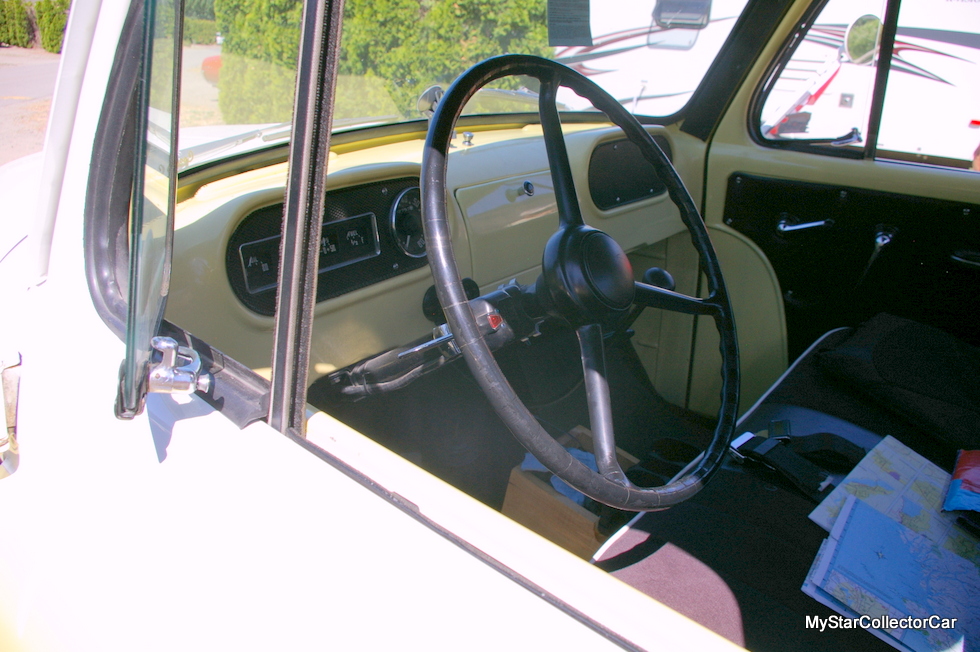 The engine has been bored out to about 259 cubic inches by Arnold's estimate and can handle a steady 55 mph (90km/h) on the road with its trailer on back. The stock 3:73 rear gears allow it to get about 12-13 mpg in the bargain, according to Arnold.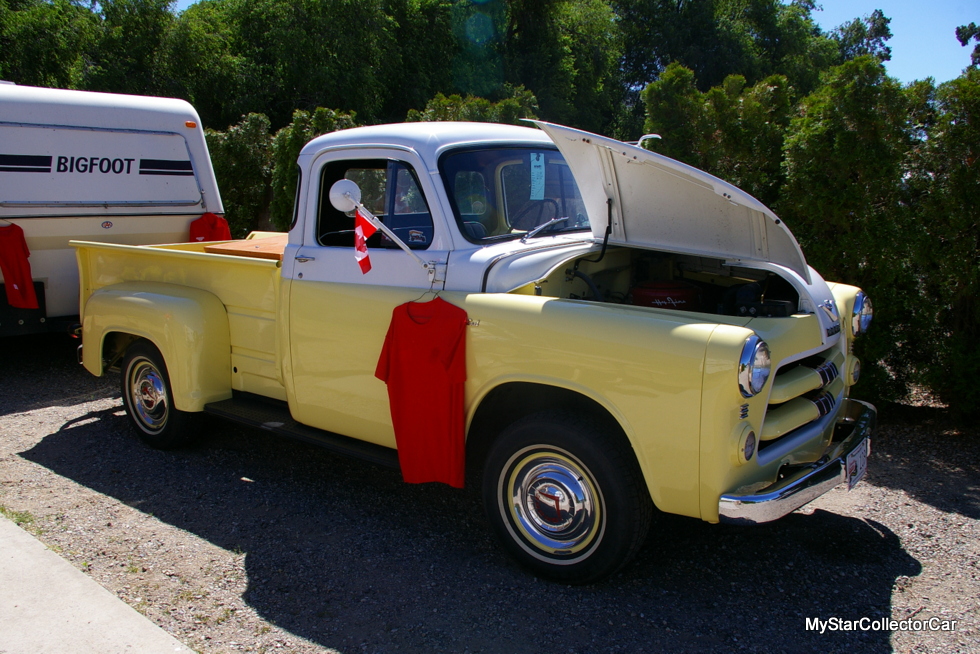 We at MSCC were very happy to finally get our story about this very cool 1954 Dodge ¾ ton. It was worth the 7 year wait.    
Jim Sutherland