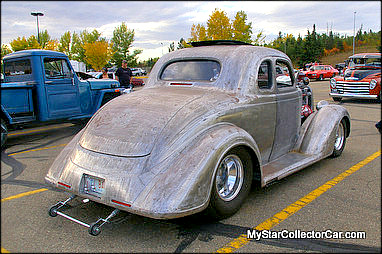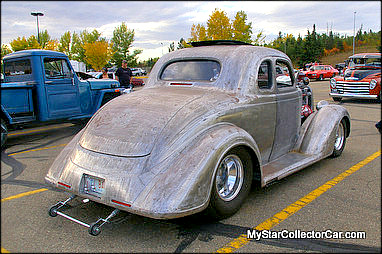 The world of the car guy is one of the most positive environments on the planet.
I have interviewed thousands of gear-heads and 99% of them were great guys. Those are good odds.
Ed Linde stood out in this sea of  great guys.
I met him last September when he brought his '36 Plymouth to a weekly show and my "Spidey sense" kicked in right away – he struck me as a friendly, open, very knowledgeable, hands-on car guy. Ed lit up like a kid on Christmas Eve when he learned that I was interested in his '36 Plymouth.
I was lucky enough to see Ed and his beloved ride again at a show in late May and he became that kid again because he'd refined his power trunk and electric doors. He was really excited about how well these innovations worked and I remember he laughed when I told him these electric motors sounded like something out of Star Trek.
I didn't know Ed well but I got the impression that he was a fairly quiet guy until you got him talking about his Plymouth—then he lit up like a Christmas tree.
One of the realities of life is that it's unpredictable and unfortunately that was the last time I'd ever see Ed because he passed away as result of a traffic accident a few weeks later.
We have a large number of car stories in the inventory at MSCC and unfortunately Ed never got to see his beloved Plymouth on the site but I think I understand the pulse of the average guy.
I know they love to read about other rides so here's the story behind Ed's ride—it seems like a fitting tribute to one of the nicest car guys I ever met.
This '36 Plymouth appeared a few years ago at a car show as a rolling shell—a bare block, a little surface rust and a scribbled note that the hemi was coming. Cars like this often raise more questions than answers because of the massive amount of work required to complete the project.
Last fall the car showed up at a drop-in meet and clearly this Plymouth had been enhanced in a big way.
Ed Linde was the proud owner of this classic Mopar and he outlined the history of this rare Plymouth, "This was a three-speed straight axle car. It was sitting in a barn for 51 years in Williams Lake BC when I found it. It was filthy and stunk so I ripped the interior out if it ".
He explained, "I always wanted a 5-window car, a Hemi and a blown car. I wanted to turn it into a high end hot rod".
Ed took a very systematic approach to the '36 Plymouth. He left it in bare metal because that was the last stage in the project. He found the block he wanted – it was a 426 Hemi block built by a legendary Mopar engine builder. He stroked it out to 572 cubic inches to get it up to serious horsepower. That was mission accomplished because, as Ed explained, "It made 910 horsepower on the dyno".
The body was totally disassembled and acid dipped and prepped for further work but Ed wanted to get this project on the road so he explained last September, "I just got it running for a shakedown".
The car attracted a tremendous amount of attention last September because it's a cool and slightly dangerous looking ride. Wheelie bars are a dead giveaway that a monster lurks under the hood and this giant Hemi didn't disappoint.
Despite the scary outward appearance of the Plymouth, Ed brought his favorite passenger—his dog. He explained, "she travels well, she goes everywhere with me. The sound doesn't bother her".
Ed had added some subtle touches to the car because in reality, hot rods are a true art form and Ed knew that when he explained the details, "The taillights are frenched in and digital and the headlight pods are higher and frenched in pedestals. The seats are out of a '67 Mustang because they're 21″ and that's one of the smallest seats".
The '36 was more than the sum of its parts on the mechanical side as Ed added, "It's got a Dana 60 rear end, rack and pinion steering, 5- speed Tremec with a pistol grip and a 4:11 rear end".
Ed was pretty happy with his initial run on the highway as he explained; "It was pretty good on the highway because that extra gear had it revving at only 2500 rpm".
That was in September but in May, Ed was analyzing the realities behind this 900-horse car and he admitted that he was probably going to reel it back to 600 because, "it doesn't have any traction. It's unusable power, all it does is spin".
Ed's game plan was pretty simple – get everything dialed in on the Plymouth and move on to some classic cosmetics in the final stage, "I want to go to a three stage orange with silver underneath plus I want GPS and a backup camera to go with the power trunk and sunroof".
Ultimately, Ed's legacy is what he left behind and he summed it up in these words, "There is no right or wrong in car building but in this case I thought everybody builds a 350 Chevy but this is a Plymouth so it needed a big Hemi".
The words of a true car guy.
Jerry Sutherland
Follow us on Facebook at-http://www.facebook.com/MyStarCollectorCar
Follow us on Twitter at- https://twitter.com/#!/MyStarCollecto1