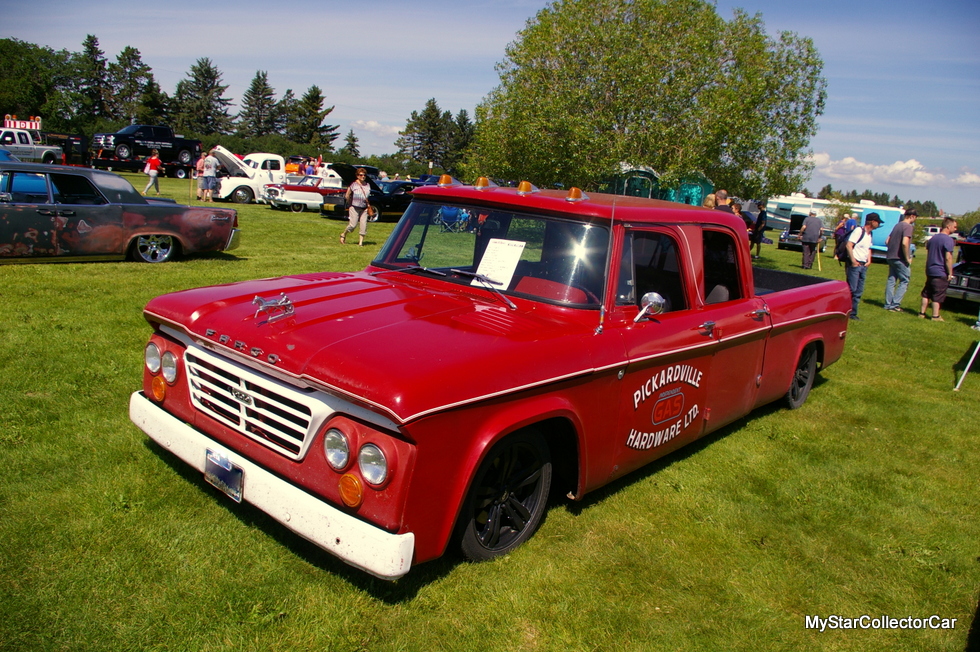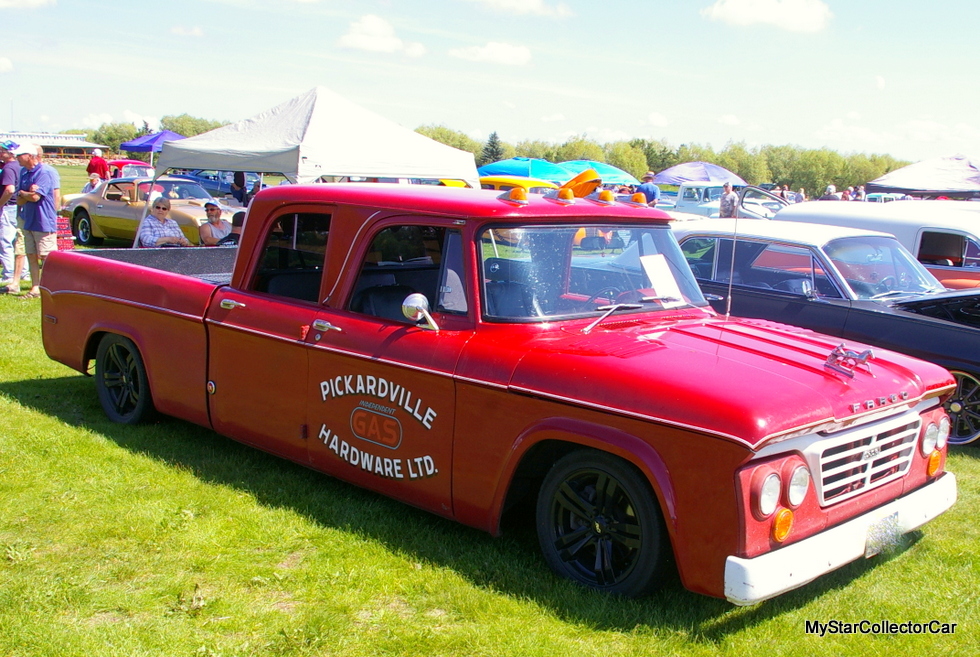 Fargo is a Chrysler of Canada truck brand that was primarily built for Canadian buyers and ceased production after the 1972 models debuted north of the 49th Parallel.
The end of the Fargo meant these Canuck trucks are a strong conversation piece whenever one of them makes a public appearance.
A 1964 Fargo crew cab resto mod drew plenty of attention at a summer show because it generated plenty of conversation about how owner Roger Lamble has transformed the four door truck into a serious road warrior.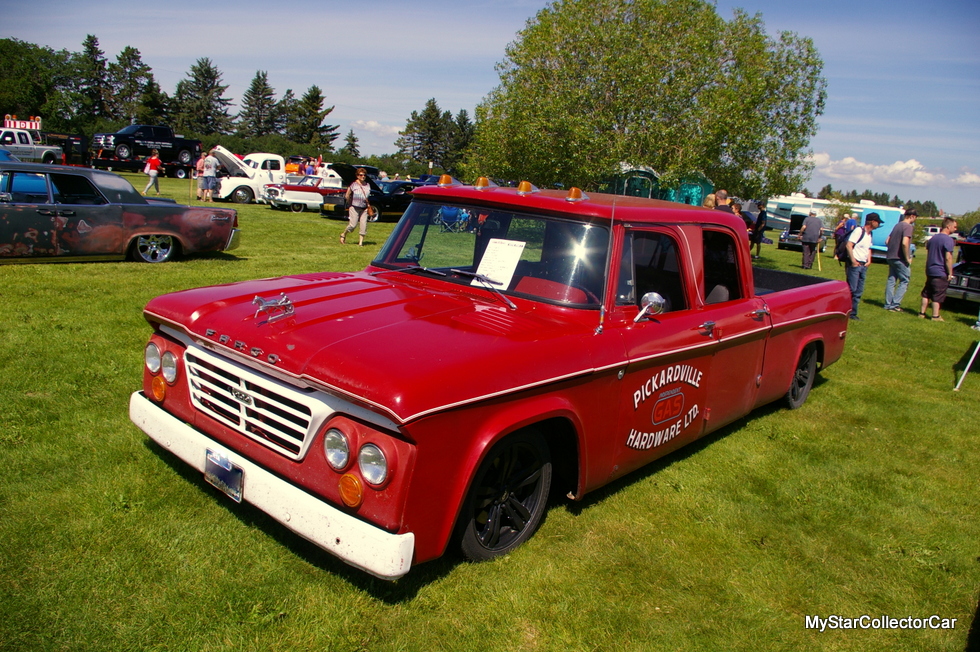 Roger has owned his Fargo for about 5 years and initially bought the truck with a classic car guy game plan in mind because he wanted to build a cost-effective resto mod largely from donor vehicles, including a major donation from a 2005 Crown Victoria police car that he purchased for 800 dollars.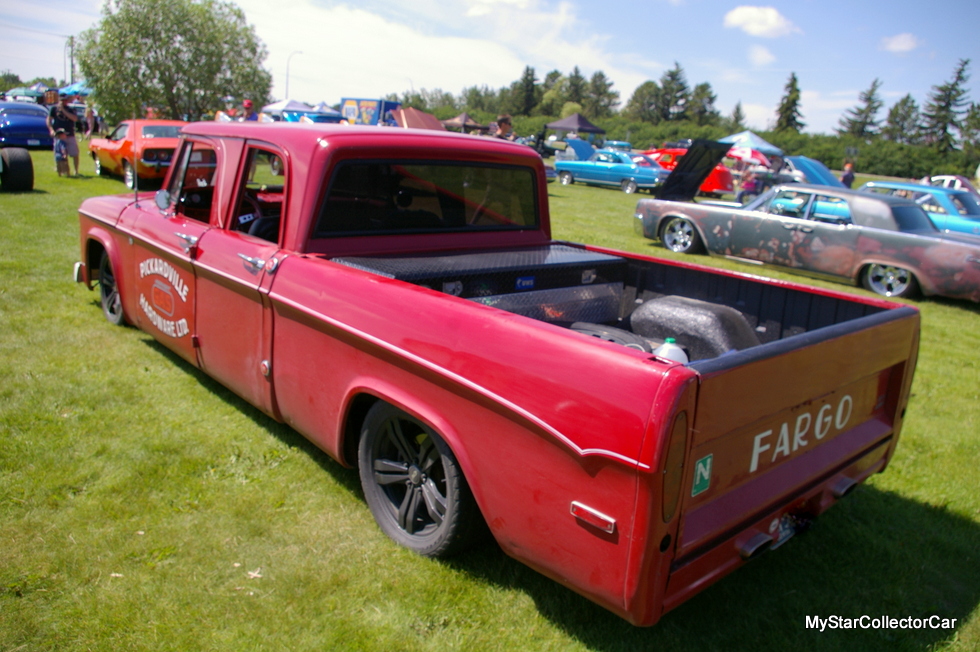 Roger bought the retired police cruiser and spent the next two weeks driving the wheels off the car to establish how much life it still had left in it. He concluded the donor car had plenty of miles left in it, so he began the transplant process.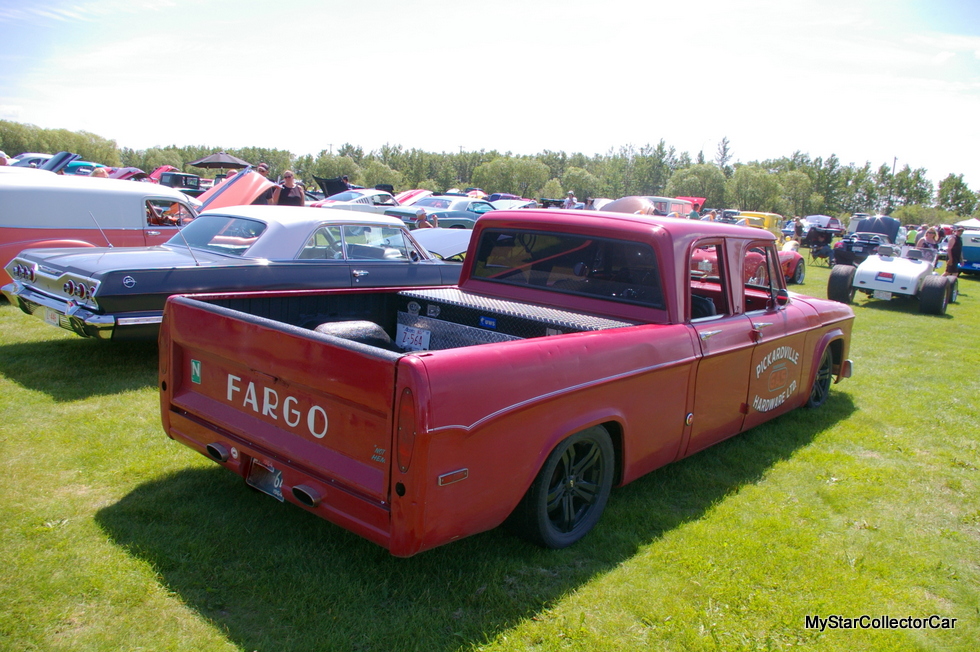 A Crown Vicky was a full frame car and Roger managed to cut off the front chassis and splice it into the Fargo's existing frame. He ended up with a modern heavy duty chassis, complete with 4.6-liter engine and AOD transmission from the donor police car.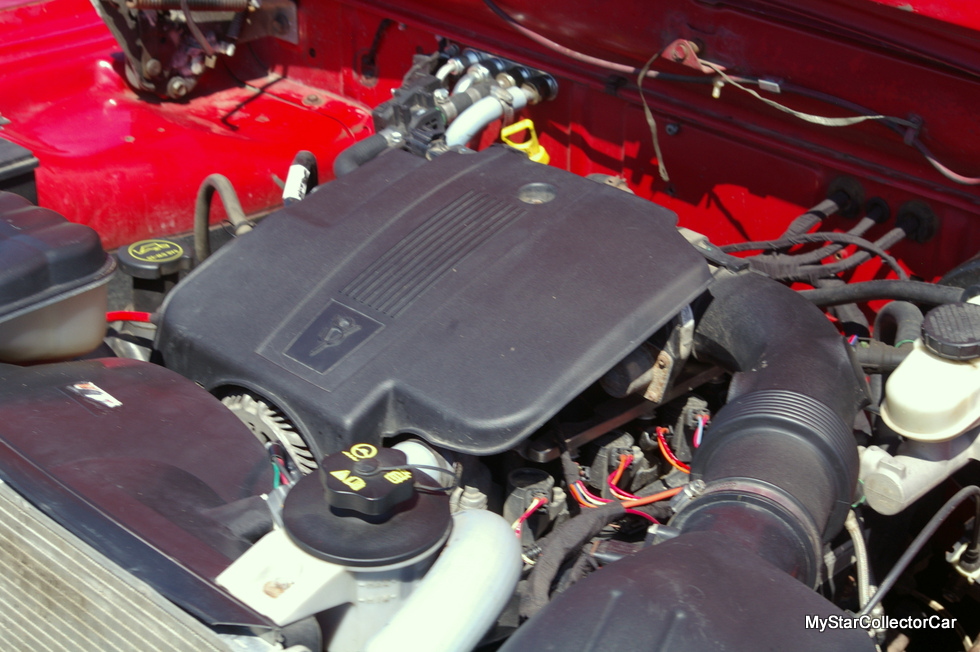 Roger was also able to use the Crown Vicky's rear end in his resto mod build, including its rear-wheel disc brakes. Additionally, he removed the Fargo's tank from behind the rear seat and installed the Crown Vicky's gas tank under a custom box in the truck's bed.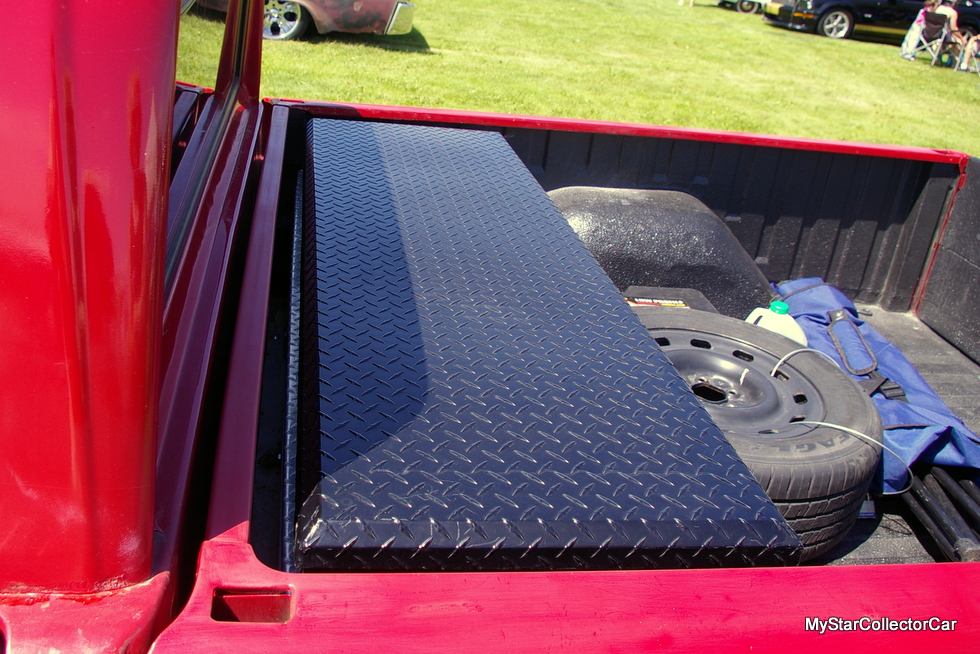 The truck has an upgraded interior that includes aftermarket front seats and a rear bench seat donated by a Ford F-350 truck. Roger also incorporated a swap meet tilt steering column into the Fargo, along with an aftermarket wiring system behind the rear seat that proved to be an expensive but time-saving purchase for its practical owner.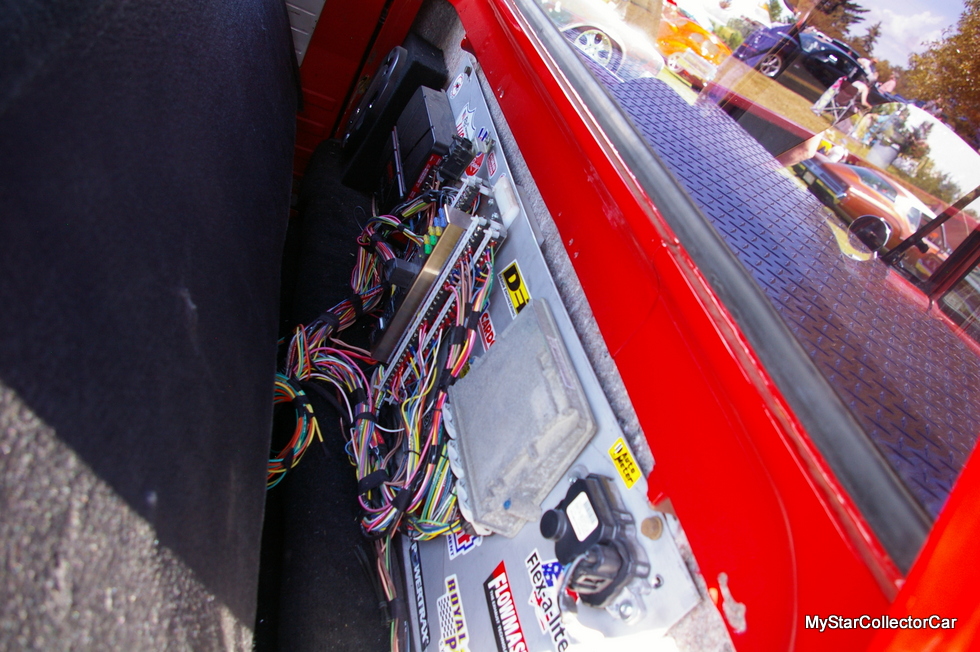 He added digital gauges into the mix so he could track the performance on a more accurate basis.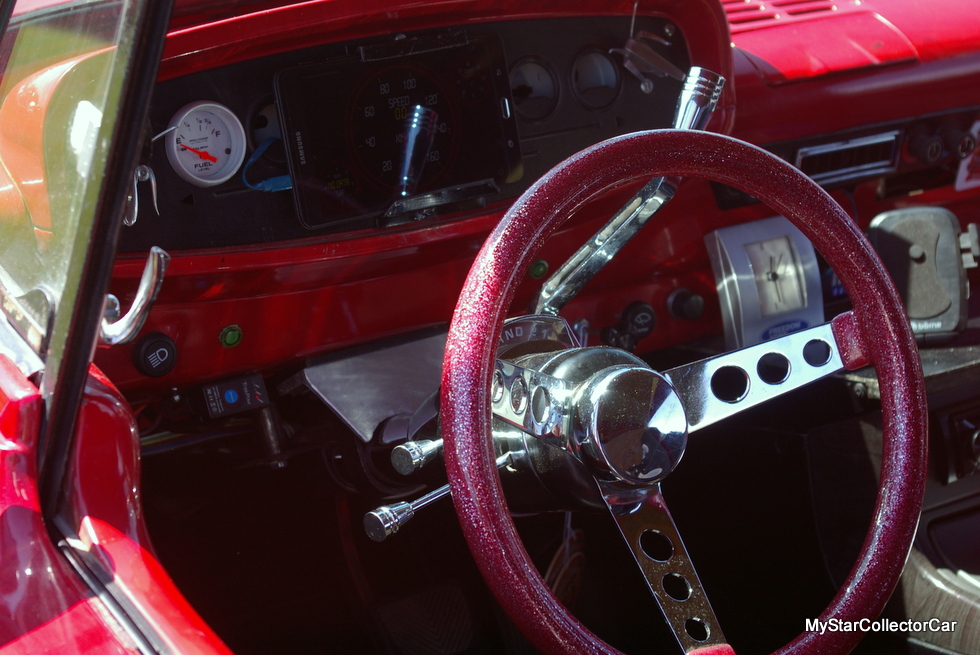 Roger also added an aftermarket AC system to his Fargo because he wanted as many creature comforts as possible for life on the road with the truck and his wife Kelly. Incidentally, Kelly is a strong supporter of the car hobby and is always willing to help Roger on a project.
The Fargo project was ready for the open road by 2018 and its first major outing was a long trip to Reno, Nevada from Roger and Kelly's home in northern Alberta. The Fargo performed flawlessly on the road and Roger surprised many people when he passed by them on a freeway.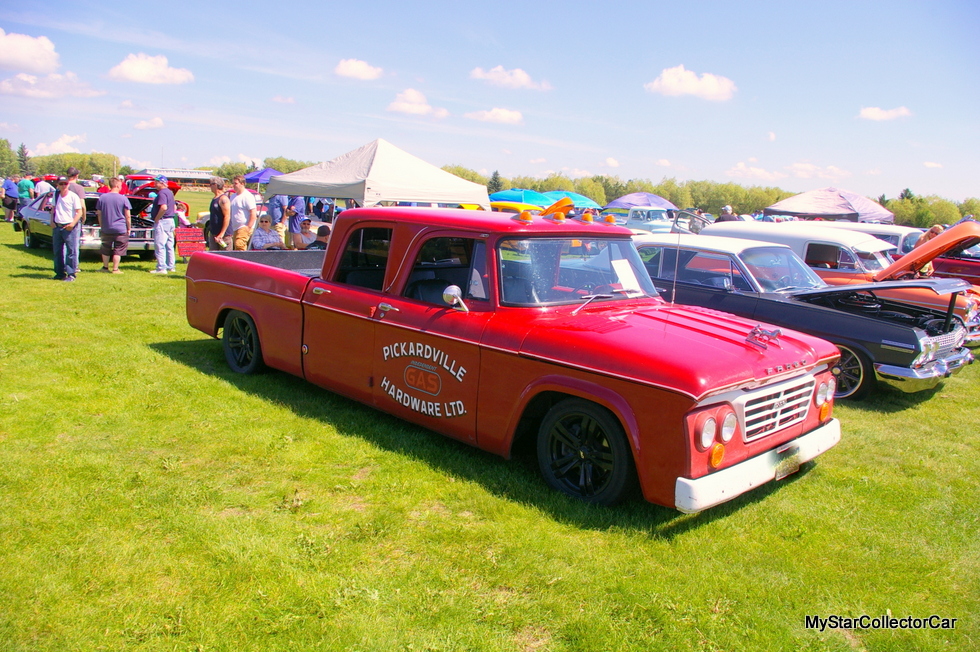 Roger was able to pull down over 20 mpg even though he likes to run about 10 over on a highway.
MyStarCollectorCar noticed the Fargo's door decals and Roger explained they were a tribute to a Mom and Pop hardware store in a small nearby town. The small red glass vial hanging from the mirror contains ashes that Roger included as a tribute to somebody that he surmises was connected to the truck in its past.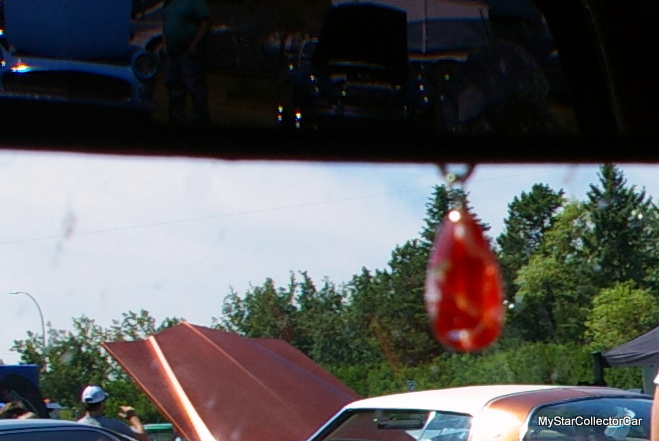 The Fargo is radically different from its earlier days, but it is important to Roger that it still carries the memories from its past and the local history from his area. His '64 Fargo has blended the old and new in spectacular conversation piece fashion.

BY: Jim Sutherland
Jim Sutherland is a veteran automotive writer whose work has been published by many major print and online publications. The list includes Calgary Herald, The Truth About Cars, Red Deer Advocate, RPM Magazine, Edmonton Journal, Montreal Gazette, Windsor Star, Vancouver Province, and Post Media Wheels Section.