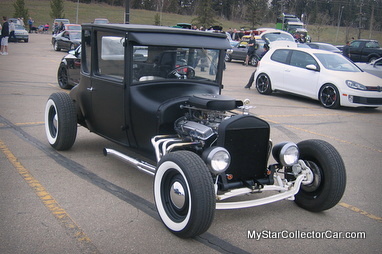 I spotted this retro-style 1927 Ford Model T hot rod at an early May 2013 car show and began a search for its absent owner.
I liked the old school look of this ride and immediately assumed its owner was most likely a young guy when Elvis was the king of Top 40 radio on your AM dial in the 50s.
I asked a few guys in the near vicinity of the T whether any of them was the owner of this classic street machine and made sure they were age-appropriate in my misguided conclusion about a likely owner.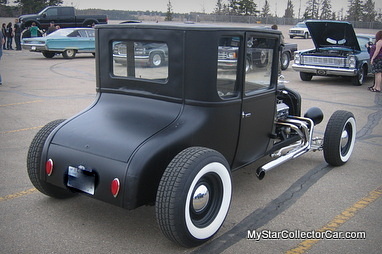 Clearly my image of a likely owner was a guy who had a full time job and adult responsibilities when I had a paper route in the 60s.
The actual owner was a guy in his early 30s named Alex Quast, but his '27 Model T hot rod had plenty of admirers from a herd of guys who looked like "my idea of a more likely owner".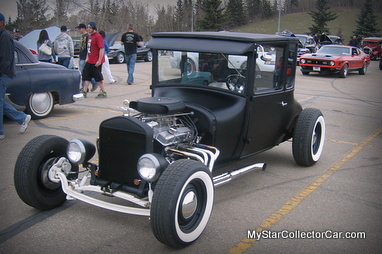 It turned out Alex was a long time fan of these old school rides and always wanted to own one; a simple explanation for an old school ride.
He also had enough talent to bring to the table when he found one. His Model T has no chop to its roof and that was one reason I thought the car was owned by an older generation hot rod.
Alex's thoughts on the un-chopped roof were pretty clear: "Everybody chops 'em."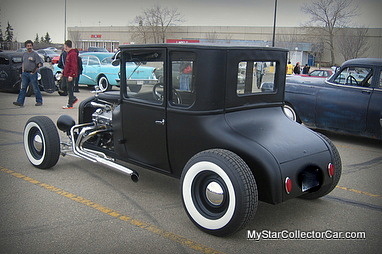 Alex did all of the metal work on the car and left a few bullet holes and dents in the finished product. He wanted to leave a certain character left in the car and bullet holes are a sure-fire character builder.
He also wanted a flat-black paint finish on the car because he was not a fan of shiny paint jobs for his vision of an old school hot rod.
The Model T sits on a custom frame and sports front discs with rear drums to slow down the 283 Chevy- powered Ford.
Alex has mated the Chevy engine with a Ford R-4 transmission, so his T even carries an old school philosophy where the pioneer hot-rodders used whatever was available to them when it came to hot rod combinations.
The T is even old school inside because it has bomber style seats which require a young owner like Alex to handle their bare bones comfort factor for driver and passenger.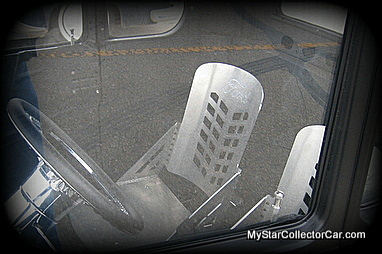 The project took three years to get it ready for the road and Alex took a little heat from one of his buddies who told him "the amount of money in his T project would have bought a brand new car."
His buddy's advice fell on deaf ears because Alex got the old car bug as a youngster on a farm when he played in them and dreamed a kid's dream to own one as a grownup.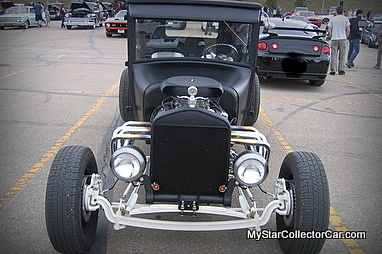 Alex believes the old cars were "built better, look better and had better lines" in his opinion. He simply said "this is what I wanted" when asked why a young guy like him owns a classic old no-fender 1927 Model T hot rod.
I may have guessed wrong on the probable owner of this classic style rod when I first saw it, but this T clearly has the right owner.
Jim Sutherland