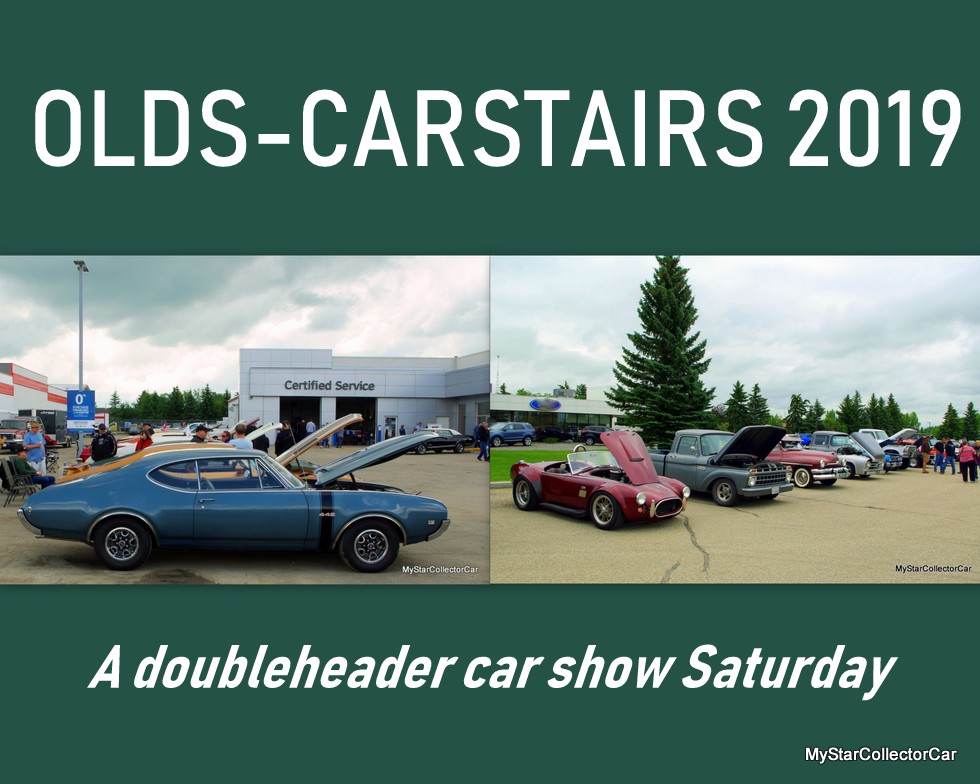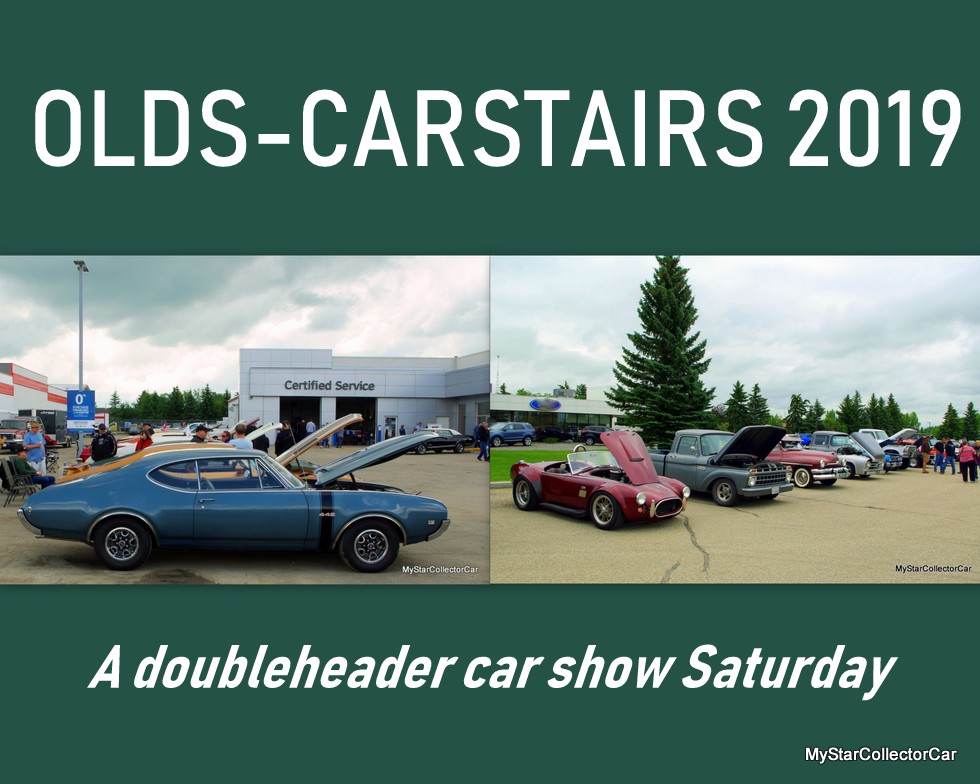 The only thing better than a Saturday at a car show is a Saturday at two car shows.
All MyStarCollectorCar needed was an opportunity to hit two shows this past Saturday–plus the fact the two towns in question are only about 20 minutes apart in terms of distance.
We at MyStarCollectorCar are not certain why Carstairs, Alberta and Olds, Alberta decided to plant roots near each other, but we were glad they decided to build their communities only about 15 miles (26 km) apart via Highway 2A when businesses in both towns hosted car shows this past Saturday.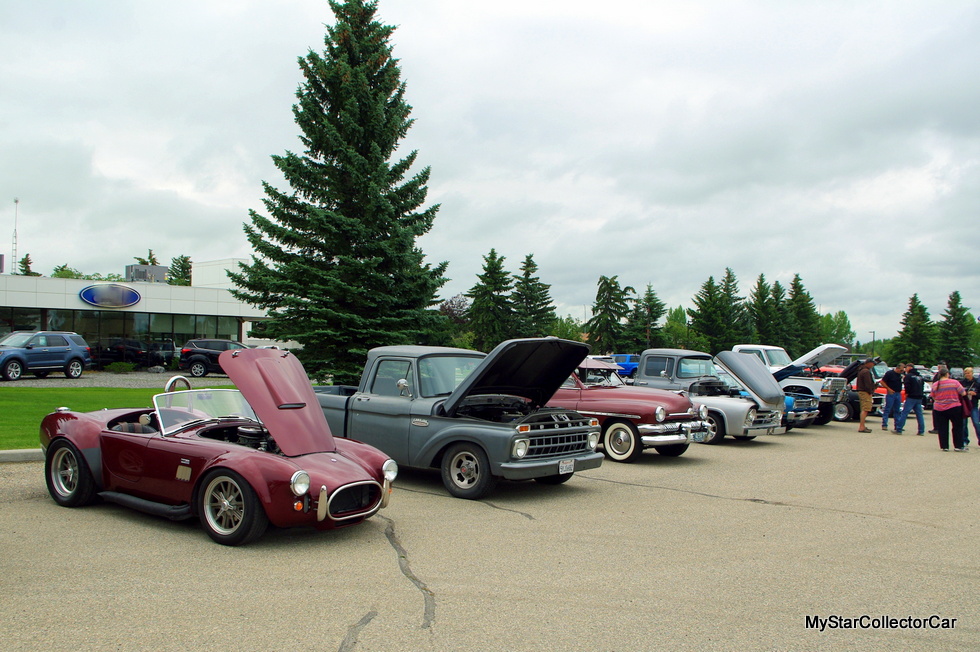 Carstairs was MyStarCollectorCar's first stop on Saturday's car show double-header and the first vehicle that caught our attention was a 1956 Chevy Nomad wagon. The car's owner had a generous amount of talent and was able to retro-fit a classic 327 Chevy small block engine into his Nomad, along with a bundle of other add-ons that turned his car into a road warrior.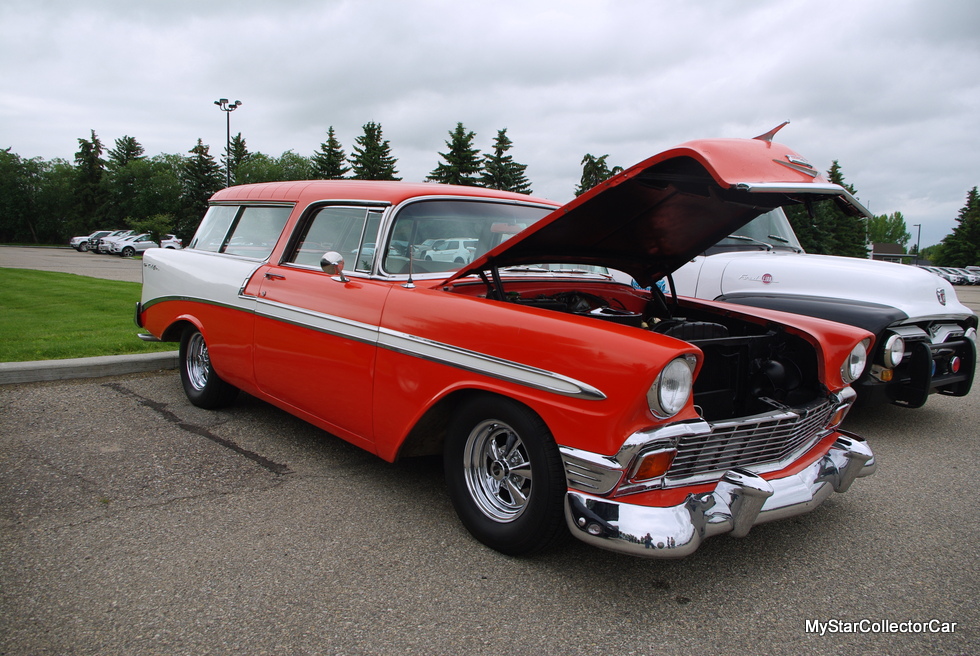 The happy ending is an owner who loves to drive his stylish Nomad and has racked up a ton of miles behind the wheel of the '56 Chevy wagon over the years. MyStarCollectorCar will reveal how many miles and a few of the adventures he has accumulated along the way in a future article.
Another car in attendance at the Carstairs show was a 1970 Dodge Challenger with a very long term owner. He bought the Challey as a daily driver in the early 1970s and still has it. The story includes an engine swap that yanked an already muscular but dead 383 (Mopar's famous factory big block) and replaced it with an even more muscled-out engine.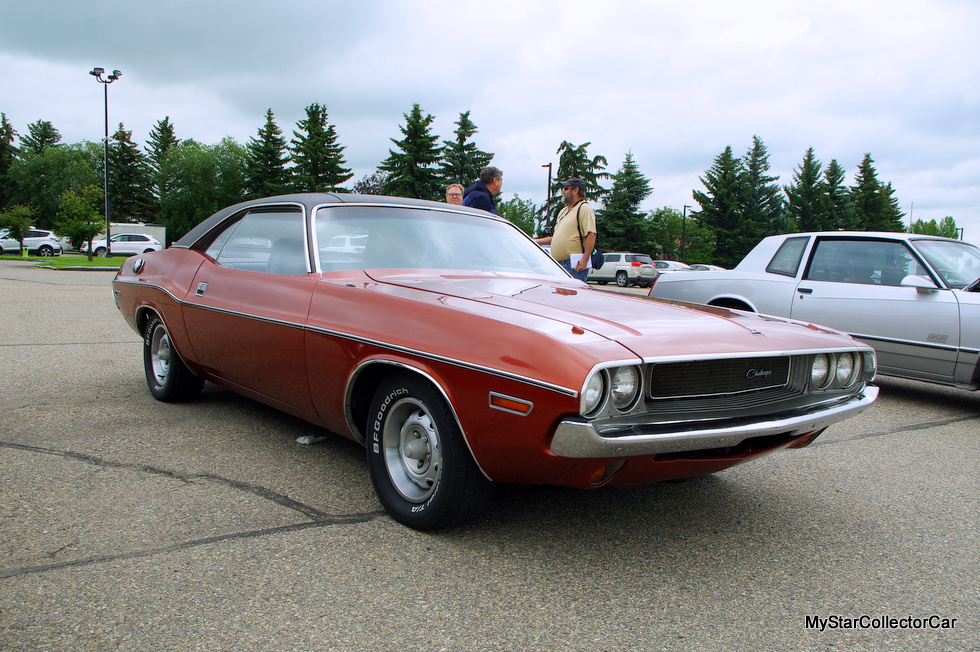 The owner of the '70 Challenger also believes in driving his car and MyStarCollectorCar will tell the tale of car and owner in a future piece.
The trip to Carstairs took place on a freeway known in Alberta as QE2 where a fast-moving 1959 Oldsmobile four- door hardtop really stood out as it headed north toward an Oldsmobile show in the appropriately-named Olds, Alberta.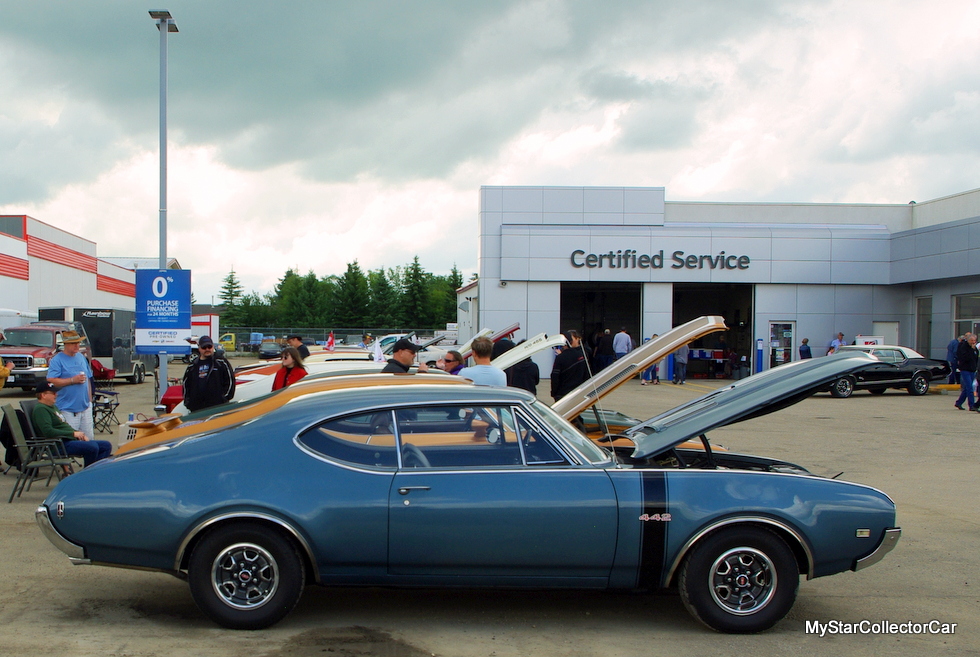 The Olds show in Olds was also our second stop and MyStarCollectorCar managed to catch up with the '59 Olds owner at the event. We apologize that we were unable to get shots of the car on QE2–mainly because the vintage Olds was moving fast and going the other direction on the 4-lane highway.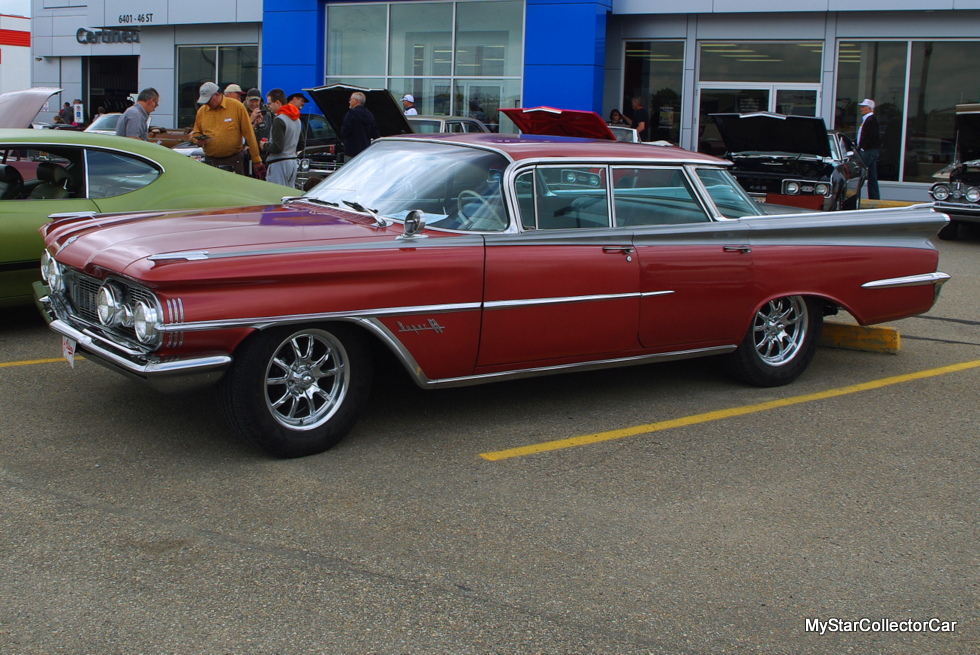 However, we were very happy to witness the 60-year-old car more than holding its own on the QE2 freeway. MyStarCollectorCar was even happier to get the full story behind the car at the Olds show in Olds and we will tell its tale in a future article.
Another car at the Olds show was an extremely rare 1976 Olds 442 with an owner who was also the president of the Northern Lights Olds Club chapter in charge of the event. He was the car's second owner and the Olds was his first financed car, so he was able to provide a story of long ownership that started in 1979.
All of the details will be revealed in a future MyStarCollectorCar story.
Rarity seemed to come with the territory at the Oldsmobile show and a 1970 Olds 442 W-30 convertible was another example of this trend.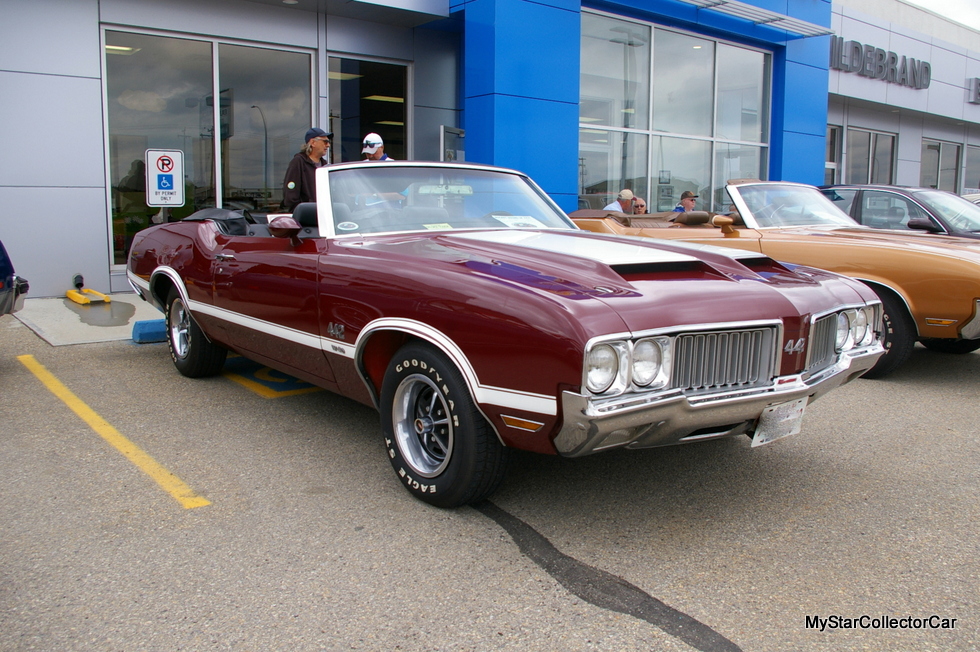 The car was a stellar example of the rare Olds drop top muscle car model and MyStarCollectorCar was able to interview its proud owner for more details about his remarkable car. Look for its complete story in a future MSCC piece.
Last, but most certainly not least, was a 1969 Hurst/Olds two-door hardtop. The name might seem a little confusing to car guys-but its informative owner was able to fill in the blanks about his very rare car's name.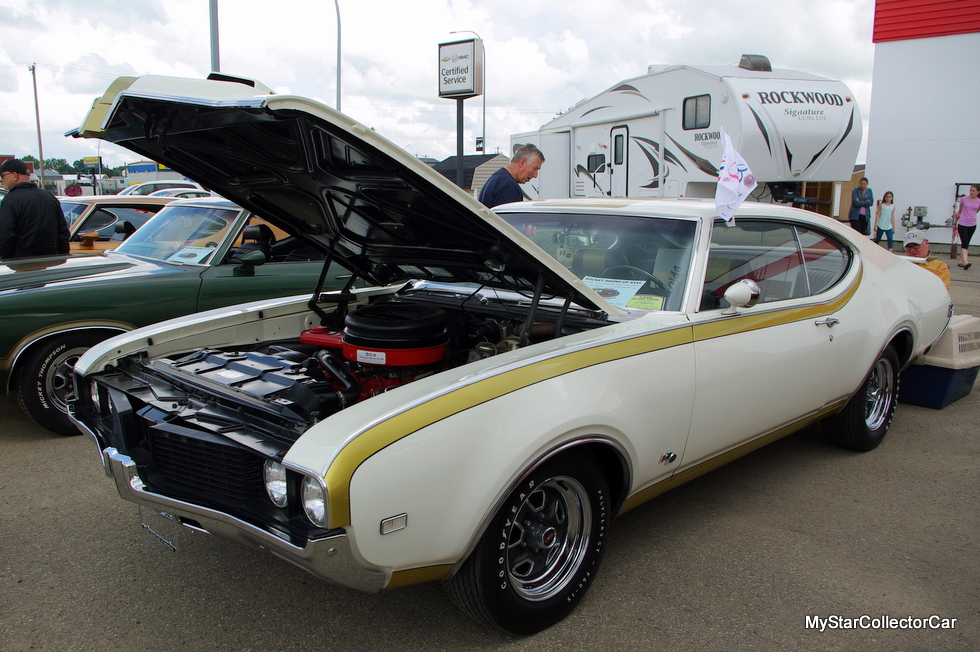 MyStarCollectorCar will also fill in the blanks about this fascinating 50-year-old muscle car from a GM family member better known for its luxury than its brute force. Incidentally, this car had style, luxury and muscle in one package and we will tell its story in a future MSCC piece.   
BY: Jim Sutherland
Jim Sutherland is a veteran automotive writer whose work has been published by many major print and online publications. The list includes Calgary Herald, The Truth About Cars, Red Deer Advocate, RPM Magazine, Edmonton Journal, Montreal Gazette, Windsor Star, Vancouver Province, and Post Media Wheels Section.