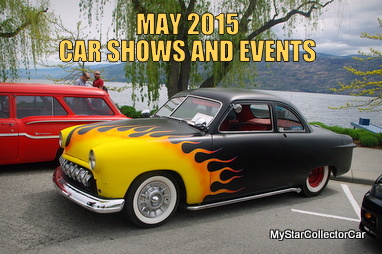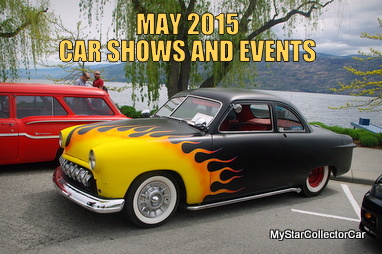 MyStarCollectorCar MAY 2015 CAR SHOWS AND EVENTS
MyStarCollectorCar has the most dynamic, up to date Car Shows and Events calendar in Canada. MSCC has the most traffic and the highest Google Canada ranking for car shows and events in the country-we've held the number one spot since 2012.
You can gain a huge advantage with your event if you get the information to us long before the actual event so if it's a fixed date every year send us the details. These listings are free.
We are also very interested in your club meetings and off season social events because this is how car guys spend the winter months and we can get you the exposure for your club and community events.
**Please note: Community or charity-oriented fundraisers are welcome but we can't place a business name from a non-advertiser in the event listing—we want to protect our current advertisers.
Please email jer43mystarccar@shaw.ca with any events and we'll have it on the page within 24 hours.
PLEASE FEEL FREE TO COPY AND PRINT THIS PAGE
MAY 2-3: MANOR SK Moose Mountain 8th Annual Cruise-In tvend@sasktel.net
MAY 3: LANGLEY, BC DW Poppy High School Car Show 604-612-7645 yakabuski@shaw.ca
MAY 3: COURTENAY BC Comox Valley Swap Meet
MAY 6: CALGARY, AB Grey Eagle Casino: Wild Wednesday Car Show
MAY 7: RED DEER, AB Red Deer Cruise Night Every Thursday Evening May to Oct 6-9pm NE Lot Parkland Mall Red Deer Dave @ 403-877-5047 reddeercruisenight.ca
MAY 9: DIDSBURY, AB Show and Shine
MAY 12: RED DEER, AB Cruise Night ( Downtown ) 2nd Tuesday each month May – Sept 6-9pm
Alexander Way Red Deer Dave 403-877-5047 reddeercruisenight.ca

MAY 13: CALGARY, AB Grey Eagle Casino: Wild Wednesday Car Show
MAY 15-17: KELOWNA, BC Corvettes in Kelowna
MAY 16: MIRROR, AB 2nd Annual Show & Shine, in conjunction with Mirror Parade,activities planned for the day, pancake breakfast, hot dog sale, museum opened, Legion opened, kid activites across the street, evening Bar B Que & Street Dance kerrysmech@cciwireless.ca Phone Number: 403-598-0520
MAY 16: GRENFELL SL 1-47 Cruisers 5th Annual Show and Shine CruiserI-47@sasktel.net
MAY 16: CARSTAIRS, AB Canadian Jeep Girls are hosting our 3rd Annual All Things Jeep Go Topless Day!
MAY 16: VANCOUVER, BC 30th All British Field Meet
MAY 16: RED DEER, AB Western Canadian Shelby / Dodge Automobile Club Parkland Mall Red Deer
Dale @ (403) 598-5961
MAY 17: PEACHLAND BC World of Wheels Car Show
MAY 17: WYNYARD, SK Rust Riders Fun Run
MAY 17: CRESTON BC Valley Cruisers 10th Annual Blossom Show and Shine
MAY 17: KASLO, BC 18th Annual May Days Car Show
MAY 18: MISSISSAUGA, ON 7th Michael-Angelo's Victoria Day Car Show at Michael-Angelo's 4099 Erin Mills Parkway Annual car show in support of Credit Valley Hospital 905.820.3300.
MAY 20: CALGARY, AB Grey Eagle Casino: Wild Wednesday Car Show
MAY 20: SASKATOON, SK 5-6-7 Club Kick off to Summer
MAY 20-24: KELOWNA, BC Vintage Thunderbird Club International Convention
MAY 21: VERMILION, AB I have two grade 10 students from St. Jerome's trying to organize a "Show and Shine" car event and barbecue fundraiser for Nepal earthquake relief, but they do not have many contacts of people who would be willing to bring their vehicle to such an event. The event is scheduled for May 21 in the Town Hall parking lot from 11 – 1:30. They are hoping to use the cars as a draw for people to come and have lunch and make a donation to their fundraiser. If you are able, and/or willing, to assist by bringing a vehicle to the lot that morning, please message me as soon as possible. Thank you in advance for your help with their efforts.
MAY 22: WATERLOO, ON 3rd Annual CRUZIN ON THE PUBLIC SQUARE.
MAY 22-23: ABBOTSFORD, BC 46th Annual Coastal Swap Meet
MAY 22-23 CHATHAM, ON RetroFest 2015 Classic Car Cruise and Show Connie Beneteau 1.519.352.8387
MAY 23: EDMONTON, AB 4th Annual May Madness Car Show and Shine fundraiser for STARS Air Ambulance. NAIT South Campus 7110 Gateway Blvd.
MAY 23: AIRDRIE, AB Rockyview Show and Shine Melanie 403-945-4000
MAY 23: SHERWOOD PARK, AB Got Chrome? 4th Annual Show and Shine Debbie 780-417-5533
MAY 23: MEADOW LAKE SK Cruisers Show and Shine acalvert@sasktel.net
MAY 23 : CALGARY, AB 14th Annual Driven Car Show Olympic Oval
MAY 23: EDMONTON AB 1st Jellinick Society Show and Shine Len 780-430-7434
MAY 23: DRUMHELLER, AB Boogie in the Badlands Show and Shine Bryan 403-321-0091

MAY 23: CALGARY AB CFD 1st Annual Fire Rods Show and Shine hotrubber@live.ca
MAY 23: INNISFAIL, AB Historical Village Pancake Breakfast and Vintage Car Show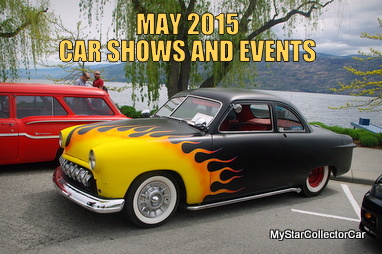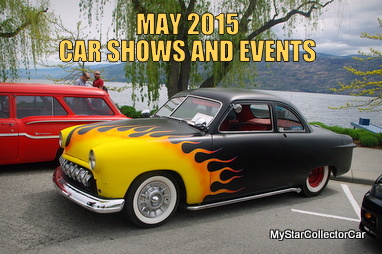 MAY 24: MAPLE RIDGE, BC Senior Secondary Dry Grad Show and Shine 604-463-4175 dwatt@sd42.ca
MAY 24: COALDALE, AB Custom Cruisers Show and Shine Frank 403-345-3287
MAY 24-25: ROCKTON, ON 45th Annual Swap Meet/Car Show Rockton Fairgrounds, Dave Hounsell 905.304.9560
MAY 27: CALGARY, AB Grey Eagle Casino: Wild Wednesday Car Show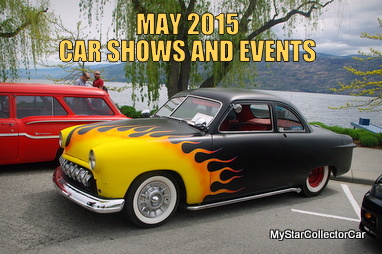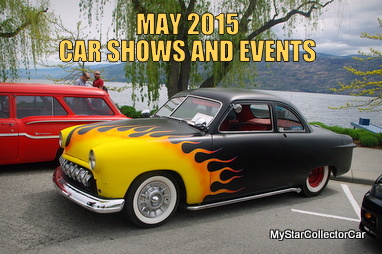 MAY 29-31: VICTORIA, BC Saanich Firefighters 13th Annual Rock and Roll for Little Souls Car Show
MAY 30: NEWMARKET, ON Highway 11 Cruisers Car Club 2015 Show & Cruise Night Season
MAY 30: BARRHEAD, AB Chariots Car Club Fort Assiniboine to Barrhead Car Run
MAY 30: MEDICINE HAT, AB 7th Annual Harleys and Hot Rods Show and Shine jay@hdmedhat.com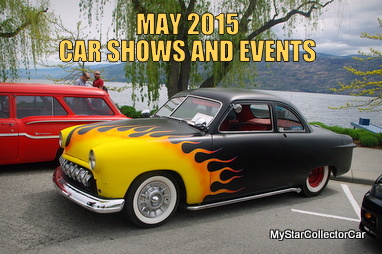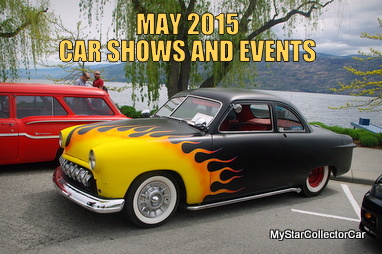 MAY 31: PARKSVILLE, BC Vancouver Island Mustang Association Spring Spectacular
MAY 31: ELK POINT, AB EPAC Annual Show and Shine
MAY 31: QUALICIM, BC VI Cruisers 5th Annual Picnic and Spamathon 250-338-6134

MAY 31: SYLVAN LAKE, AB Club Vee Dub Presents Fahrfromhome @ Sylvan Lake
MAY 31: ST ALBERT, AB Cruisers 23rd Autorama
MAY 31: LANGLEY, BC Super Car Swap Meet hotrodrs@shaw.ca
MAY 31: REGINA, SK Collectors Car Club 31st Annual Charity Show
MAY 31: WEST KELOWNA, BC Cops for Kids Show and Shine
MAY 31: CALGARY, AB Firebird Club 11th Annual Charity Show and Shine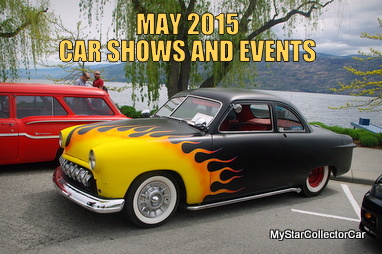 For JUNE 2015 events please follow this link.
CLICK HERE to Like us on Facebook
CLICK HERE to Follow us on Twitter
CLICK HERE to Follow us on Pinterest