The biggest and best players in the stock market are the guys who combine gut instinct with knowledge to make a sound and profitable decision.
My brother Bruce was a visionary with old iron—even if he didn't plan it that way. Brucie has been the topic of a few MyStar pieces in the past because he was a hardcore car guy. He wasn't alone—three other brothers had the same sickness, and several nephews show the same recessive gene in their DNA.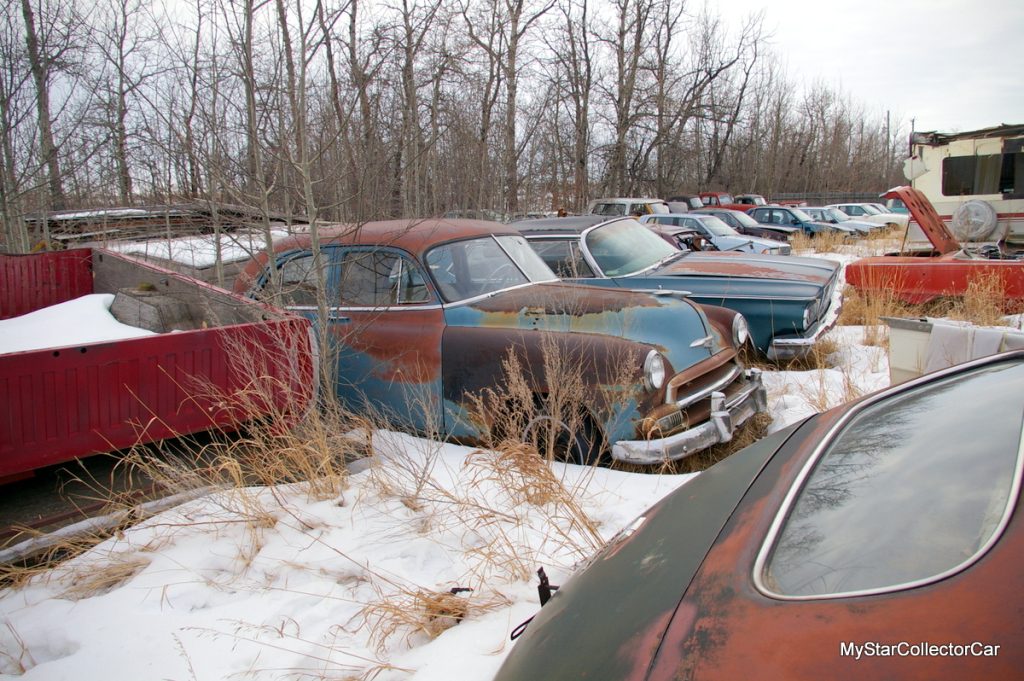 They have the fleet of old iron to prove it. We all got it from my dad because when he had the space to store them—he had old iron on the property.
This collection/healing line was sold years ago, but here's a look at the Brucie inventory.
Brucie was an off-the-beaten-path car guy because you'd never see him hovering around a '69 Camaro at a major collector car auction. He was the guy you'd see at a farm auction bidding on a dusty old grain truck—that was his world. Like I said, this collection/healing line was sold years ago, but here's a look at the Brucie inventory.
Brucie would be all over stuff that other guys would walk by–yet in the process he bought things that spiked in value over the years. That's why he had weird (now valuable) stuff like a Honda Cub or a 70s-era trail bike. You couldn't pay guys to take that stuff away 25 years ago, so Brucie paid next to nothing for these old bikes.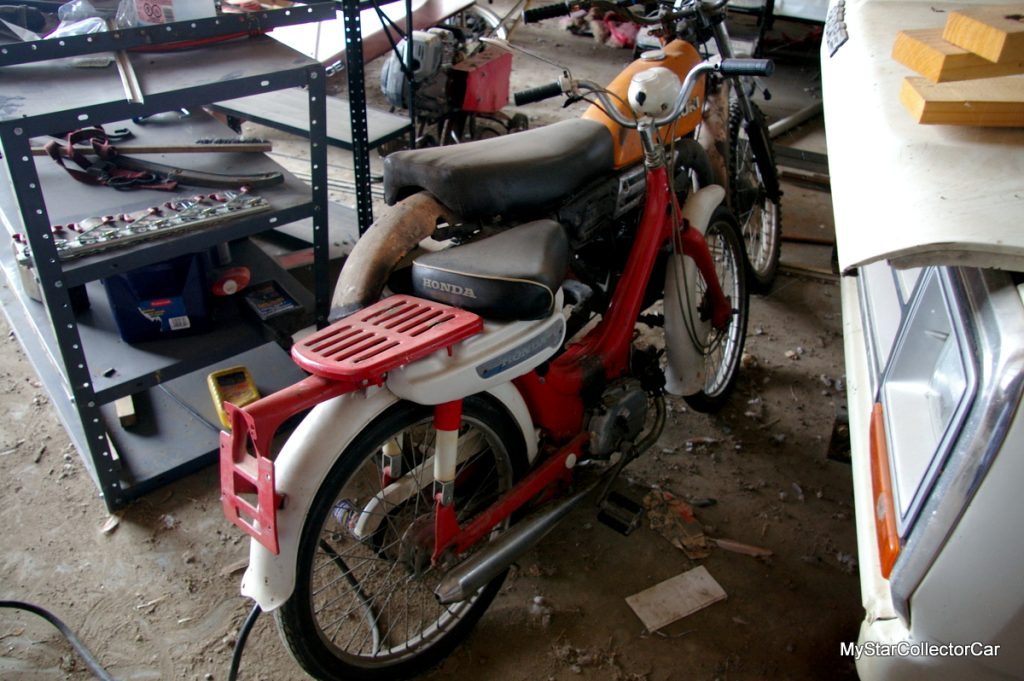 Every farm auction had at least one Power Wagon on the docket 30 years ago–you couldn't give those away back in the 90s. Brucie knew better. He had one in his "healing line"—destined to be a post-retirement project. I'd like to say this was pure vision on Brucie's part, but he had a weakness for big, unloved, old trucks—an old Power Wagon was his Kryptonite.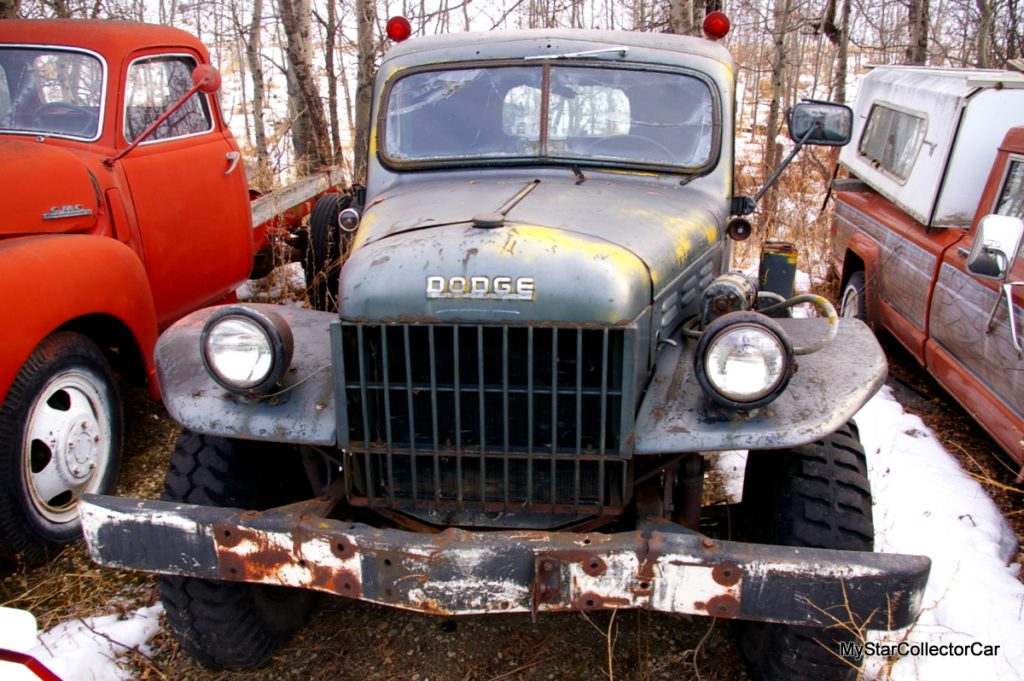 Brucie didn't limit himself to Power Wagons. He saw the magic in used-up old grain trucks, so he had a few in his inventory—a Chevy and a GMC. They both had clean cabs and I know he paid nearly nothing for them because farm auctions in the 90s had farmers—not online bidders–bidding on the stuff they could use. Brucie was the ace in the deck.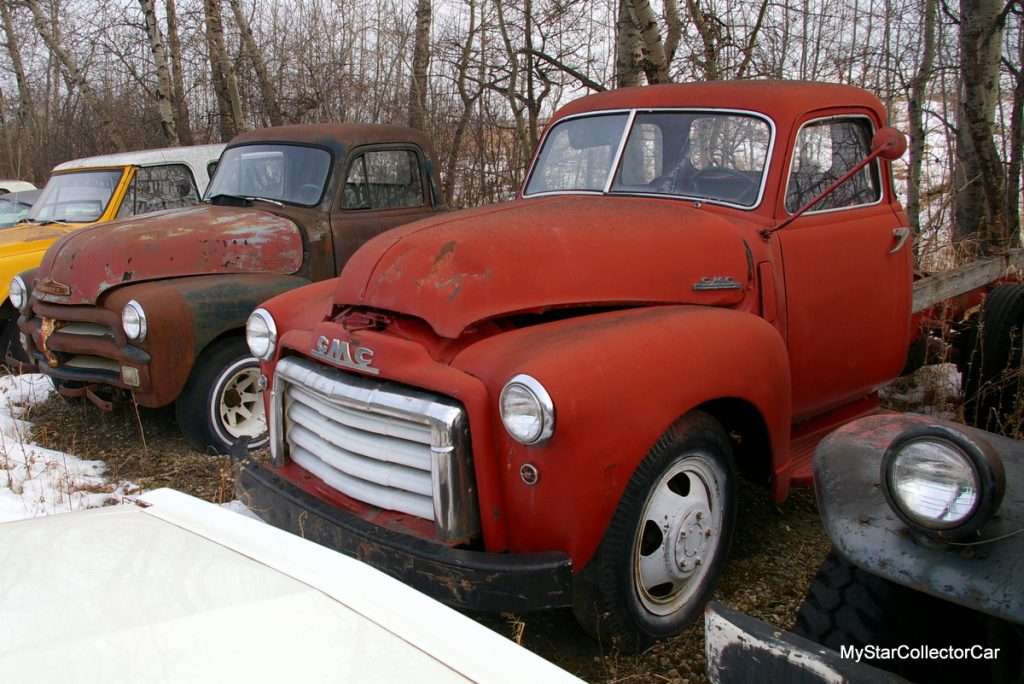 His Fargo grain truck came with a rock bottom price, very few miles—and no brakes—but that didn't stop him from making garbage runs with it. That's how Brucie rolled.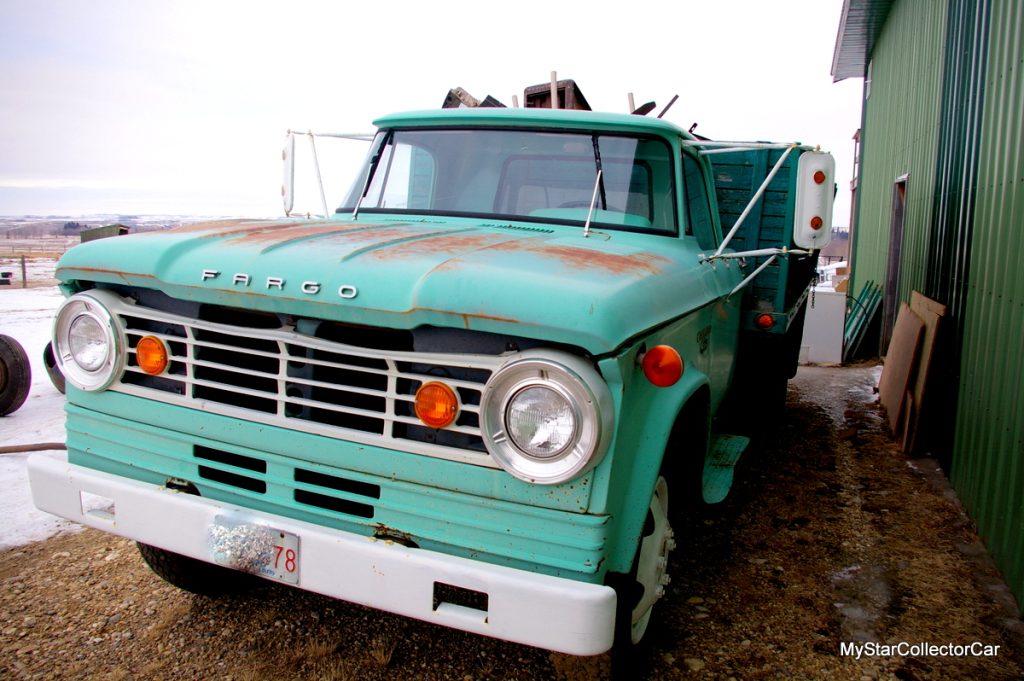 Brucie was a big Jeep fan—he'd owned used Wagoneers since the 1980s and his collection included a decent J-10.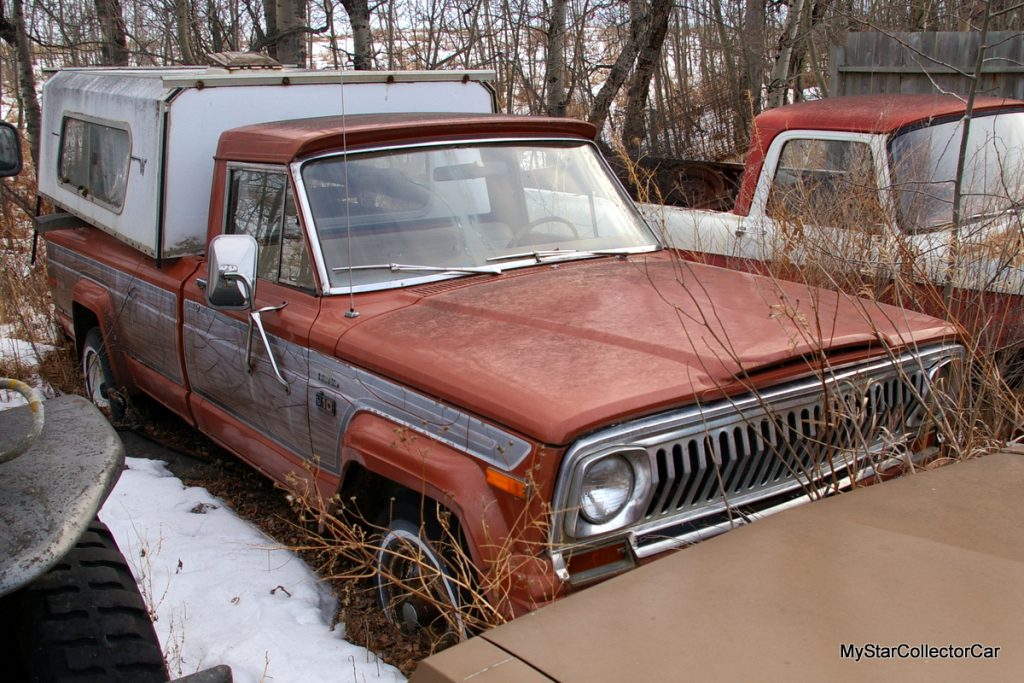 Price a Wagoneer or a J-10 today. Brucie was way ahead of the curve on those –he bought them when they were worth a few hundred bucks because AMC was on life support. Nobody could see how insane prices would get on a Jeep J-10, but for Brucie it wasn't a hedge against inflation—he just liked how they looked.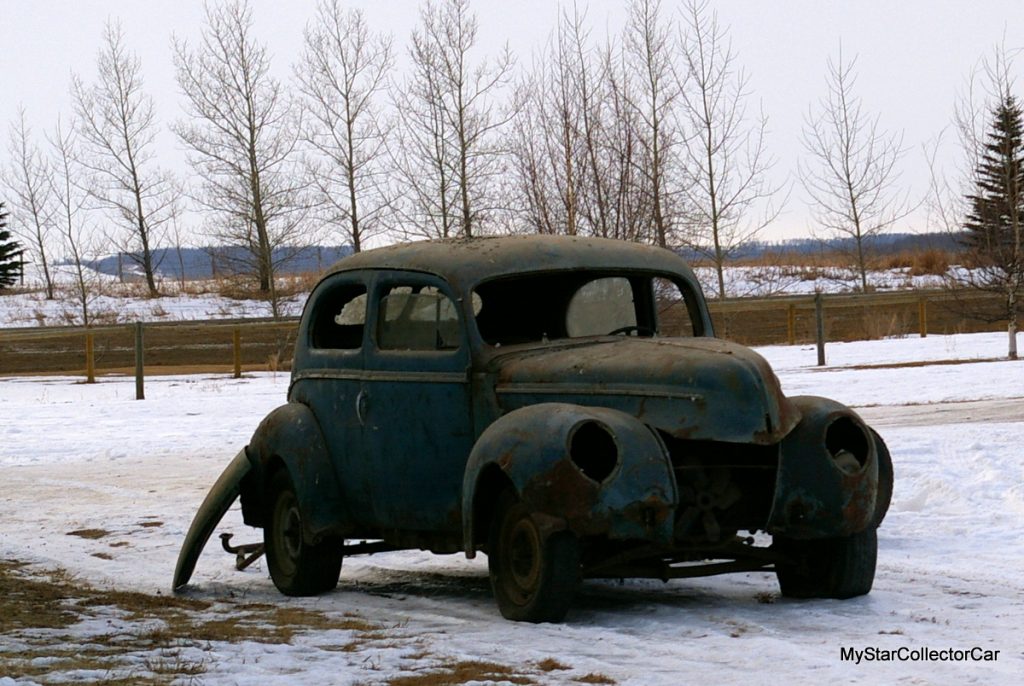 There was a 1940 Ford Tudor in the mix at Brucie Motors. It was a decent dry project and Brucie had a nice-looking flattie motor ready for his '40 Ford project.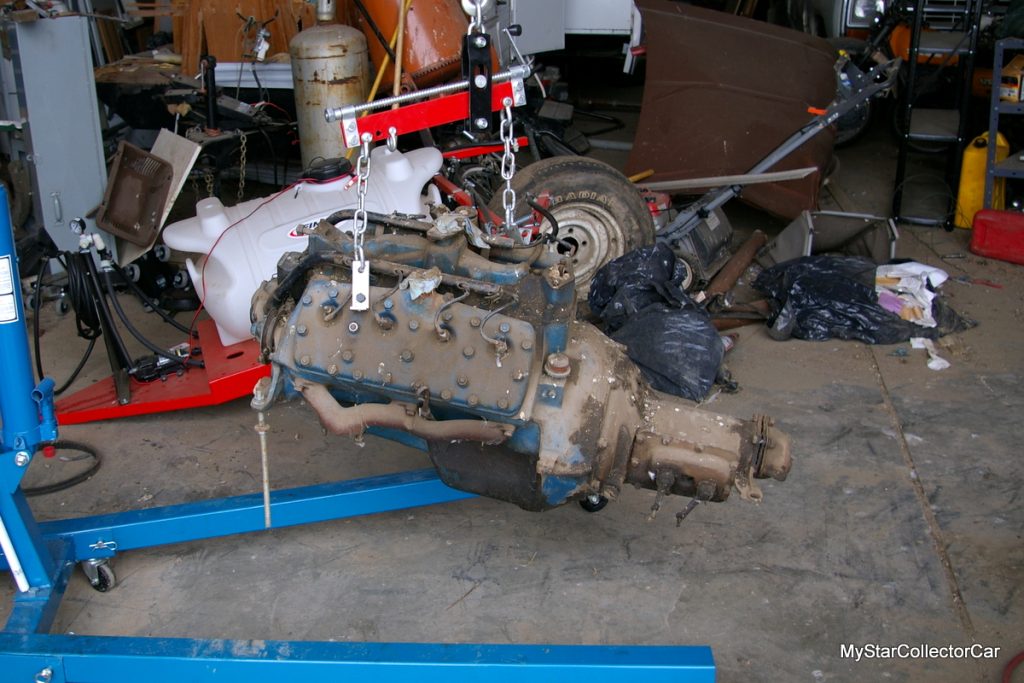 He would have burned it before he'd add a 350 small block because–again—that's how Brucie rolled. He never said what he paid for it, but it was cheap because it was an unfinished project plus he was a riverboat gambler in negotiations.
Brucie had a great car crop but I just wanted to focus on the visionary side, so you'll notice he had a lot of old trucks.
He had a '72 Blazer that was project ready. They were cheap 30 years ago—that's why Brucie brought it home.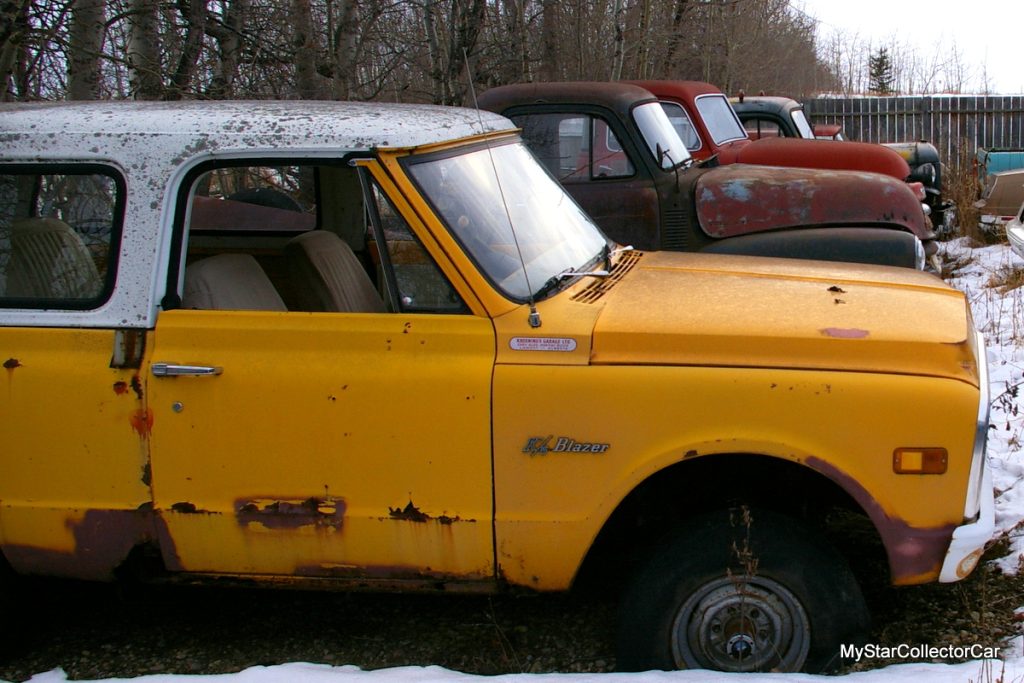 Brucie also had three Dodge Ram pickups and a RamCharger from the 80s because again—you couldn't give trucks like that away in the 90s.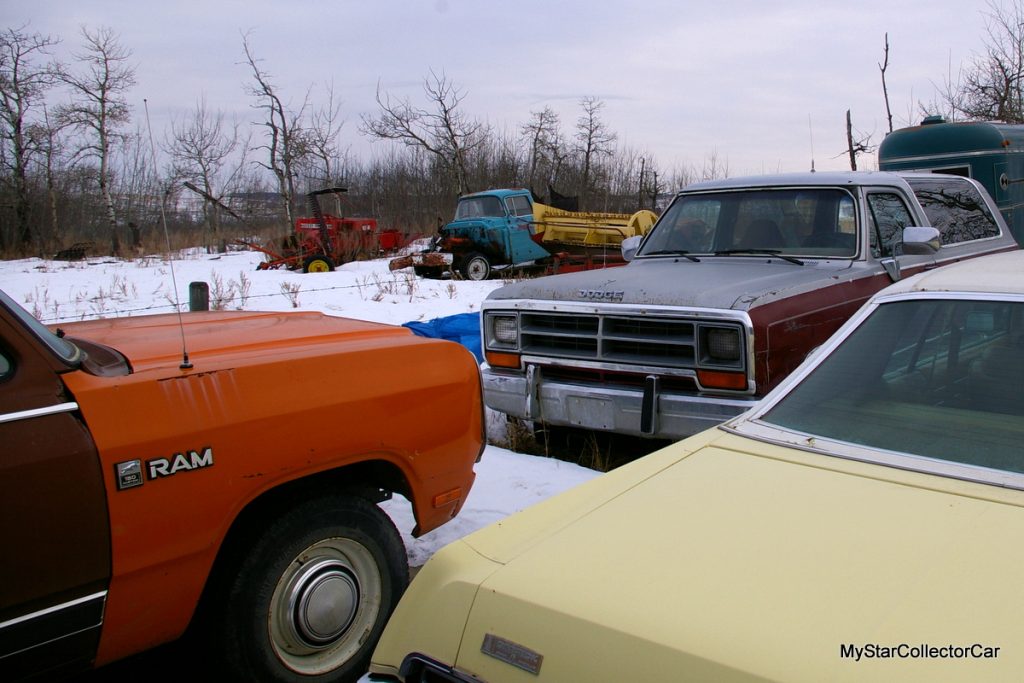 He saw the magic in old trucks long before the wave of price spikes we see today.
I want to end this with the last great example of Brucie vision. He had a box of parts that he called a Haflinger—he had to explain what it was—a German-built ATV.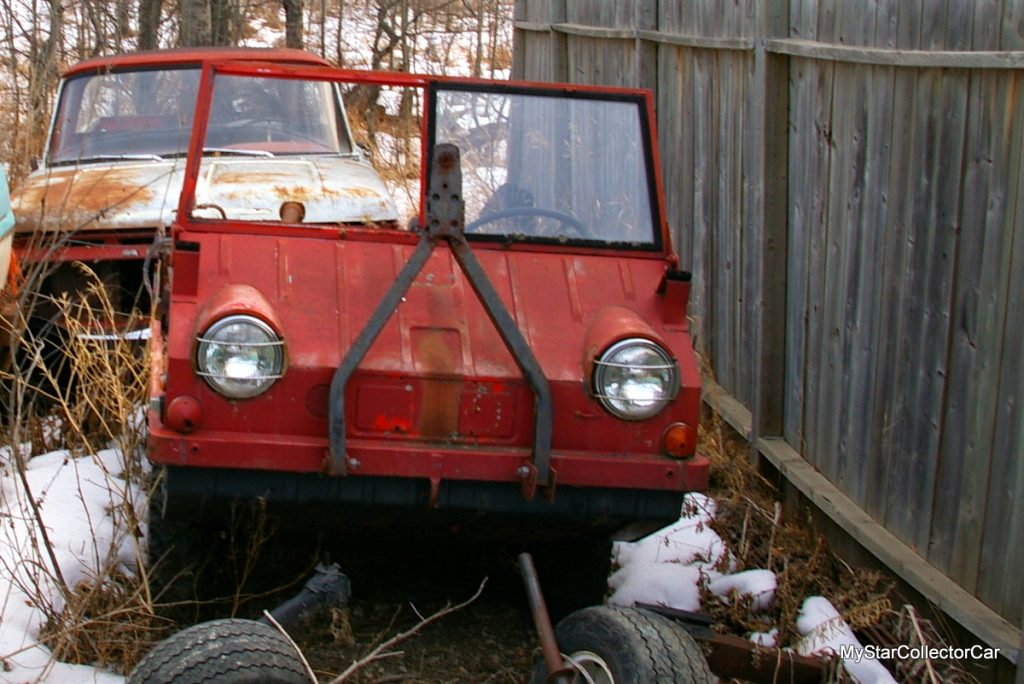 Those things have a cult following so the phone rang off the hook when it came up at his estate sale.
By: Jerry Sutherland
Jerry Sutherland is a veteran automotive writer with a primary focus on the collector car hobby. His work has been published in many outlets and publications, including the National Post, Calgary Herald, Edmonton Journal, Ottawa Citizen, Montreal Gazette, Saskatoon StarPhoenix, Regina Leader-Post, Vancouver Sun and The Truth About Cars. He is also a regular contributor to Auto Roundup Publications.
Please re-post this if you like this article.