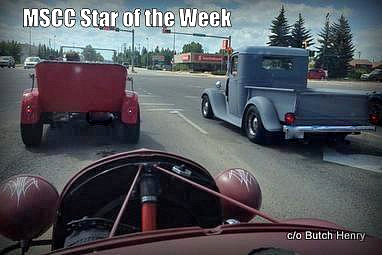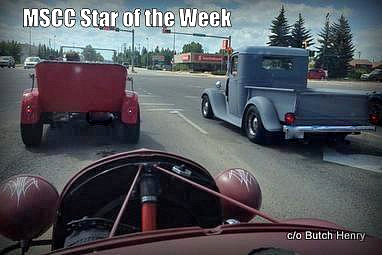 JULY 7 STAR OF THE WEEK: THE SOLUTION TO TRAILER QUEENS-SELL YOUR TRAILER
There's an eternal debate in old car circles about driving versus trailering your old ride.
For the record the majority of car guys favor driving old iron, not loading them into covered trailers.
Trailer queens are like grilling up the best steak you've ever done on your barbecue then wrapping it up and tossing it in the freezer.
That wasn't a problem in this Star of the Week picture because these old rides never see the inside of a car trailer but they do see sun,rain and occasionally a little snow.
Life in the real world.
JULY 6 STAR OF THE DAY: 1958 CHRYSLER WINDSOR-WHEN FINS GET COMPLICATED
This is a 1958 Chrysler Windsor two door hardtop at a car show from several years ago.
Sharp-eyed readers are going to call this a mistake because a '58 Windsor looks nothing like this car.
But that's in the United States where a '58 Windsor looked a lot more like a '58 Dodge.
This MSCC Star of the Day is a Canadian Chrysler Windsor so its closest cousin is the US Saratoga and they do look alike with some trim differences.
Confused?
Welcome to the world of old iron where an ID on a car is far from an exact science.
JULY 5 STAR OF THE DAY: FOUR WHEELS AND A HEMI=PERFECTION
The Mopar Hemi engine was a legend from the first day some guy yanked one out of a big Chrysler and plunked it into a hot rod.
That combination of power and weight made instant winners out of also rans on the street and at the track.
The Hemi engine never went away-it just got bigger, meaner and more powerful.
You can find the Generation III Hemi under the hood of a lot of cars and trucks in 2013 but you'll never find a cooler combination than this Gen I Hemi in a classic rod back in 2009.
Star of the Day-a great idea that never went away…
4TH OF JULY STAR OF THE DAY: 1907 THOMAS FLYER-THE PIONEER OF CAN-DO AMERICA
Canadian car guys live next door to the most powerful country in the world. Needless to say, it's been a lot of fun looking over the fence at our neighbors to the south.
The United States turns 237 today and they are definitely the big birthday party guys on the block in North America…we can see the fireworks from Baffin Island.
The biggest reason for the party is to celebrate independence and with that independent spirit comes free will. Free will spawns optimism and optimism spawns what they called "can-do".
Can-do spawned a sense that anything was possible and that attitude spawned this 1907 Thomas Model 35 Flyer. An unknown American named George Schuster took on the world in 1908 to win a 22,000 mile race around the world in 169 days from Times Square to Paris.
Canadian car guys watched our neighbors win this brutal marathon with a shared sense of pride-the race was never repeated.
We were along for the ride when Craig Breedlove cracked 500 miles per hour on land in '64.
We cheered our neighbors on in 1966 when Carroll Shelby thumped Ferrari in their own back yard at Le Mans with a 1-2-3 Ford GT-40 finish.
We were riding shotgun 42 year ago in July '71 when the first Lunar Rover kicked up dust on the moon.
Those were very cool events but for American car guys, the can-do attitude began with this MSCC Star of the Day Thomas Flyer back in 1908.
Have a great Independence Day.

JULY 3 MSCC STAR OF THE DAY: '59 METEOR MONTCALM RIDEAU-A COOL CANADIAN COUSIN TO THE '59 FORD
The Ford Meteor was one of those "what the $%# is that?" when you crossed the United States border because this was a uniquely Canadian model.
The bloodlines are clear but this Canadian 1st cousin to the '59 Ford had distinctive styling cues that made it stand apart from the more conventional Galaxies and Fairlanes.
This '59 Meteor Montcalm Rideau was on the street in early June and at first glance it looked like a very cool Ford.
At second glance, it looked a like very cool Canadian MSCC Star of the Day.
JULY 2 MSCC STAR OF THE DAY: 1969 POLARA 500 2 DOOR HARDTOP-THE SPORTY C BODY FOR BANK MANAGERS
The big Mopar C-bodies were definitely built for guys at a certain stage in life. If you were 22 back in the summer of '69 you didn't look at the Polara brochures…you looked at the Charger RT or Dart 340 GTX brochures.
The guys who looked at the Polaras were probably older family guys so the bigger boxes made a lot more sense. They eyed up the muscle cars in the showroom but the C-body was clearly in their future.
This particular MSCC Star of the Day Polara 500 was at a show yesterday and it probably told a slightly altered version of the C-body narrative. 2 door hardtop Polara 500s probably represented some kind of compromise…
Like a bank manager who slipped into middle age but checked off the hardtop option so he could cling to the last vestiges of youth.
JULY 1 STAR OF THE DAY: HAPPY CANADA DAY-CAR GUYS WAVING THE FLAG
July 1st is Canada Day-today is the 146th birthday of the land that brought us hockey players, ski-doos, Mounties and Justin Bieber.
We're still apologizing for that last one.
Today is a day when the flag comes out to mark the birth of a nation built on hard work and opportunity so the Maple Leaf flag will come out in huge numbers.
Car guys don't think that way because many of them proudly fly the flag on many other occasions. They don't need one specific day to be Canadian because they live it 24-7.
Canada Day is a huge day for car guys but these pictures were taken at random car shows and they clearly made every day a flag day.
The true north strong and free…
For past Stars of the Day please follow this link.
Sponsored by Southside Dodge Chrysler Jeep & RV