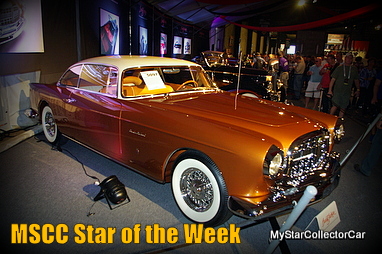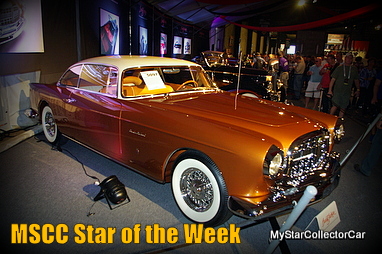 MSCC JAN 25 STAR OF THE WEEK: 1955 CHRYSLER ST SPECIAL GHIA-DETROIT MEETS ITALY
There were many roads taken in 1950s Detroit styling but one of the longest journeys ended in Italy.
Ghia was the builder you wanted when you had to take your game up to world class standards and Virgil Exner was a huge fan.
They built a few Ghias over the years and most were scooped up in the European market but a few found their way over the Atlantic .
This MSCC Star of the Week '55 Chrysler Ghia ST Special was one that made it over to the States.
Detroit meets Italy and returns home in style.
MSCC JAN 24 STAR OF THE DAY: '57 MERC-ROCK YOUR INNER CANUCK WITH THIS TRUCK
The late 50s Ford trucks never had the same cult following as their older brothers, the '53-56 F-100s.
Today they're cool, but back in the 'Elvis gets drafted' era they never rocked the hot rod world.
You could never pick what was hot and what was not because popularity simply spun off what car guys did and didn't like.
This MSCC Star of the Day '57 Merc truck is a different story because its Canadian roots made this pickup unique right out of the showroom.
You could rock your inner Canuck simply by owning this Ford classic.
MSCC JAN 23 STAR OF THE DAY: '64 IMPALA—ROCK SOLID AMERICAN ICON
There are some things that are quintessentially American.
The Stars and Stripes, Statue of Liberty, baseball and Abraham Lincoln are a few examples but one of the best has four wheels and is named after an African mammal.
The Chevrolet Impala represents Middle America better than any other car and the '64 Impala is regarded as the high point in the car's history.
This MSCC Star of the Day '64 Impala was at a recent auction where rock solid American icons were more than welcome.
MSCC JAN 22 STAR OF THE DAY: MERCEDES 300SL GULLWING—THIS IS WHAT 2 MILL LOOKS LIKE
There are cars that were valuable in their day only because they provided reliable transportation for the most routine lives.
A 1963 Chevrolet Bel Air 4-door sedan is a good example.
They made boatloads of cars like that and the depreciation rate charted like the stock market in 1929.
This MSCC Star of the Day Mercedes 300SL Gullwing was parked in front of a hotel last week and it had no problem with a plummeting value.
This is what 2 million bucks looks like.
MSCC JAN 21 STAR OF THE DAY: HENRY J—PRACTICAL LONG BEFORE THE YARIS
The Henry J started its four year run in 1950 when post war automobile production finally started to catch up with demand.
Henry Js were built for one reason—an affordable driving experience.
They had a relatively cheap sticker price, they had the best fuel economy you could get, they were small and maneuverable in traffic and they looked kind of cool.
This MSCC Star of the Day, clearly non-stock Henry J was on the street last week.
The fuel economy may be gone on this one but the cool factor spiked even higher.
MSCC JAN 20 STAR OF THE DAY: VW PICKUP—SURFIN' USA WITH GERMAN ENGINEERING
VW pickups weren't very common in the States because the Big Three tended to dominate the light truck market.
Buyers preferred the heavier capacity of Dodge, Chevy and Ford pickups on the farm or job site.
Volkwagen trucks were more of a niche market for urban environments but they did have one advantage that paid off on sandy beaches.
They were perfect surfing vehicles like this MSCC Star of the Day VW pickup in Hawaii a few weeks ago.
MSCC JAN 19 STAR OF THE DAY: '77 PLYMOUTH VOLARE-WHO SAID THE DISCO ERA SUCKED?
The F-body Plymouth Volare was the last bullet in the chamber for Mopar in 1977.
They put an upgraded, dual exhaust, four-barrel under the hood in the Roadrunner version.
Roadrunners had decent performance by today's standards, but they really soared in the smog-choked, disco era.
This MSCC Star of the Day built-up, '77 Volare would rock in any era because it scared the liver out of people when it fired up.
The disco era still sucks but this bad boy rises above it.
For past MSCC Stars of the Day please follow this link.
CLICK HERE to Like us on Facebook
CLICK HERE to Follow us on Twitter
CLICK HERE to Follow us on Pinterest
Star of the Day page sponsored by Southside Dodge
Please re-post this if you like this article.