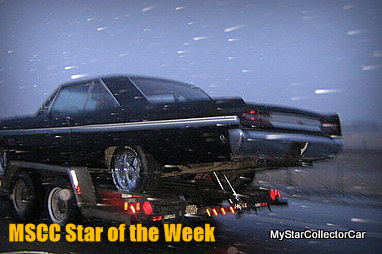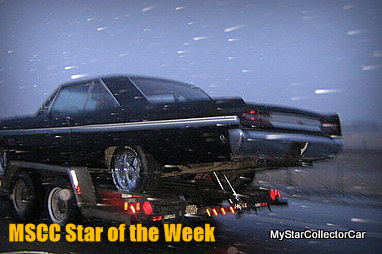 MSCC APRIL 5 STAR OF THE WEEK: '68 FURY—THE COMMITMENT IS STRONG IN A REAL CAR GUY
You can always spot a hardcore car guy.
He's the kind of guy who would jump into his truck, hook up a trailer or tow bar and haul some old iron back in the middle of a spring blizzard.
Yesterday was a great day for these adventures on a major highway because there were guys hauling 3-ton early 50s Chevy grain trucks behind pickup trucks and numerous other examples of commitment to the cause.
This MSCC Star of the Week '68 Fury was another fine example of what kind of commitment you need to be a car guy.
MSCC APRIL 4 STAR OF THE DAY: '67 IMPALA—THEY WERE A HIGH WATER MARK
The Chevy Impala took a big step into the 60s in 1965 when they brought out a much slicker version of this iconic car.
Impalas took a firm grip on sales with this new look despite the fact that it replaced the legendary '64 models.
Many observers see the '67 Impala as a high water mark for this generation of the famous name.
This MSCC Star of the Day made a solid case for the honor.
MSCC APRIL 3 STAR OF THE DAY: '46 FORD BUSINESSMAN'S COUPE—SALES WERE NEVER MORE FUN
The Business or Businessman's Coupe was built to be a tool for the traveling salesman.
Cars like this were built specifically for the road because they could hold a boatload of samples thanks to a giant trunk and no back seat.
They were supposed to be baled into cubes and forgotten after they were miled out but hot-rodders loved these Business Coupes so a lot of them survived a post sales career.
This MSCC Star of the Day '46 Ford Businessman's Coupe is unique because it still has its original engine and transmission so you could take it on the road, never miss a beat and still have a lot of fun as a salesman.
MSCC APRIL 2 STAR OF THE DAY: '56 CHEVY CONVERTIBLE—IT ALL COMES DOWN TO A TIME AND A PLACE
Tri-five Chevys are an American icon in many ways.
Few cars from the 1950s enjoy their mainstream popularity in 2015 because these cars breed generation after generation of cult followers to this day.
It's pretty hard to take a bad picture of a tri-five Chevy because they're a lot like Marilyn Monroe, that other 50s icon.
This MSCC Star of the Day '56 Chevy convertible took the game up a notch because the picture was taken at the perfect time and place.
MSCC APRIL 1 STAR OF THE DAY: NO IT'S NOT AN APRIL FOOL'S JOKE-THIS PANTERA WAS ON THE STREET YESTERDAY
April 1st is best known for the numerous pranks inflicted on innocent people during April Fool's Day.
Practical jokes – mostly from the humor-impaired segment of society, are the order of the day on April 1st .
Fortunately MSCC doesn't swing that way because this MSCC Star of the Day Pantera was prowling the streets on the last day of March on a beautiful summer-like day.
The April Fool's part?
Snow is forecast for April 1st.
MSCC MARCH 31 STAR OF THE DAY: '57 MACK THERMODYNE—UNSUNG HEROES OF THE ROAD
Big rigs are the unsung heroes of the road.
They bring everything from bananas to Ford trucks to our doors 24-7/ 365 days of the year.
These brutes have been doing this for many decades so we take them for granted but the reality is when a big rig gets old, they're done, so you don't see many that are pushing 60 years old and still on the road.
Fortunately this MSCC Star of the Day '57 Mack Thermodyne is still on the road to remind us of past unsung heroes.
MSCC MARCH 30 STAR OF THE DAY: '59 PLYMOUTH BELVEDERE—NOT CHRISTINE
Christine was a book/movie that really put Mopar fin cars on the map in the 1980s.
Too many cars were sacrificed to the movie gods for the movie but it did inspire resurgence in interest for these classic rides and that meant more of these beauties were saved.
The byproduct of this was simple-every red fin car was given the name Christine.
This MSCC Star of the Day '59 Plymouth Belvedere was called Christine every day by people with little imagination but no, it's not Christine.
For past MSCC Stars of the Day please follow this link.
CLICK HERE to Like us on Facebook
CLICK HERE to Follow us on Twitter
CLICK HERE to Follow us on Pinterest
Please re-post this if you like this article.
Star of the Day page sponsored by Southside Dodge