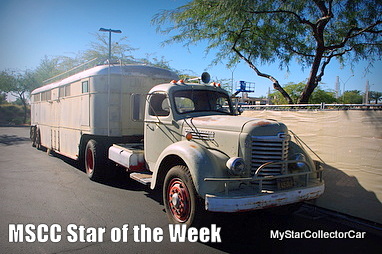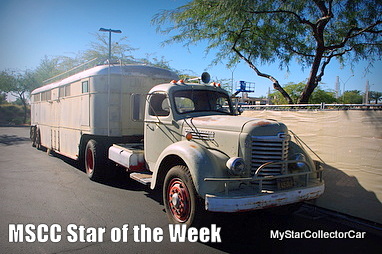 MSCC MARCH 15 STAR OF THE WEEK: 1949 INTERNATIONAL KB-8—YOUR BASIC 66 YEAR OLD ROAD KING
Most guys think Ford, Merc or Cadillac when they look back at 1949.
Those cars were cutting edge at the time and remain classics to this day.
What about the brutes that hauled anything and everything on sketchy roads back in '49?
This MSCC Star of the Week 1949 International KB8 is a lesser known classic and it had a 360 cubic inch 6-cylinder (282 torque) hooked up to a 5-speed transmission.
That's how road kings rolled back in '49.
MSCC MARCH 14 STAR OF THE DAY: '64 IMPALA HARDTOP-ARE TWO EXTRA DOORS WRONG?
The 1964 Impala two-door hardtop has a horde of fans thanks to its timeless style.
The number of fans drops off dramatically when you add two more doors to a '64 Impala.
That's a real shame because more-door cars have their own form of cool but they rarely get the headlines at a car show.
This MSCC Star of the Day '64 Impala 4-door hardtop shows how wrong that attitude is…
MSCC MARCH 13 STAR OF THE DAY: WHY ARE DUNE BUGGIES NEARLY EXTINCT?
You can see hundreds of Vettes, Mopar muscle cars, '57 Chevys and Mustangs over the course of a car show season.
There are many reasons for this but the biggest one is simple— these cars were incredibly popular from the day they hit the showrooms.
So were dune buggies back in the late 60s and early 70s, but these sporty little all-terrain vehicles have disappeared faster than election promises after the vote results are official.
This MSCC Star of the Day (pair of dune buggies) at a 2014 show poses more of a question than an answer.
Why are they nearly extinct?
MSCC MARCH 12 STAR OF THE DAY: '67 FORD —YEAR ROUND TRUCK IN A YEAR ROUND CLIMATE
Yesterday's MSCC Star of the Day was based on a freakishly nice spring day in a place where snow is a possibility in every month of the year.
What about a place where spring weather can hit in mid-January?
That's what it's like in the Phoenix, Arizona area.
This MSCC Star of the Day '67 Ford was on the street yesterday in a place where a year round climate makes it a year round old truck.
MSCC MARCH 11 STAR OF THE DAY: CLASSIC IRON-AN EARLY SIGN OF SPRING
Spring is a mere concept in some parts of North America because frozen lakes and mountains of snow are a constant in winter 2015.
Other areas are basking in an early spring so there are some obvious signs that winter's icy grip is over.
Open water and seasonal birds are two signs but the real evidence we're saying adios to winter is when you see classic iron out in the real world.
This MSCC Star of the Day was spotted yesterday so here's is your first real sign of early spring.
MSCC MARCH 10 STAR OF THE DAY: '63 AVANTI-STUDEBAKER GOES OUT IN A BLAZE OF GLORY
Studebaker was on life support in 1963 but they still had some fight left.
This was really evident when the Avanti debuted in '63.
The Avanti was a supercharged, fiberglass-bodied, Vette killer and ironically it came from a company that was on its knees.
This MSCC Star of the Day '63 Avanti is a great example of what "go out in a blaze of glory" really means.
MSCC MARCH 9 STAR OF THE DAY: '69 SUPER BEE—THEY STARTED TO CATCH ON
The Dodge Super Bee was a reaction to the huge spike in sales at the Plymouth division thanks to the '68 Road Runner.
The '68 Super Bee was a welcome addition to the Dodge muscle car lineup but by the time it was introduced, the Road Runner had already lapped the field.
That didn't mean the Super Bee was a lesser car but how do you catch a Road Runner that has a big jump start?
The next year saw a spike in sales for the Bees because they pumped out cars like this MSCC Star of the Day '69 Super Bee.
They definitely started to catch on.
For past MSCC Stars of the Day please follow this link.
CLICK HERE to Like us on Facebook
CLICK HERE to Follow us on Twitter
CLICK HERE to Follow us on Pinterest
Please re-post this if you like this article.
Star of the Day page sponsored by Southside Dodge