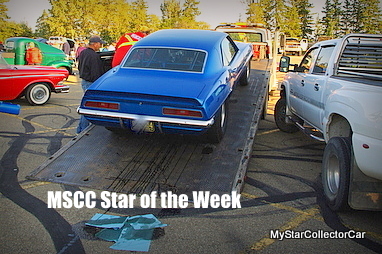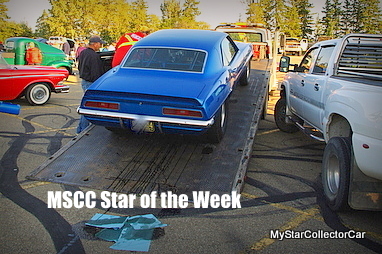 MSCC AUGUST 31 STAR OF THE WEEK: 1969 CAMARO – EMPATHY FOR A FELLOW CAR GUY
There was a scene at a car show last Thursday night that really summed up the connection between car guys.
A regular attendee was driving his '69 Camaro to the weekly show last week and he bottomed it out on a piece of crappy road.
Unfortunately he caught his oil pan and tore it open.
He made it to the show but the Camaro's big block was hemorrhaging oil so the next obvious step was a tow truck.
Every car guy at the show felt his pain when the Camaro was loaded and taken away – the scene was somber and very similar to a football player on a stretcher at a big game.
The MSCC Star of the Week is the empathy car guys have for one of their own when disaster strikes.
*** There's a PS to this story–the Camaro survived the oil leak with no permanent damage.
Here's a link to an earlier MSCC story about this '69 Camaro.
MSCC AUGUST 30 STAR OF THE DAY: 1960 SQUAREBIRD – THE DISCOVERY OF BACK ALLEY GOLD
One of the best things about the old car hobby is the perpetual game of 'Spot the Old Iron'.
Most of these old car and truck sightings take place on main streets because that's where most traffic is found.
The logic is inescapable and so is the math.
Despite the odds, you can occasionally spot a classic ride by simply heading down an alley.
This MSCC Star of the Day '60 Thunderbird was the pot of gold at the end of an alley a few weeks ago.

AUGUST 29 STAR OF THE DAY: '77 DODGE ROYAL MONACO BROUGHAM – SUNSET FOR LARGE TWO-DOOR RIDES
The 1970s saw an evolution in car buying when large cars started losing ground to smaller cars. There were many reasons but the biggest one was the OPEC oil embargo.
That strategy singlehandedly caused the decline and fall of the large two door hardtop because cars like that didn't make any sense.
You either went all in with four doors if you needed room for the kids or you went for a smaller two door like a 240Z .
Fortunately a few of these 70s two doors survived so this MSCC Star of the Day '77 Dodge Royal Monaco Brougham is a step back to the sunset years of an automotive era.
MSCC AUGUST 28 STAR OF THE DAY: '51 NASH – UNCLE TOM'S MISS UPSIDE-DOWN BATHTUB
Nash sales really jumped with the introduction of the bathtub style in 1949.
Legendary auto journalist Tom McCahill called a test Nash 'Miss Upside Down Bathtub of 1949' but in reality, he loved these unique cars for their handling, comfort and power.
This MSCC Star of the Day bathtub '51 Nash was at a show back in April.
Miss Upside Down bathtub is alive and well…Uncle Tom would be proud.
MSCC AUGUST 27 STAR OF THE DAY: FORD CORTINA WAGON— FROM THE GOING, GOING , GONE FILE
There are a few cars that just don't seem to have survived past their expected shelf life so in 2014 you can consider them nearly extinct.
Most of these cars were built to be used until they were worn out beyond repair or they were simply disposable after a run as a family hauler/second car.
Cortinas were definitely in that category—particularly Cortina station wagons .
This MSCC Star of the Day Cortina wagon was at a show last week and you can file it under the going, going, gone file.
AUGUST 26 STAR OF THE DAY: HERE COMES THE 1969 JUDGE – WITHOUT A HAT
The Pontiac GTO Judge was one of those "you had to be there in the 1960s to get it" cars.
"Here comes the Judge" was a big part of late 1960s jargon thanks to guys like Pigmeat Martin, Sammy Davis Jr and a show like Laugh-In.
Pontiac liked the association with a hip, younger crowd so the Pontiac GTO Judge was born in 1969.
This MSCC Star of the Day topless '69 Judge was at a show back in July and you can see how well a concept based on a comedian's catch phrase and a 60s comedy show worked.
AUGUST 25 MSCC STAR OF THE DAY: THREE '79 LITTLE RED EXPRESSES BEATS A FULL HOUSE
The Dodge Little Red Express was a brilliant marketing move in an automotive era when vehicles were choked off by crude smog equipment.
These trucks were an ingenious application of the rules because they could slide by the stiffer regulations .
Add an E58-specification (police) engine and the Little Red Express could outrun a Vette in 1978.
They were garish rides in a lukewarm era and these three MSCC Star of the Day '79 Little Red Expresses beat a full house of anything you could name back in the disco era.
For past MSCC Stars of the Day please follow this link.
CLICK HERE to Like us on Facebook
CLICK HERE to Follow us on Twitter
CLICK HERE to Follow us on Pinterest
Star of the Day page sponsored by Southside Dodge.