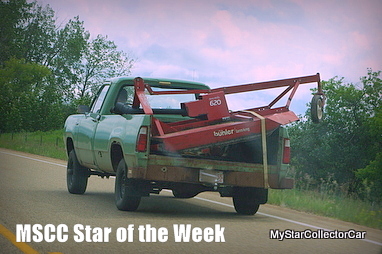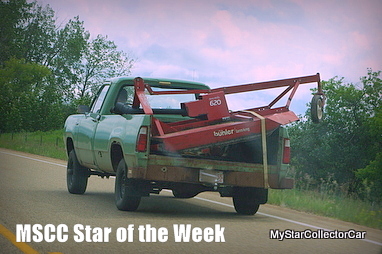 MSCC JUNE 29 STAR OF THE WEEK: 41 YEARS AND STILL GOING STRONG — '73 DODGE
You don't have to be the belle of the ball to be a star at MyStarCollectorCar. You don't have to be a multi award winner or a concours Pebble Beach winner.
Sometimes it's just a character thing.
You won't see much more character than you'll see in an unloved 41-year-old farm truck like this MSCC Star of the Day 1973 Dodge truck on the job yesterday.
No trophies, no car shows, no new paint — just tons of respect.
MSCC JUNE 28 STAR OF THE DAY: AMC MATADOR SEDAN – SECOND GENERATION
The Matador platform replaced the Rebel in 1971 because AMC decided to freshen up their intermediate-sized lineup.
This section of the automotive world was a fistfight because every company wanted to thrive in the entry level mid-sized sedan arena.
AMC went after fleet sales in a big way-they even replaced the ADAM 12 LAPD Plymouths with a Matador.
This MSCC Star of the Day 2nd Gen AMC Matador was at a show a few weeks ago and it was definitely the best of class for 70s AMC sedans.
MSCC JUNE 27 STAR OF THE DAY: THUNDERBIRD – SEVERAL ERAS OF A CLASSIC…
The Ford Thunderbird had a lengthy run during its fifty-year run.They went from two seat sports cars to large sedans.
Thunderbirds were a great barometer for styling cues over various decades because they were usually leading the styling parade.
The 55-57 T-Birds were cutting edge cars and the trend continued with cars like the "Square-birds" (58-60) and the Bullet-birds (61-63).
If you wanted to know where the trends were headed in Detroit you just had to look at a T-Bird.
There were many generations of Thunderbirds over 50 years and this MSCC Star of the Day picture from a show two weeks ago captured some of the classic years.
MSCC JUNE 26 STAR OF THE DAY: KARMANN GHIA – VW GETS A LITTLE SPORTY
Volkswagen Beetles were known for being rugged, functional and economical, but they were never known for sportiness.
The sporty gap was filled in 1955 with the arrival of the Karmann Ghia.
Karmann Ghias were definitely a step in another direction for VW because these cars were way ahead in the style game.
This MSCC Star of the Day Karmann Ghia was at a show a few weeks ago and it was a great example of how far ahead they were nearly sixty years ago.
MSCC JUNE 25 STAR OF THE DAY: A CLASSIC ROD MAKES EVERYTHING ELSE SEEM PRETTY BORING
We've all been there – stuck in traffic with nothing to enhance the painful experience found in an ocean of boring cars.
The only thing that makes it interesting is when one boring car T-bones another boring car but that's a pretty big price to pay for entertainment.
Occasionally you get a little automotive magic without a crash.
This MSCC Star of the Day in traffic on Saturday was one of those magic moments because this classic rod made everyone's day a little less boring.
MSCC JUNE 24 STAR OF THE DAY: WANT TO BE A ROCK STAR? DRIVE A RED '58 IMPALA CONVERTIBLE
There are many ways to attract attention in a public setting.
You can be a famous actor, politician, sports figure, politician or rock star and the attention will come your way.
You can rob a string of banks and you'll definitely get attention – especially from guys who carry badges and guns.
You can be a flavor of the month reality TV star or a flavor of the minute YouTube star.
Or you can be a MSCC Star of the Day behind the wheel of a bright red '58 Impala convertible like this one at a show last Sunday.
That's a real star.
MSCC JUNE 23 STAR OF THE DAY: TRAVELING IN IMPERIAL STYLE
The last real (rear-wheel drive) Imperial went out without much fanfare in 1983. These were extremely well-built cars because they were nearly manufactured by hand.
Chrysler built them from 1981-83 because they wanted to compete in the personal luxury arena but they were never a real success even with the Frank Sinatra edition.
Things like sketchy fuel injection systems worked against these Imperials but history will look favorably on these classic Mopars.
This MSCC Star of the Day 6th Gen Imperial was on the road yesterday doing what these Impys do best…travel in style.
For past MSCC Stars of the Day please click here.
CLICK HERE to Like us on Facebook
CLICK HERE to Follow us on Twitter
CLICK HERE to Follow us on Pinterest
Star of the Day page sponsored by Southside Dodge.