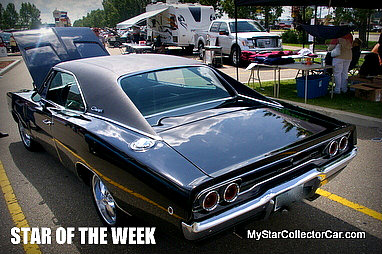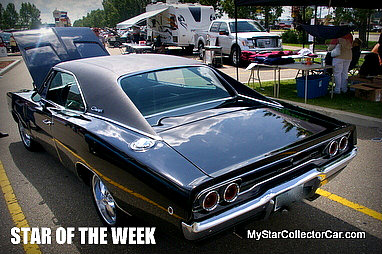 OCTOBER 20 MSCC STAR OF THE WEEK: 45 YEARS LATER-IT HAD TO A BE A BLACK '68 CHARGER
October 17 1968 was a day that etched the '68 Dodge Charger in automotive history.
That was the day Frank Bullitt spotted a black R/T in his rear view mirror and set off the ultimate movie car chase.
The Charger was the car of choice for two broken-nose bad guys when they led Bullitt and his '68 Mustang on a hair-raising chase through the streets of San Franscisco.
Bullitt ultimately won the game when he shoved the Charger and the would-be hitmen into a gas station and set off the world's biggest barbeque.
Nobody cared about the bad guys but every Mopar car guy on the planet dies a little inside every time that classic Dodge launches into the inferno.
This MSCC Star of the Week '68 Charger was the only choice for a 45th anniversary meltdown.
OCTOBER 19 MSCC STAR OF THE DAY: '57 CHEVY WAGON-THE PERFECT SIGHTING FOR HUNTING SEASON
October is a big month for hunters but it's not great for car spotting because there are far more ducks and deer than Firebirds and Mustangs in the fall.
This is a season where car guys tuck their cars away for the winter and hunters grab the rifle for a date with Daffy or Bambi.
That's why this '57 Chevy was such a bonus in traffic yesterday. This wasn't a pristine show car by any means but it sure had a show-winning attitude on a semi-warm October afternoon.
The prey was an MSCC Star of the Day and this '57 Chevy wagon was a trophy find.
OCTOBER 18 MSCC STAR OF THE DAY: 1961 CHEVROLET AMBULANCE
Ambulances have really advanced since '61 when this Chevy was a state of the art piece of emergency equipment.
This one was built for a rural area so the truck side of the equation was important for pounding down country roads.
Not many of these old ambulances were saved in post-retirement. They either migrated to a new career as a hard-working utility vehicle or they became hippie vans during the Summer of Love.
This '61 Chevy had a much easier career as an on-site ambulance at a gas plant and it took post retirement in a truck museum.
That's where this MSCC Star of the Day picture was taken back in 2007.
OCTOBER 17 MSCC STAR OF THE DAY: 1964 PLYMOUTH-MORE DOORS MEAN MORE ATTITUDE
A four-door sedan is like a dorky geek when it comes to picking a team. The dorky geek is the last choice-so is the four-door sedan.
That kind of discrimination won't make a great Supreme Court case so millions of four-dour sedans have paid the ultimate price in a shredder because they were judged to be un-cool.
This '64 Plymouth four-door sedan showed just how wrong that attitude is because it made an extremely cool retro-muscle car back in 2008 when this picture was taken.
This bad boy was easy MSCC Star of the Day even with the extra doors.
OCTOBER 16 MSCC STAR OF THE DAY: SOME IHC POWER ON DISPLAY
International Harvester is known for brawn, not beauty.
"Corn-binders" won't win you over on looks but if you need stump-pulling power you want to be behind the wheel of anything from IHC.
They build trucks that work hard and deliver on time because that's what makes the country work. Pretty looks don't make it when you're hauling a giant load up a steep grade but massive amounts of torque do.
This array of IHC muscle was at a show a few years ago and there wasn't a beauty queen in the bunch but there was a whole row of MSCC Stars of the Day.
OCTOBER 15 MSCC STAR OF THE DAY: '59 CHEVY IMPALA-UNDISCOVERED COOL FACTOR
Most people associate only one year with Chevys from the 1950s.
The '57 Chevy has an Elvis-like status within fifties culture but Chevrolet ended the decade with another icon in the form of the '59 Impala.
The '59 Impala was completely obscured by the tri-five era at Chevy and for years that had an effect on its popularity.
You could barely give away a '59 Chevy for years but the cool factor finally shone through and interest in the bat-wing Impalas spiked.
This MSCC Star of the Day '59 Impala was a show a few years ago and it raised one question about the car's popularity.
What took so long?
OCTOBER 14 MSCC STAR OF THE DAY: FROM THE ARCHIVES-'59 PLODGE WAGON
MyStarCollectorCar has over 125,000 pictures of classic iron on file so that makes the Star of the Day choice a daunting task.
This dilemma grows every week because the files grow every week.
Despite this embarrassment of riches, there are some pictures that never get buried in the archives.
This '59 Dodge wagon is a great example of a picture that was never forgotten because it's a long roof (wagon) and it's a Plodge (Canadian Dodge).
The shot was taken back in November 2010 and it's definitely an MSCC Star of the Day from the archives.
For past MSCC Stars of the Day please follow this link.
Star of the Day page sponsored by Southside Dodge.