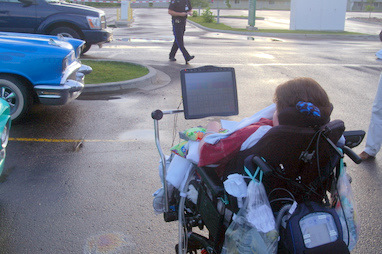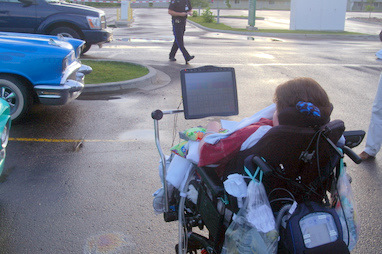 Aidan Fitzgerald is a 19-year-old who is a heart and soul car guy. 
He lives and breathes the bygone era of vintage cars and classic rock bands like Pink Floyd.
He may have been born in the wrong decade to experience the cars and tunes first hand, but he likes to decorate his room with memorabilia from the glory days of cars and music.
The one exception to the car theme in his room is Calgary Flames stuff, because Aidan is also a big hockey fan.
 The major difference is Aidan's room is a hospital room and he has been there for a long time. Aidan has muscular dystrophy and he has to live within the confines of the illness and the hospital routine. He has a TV set and computer for his window on the world. More often than not, that world includes cars.
Aidan communicates by keyboard, but he communicates faster with his eyes when it comes to things that he loves. When you look around his room, you see rows and rows of Hot Wheels on the ledges, a car calendar on the wall, along with a shot of Route 66 in a photo. His roommate is a Siamese fighting fish named Chong; after the That 70s Show comedian.
The Hot Wheels hobby began around the age of two for Aidan, when he received 15 of them as a gift from his grandmother. Little did she know how much Aidan would embrace the car culture at such a young age. His favorite vintage rides are the Mercury Marauder and Chevrolet Impala SS.
But Aidan has his own custom- made favorites on his computer. He has a real eye for vehicle design and his computer allows him to design some Aidan creations that would steal the show at any car meet. Maybe he can't work on custom design in a traditional sense, but you simply can't keep a dedicated car guy down- no matter what you throw at him.
Aidan's last ride in a vintage car happened when he was seven and rode in an MG Midget. But that may change since the local car guys have learned that one of their own kindred spirits (Aidan) would like to go for a ride in a classic car.
One of the things we have learned about car guys is that they look after their own. They have a common bond with the car culture and are willing to jump into any situation where they can help each other.
The first thing they did was bring a car show to the hospital for Aidan because he has a few issues that require specialized care such as a respirator to assist his breathing. The demands of a busy hospital have severely limited Aidan's ability to go outdoors, but he got a chance to attend a car show recently when the car guys showed up in force for a car show in the hospital parking lot.
The weather was not great, but Aidan and a big collection of other patients were treated to a great show by the local car guys. Bear in mind that car guys would rather get run over by their vehicles than take them out in bad weather. But none of that mattered to them that evening because it was for a fellow car guy.
The kingpin (as always) was Gerry Paquette and he didn't have to do any arm-twisting to rally the troops. He got Don Macgowan, Trevor Comfort and the Red Deer Street Rodders Association involved and the show was on.
But Gerry and the boys did not do this for the publicity. They probably would have preferred to stay out of the limelight, but we felt that people should know that it isn't simply about horsepower and a good paint job for car guys. We have found that the car culture is one of the friendliest groups of people that you could find.
The sense of community in the car culture is an old school neighborhood where the cars and community values come from a bygone era. That is what makes it a very special world, and Aidan will find that out when the boys get him out of the hospital for a spin in a vintage convertible.
The limitations of available equipment and staff stand in the way, but the car guys and a dedicated hospital employee plan to make it happen for Aidan.
And it couldn't happen to a nicer car guy.
PLEASE FOLLOW THIS LINK -AIDAN GOES TO A CAR SHOW
Jim Sutherland @mystarcollectorcar.com 
COMMENTS:
GERRY:"It was a real pleasure doing this show, Aidan you are a true car guy and you have a special hero with Denise and Kirby, to me the're the heroes that made it happen, and thanks to Jim & Jerry Sutherland for the great coverage and putting us in contact to be able to put on this show, they're right we don't do this things for publicity we do it for car guys and gals and Aidan is a real car guy. Keep up the good work and who knows who will see your creations, you are an inspiraton to us all. As far as the convertible ride Dennis Armstrong from our Red Deer Rodders Club will be working on that project and he's tenacious when it comes to projects".
DENNIS GAGE:This is a great story and EVERYBODY should read it! I'm sending Aidan a bunch of MCC stuff to add to his collection. – Dennis" (Host of MY CLASSIC CAR)
JOJI:"Aiden – What a story!! You a truly an inspiration that inspires us in all we do in the Kustom car world. Keep strong and keep cruisin-Love the Barris Kustom family – George, Joji, Brett & Jared"
LISA:" Aiden Keep strong and I hope you will be feeling well soon! You are an inspiration."
CHRISTIE:"Hi Aidan, I loved reading your story and was so impressed with your passion for cars. I've always loved the older models of cars.  My husband and I once owned an 88 royal blue Iroc that was great- we drove it right through a hole in a red wood tree in California once. If I could own any car it would be a black 75 corvette! Hope to see more of you about town. How bout those Flames! Hope our boys can pull it together this season!"
PAUL:"Aidan, you are a true inspiration!" You are a real car guy & that makes you one of the best guys around! Love the article about you. Take care & keep on a cruisin! All the best to you my friend…..
Paul Le Mat (aka "John Milner" in the legendary car guy movie American Graffiti)
ANGUS:"finally got a chance to read this – it's Been a busy week. Great story told best with the pictures. I am a firm believer in the healing power of four wheeled distractions."
ANITA:"Great story on Aiden. He is a remarkable young man! He not only has great taste in cars, but also in his sports teams! Keep your chin up Aiden! You are very special"!
JENNIFER:"that's a very well written, wonderful story. You should leave it up for awhile or send me a link to the article when you upload a new one so I can forward to friends. Thanks! "
MARIA:"Yes is so sad story but it very nice the car guys do samething for they."
ELAINE:"Great story you did with Aidan. This article truly shows the caring the car community has for others".
DENISE:"Wow !!!  Fantastic job guys!!!!!   I can't wait for Aidan to see this 🙂 :)"
TROY:"Through my job at Sunny 94, I hear/see a lot of heartwarming stories… this one definitely ranks right up there! Kudos to my pal Gerry and his friends for rallying around such a great young guy! Aiden… I have not met you in person, but you are a Flames fan which definitely makes you a cool guy in my books! And I'm obviously not the only guy who thinks that, judging by all the friends you have. Hang in there big guy… I'm cheering for ya"!
ADRIANA:"dear Aidan- from one person stuck in the wrong decade to another, i wish you all the best in your recovery. cars have helped me through difficult times also, and car people are amongst the nicest and most generous people you will find… …my room looks very similar, packed to the roof with old pictures (of cars, neon signs, architecture, etc) car parts and model cars (hardly any room for me to fit in there anymore)… your car designs are very good and very skillfully executed, you are very talented… keep designing, keep loving cars and keep smiling! i wish you all the best and know there are people all the way around the world wishing you well… adriana :)".
DENNIS:"Very Cool!"
ROLLIE:""hopefully he´ll be better! the world is really filled with remarkable stories and human destinies.."
SHELLEY:""wow, wow, wow…..that is just awesome!!!"
DARREN:""thanks for sharing, quite an amazing story"