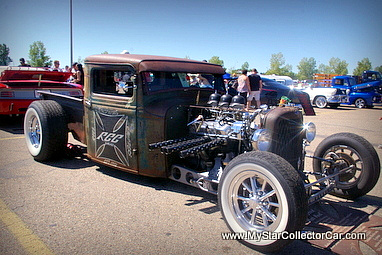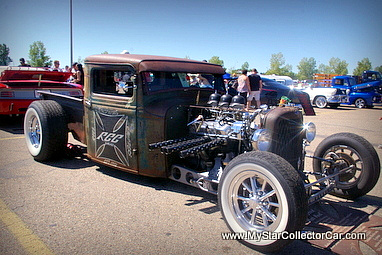 Rat rods are one of hottest segments of the hobby. If there's any question, try taking a picture of a rattie at a large car show.
Be prepared to wade through the crowd for that magic moment.
This '32 Ford is a classic example.
Owen Jeancart began with a very basic project as he explained, "It all started with air cleaners so I had to build around them".
Owen never looked at this project as a simple build, "It's an art form more than anything. You start with a theme and you go from there. My goal was for people to walk around it and discover new things all over the place".
This deuce Ford has a very distinct retro-military theme and it takes an hour to really allow the artistry behind the truck to unfold properly. Fortunately Owen is a very patient and proud owner of this 80 year old ride.
Owen owns his own body shop and most guys who own shops rarely take on after work personal projects but this rattie was different. He explained, "It took 3 years to put it together" and most observers agree that this is typical for a complicated theme like this military rattie.
The air cleaners are shaped like German helmets and there are Iron Crosses all over the place. The header covers are another great example as Owen explained, "They're supposed to look like machine guns but you can't buy anything that looks like that so I spent a lot of nights drilling 394 holes".
Owen listed off more options, "The seat backs are out of a 30s armored carrier and and it has a 50 caliber dipstick plus the tail lights are out of an old motorcycle and it's got a Meccano style throttle linkage.. It has bomber gauges and 57 Chevy hood rockets that very few people identify and there's a C and C Cross in the back".
Make no mistake about it-this is an old school ride as Owen outlined, "It's got a suicide front end (low slung and in front of the frame) so long hauls are a workout. It's like a sardine can inside and the leg room isn't great so you feel 350 miles in it a lot more than a new car".
Comfort isn't a priority with a a rattie but performance is and Owen was really happy with this deuce's road manners, " It's a crate 350 Chevy brand new so it runs like a top. This is what I drive every day all summer. I'm having a great time, I've already put 5000 miles on it because it's just that much fun".
The best part about a rattie is that you never worry about it in the real world as Owen explained, "I got a rock chip in it and that just made it cooler".
In fact, the biggest issue with this rattie is a problem that every other car guy never has as Owen recalled, "I bought new door handles so I had to rough them up and age them so they'd fit in…they were way too nice and shiny".
Owen has what other car guys can only dream about…a stratospherically cool ride that you can run in the rain and park anywhere.
Jerry Sutherland