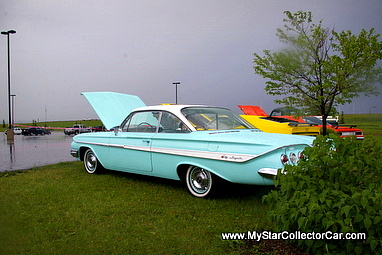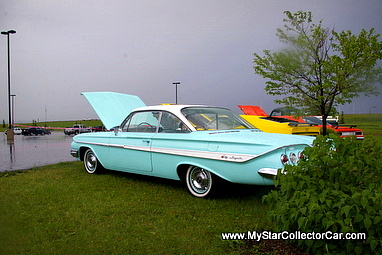 The '61 Chevy Impala was like a stock that hung around the market without attracting too much attention then suddenly spiked in value.
There are many guys who wish that they'd popped on a '61 Impala "bubbletop" two door hardtop before the stock went through the roof on these extremely cool bowties.
Rick and Donna Park don't have that regret.
Rick explained that he's always liked the bubbletop (very thin C pillar) '61 Chevys, " It's one of those iconic styles, I always thought that 's the one I want".
Surprisingly, he didn't jump at the first chance when this Impala came up for sale, "I saw it at an auction, and we weren't really thinking about it at that time so I passed it up. You never want to do that twice with a '61 Impala".
Car stories should always have happy endings so this '61 Chevy hit the mark as Rick added,"It came up for sale, I ended up buying it and it was definitely worth the money".
This "Seafoam Green" Impala was optioned out with power steering, power brakes, 230 horse 283 and dual exhausts so it was far from a barebones stripper sedan.
Nevertheless, Rick is a car guy so he toyed with the idea of a few modifications to the mint '61 Impala, "It's too nice a car, but I did think about a 409, I'll confess to that".
The reasons are pretty basic as Rick outlined, "This is a bulletproof set up, that power train is solid, it's got a Powerglide and it drives down the highway like a dream. I can't think of any reason to change it".
He added, "I can take my hands off the wheel at highway speed and it tracks like a dream plus it gets about 20 to 22 miles per gallon. You don't tinker with that".
Most old cars have roadside adventure written all over them but this bubbletop Chevy has been phenomenally reliable, "For the most part it's been great, a few little maintenance items like a power steering pump but nothing major".
Cars like this '61 Impala attract more attention than a nudist colony next to the Mormon Tabernacle and this one is no exception so it does come with a price as Rick explained "Guys are always begging me to sell it, I get the 'if you ever sell this car' speech at every show".
Rick and his wife Donna are regulars on the car show circuit but they're not just limited to scheduled events because the open road is just too inviting for this bubbletop Chevy.
There's supposed to be a lesson in every story. This lesson is pretty simple…never take a car for granted. Despite that fact that they built nearly 180,000 bubbletop Impalas back in '61 they never enjoyed the massive levels if popularity that older and newer Chevys had right from the start.
That's why the stock market is a gamble. Car guys finally woke up to the built-in cool factor of the bubbletops and suddenly the '61 Impala became an ounce of gold after an economic crisis.
Rick and Donna Park don't care because they get to hit the road in a two ton ounce of gold '61 Chevy anytime they need to unwind in a very cool car.
Jerry Sutherland
For a look back at another MSCC story about a '61 Impala bubbletop please follow this link.