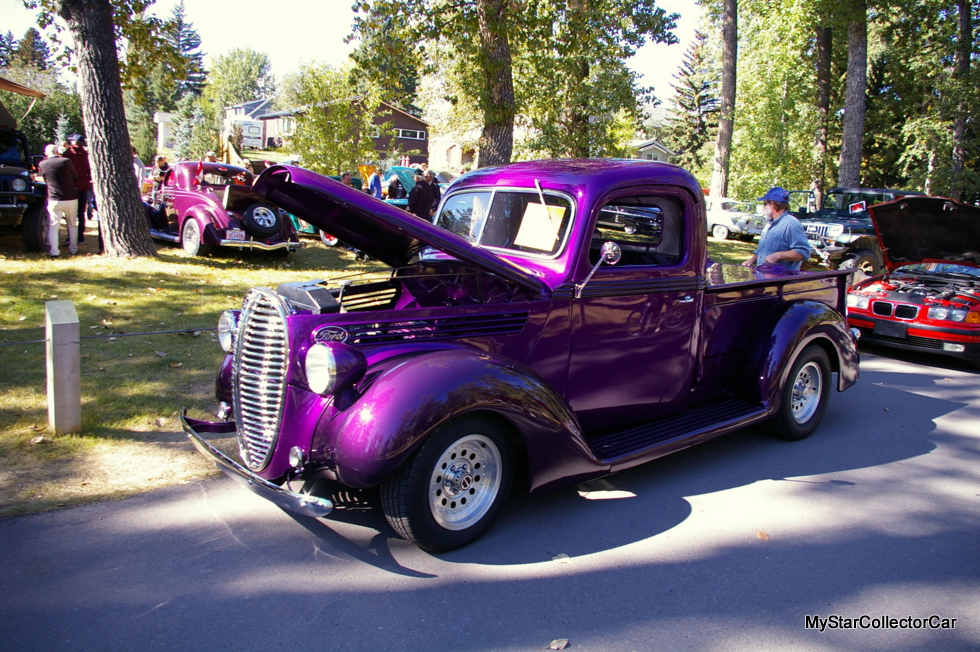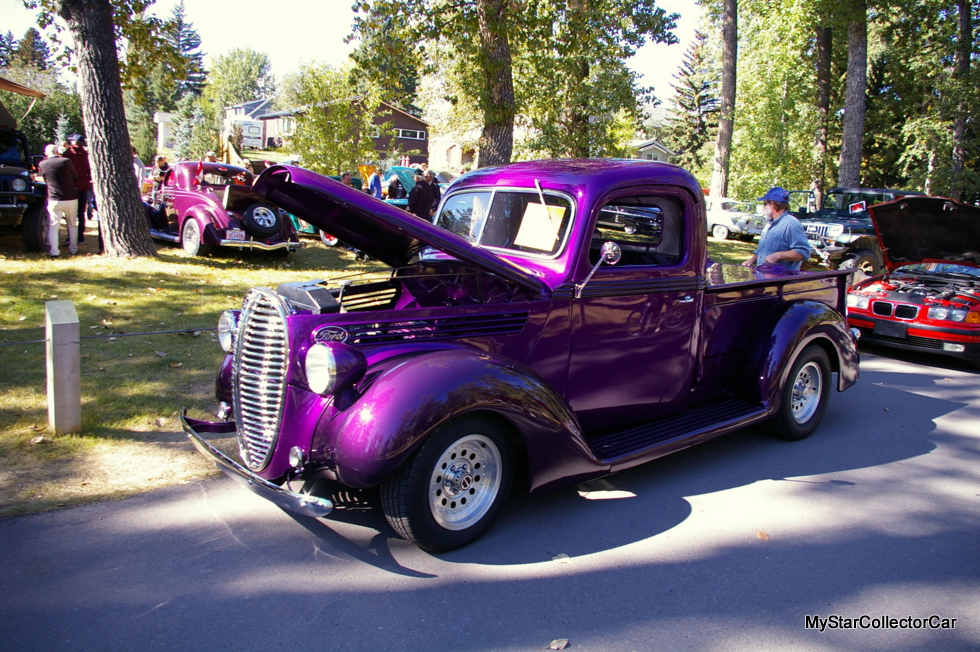 James Hicklin is a dyed-in-the-wool Ford boy. James lives and breathes Fords, so this famous Motor City brand is his personal choice when it comes to vehicles.
It should come as no surprise that James turned his 1938 Ford pickup truck into a Ford-in-Ford build.
Most car guys tend to choose a Chevy small block for a resto mod build because the engines are plentiful and many aftermarket choices push the Chevy engine down the path of least resistance in a project.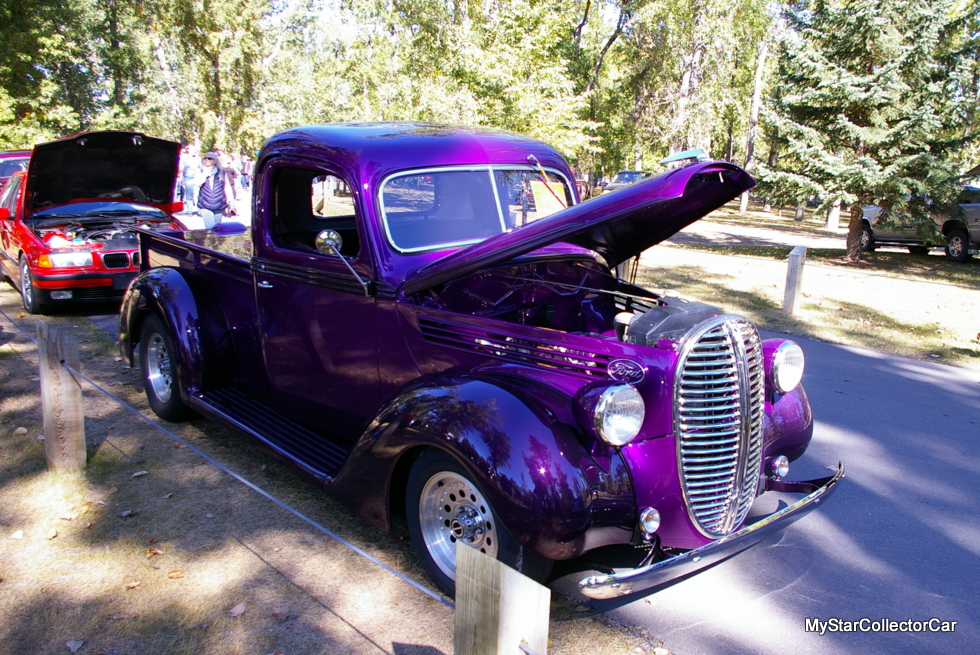 James strongly disagrees with the Chevy choice in a Ford product for many reasons. The first reason is his commitment to Ford because a Chevy engine in a Ford does not sit well with his personal choices. James prefers to remain true to his Ford school when it comes to his own builds, so a Chevy in his Ford will never be an option for him.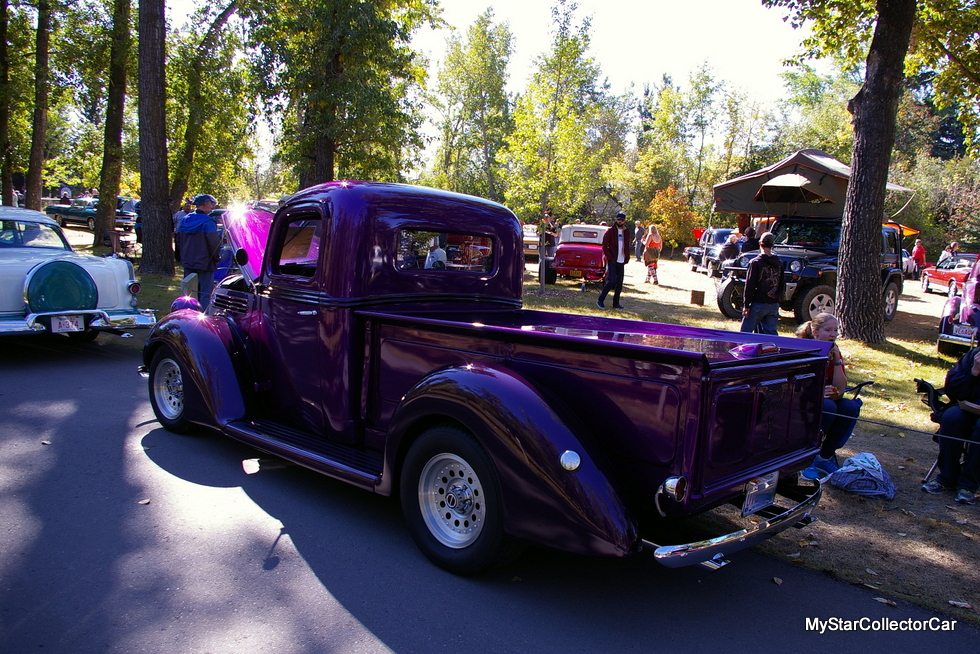 The second reason is the cost factor put forth by Chevy builders, but James does not subscribe to this belief because he was able to put a Ford engine in his pre-war truck for a reasonable cost.
The third reason is similar to his first reason because James believes that a Ford with a Chevy power train is now officially a Chevy in the eyes of a loyal Ford guy like him.

MyStarCollectorCar spotted his beautiful '38 Ford pickup truck and quickly discovered its Ford roots because James installed a 5.0 Mustang Cobra engine into his truck and proudly displayed its Ford heritage.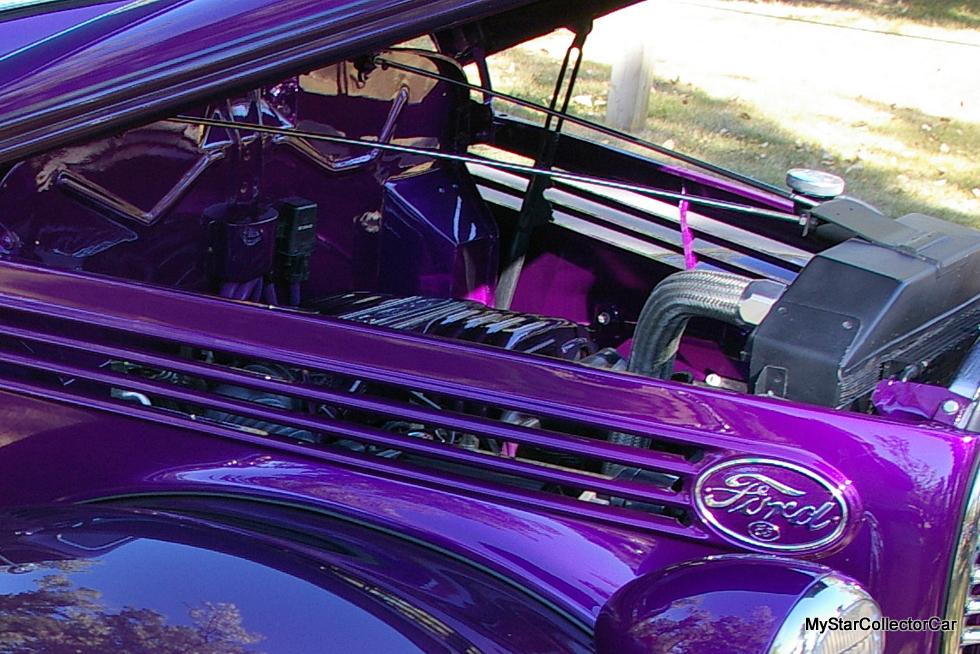 Our search for James was made easier because he was also wearing a Ford baseball cap and we easily spotted James in the near vicinity of the truck.
James told MyStarCollectorCar that his Ford was put on the back burner for many years after he installed the engine. He is a professional mechanic by trade and said the engine installation was "no problem" for him.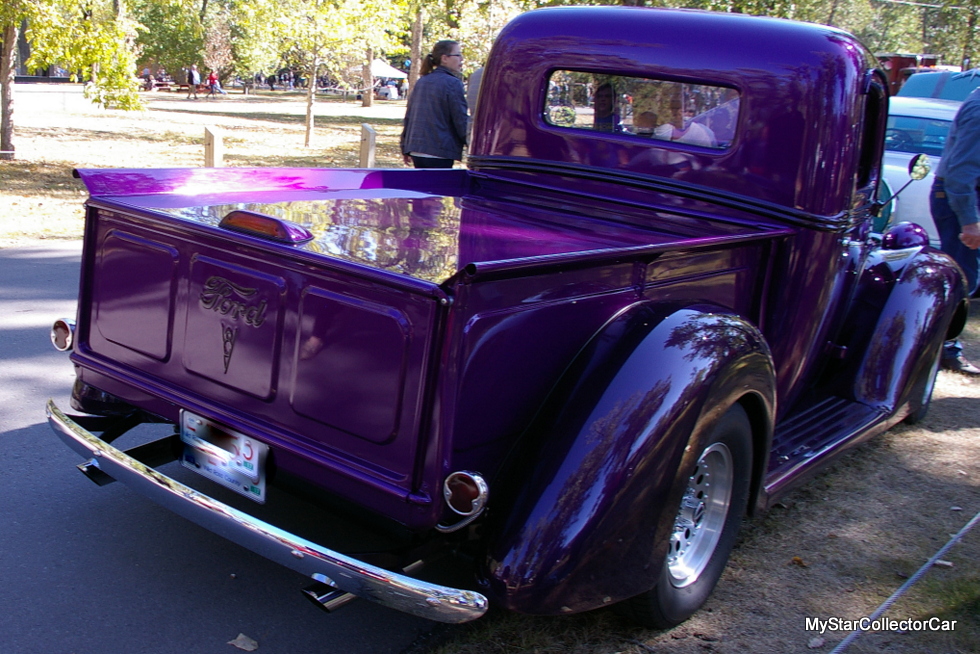 As mentioned earlier, James is a loyal Ford fan and wanted his truck project to remain a member of the Blue Oval family in every possible way. He added disc brakes to his truck and fabricated his own mounts for the calipers so he did not have to use the GM versions.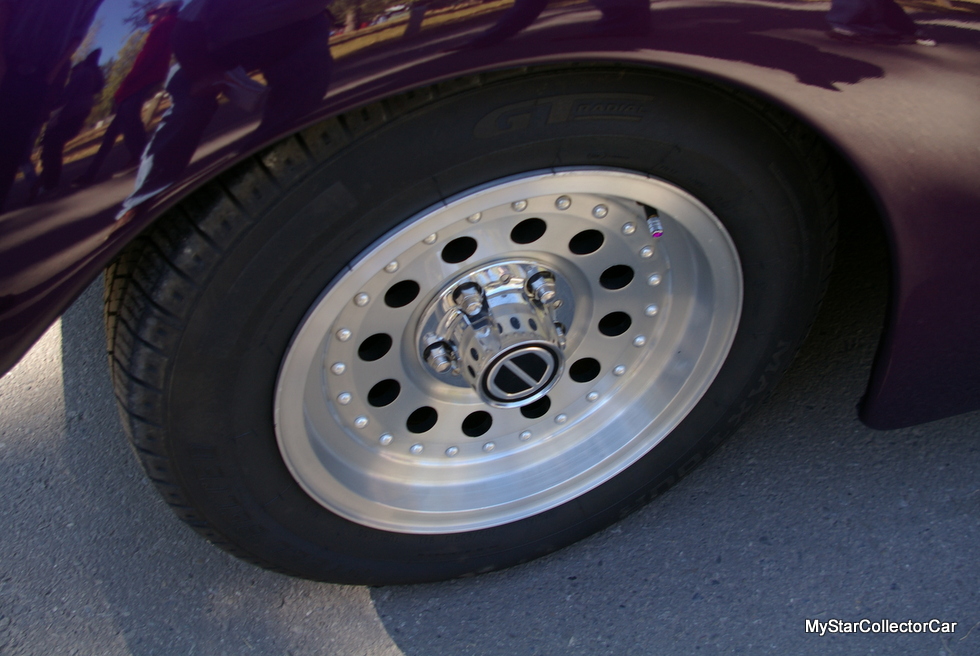 James boxed in the frame on the '38 Ford so it could handle all of the extra ponies provided by the modern Ford small block V-8. He also used the newer Ford AOD automatic transmission and installed a Mustang II front end and a Ford 9-inch rear end on his truck.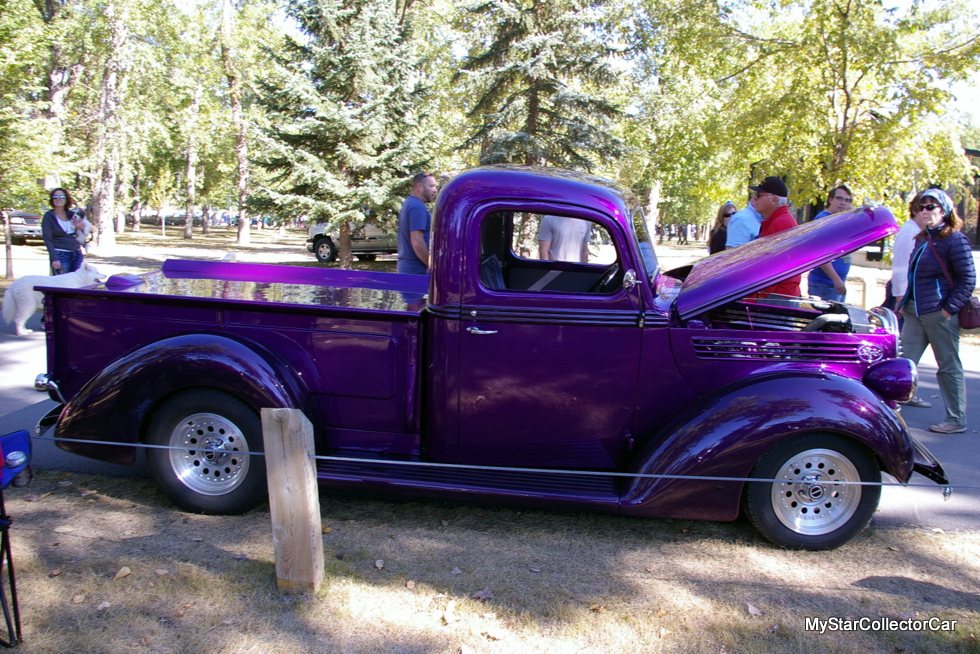 The '38 Ford also has an aftermarket AC system and custom gauges (both non-GM for the record). James also used a custom paint scheme on his '38 Ford. Now the truck has two subtle shades of purple to contrast the main body from the darker fenders and running boards.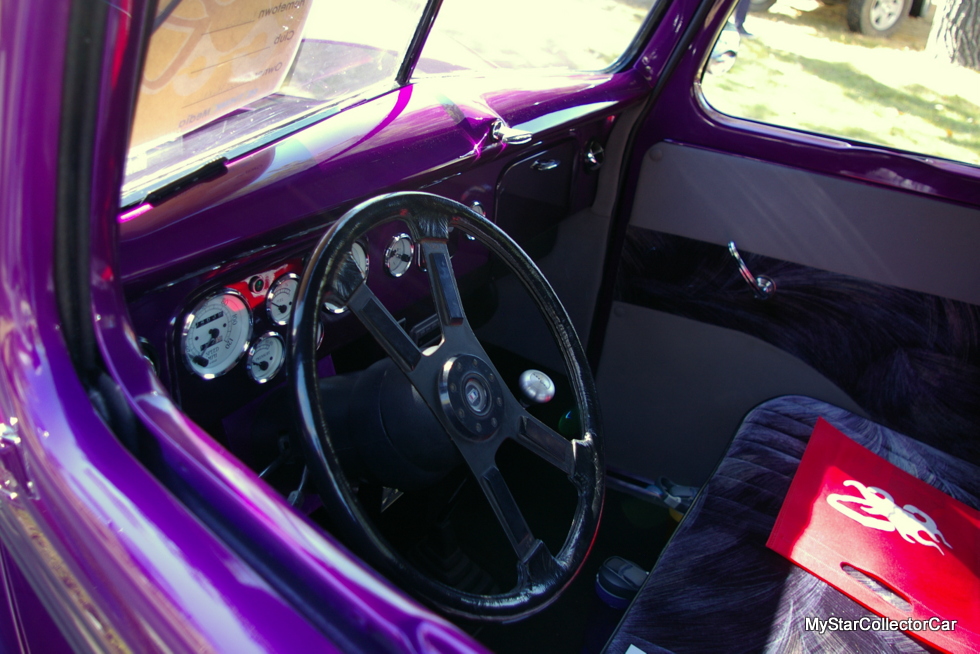 The re-upholstered seat in the Ford's cab is the original one found in the truck and offers a fairly comfortable way to travel down the road. James has driven the truck to many shows and distance is not a problem because his Ford will "keep up with everybody", according to his modest description.
The resto mod truck also gets about 25 mpg on the road so this story has a very happy ending for a car guy who is also a loyal Ford boy.    
BY: Jim Sutherland
Jim Sutherland is a veteran automotive writer whose work has been published by many major print and online publications. The list includes Calgary Herald, The Truth About Cars, Red Deer Advocate, RPM Magazine, Edmonton Journal, Montreal Gazette, Windsor Star, Vancouver Province, and Post Media Wheels Section.