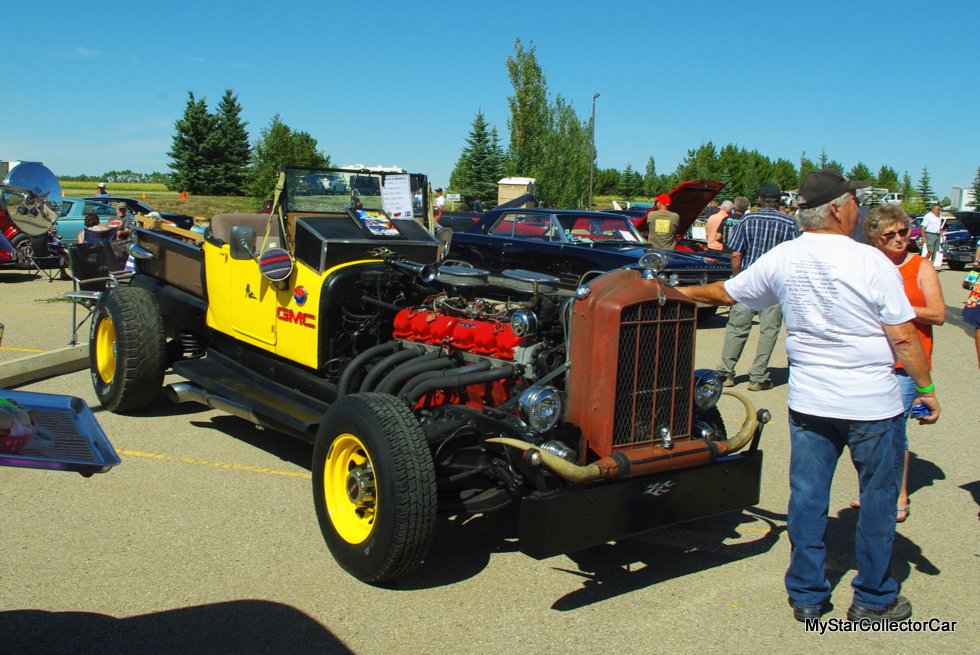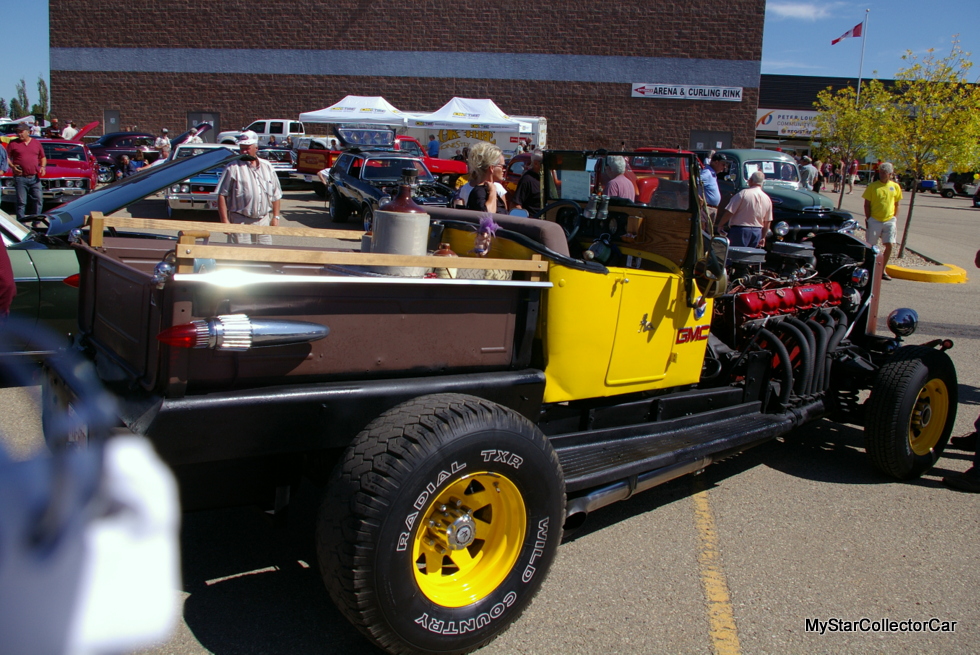 Rat rods have become a popular part of the car hobby because their free-form style really appeals to car guys.
The basic philosophy is to mix-and-match parts until the owner is satisfied with the final product.
The important part of the equation is that a rat rod is not exactly a hot rod, even though the two philosophies share a few common bonds-much to the chagrin of both camps.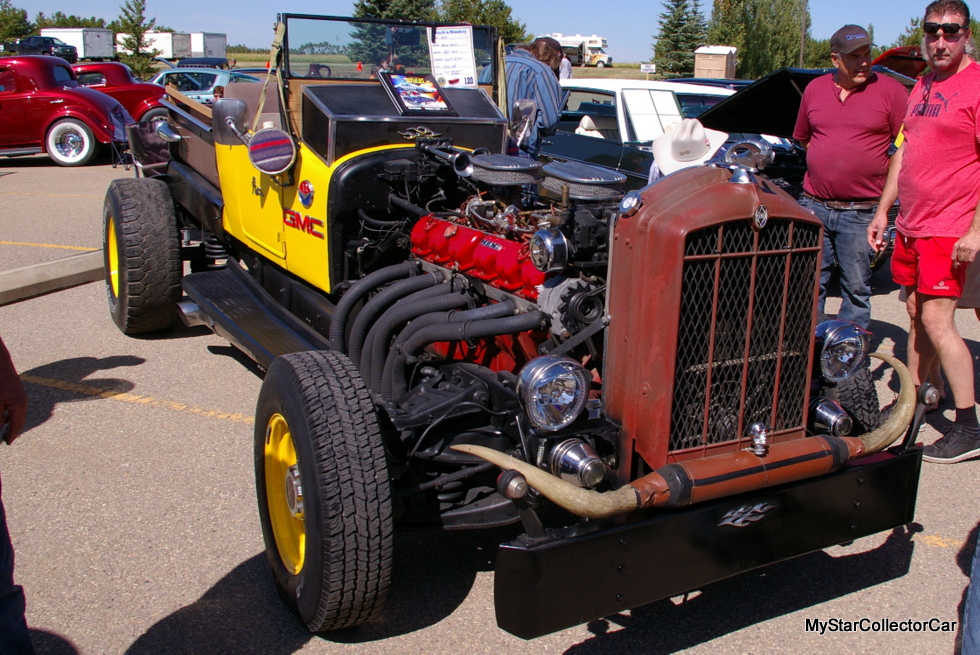 However, MyStarCollectorCar does not want to debate the similarities or differences between the two automotive philosophies.
Instead we want to discuss a vehicle that is legally registered by its current owner as a 2013 Home-Built Rat Rod. This very cool rat rod gets plenty of attention whenever owner  Scott Elson takes it to a show.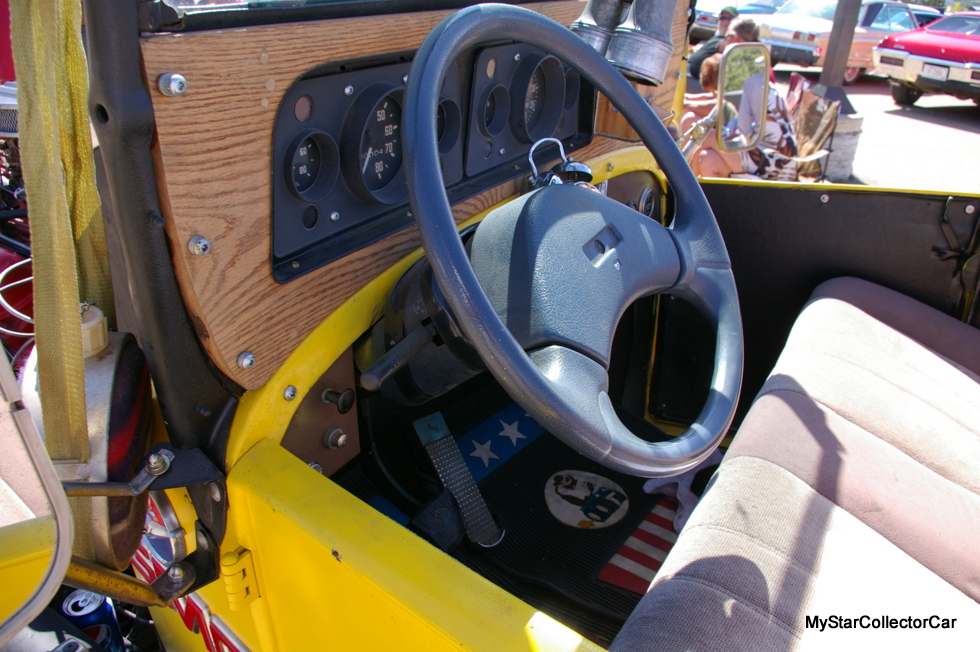 The rat rod was built on a 1967 Chevy Suburban ¾ ton frame to handle all of the torque from the twin factory V-6 GMC engines under the open front end of this automotive creation.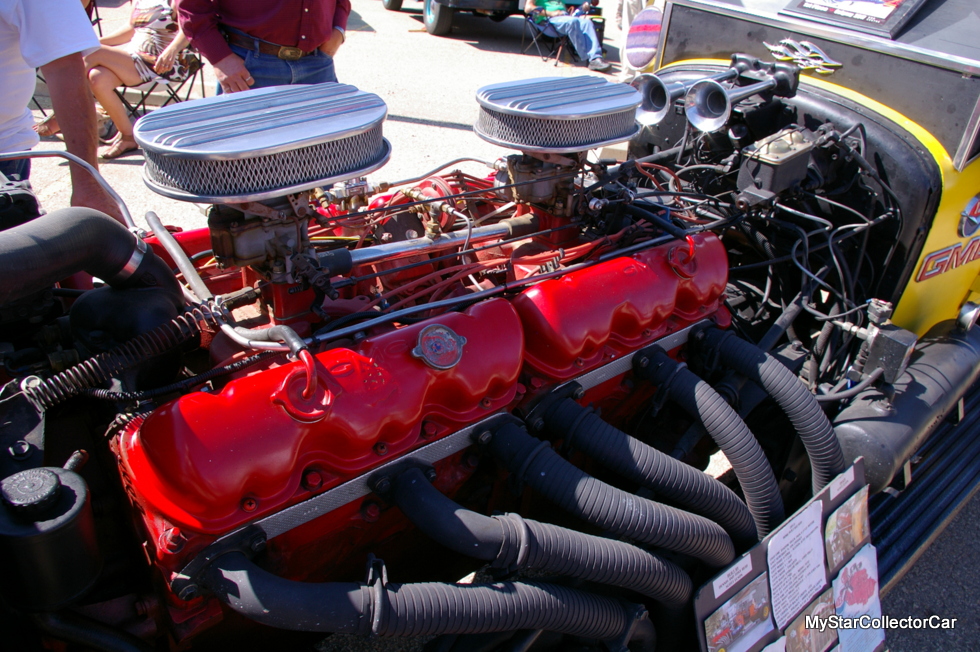 The twin factory V-6 engines were a unique heavy truck option from GMC in the early Sixties and added up to a V-12 combination for General Motors.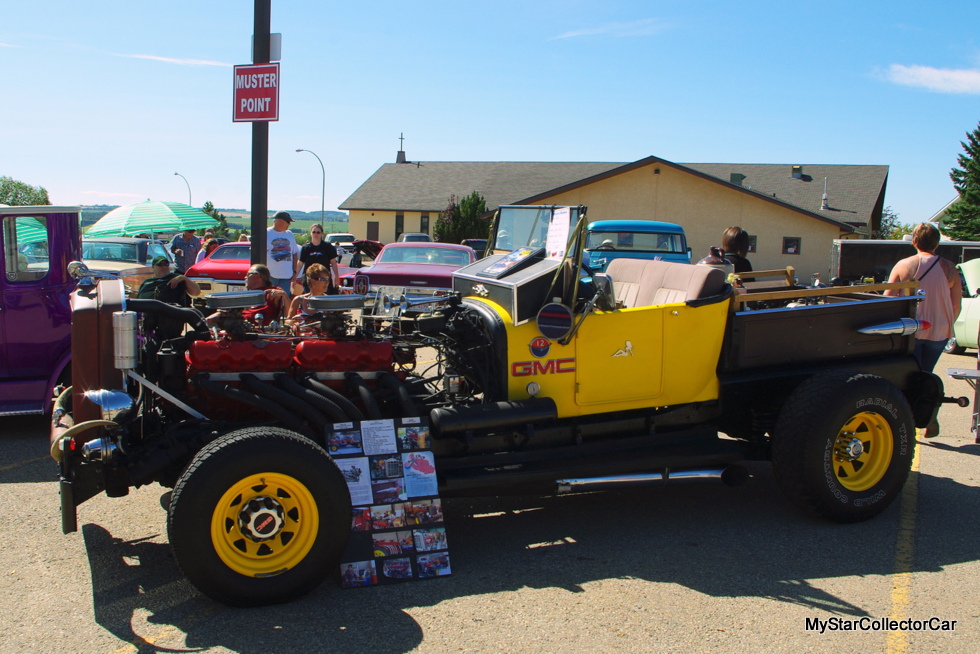 The tandem V-6 engines were a surprise to many observers, including us at MyStarCollectorCar, but the two engines were indeed a factory option for GMC big rigs during the Kennedy and LBJ years. Scott told MSCC that his engines came out of a 1960 GMC Cabover heavy truck.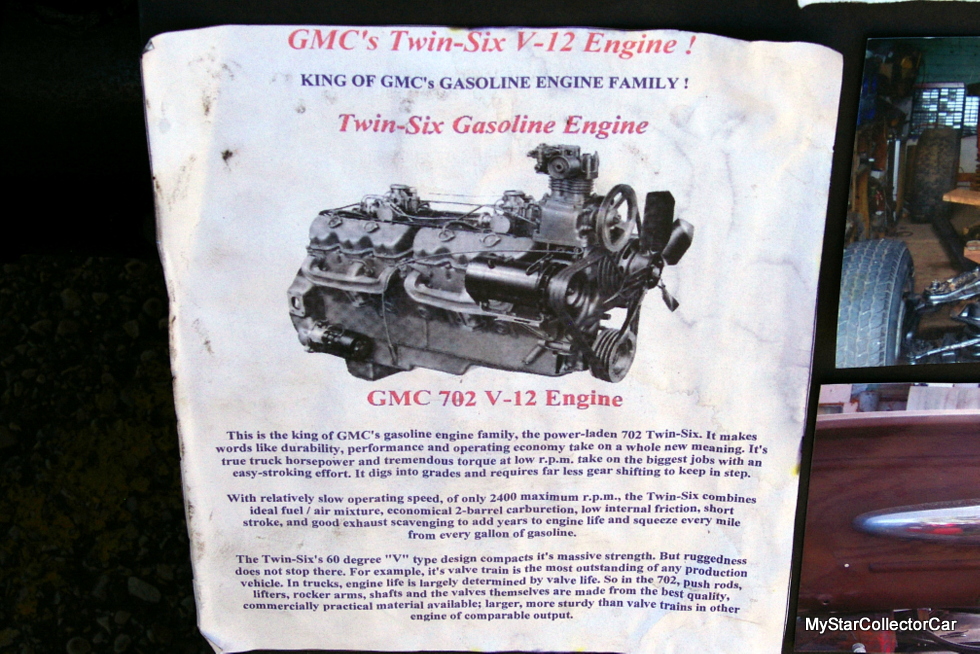 The unique engine choice was not the only reason that Scott's rat rod gets plenty of attention. The 1927 Ford Model T cab and 1928 Model A truck bed on Scott's rat rod are proof that a creative mind was behind the build.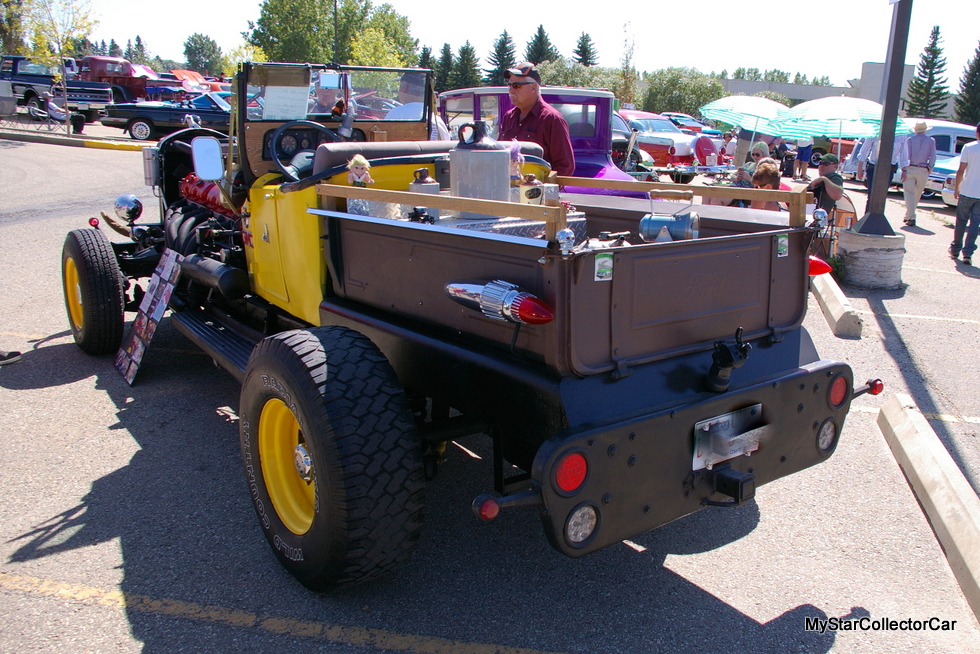 The 1959 Caddy tail lights and aftermarket bucket headlights added to the charm of this rat rod, while the steering column was pure Toyota. The Toyota steering mechanism was joined to the steering system from the '67 Chevy Suburban.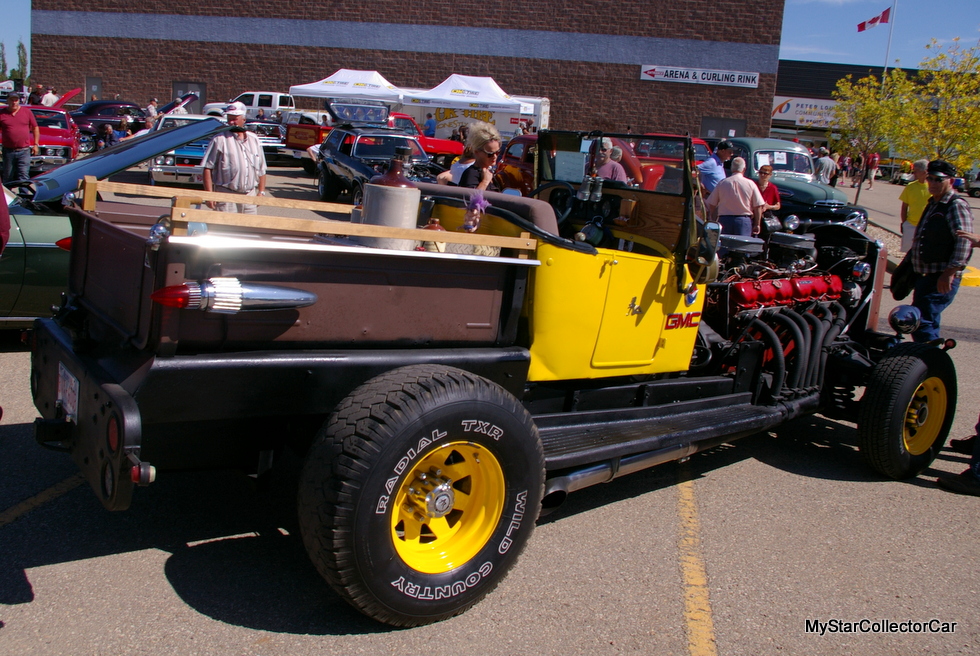 The rear end was also pure 1967 Chevy Suburban ¾ ton and could easily handle the twin engines.
The two engines transferred their power through an Allison transmission that was yanked out of a Ford school bus and used in the rat rod, according to Scott.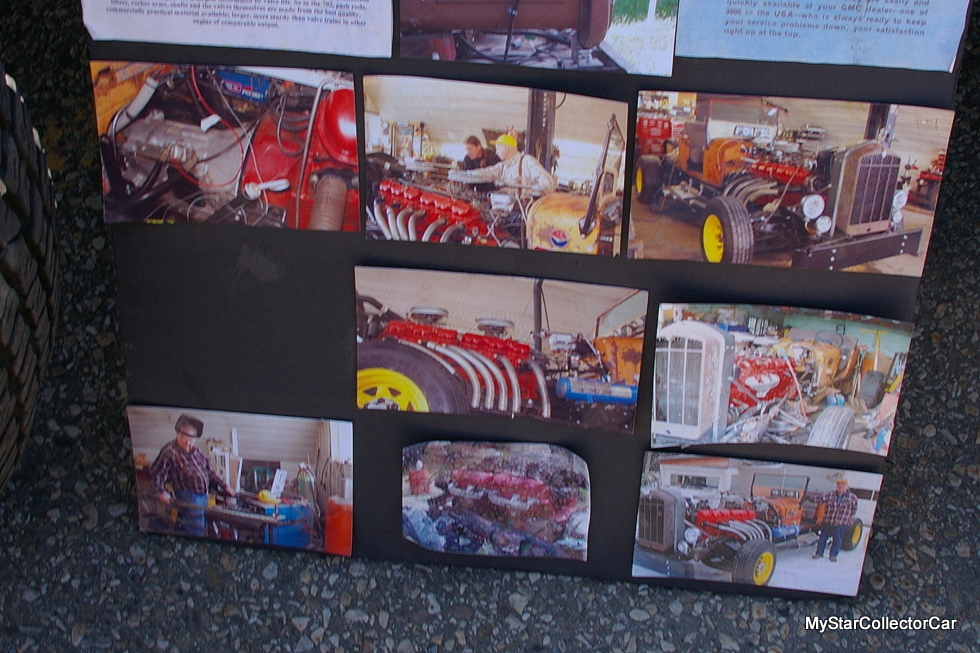 The radiator on the truck was a Rugby radiator which has both electric and conventional fans to cool down the Twin V-6 engines.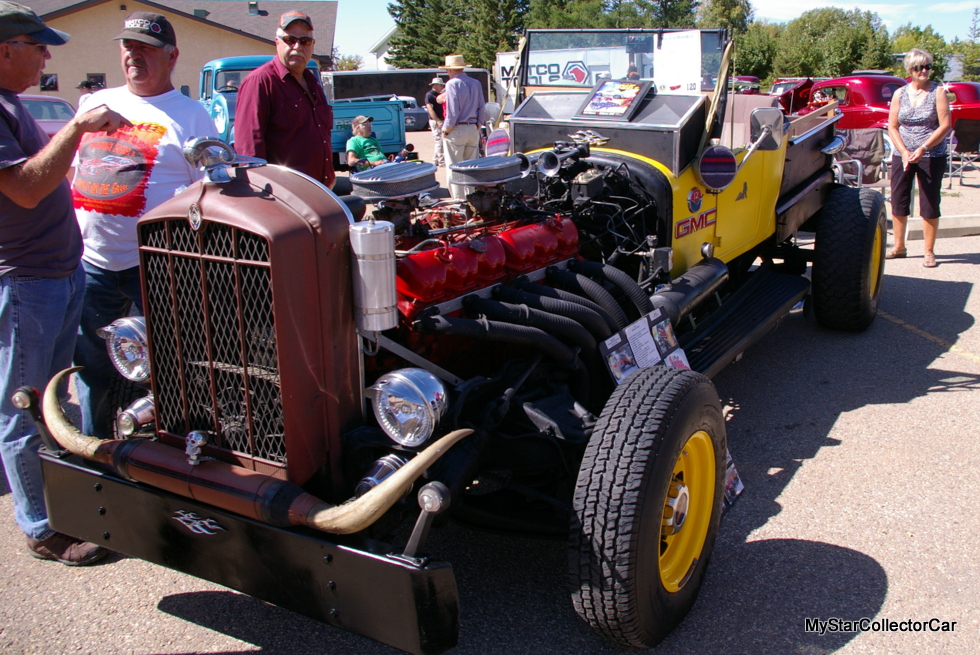 The exhausts on the engines were created by Scott to give extra breathing power to the rat rod.
MyStarCollectorCar was curious about the rat rod and asked Scott why he became its owner. Scott told MSCC that he "got a good deal on it and it was unique"-an understatement when one considers the enormous amount of attention gathered by his rat rod.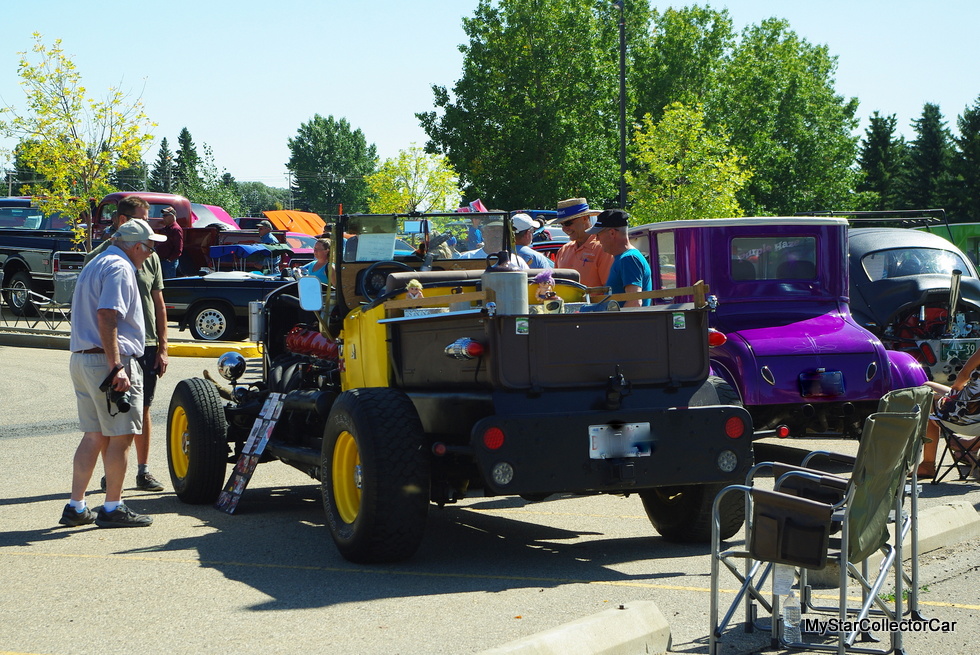 Rat rods are a personal statement and Scott was handy enough with tools to mold the rat rod into his own since he became its owner.
The result is a very fast and very cool example of a rat rod that is an instant conversation piece for Scott every time he takes it on the road and meets a curious public.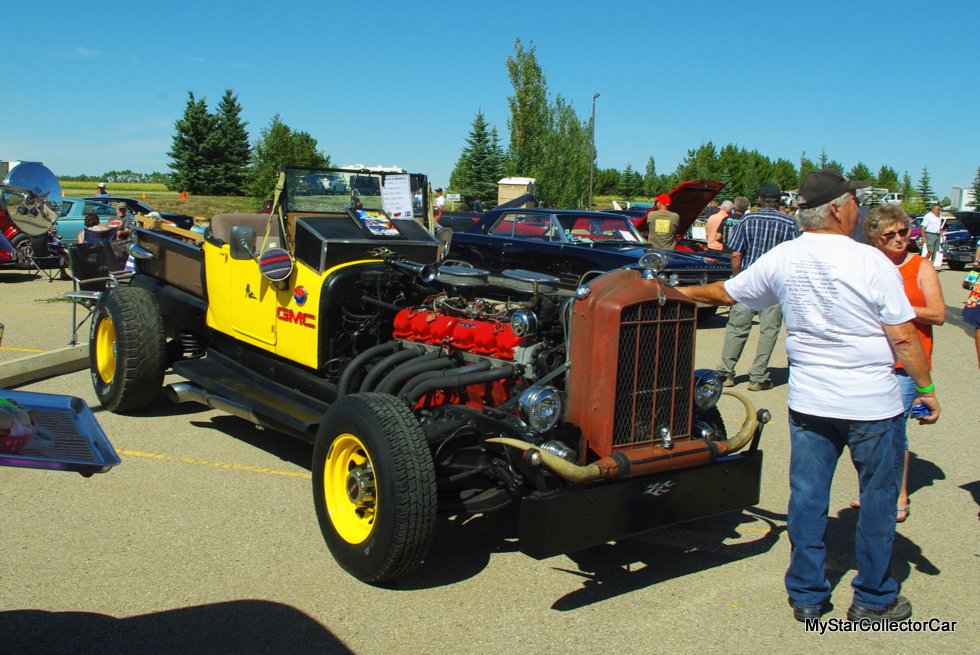 MyStarCollectorCar was definitely among the curious onlookers when we encountered Scott and his very unique rat rod.
MSCC was also grateful to learn something new about automotive history (Twin V-6 engines) when we discovered the rat rod. It was a very interesting lesson.        
BY: Jim Sutherland
Jim Sutherland is a veteran automotive writer whose work has been published by many major print and online publications. The list includes Calgary Herald, The Truth About Cars, Red Deer Advocate, RPM Magazine, Edmonton Journal, Montreal Gazette, Windsor Star, Vancouver Province, and Post Media Wheels Section.  
CLICK HERE to Like us on Facebook
CLICK HERE to Follow us on Twitter
CLICK HERE to Follow us on Pinterest
Please re-post this if you like this article.