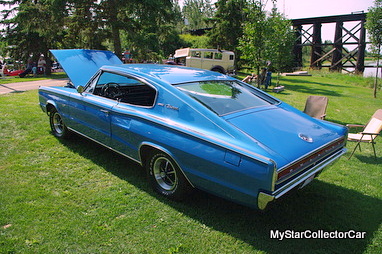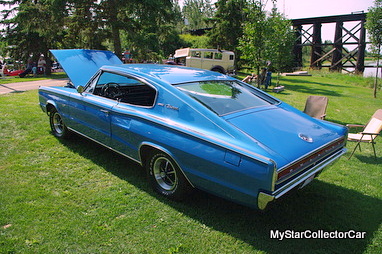 First Gen Chargers are some of the least loved Mopar muscle cars in the hobby.
Part of the reason is the '68 Charger because that version set standards for 60s style that will never be surpassed.
Despite the lack of warm, fuzzy feelings for first Gen Chargers, these fastback Mopars were beasts on the NASCAR circuit back in 1966-67.
Claude Roy is a veteran Mopar muscle car owner because he has owned a few classics over the years, including another first Gen Charger: "I had a '66 383 Charger and I owned a '69 GTX before that". That kind of biography lends itself to a realistic assessment of the next project and this '67 Charger was a good fit.
Part of the appeal is the sheer rarity of this big Mopar as Claude explained: "It's one of 660 built with a 440 and only one of 36 with a 4-speed". Those production numbers make this '67 Charger a very unique Mopar.
This Charger project didn't happen overnight and most experienced car guys would be familiar with the time frame. Claude explained the process, "I got it in 1983 and it sat in the garage for 10-12 years".
There was a reason for the delay-one that is painfully familiar. Claude admitted, "I had to come up with the money to do it so when I sold my truck I was able to resume the restoration".
Delays can be a good thing at times because Claude was a long haul trucker: "I was trucking in the States and I hit about 15-20 dealers looking for parts and one guy in Denver said I've got some of those in the rafters and he sold them to me for the retail price".
Every project comes with challenges and this '67 Charger had a few as Claude explained: "The interior was bagged but there wasn't too much rust".
Claude piled into the project in earnest when the time was right: "I started it in March 1996 and took it down to bare metal by the end of August. I did most of the elbow grease myself, took front clip off sanded and then it was ready for the mechanic".
There were some realities with the original drive train as Claude admitted: "The block was bagged, so we put a new block in it and he (mechanic) did the engine, transmission and brakes. I had to fix the headlights too".
This Charger was a long term project but the results speak for themselves because this is a spectacular car. Claude is well aware of what's left to make this car perfect: "It originally had deep dish hub caps and the pinstripe ran along the roof. These wheel covers are off a '69 Charger".
The driving experience is pretty much what you would expect with a 48-year-old car: "With 60 series tires, the steering box is a little loose. It loves #1 fuel too but you can get second gear rubber in it".
Claude has limited his runs in the Dodge to this point but this Charger has a bright future in his hands. "I like to go to local shows with it".
First generation Chargers are an acquired taste to some observers, but Claude has already had an offer on his classic Mopar, "A guy wanted to buy it off me almost right away but there's no way".
That's a lot of love for an unloved Mopar.
Jerry Sutherland
CLICK HERE to Like us on Facebook
CLICK HERE to Follow us on Twitter
CLICK HERE to Follow us on Pinterest
Please re-post this if you like this article.