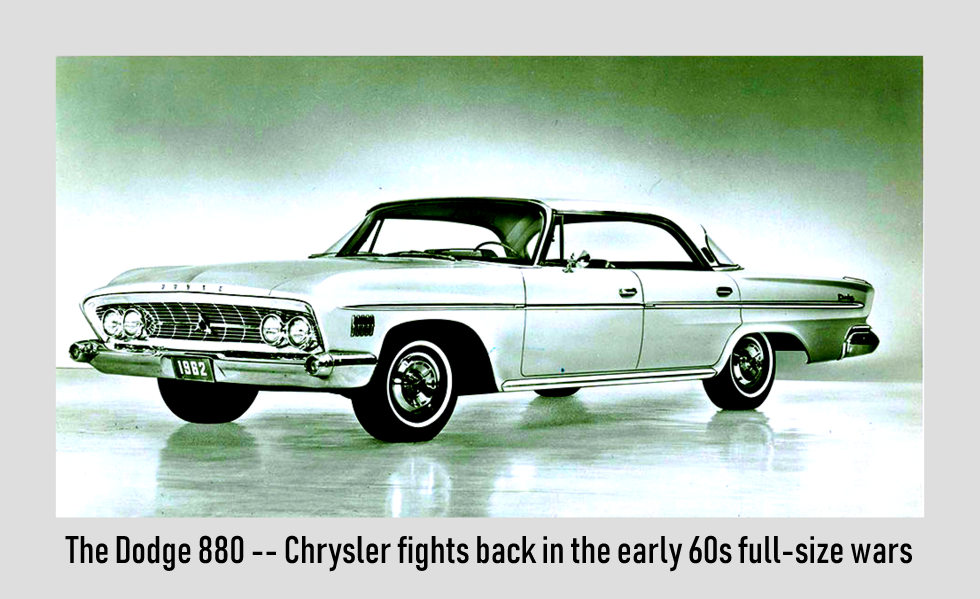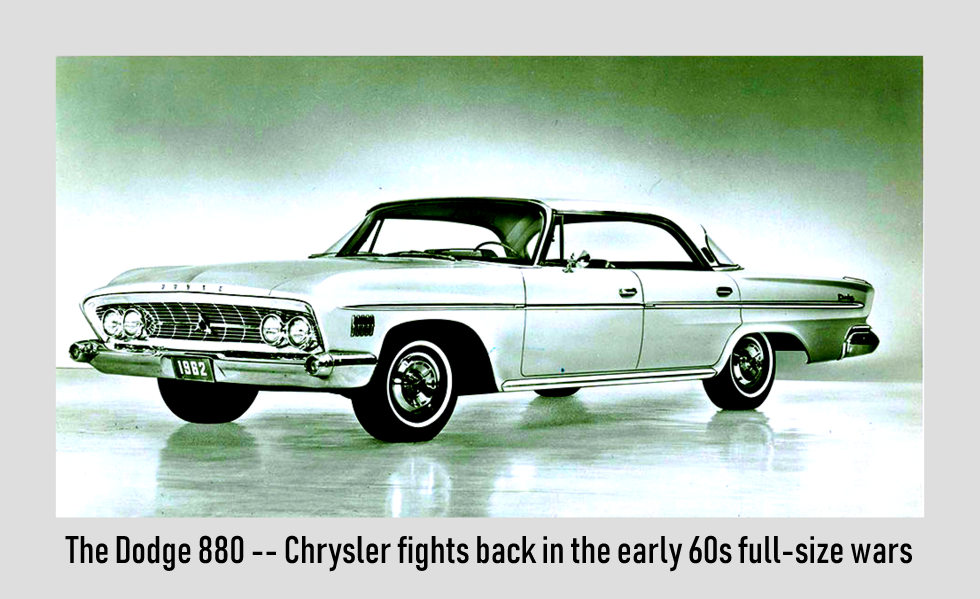 The Big Three (General Motors, Ford and Chrysler) had an ongoing feud during the 1960s.
The famous car companies fought for customers on the track and in the boardroom where strategies were created to push one automotive brand beyond a rival's brand.
Chrysler was caught a little flat-footed in 1962 when arch-enemy General Motors made some of its models slightly larger than their '61 predecessors, including their very popular Chevy brand.
Chrysler had already downsized their flag ship Plymouth and Dodge models into their famous B-body design that became their intermediates in 1965.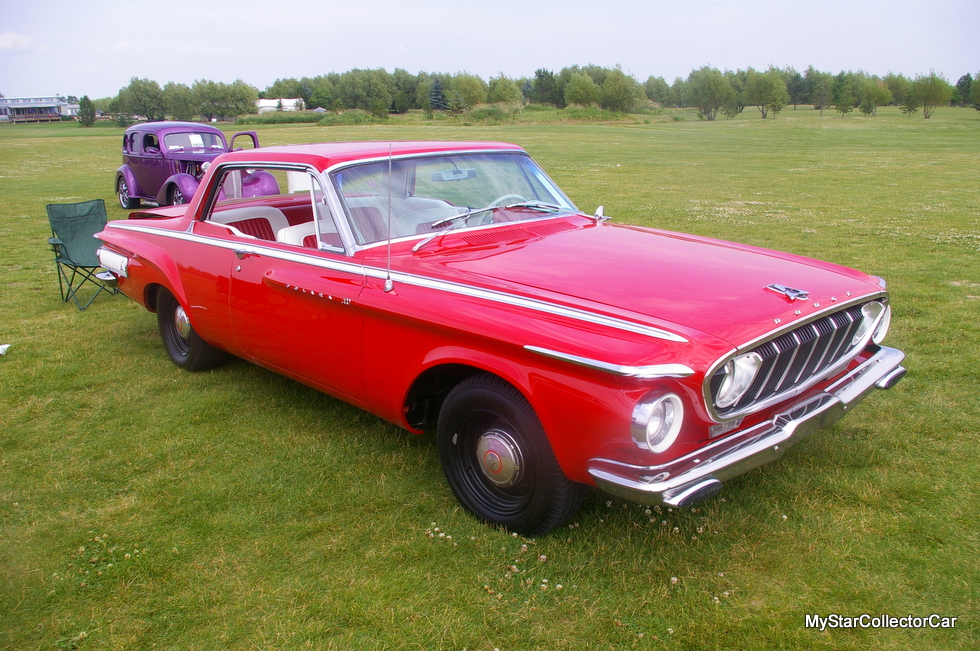 In 1965, Mopar intermediate cars were B-body "tweener" models (like the Coronet in the US market) that occupied the space between A-Bodies (like the compact Dodge Dart) and C-Bodies (like the full-sized Polara models).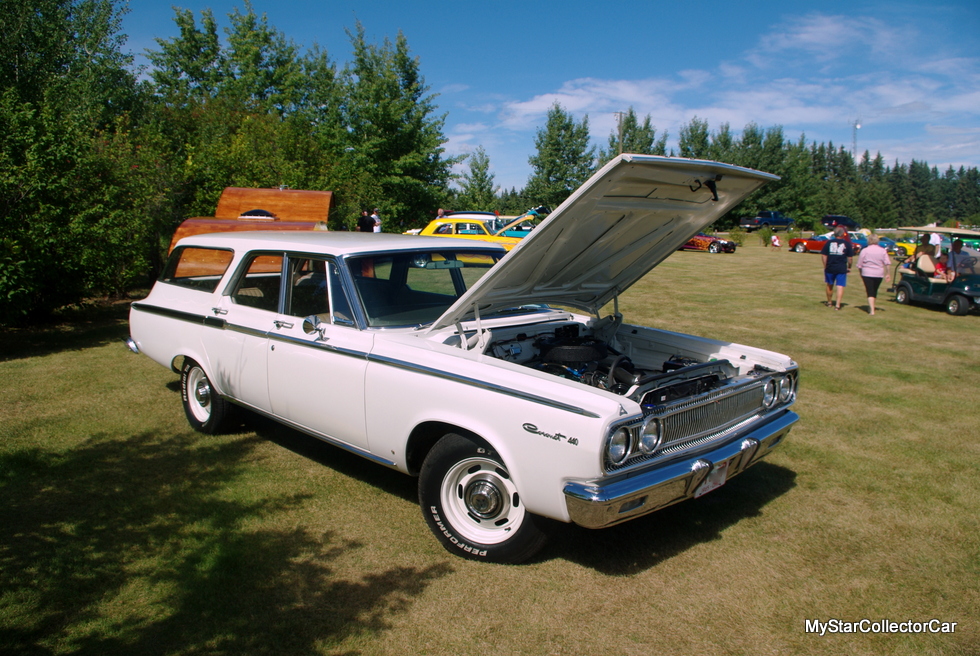 However, in 1962, Chrysler needed to present a full-sized model that also offered an affordable Mopar choice to their customers. The hurry-up option was the Dodge 880 model because Chrysler had the Newport platform upon which they could design a big Dodge.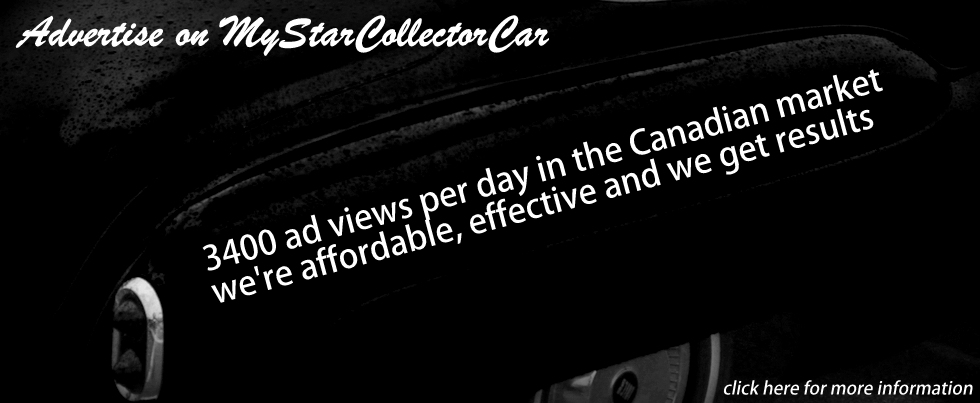 The result was the Dodge 880, a full-sized model that was essentially a Newport with a style makeover. The 880s offered a more comfortable ride than smaller Dodge models because they had a 122-inch wheelbase that gave the cars more of a land yacht-ish ride.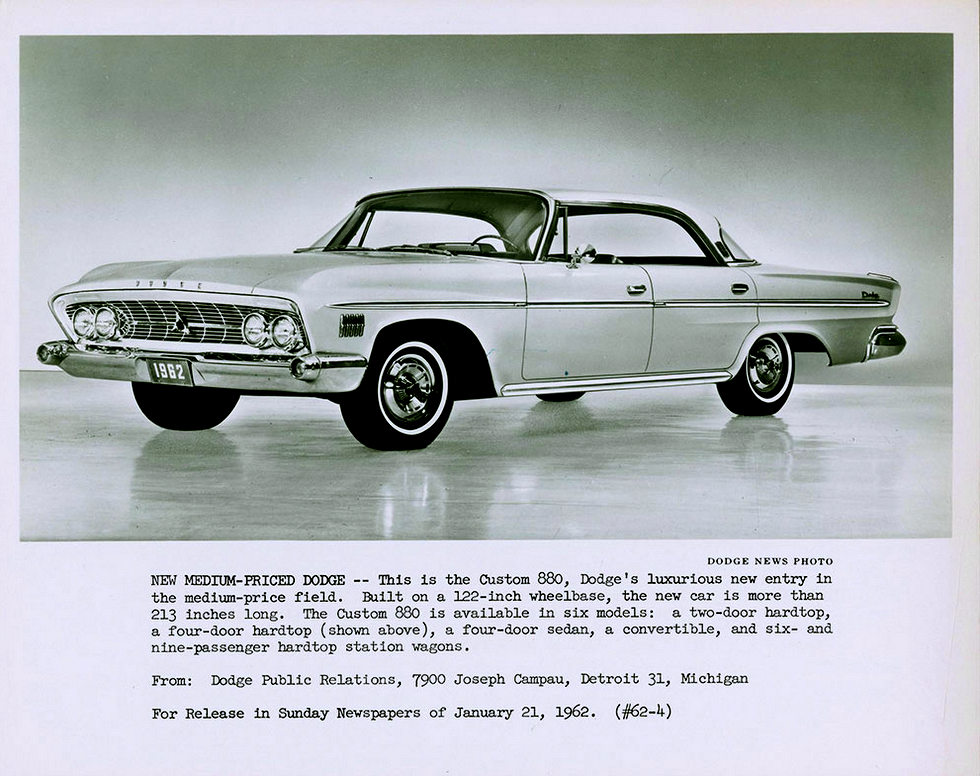 The 880 models also offered two power choices: the big 361 cubic inch base engine and the bigger 383 cubic inch engine that gave the full-sized Mopars even more muscle under the hood.
Chrysler definitely separated the 880 models from the Newport models with their body style. In fact, the 1962-64 880s had a completely different look from every other Mopar model during that time frame. The hasty entry of the 880 model meant the 1962 versions had slightly modified 1961 Dodge front ends and Chrysler Newport rear ends in their exterior design components.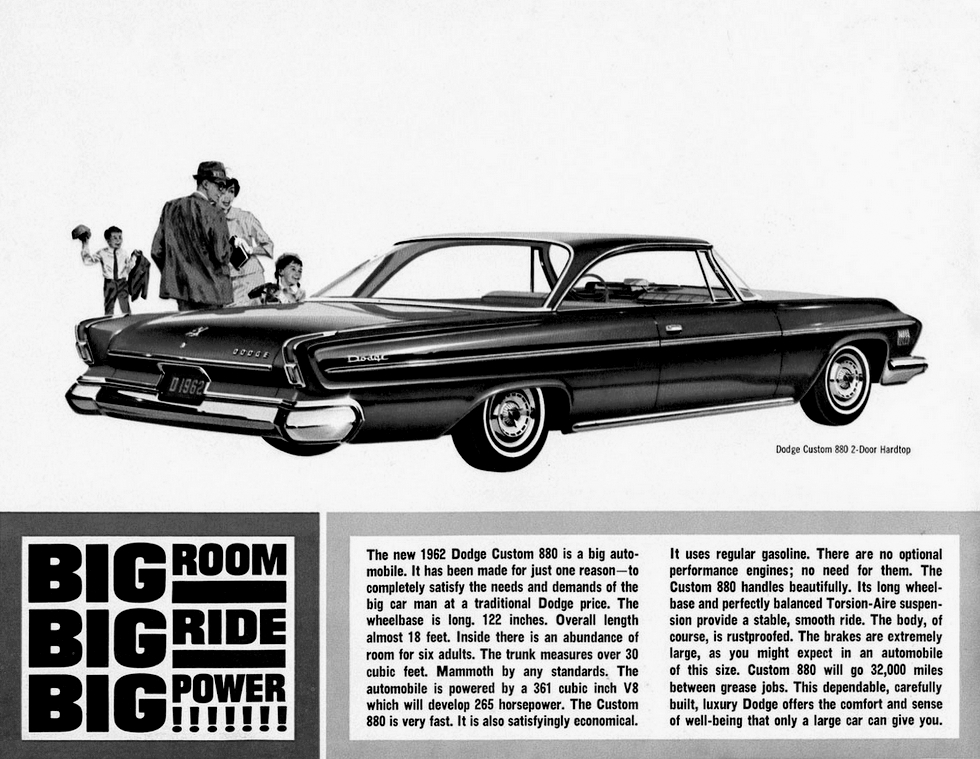 The front grille of a 1963-64 Dodge 880 might even be a little more confusing to some car guys because it resembled a GM or Ford model from the same era in more ways than the 880 resembled its Mopar stable mates. There is little to indicate a 1963 Dodge 880 is directly linked to a 1963 Dodge Polara or 330 model with their radically offset headlights and park lights.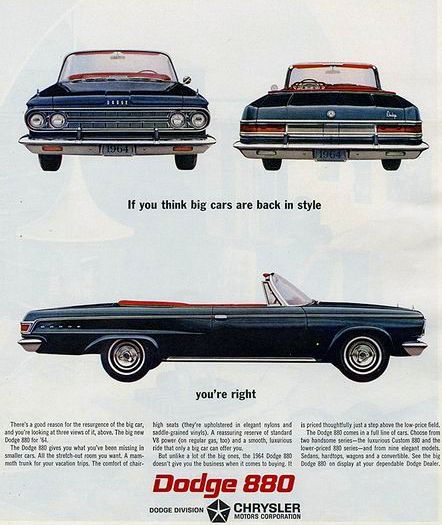 The early 880 models have four headlights in a smooth horizontal line along the grille and park lights mounted in their bumpers. It's a clean look that defines the 880 as a comfortable choice for customers who wanted conventional style within a budget.
The back end of the Dodge 880 models owed all of its style to the Chrysler models in 1962, but developed its own look in subsequent years with a round tail light in '63 and one wrapped around the side of rear quarters on the car in '64.

The game changed for the 1965 Dodge 880 models when they shared a completely different style with the full-sized Monaco and Polara models. Chrysler was able to catch up with their rivals because all three now offered three models that ranged from compact to intermediate to full-sized cars.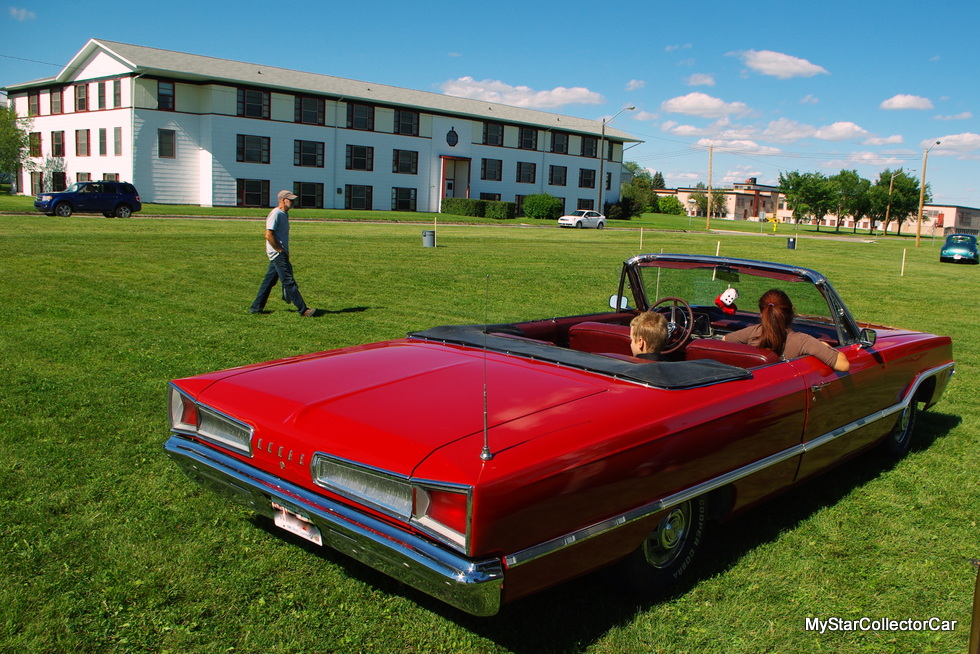 The Dodge 880 had reached the end of the road in 1965 because it was just another version of the other Dodge C- Bodies and would be eliminated by 1966.
The Dodge 880 was never famous during its brief model run in the early to mid-1960s. It served a modest purpose and then quickly faded into obscurity in 1965.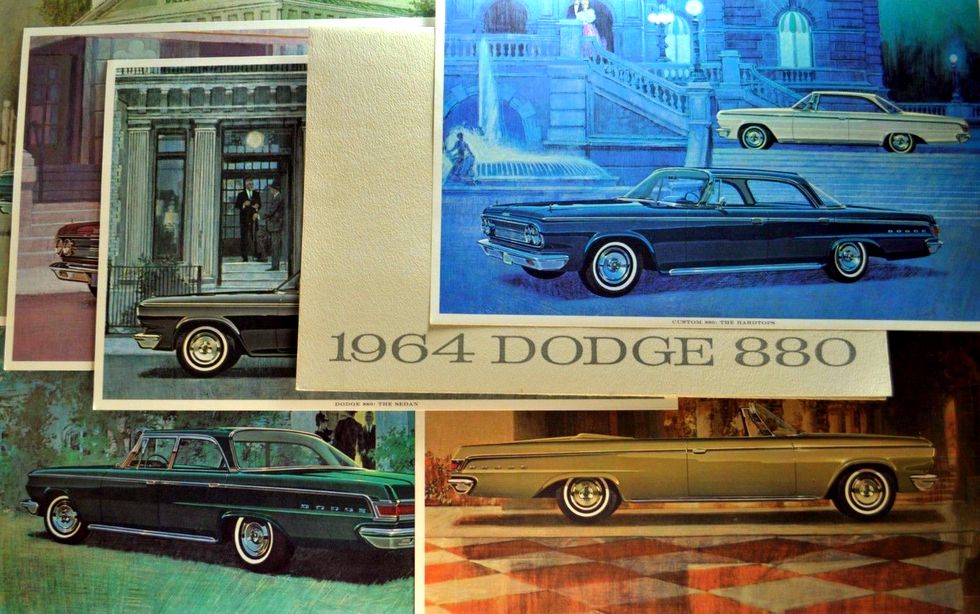 Nevertheless, we at MyStarCollectorCar firmly believe this forgotten Mopar is now a rock star at any show because of its rarity and unusual style.    
BY: Jim Sutherland
Jim Sutherland is a veteran automotive writer whose work has been published by many major print and online publications. The list includes Calgary Herald, The Truth About Cars, Red Deer Advocate, RPM Magazine, Edmonton Journal, Montreal Gazette, Windsor Star, Vancouver Province, and Post Media Wheels Section.