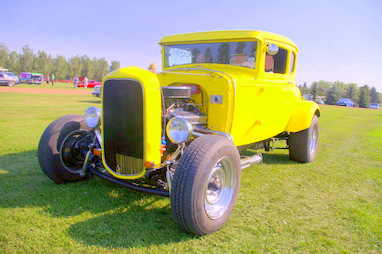 Most car guys loved the movie "American Graffiti".
'Herb Scheit liked it so much that he decided to own a John Milner tribute car, complete with the iconic look of that famous hot rod.'
Herb's ride is a couple of years older than the 1932 Ford deuce in the movie, but only a serious car guy would know the differences between the movie star and Herb's car show double.
Herb's car does have a brush with greatness because Paul LeMat, the actor who played Milner in 'American Graffiti', has driven and personally signed Herb's movie double.
That alone gives this car instant fame well beyond its look-alike features. 
Herb's 1930 Ford has a 406 small block Chevy and a 5-speed to get it down the road in a blaze of glory with 6.80 1/8 mile times and around 12-second quarters. The car draws plenty of attention on the street every time Herb takes it out even though he refrains from a Milner style of driving most of the time. This car looks like a stop light race every time it encounters a red light.
All Herb has to do is resist the same urges as Milner because this baby can flat-out fly and that kind of temptation is hard to resist.
Jim Sutherland