The Ford Econoline debuted in the fall of 1960 and was designated as a 1961 model. The '61 Econoline was unlike any cargo vehicle ever built by Ford up to that point because it had some unusual features.
For example, the overall design of the 1961 Econoline appeared to be created by a guy with a straight edge obsession because the vehicle was a giant rectangle with four wheels.
The flat-nosed Econoline was also designed to compete with other rectangles with four wheels from GM and Chrysler because the other domestic auto companies also wanted to head off Volkswagen at the pass in the delivery van market.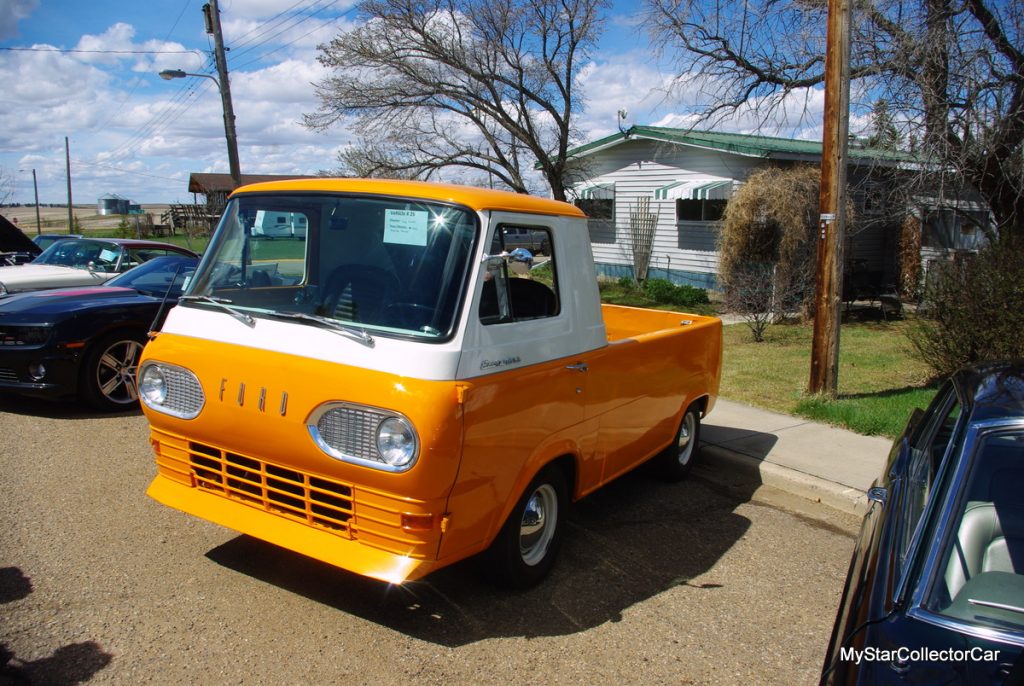 Doug Coward was an impressionable kid in Montreal, Canada when he spotted his first Econoline van on the street. The early Econolines were a popular choice for his telephone company, mainly because the vans could haul the kind of light equipment used by the phone guys at the time.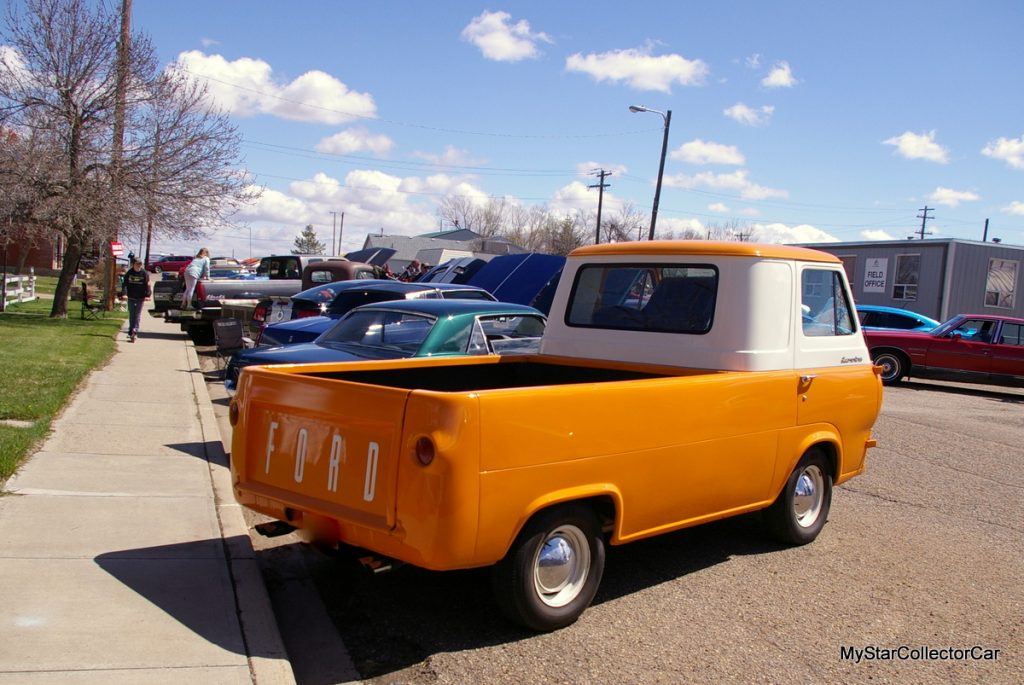 Eventually Doug found his way to the other side of Canada, but the large impression made by first-generation Econolines stayed with him throughout his life.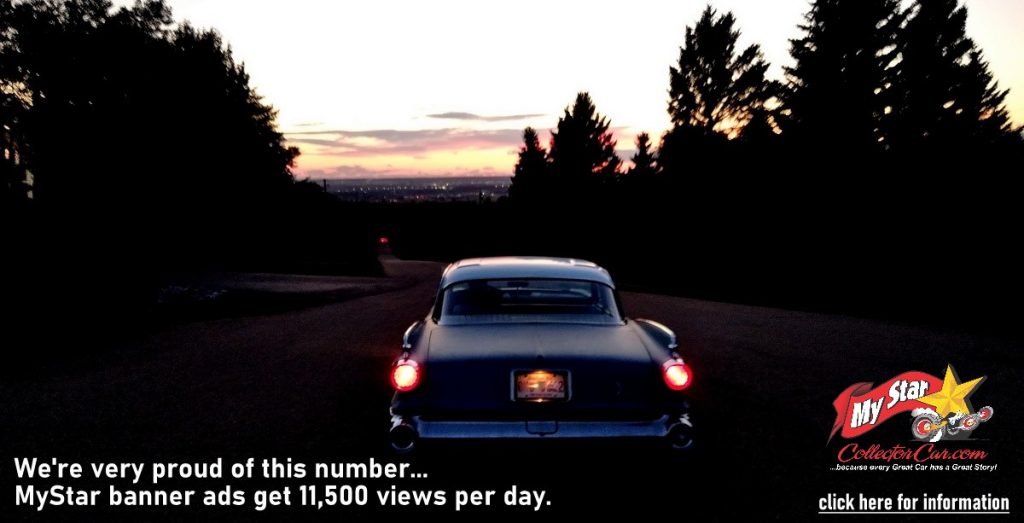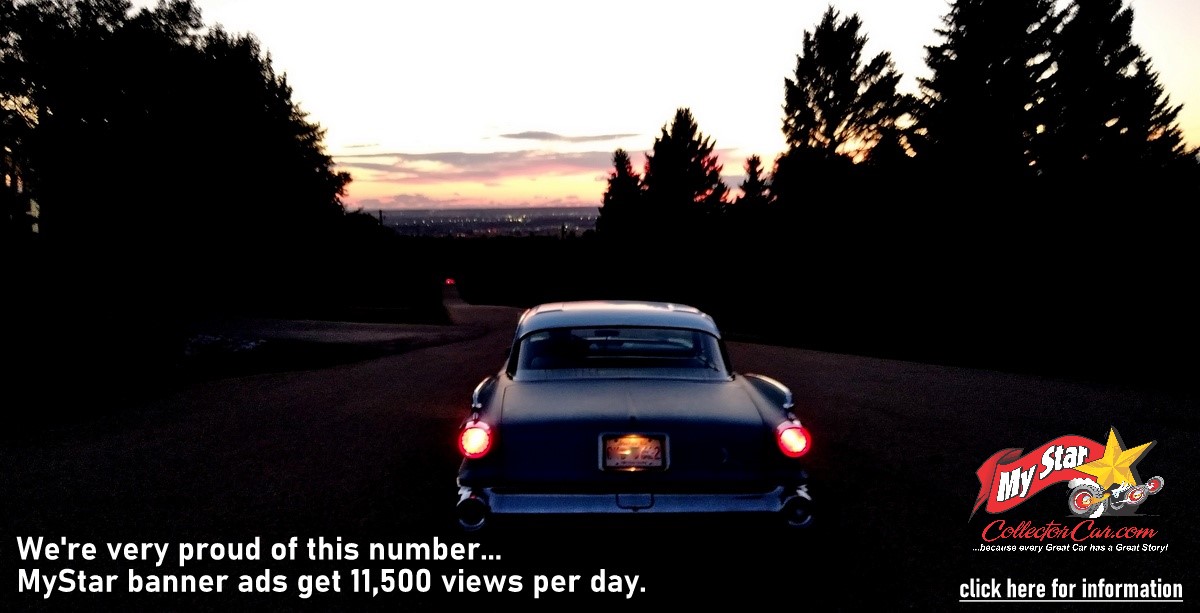 Doug discovered a 1963 Ford Econoline pickup truck model about seven years ago in a small Alberta Canada community and decided he needed to be its owner.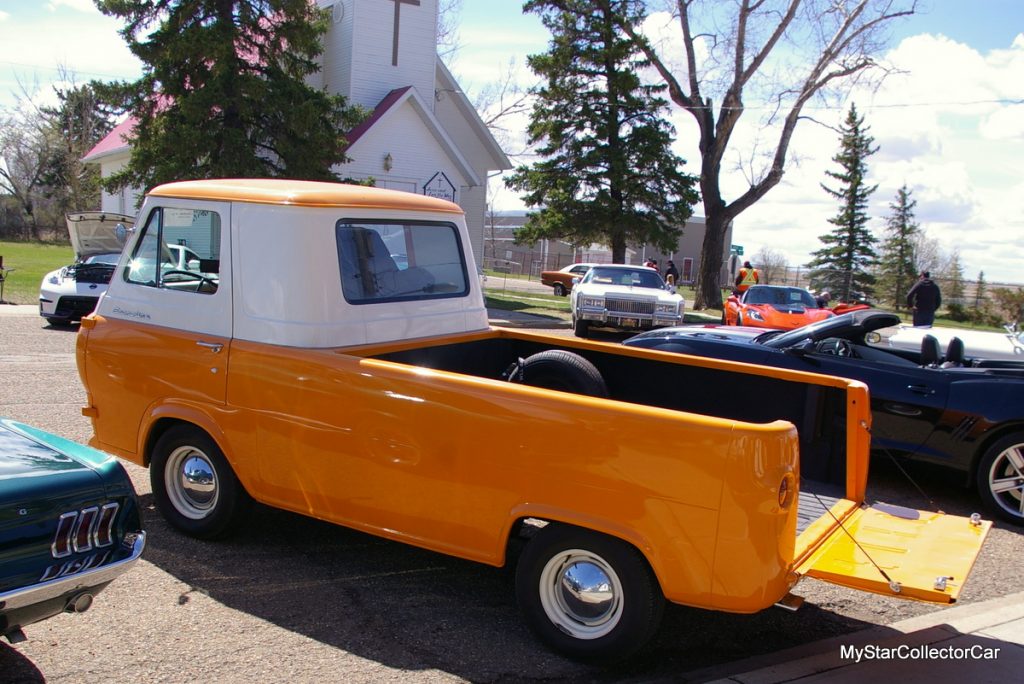 The Econoline truck has undergone a few changes from factory, including a switch from a three-on-the-tree manual transmission to an automatic transmission, along with an upgrade from its original 144 cubic inch engine to a 250 cubic inch Ford six-cylinder.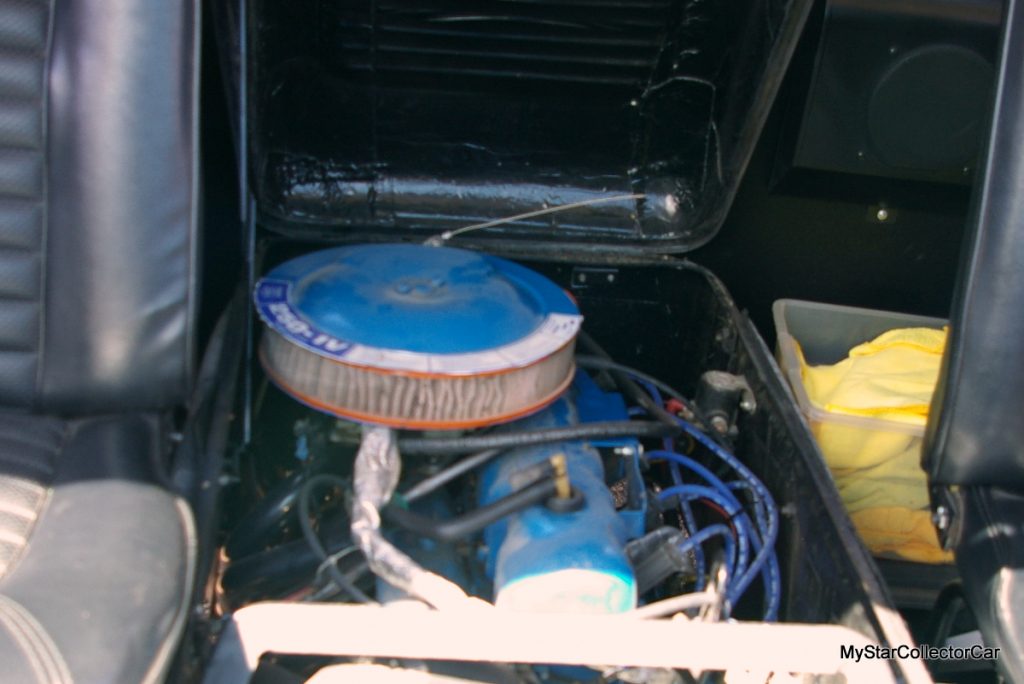 The engine swap was necessary because "If it (the Econoline) saw a hill, you had to get out and push it up", in Doug's words. He did not need ¼ mile drag race power, but he wanted to add a desperately needed herd of extra horses to his Econoline.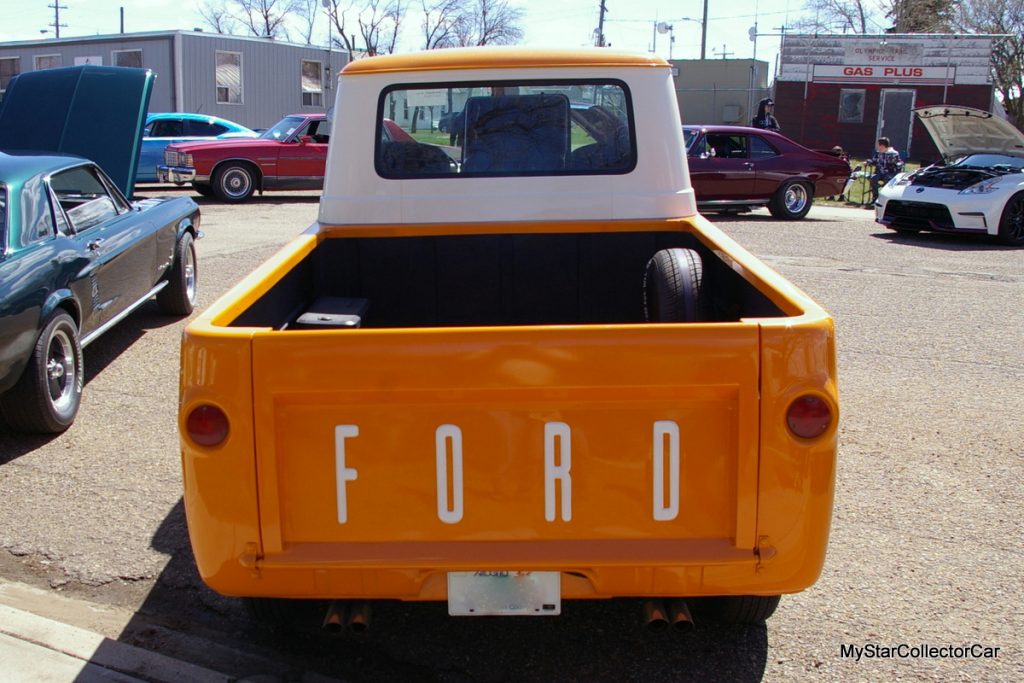 His truck is now a free-breather with a split header exhaust system that really woke up the six-banger swap engine. Doug also upgraded the Econoline's brakes when he added a disc system after a close encounter with Bambi on the road.
The panoramic view afforded to Econoline drivers gave Doug an excellent view for his near collision with a fawn, so he decided to improve the truck's ability to stop upon request.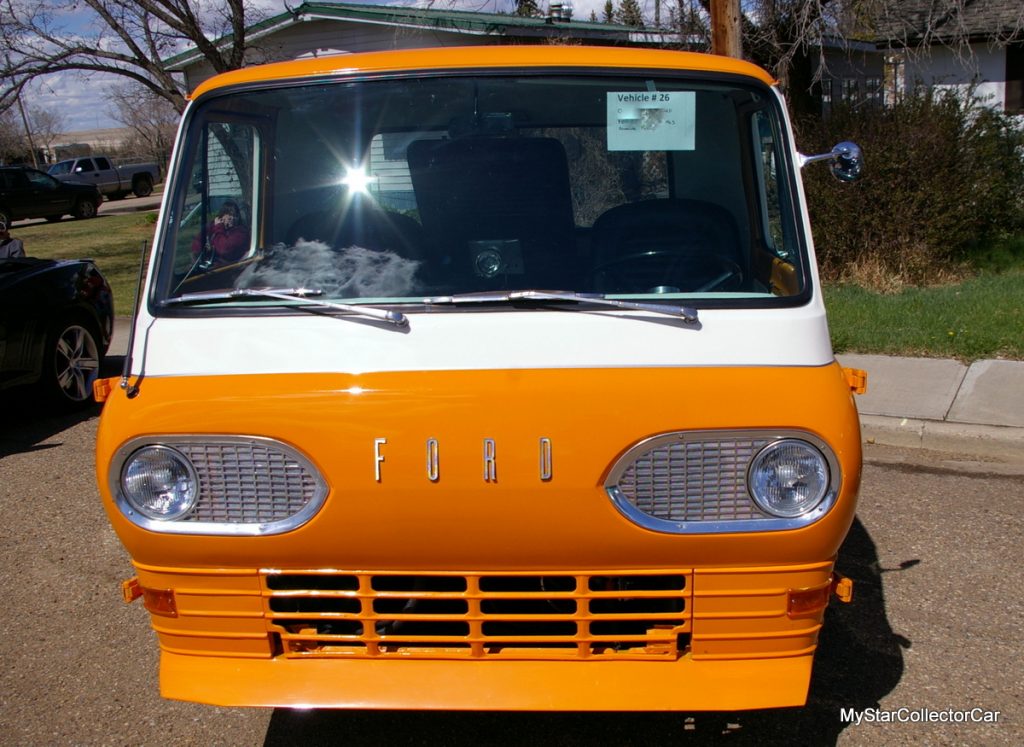 Doug is a hands-on guy with a practical streak, so he added a few functional style changes, including a custom front air dam that forces more cool air onto the Econoline's radiator and prevented overheating issues on the road. He also moved the fuel tank filler from the side of the truck to the bed of the Econoline pickup and hid it under a 1957 Ford's gas filler door.
The truck's two bucket seats were donated by a 1966 Ford Mustang and subsequently provided an actual place for passengers to sit, given the fact the Econoline did not have one for them since it was a work truck.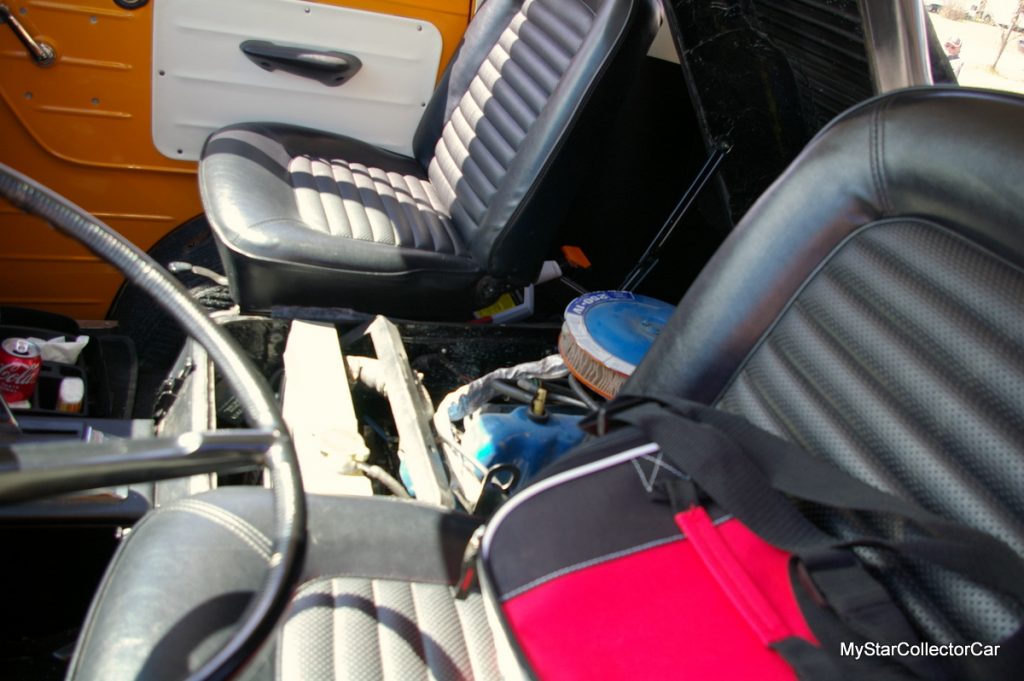 Now Doug's truck is a comfortable cruiser that is also reliable and fast enough for him to take it on long trips. In fact, he likes it so much that Doug said; "I have pictures of the Econoline, but not of my grandkids".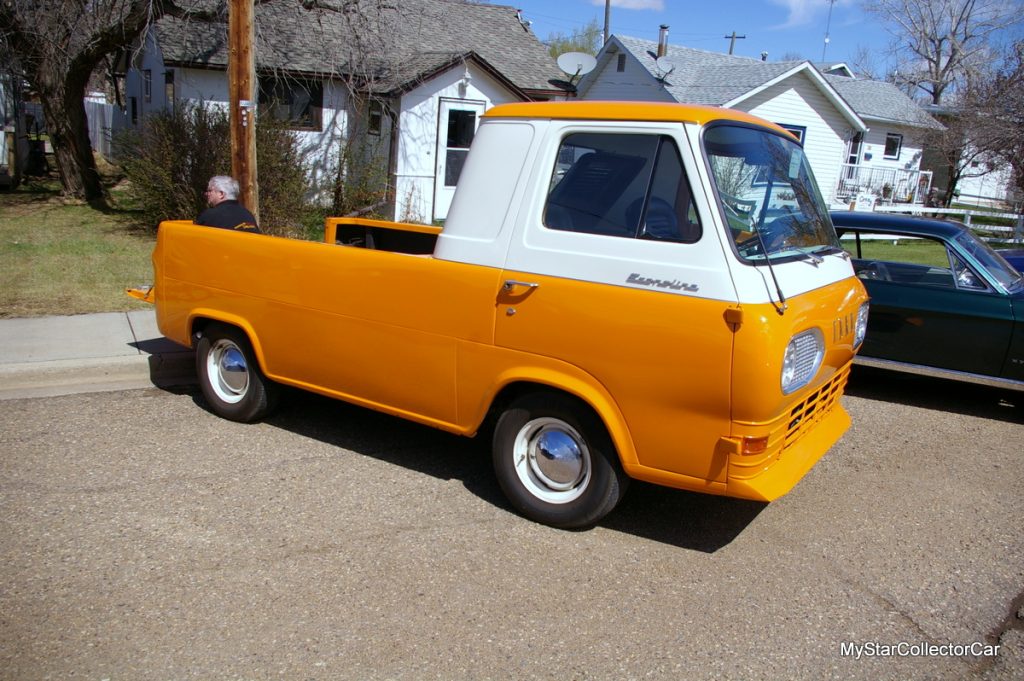 He also has a well-developed sense of humor.
BY: Jim Sutherland
Jim Sutherland is a veteran automotive writer whose work has been published by many major print and online publications. The list includes Calgary Herald, The Truth About Cars, Red Deer Advocate, RPM Magazine, Edmonton Journal, Montreal Gazette, Windsor Star, Vancouver Province, and Post Media Wheels Section.