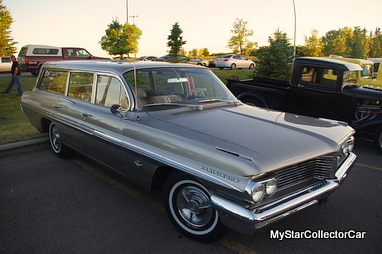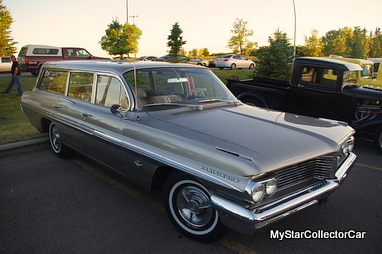 Many of us from a certain era grew up with station wagons.
They were the predecessor to minivans and sport utility vehicles as kid haulers in a bygone era.
There was nothing really glamorous about station wagons, despite the best efforts of Detroit to add flair to the concept with wagons like the Olds Vista Cruiser.
We rode in wagons and we grew up in wagons, even if we never dreamed about owning wagons when we were kids. The station wagon served a purpose in our childhood and never really grabbed our attention until we noticed they had disappeared from our lives.
These days station wagons occupy a special place in the hearts and minds of car guys because they remind us of our childhoods when the wagons were kings of the road.
We spotted an original 1962 Pontiac Parisienne Safari station wagon and correctly guessed the owner was a nostalgic car guy old enough to have a soft spot for wagons.
The dead giveaway was the car was not slammed, riding on air, or big-blocked into a street monster. It was a very nice original Poncho wagon, complete with its original engine.
The owner was John Brown and he was within hailing distance of a milestone birthday when he decided to give himself the perfect early gift: a station wagon that reminded John of his own childhood.
John explained that his father owned two or three station wagons and he recalls his early years riding in the wagons in very fond terms.
John had owned a few cars from the 60s in his younger years, including a 1967 Chevy Biscayne which he drove during his university years.
We caught up to John a month after he purchased his wagon after a 2 and a half year search for a station wagon from the early 60s. He wanted an original car with no modern upgrades to its looks or engineering. John wanted the real deal and had the patience to wait for the perfect car.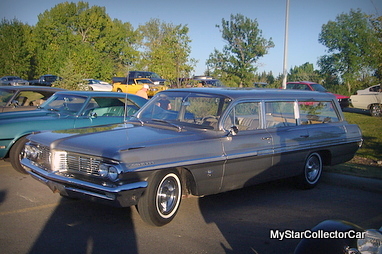 John found the car of his dreams in Ontario on the other side of Canada from his home in Alberta. Many car guys would simply seek out a car hauler contractor or trailer the 51 year old car back home.
They would consider the risks that may arise when a 51-year-old car tackles a cross-country journey to its new home, but not John. He had faith in the original small block and transmission that were still propelling the car down the road.
John was right because he had a trouble-free trip home and only used 1 quart during the entire journey back to Alberta. He drove the Pontiac at a steady 60-65 mph and averaged about 20 mpg. It was a perfect road trip in John's early birthday gift to himself.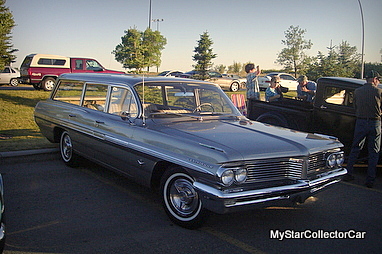 John plans to use his Poncho wagon as a daily driver. In fact, he planned to sell his 2010 Honda and use the old station wagon as much as possible throughout the year in good weather.
We applaud car guys like John because they own unusual vehicles for sentimental reasons and that philosophy always makes a great MSCC story line.
Jim Sutherland
CLICK HERE to Like us on Facebook
CLICK HERE to Follow us on Twitter